04 July 2022: Wilmar International (WIL SP), China Resources Power Holdings Company Limited (836 HK)
Singapore Trading Ideas | Hong Kong Trading Ideas | Market Movers | Trading Dashboard

Wilmar International (WIL SP): Soft commodities could rebound; Buybacks offer safety
BUY Entry 4.08 – Target – 4.40 Stop Loss – 3.98
WIL is an integrated agribusiness business that encompasses the full value chain of the agricultural commodity business, from cultivation and milling of palm oil and sugarcane, to processing, branding and distribution of a wide range of edible food products in consumer, medium and bulk packaging, animal feeds and industrial agri-products such as oleochemicals and biodiesel. It has over 500 manufacturing plants and an extensive distribution network covering China, India, Indonesia and some 50 other countries and regions.
Soft commodities are still seeing supply tightness. Despite a sharp decline in CPO prices since the beginning of the month, prices are expected to rebound as the c.30% correction in prices does not appear to be justifiable given the tight supply, pent-up demand from consumer countries with low inventory, attractive pricing, as well as additional biofuel demand. We note that MPOC benchmark prices have stabilised at c.MYR4,900 mark last week, after slumping to MYR4,499 the week before.
Share buybacks to support share price in the near and medium term. Since the approval of its share buyback mandate on 21 April, WIL has routinely carried out open market acquisitions of its shares. As at last update, WILhas bought back over 33m shares since April. Last week alone, it bought back 1.4m shares at an average price of S$4.03 apiece, providing pricing support at those levels. WIL currently has about 95% of its buyback mandate remaining till next year, providing it with ample breathing room to acquire back more shares.
After record FY21, WIL should return to fair growth. The Street is fairly bullish on WIL's prospects with 13 BUYs and only 1 HOLD rating, and an average 12M TP of S$5.78. The street is expecting FY22F EPS to slip 2.3% YoY after a record FY21. Thereafter, WIL is expected to grow its FY23F EPS by 4.1% YoY. While FY22F DPS is expected to fall to S$0.124/share from FY21's S$0.155/share, FY23F DPS should resume growth to S$0.131/share (+5.6% YoY). WIL is currently trading at an undemanding 10x and 9.6x FY22F/23F P/E and 4.3%/4.5% FY22F/23F dividend yield respectively.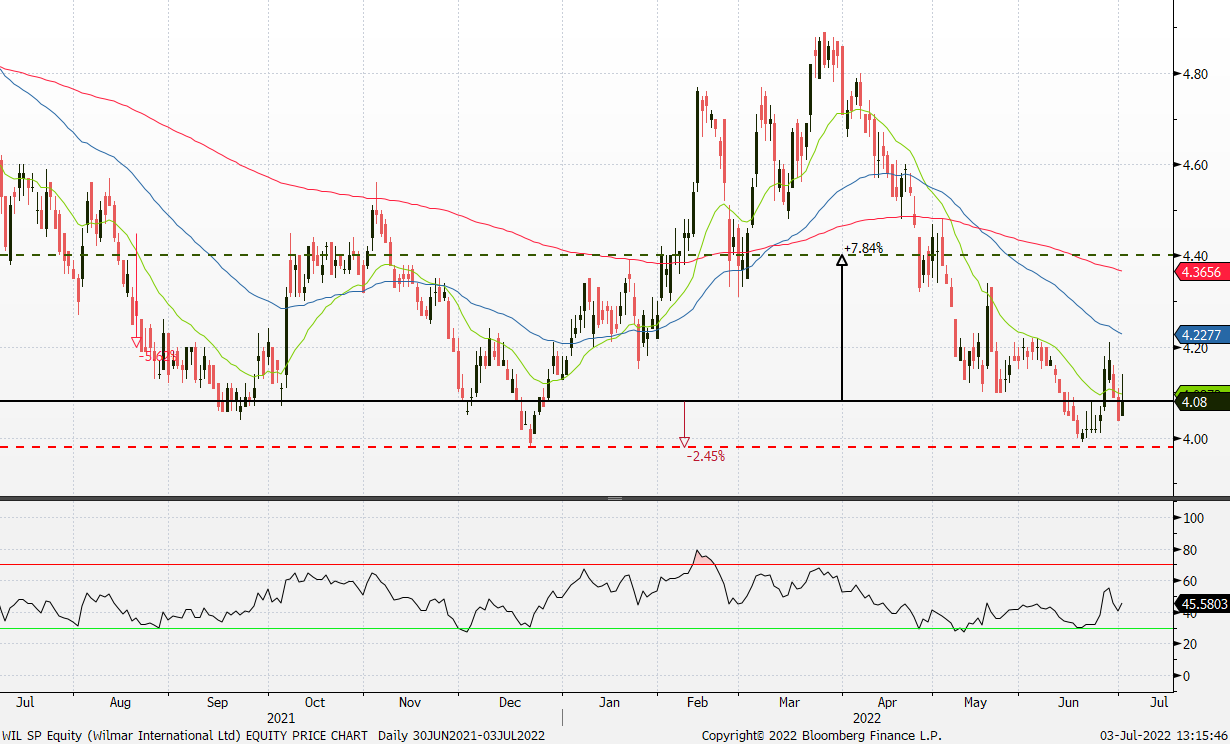 Yanlord Land Group (YLLG SP): Turnaround on the cards as Shanghai units sell out
RE-ITERATE BUY Entry 1.07 – Target – 1.19 Stop Loss – 1.01
YLLG is a real estate developer focusing on developing high-end fully-fitted residential, commercial and integrated property projects in strategically selected key and high-growth cities in the PRC and in Singapore. Currently, Yanlord has an established presence in 18 key high-growth cities within the six major economic regions of the PRC namely, (i) Yangtze River Delta – Shanghai, Nanjing, Suzhou, Hangzhou, Nantong, Yancheng and Taicang; (ii) Greater Bay Area – Shenzhen, Zhuhai and Zhongshan; (iii) Bohai Rim – Tianjin, Tangshan, Jinan and Shenyang; (iv) Hainan – Haikou and Sanya; (v) Western China – Chengdu; and (vi) Central China – Wuhan. In February 2020, Yanlord acquired United Engineers, taking it private and its presence in Singapore.
Reopened Shanghai sees demand for residential units surging. YLLG announced that it had raked in RMB6.1bn (S$1.3bn) in pre-sales after selling out units in its third batch of Shanghai-based Yanlord Arcadia apartments. All 372 units with GFA of 52,914sqm were taken up at an average price of about RMB115,000/sqm. The project sits on 69,400sqm of land and is located in the Jiangjiabang area of Shanghai's Yangpu district, c.2km away from North Bund and 4km from the Lujiazui financial centre. YLLG plans to build a total of 1,171 residential units across 16 towers. Together with the 2 initial batches, YLLG would have pre-sold at least 76% of its planned units of the project.
Strong sales may signal turnaround as pandemic curbs are lifted. Amidst a relaxation of pandemic curbs, the robust demand for YLLG residential units is comforting. This comes at a time where YLLG is looking to turn a corner after it saw 5M22 contracted pre-sales slump 23.2% YoY to RMB18.8bn. The positive newsflow appears to tally with China Real Estate Information Corp (CRIC), which reported that property transactions at the country's top 100 developers advanced 5.6% MoM to RMB454.7bn in May 2022. While that figure was a marked improvement from April 2022's 16% MoM slide, it is still a significant 59.4% YoY drop. CRIC noted that Jun property sales will be an important data point to confirm the market recovery and may also portend to 2H22 performance of the industry.
Growing dividends even as FY22F EPS is projected to slide. There are currently only 2 ratings on YLLG by the street and they are evenly split with 1 BUY and 1 HOLD rating, and an average 12M TP of S$1.265. On average, the two houses are expecting FY22F EPS to slide 6.2% YoY in line with a weak 1H22 due to nationwide pandemic curbs. Thereafter, YLLG is expected to grow its FY23F EPS by 5.8% YoY. Notwithstanding, FY22F/23F DPS should jump 26.5%/4.7% YoY to S$0.086/S$0.09 apiece from FY21's S$0.068. YLLG is currently trading at 0.28x and 0.26x FY22F/23F P/B and 8.0%/8.4% FY22F/23F yield respectively.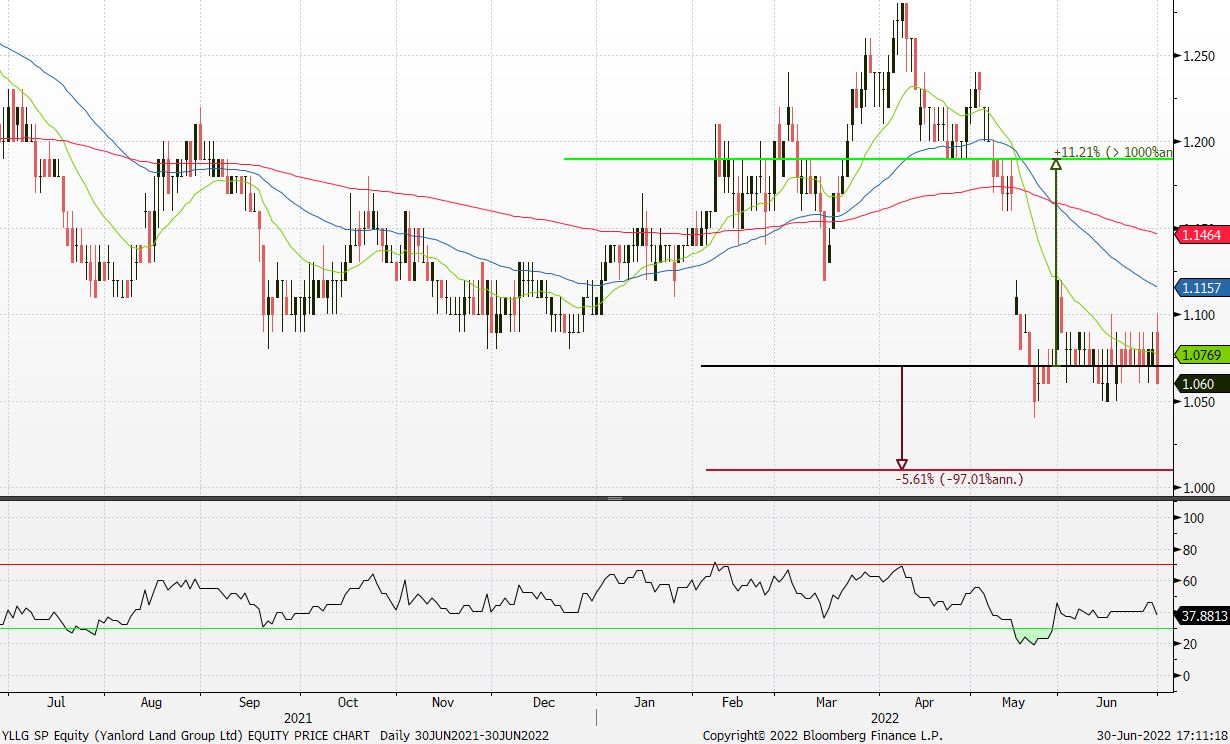 China Resources Power Holdings Company Limited (836 HK): A seasonality trade
Buy Entry – 15.8 Target – 18.0 Stop Loss – 14.7
China Resources Power Holdings Company Limited is a Hong Kong-based investment holding company principally engaged in the investment, development and operation of power plants. The Company operates through three segments. Thermal Power segment is engaged in the investment, development, operation and management of coal-fired power plants and gas-fired power plants, as well as the sales of heat and electricity. Renewable Energy segment is engaged in wind power generation, hydroelectric power generation and photovoltaic power generation, as well as the sales of electricity. Coal Mining segment is engaged in the mining of coal mines, as well as the sales of coal. The Company mainly operates businesses in China.
A new round of subsidies for renewable energy electricity. China's Ministry of Finance recently issued a notice on allocating the budget of local funds for additional subsidies for renewable energy electricity prices in 2022. More than RMB2.75bn (US$ 403mn) has been invested. This includes RMB1.47bn (US$219mn) for wind power, RMB1.25bn (US$186.9mn) for photovoltaic and RMB28.9mn (US$4.3mn) for biomass. The Chinese government will continue its subsidies and preferential policies to support the renewable energy industry.
The peak season of high demand for electricity. The demand for power surges during the summer season (June-August) in China. Last year, coal prices, especially thermal coal, skyrocketed due to supply chain issues and the manufacturing sector's recovery. Learning from last year's lessons, electricity suppliers had restocked coal inventories beforehand. Meanwhile, the manufacturing sector's recovery is not expected to be as strong as last year because 1). Some orders were shifted from China to other developing countries when China locked down Shanghai and other big cities during April and May; 2). The US consumption weakened due to inflation and soft consumer sentiment. Therefore, power companies are expected to maintain a healthy profit margin this summer.
Lastest operation updates. Total net generation of subsidiary power plants in 5M22 increased by 0.4%YoY to 71,132,707MWh, among which, subsidiary wind farms increased by 11.0% YoY r to 15,348,623MWh, subsidiary photovoltaic plants increased by 60.4% YoY to 564,697MWh.
The updated market consensus of the EPS growth in FY22/23 is 271.9%/30.2% YoY, respectively, translating to 8.6×/6.6x forward PE. The current PER is 49.1x. FY22F/23F dividend yield is 5.5%/6.8%. Bloomberg consensus average 12-month target price is HK$20.26.
Price seasonality over the past decade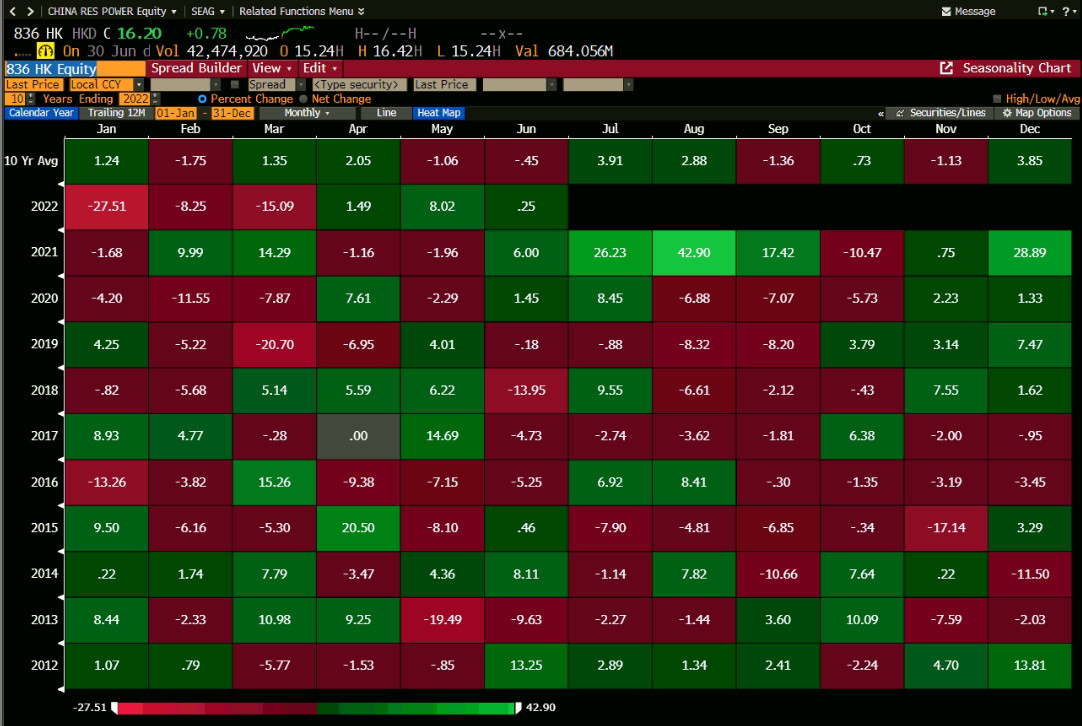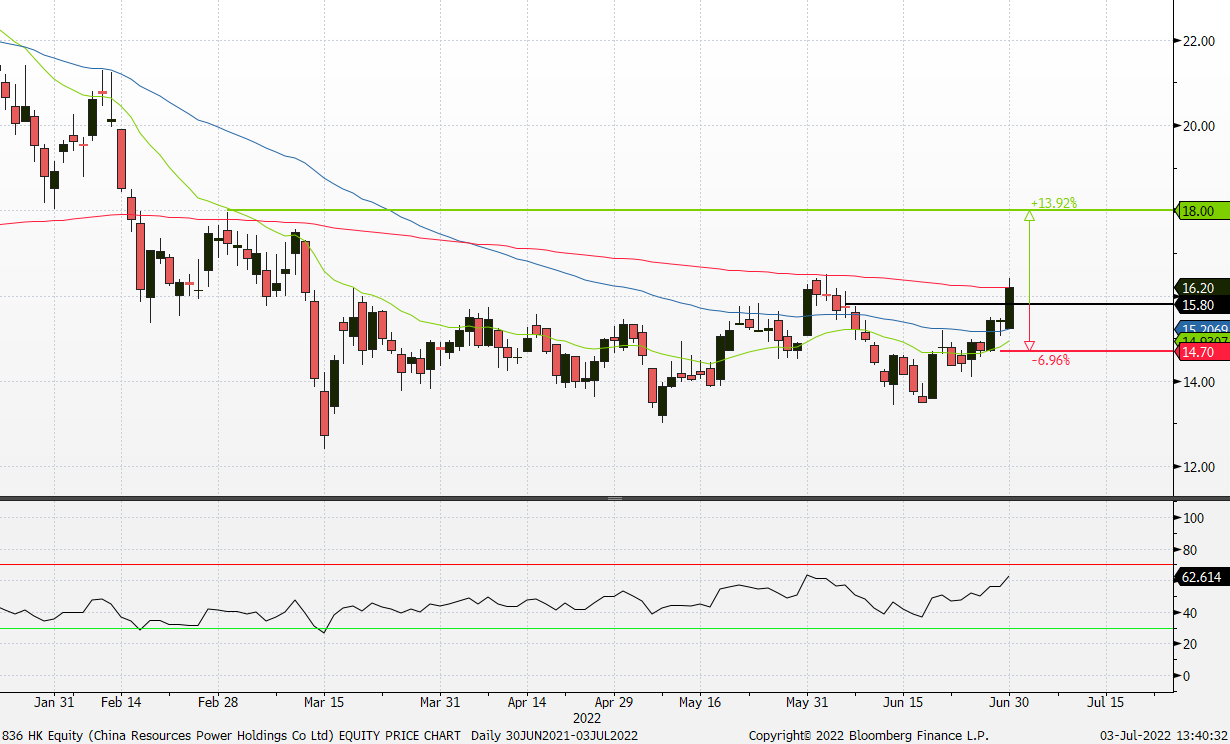 (Source: Bloomberg)
ANTA Sports Products Limited (2020 HK): A lagging reopening and turnaround play
Buy Entry – 90 Target – 100 Stop Loss – 85
ANTA Sports Products Limited is principally engaged in the manufacture and trading of sporting goods, including footwear, apparel and accessories in the Mainland China. The Company focuses on sportswear market in China with a brand portfolio, including ANTA, ANTA KIDS, FILA, FILA KIDS and NBA. Through its subsidiaries, the Company is also engaged in the manufacture of shoe sole. The Company's subsidiaries include Anta Enterprise Group Limited, Motive Force Sports Products Limited and REEDO Sports Products Limited.
On-track recovery with the ease of lockdown measures. According to the management, the retail turnover in June had been recovering. Currently, there is less than 1% of the total outlets impacted by COVID restrictions. The recovery of sales is better than what the company expected one month ago. Meanwhile, Shanghai has announced that the indoor stadium will gradually reopen from 1st July, which will reinforce the improvement in operations in 3Q22.
Nike showed a sign of operation shrinkage. In early June, the Nike Run Club application announced the suspension of its local services in China. The platform which provides users with running-related training sessions and daily records will officially cease operations on July 8. Domestic rivals such as Li Ning, Anta, and Xstep could take up more market shares as foreign brands are restricted their sales enhancement services.
The updated market consensus of the EPS growth in FY22/23 is 8.7%/28.5% YoY, respectively, translating to 26.9×/21.0x forward PE. The current PER is 28.7x. Bloomberg consensus average 12-month target price is HK$118.7.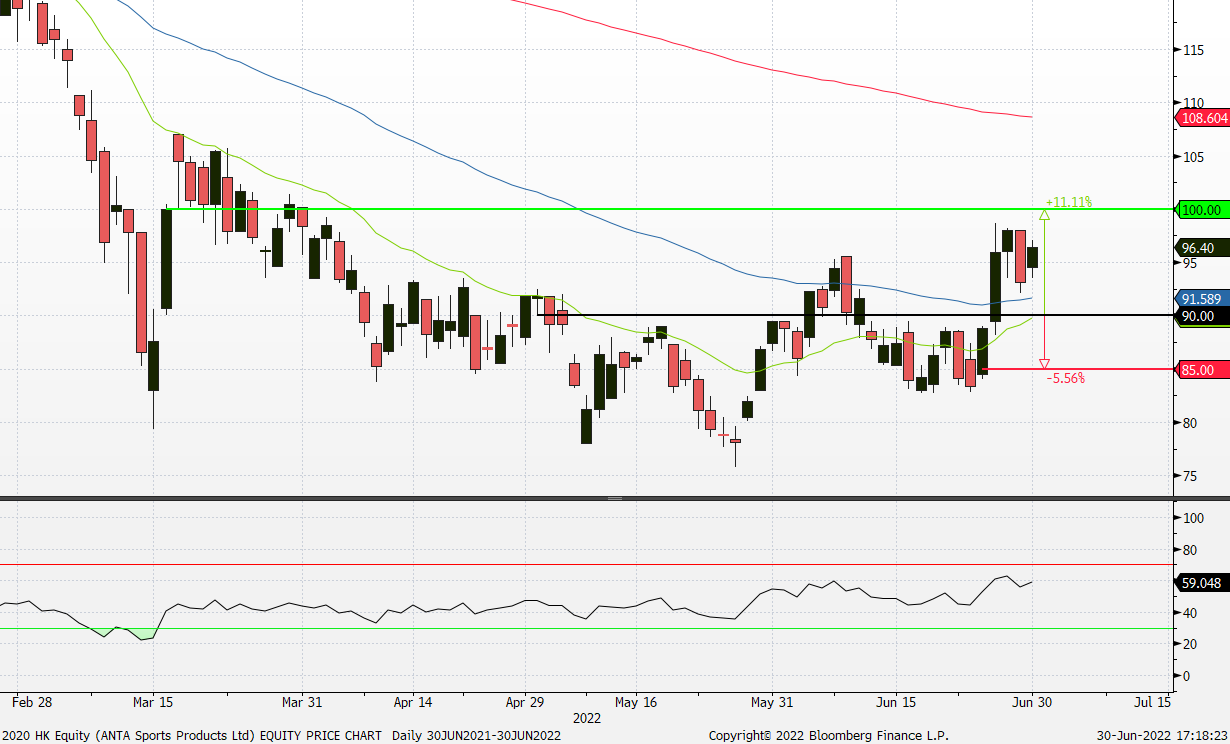 United States
The United States market is closed today in observance of a public holiday (Independence Day). Trading resumes on Tuesday, 5 July.

Singapore
EC World REIT (ECWREIT SP) shares fell 12.5% on Friday. Offshore lenders requested an undertaking when the manager was negotiating for the extension of the REIT's offshore loans. The manager confirmed that the event of default will trigger cross defaults across EC World REIT's other existing facilities such as the onshore facilities and revolving loan facilities.
Yangzijiang Shipbuilding Holdings Ltd (YZJSGD SP) shares rose 1.6% on Friday. Singapore-listed Yangzijiang Shipbuilding is said to be poised to ink a deal for four LNG dual-fuel 8,000-teu boxship newbuildings worth about $480m from Asian liner giant Pacific International Lines.
Rex International Holding Ltd (REXI SP) shares fell 3.6% on Friday. Oil prices fell on Friday, extending the previous day's plunge, as lingering fears of a recession weighed on sentiment, putting the benchmarks on track for their third straight weekly losses. On Thursday, the OPEC+ group of producers, including Russia, agreed to stick to its output strategy after two days of meetings. However, the producer club avoided discussing policy from September onwards.
Golden Agri-Resources Ltd (GGR SP) shares fell 2.0% on Friday. Palm Oil decreased 5.09% to 4660 MYR/T, amid rising global supplies and weak export demand from Malaysia. Indonesia has recently announced an export acceleration scheme to ship at least 1 million tonnes of crude palm oil and derivatives. The world's biggest exporter also reduced the maximum export tax rate and levy for crude palm oil to $488 per tonne from $575 per tonne to boost shipments.
City Developments Ltd (CIT SP) shares fell 1.3% on Friday. The Urban Redevelopment Authority's flash estimate for the second quarter of 2022 shows that the overall price index for private homes rose 3.2 per cent over the preceding quarter. This follows a 0.7 per cent gain in Q1 this year. Year on year, the index is up 10.3 per cent, according to the URA flash estimate released on Friday (Jul 1) morning.

Hong Kong
Top Sector Gainers
Top Sector Losers
SenseTime Group Inc (0020 HK) shares fell 46.8% last Thursday, after a lock-up of its shares expired following its initial public offering. The company dropped to trade at as low as HK$2.91 apiece, the lowest ever and below its initial public offering price of HK$3.85. A lock-up on a portion of the stock owned by cornerstone investors and shareholders, amounting to 23.4 billion of shares, expired on Wednesday. "SenseTime's average liquidity looks very low, and it's also subject to US sanctions. That means its investor base is probably more concentrated, so the impact of lockup expiry is higher," said Vey-Sern Ling, senior analyst with Union Bancaire Privée.
Huabao International Holdings Ltd (0336 HK) shares rose 20.3% last Thursday. On June 20, it was announced that Hong Kong stock Huabao International rose by more than 21%. Huabao International expected to make a profit before tax of about 407 million yuan for the five months ended May 31, 2022. Consequently, a peer Yihai International Holding Ltd (1579 HK) shares also rose 10.1%.
Helens International Holdings Co Ltd (9869 HK) shares rose 7.1% last Thursday. With the recent reopening of dining-in in Shanghai, Zheshang Securities is optimistic that the bar's sales will improve. The company is currently undergoing expansion, increasing efficiency and uplifting their brand. Additionally, younger consumers are expected to help revive the social scene in Shanghai, aiding the recovery of the company.
China Power International Dev Ltd (2380 HK) shares rose 8.3% last Thursday. Chuancai Securities said that the power industry is currently in a period of post-epidemic growth recovery. In the first half of 2022, many provinces and cities in the country were disrupted by the Omicron epidemic, leading to the overall decrease in electricity consumption. As the second half of 2022 approaches, the epidemic situation in many provinces and cities is gradually fading, the pace of production and life is slowly recovering, market confidence is progressively picking up, and the overall electricity consumption is expected to grow.


Trading Dashboard Update: Cut loss on Thaibev (THBEV SP) at S$0.64. Add Yanlord Land (YLLG SP) at S$1.07.