1 July 2022: Yanlord Land Group (YLLG SP), ThaiBev (THBEV SP)
Singapore Trading Ideas | Market Movers | Trading Dashboard

Yanlord Land Group (YLLG SP): Turnaround on the cards as Shanghai units sell out
BUY Entry 1.07 – Target – 1.19 Stop Loss – 1.01
YLLG is a real estate developer focusing on developing high-end fully-fitted residential, commercial and integrated property projects in strategically selected key and high-growth cities in the PRC and in Singapore. Currently, Yanlord has an established presence in 18 key high-growth cities within the six major economic regions of the PRC namely, (i) Yangtze River Delta – Shanghai, Nanjing, Suzhou, Hangzhou, Nantong, Yancheng and Taicang; (ii) Greater Bay Area – Shenzhen, Zhuhai and Zhongshan; (iii) Bohai Rim – Tianjin, Tangshan, Jinan and Shenyang; (iv) Hainan – Haikou and Sanya; (v) Western China – Chengdu; and (vi) Central China – Wuhan. In February 2020, Yanlord acquired United Engineers, taking it private and its presence in Singapore.
Reopened Shanghai sees demand for residential units surging. YLLG announced that it had raked in RMB6.1bn (S$1.3bn) in pre-sales after selling out units in its third batch of Shanghai-based Yanlord Arcadia apartments. All 372 units with GFA of 52,914sqm were taken up at an average price of about RMB115,000/sqm. The project sits on 69,400sqm of land and is located in the Jiangjiabang area of Shanghai's Yangpu district, c.2km away from North Bund and 4km from the Lujiazui financial centre. YLLG plans to build a total of 1,171 residential units across 16 towers. Together with the 2 initial batches, YLLG would have pre-sold at least 76% of its planned units of the project.
Strong sales may signal turnaround as pandemic curbs are lifted. Amidst a relaxation of pandemic curbs, the robust demand for YLLG residential units is comforting. This comes at a time where YLLG is looking to turn a corner after it saw 5M22 contracted pre-sales slump 23.2% YoY to RMB18.8bn. The positive newsflow appears to tally with China Real Estate Information Corp (CRIC), which reported that property transactions at the country's top 100 developers advanced 5.6% MoM to RMB454.7bn in May 2022. While that figure was a marked improvement from April 2022's 16% MoM slide, it is still a significant 59.4% YoY drop. CRIC noted that Jun property sales will be an important data point to confirm the market recovery and may also portend to 2H22 performance of the industry.
Growing dividends even as FY22F EPS is projected to slide. There are currently only 2 ratings on YLLG by the street and they are evenly split with 1 BUY and 1 HOLD rating, and an average 12M TP of S$1.265. On average, the two houses are expecting FY22F EPS to slide 6.2% YoY in line with a weak 1H22 due to nationwide pandemic curbs. Thereafter, YLLG is expected to grow its FY23F EPS by 5.8% YoY. Notwithstanding, FY22F/23F DPS should jump 26.5%/4.7% YoY to S$0.086/S$0.09 apiece from FY21's S$0.068. YLLG is currently trading at 0.28x and 0.26x FY22F/23F P/B and 8.0%/8.4% FY22F/23F yield respectively.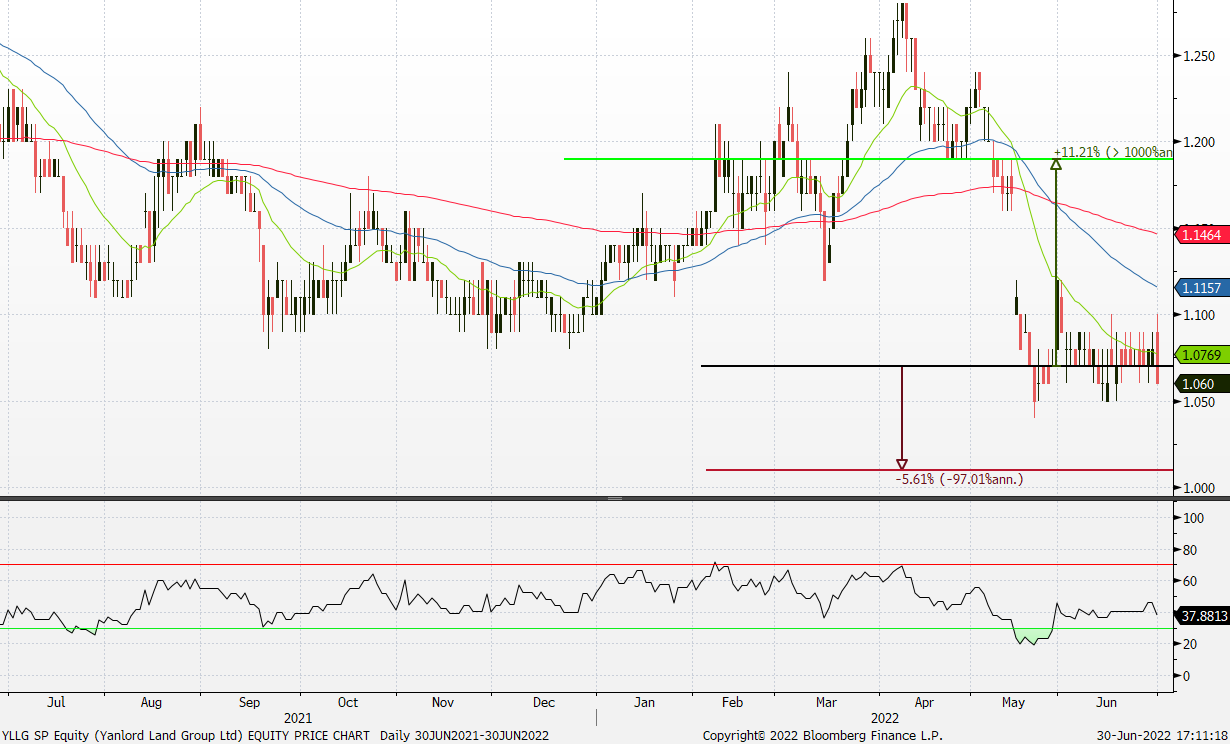 (Source: Bloomberg)
ThaiBev (THBEV SP): Scrapped Thai curbs to lift alcohol consumption
RE-ITERATE BUY Entry 0.660 – Target – 0.715 Stop Loss – 0.640
Thai Beverage is Thailand's largest beverage producer and distributor and is among the leading distillers and brewers in Southeast Asia. ThaiBev's leading products include a variety of well-established spirits brands, including its famous brew Chang Beer. In the non-alcoholic beverage category, key products include water, tonic soda, and RTD green tea. ThaiBev owns and operates 18 well-equipped and modernised distilleries in Thailand with a total production capacity of approximately 819m litres per year. It also operates 3 state-of-the-art breweries with a total installed capacity of approximately 1,550m litres per year.
Share price lagging regional peer even as Thailand removes pandemic curbs. As Thailand's leading beer brewer, we believe that THBEV's share price has not benefited from the recent lifting of pandemic curbs in Thailand. Recall, Thailand rolled back its remaining pandemic curbs by allowing bars and pubs to remain open for longer hours. In addition, we believe that the Thais' love for the beautiful game and the World Cup 2022 in December could be strong potential tailwinds for the stock. We believe that THBEV, which is currently trading flat YTD, could ultimately play catch up with its peer, Budweiser (1376 HK), which has already surged 13.1% YTD.
Potential spin-off and listing of BeerCo proceeding as planned. As at last update, THBEV said that SGX has since given its conditional eligibility-to-list letter for the proposed spin-off listing of BeerCo. This was after it put the proposed listing on hold due to the pandemic. It intends to conduct an IPO of up to 20% of BeerCo's shares. BeerCo has 3 breweries in Thailand and a network of 26 breweries in Vietnam, and includes the production, distribution, and sales of beer including the Chang and Bia Saigon brands. The successful listing would help unlock value for current THBEV shareholders and potentially provide for special payouts.
Growing dividends even as FY22F EPS is projected to return to normalcy. The Street is overwhelmingly positive on THBEV's prospects with 15 BUYS, only 1 HOLD, and a 12M TP of S$0.89. The street is expecting FY22F/23F EPS to grow 15.3%/5.5% YoY, with DPS growing in tandem at 13.2%/8.3% to S$0.566/S$0.613 per share. At these projected levels, THBEV would trade at 17.8x and 15.8x FY22/23 P/E and 3.4%/3.6% FY22/23 yield respectively.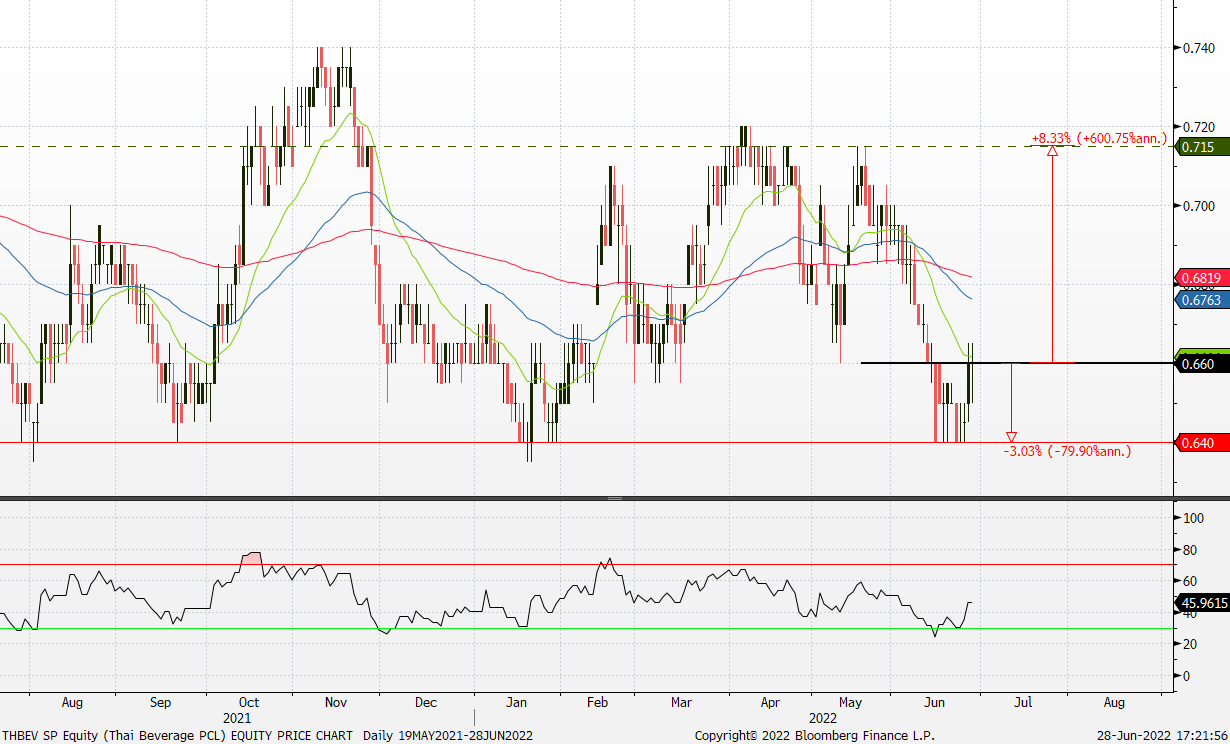 (Source: Bloomberg)




United States
Top Sector Gainers
Top Sector Losers
Universal Health Services (UHS US) shares fell 6.1% after the hospital and health-care services company announced it is cutting its full-year guidance. The company reported lower patient volumes and revenues in its acute care hospitals.
Pfizer Inc (PFE US) stock climbed 2.9% after Pfizer and BioNTech said they would provide 105 million doses of the Covid vaccine in a $3.2 billion deal with the U.S. government. Shares of BioNTech SE (BNTX US) jumped 5.0%.
Spirit Airlines Incorporated (SAVE US) stock jumped 6.4% as the battle for Spirit Airlines heated up between JetBlue and Frontier Group. Spirit postponed a shareholder vote on its proposed merger with Frontier Group to July 8. JetBlue Airways Corporation (JBLU) shares fell 6.6%.
Singapore
The Place Holding (THEPLACE SP) shares rose 4.0% yesterday. The Place Holdings has entered into a collaboration agreement with Stellar Lifestyle, a business arm of SMRT Corporation to jointly shape the future of digital media and tap new opportunities in the digital economy with the development of the "L.I.F.E" Omni-Channel Ecosystem. The Place Holdings will invest approximately $200 million in the L.I.F.E omni-channel ecosystem.
Rex International Holding Ltd (REXI SP) shares fell 1.8% yesterday. Oil prices edged lower in volatile trading on Thursday as the market weighed concerns of global supply and a build in U.S. fuel product inventories. "The net drop in crude oil inventories was flattered by SPR releases, while the gasoline stock jump is because U.S. refineries are running at over 95.0% capacity," said Jeffrey Halley, OANDA's senior market analyst for Asia Pacific.
Golden Energy & Resources Ltd (GER SP) and Geo Energy Resources Ltd (GERL SP) shares fell 4.3% and 3.9% respectively yesterday. Russia's coal shipments to China have been rising even though overall shipments to China have declined, new data from S&P Global Market Intelligence showed. Russia is a major global coal producer and exporter. But since its invasion of Ukraine, Moscow has been forced to sell coal at a discount after countries like Japan banned Russian imports of the commodity. More demand for coal from China could push up coal prices, adding to already rising global inflation.
First Resources Ltd (FR SP) shares fell 4.1% yesterday. The world's biggest exporter of palm oil shocked global markets late in April by banning shipments of the edible oil for three weeks to try to bring down stubbornly high domestic cooking oil prices. After the ban was lifted, Indonesia cut export taxes and launched a scheme to accelerate shipments, which triggered a fall of more than 20 per cent in the benchmark palm oil futures prices in the past month.

Hong Kong
The Hong Kong market is closed today in observance of a public holiday (Hong Kong Special Administrative Region Establishment Day). Trading resumes on Monday, 4 July.


Trading Dashboard Update: Cut loss on Samsonite International (1910 HK) at HK$15.5.