01 April 2022: AEM Holdings Ltd (AEM SP), Ganfeng Lithium Co Ltd (1772 HK)
Singapore Trading Ideas | Hong Kong Trading Ideas | Market Movers | Trading Dashboard
SINGAPORE
AEM Holdings Ltd (AEM SP): Rekindled interest in Semicon
BUY Entry – 4.64 Target – 5.07 Stop Loss – 4.45
AEM Holdings Limited is a Singapore-based company, which offers application specific-intelligent system test and handling solutions for semiconductor and electronics companies serving computing, fifth generation (5G) and artificial intelligence (AI) markets. Its segments include Equipment systems solutions (ESS), System Level Test & Inspection (SLT-i), Micro-Electro-Mechanical Systems (MEMS), Test and Measurement Solutions (TMS) and Others.
2H21 performance reached a record high. During the period, revenue increased by 52.2% YoY to S$373.2mn due to strong uptake of AEM's new generation equipment and tools, and net profit increased by 47.5% YoY to S$62.4mn. The group's full FY21 revenue increased by 9% YoY to S$565.5mn, mainly driven by the revenue contribution from the Test Cell Solutions business segment. However, net profit after tax declined by 5.6% YoY to S$92.1mn as the group stepped up investment in R&D activities to stay ahead of the competition through innovation. In FY2022, the group expected revenue to be between S$670mn to S$720mn and capex to be around S$10mn. The group also expects some margin compressions in view of higher supply chain costs and an increase in R&D spending.
Expansion into Europe. Rood Microtec and AEM announced a strategic cooperation in December 2021. The collaboration will open doors for AEM's wafer level test solutions engineering team to install and exhibit the Aiolos wafer level test handlers at the Rood Microtec Facility in Nordlingen. Equipment is also set up for 200mm wafer frame probing of a wide range of semiconductor devices. Through this partnership, AEM will have a broader opportunity to showcase its system demonstrations to customers in Central Europe.
Increase of shareholdings from Temasek. Temasek Holdings, AEM Holdings' largest shareholder, has increased its stake after an indirect subsidiary bought more shares in the market. As indicated via an SGX filing on March 9, Temasek's indirect subsidiary Venezio Investments paid $5,647,480.02 for 1,416,900 shares. That works out to an average of $3.9858 each. With that Venezio has increased the number of AEM shares held to 30,998,500, or 10.02%, from 9.56%.
Positive consensus forecast. According to Bloomberg consensus estimates, AEM currently has 4 BUYS, 0 HOLD and 0 SELL, with a 12M TP of S$6.41, representing an upside of 35.2% as of yesterday's closing price.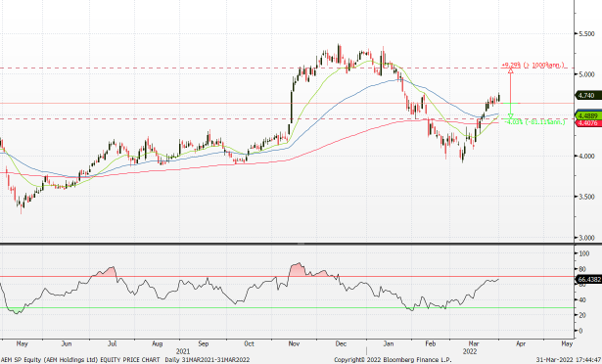 ---
Uni-Asia Group (UAG SP): Hot property
RE-ITERATE BUY Entry – 1.30 Target – 1.66 Stop Loss – 1.12
UAG is an alternative investment company that owns and manages bulk carriers, invests in Hong Kong commercial offices and develops residential properties in Japan. The group derives around 65% of its revenues from charter income generated by its fleet of bulk carriers. The remainder of its revenue is from the property projects in HK and Japan.
Smaller vessels are in hot demand. The Baltic Handysize Index (BHI) dropped by 50% from October 2021 to January 2022 but rebounded by more than 40% since the start of February 2022. Even then, BHI at where it stands now is still at levels that are more than double the average rates seen over the past 10 years as demand for smaller vessels have continued to find support amid an already stretched global supply chain. Eight of UAG's wholly-owned dry bulks will renew in 2022, and another two in 1Q2023. Unlike previous rounds of bull markets in the handysize dry bulk shipping market, this upcycle seems more robust given the better dynamics in the market.
Dry bulk carriers supply-demand dynamics are favourable. In the last shipping super cycle (2006-2008), new handysize orders made up as much as 50% of the total fleet, driven by significant speculative demand and easy financing. But recent orderbook for handysize bulk carriers has fallen to a multi-decade low of 4.6% of current fleet size by deadweight tonnage (dwt), thus providing a very good supply-demand dynamic for the sector.
Higher average charter rates. UAG's average charter rate increased from US$14,321 in 3Q2021 to US$18,893 in 4Q2021. This marks the sixth consecutive quarter of QoQ increase. The group will be renewing the charters for its 10-wholly owned vessels in 2022 and 1Q2023.
Uni-Asia's average charter hire rate per day up to 4Q2021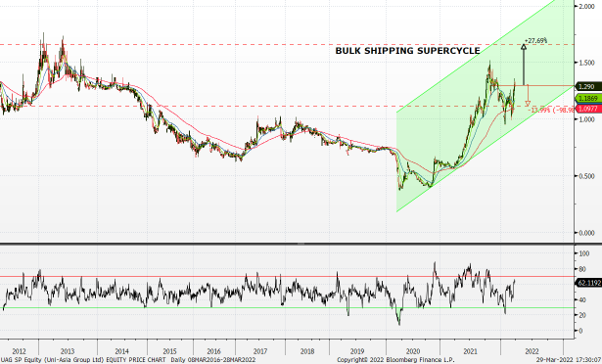 ---
HONG KONG
Ganfeng Lithium Co Ltd (1772 HK): Lithium rules
BUY Entry 108 – Target – 125 Stop Loss – 100
GANFENG LITHIUM CO., LTD. is a China-based company principally engaged in the research, development, production and sales of deeply processed lithium products. The Company's main products include lithium compounds, lithium metal and lithium batteries. The Company's products are mainly used in electrical vehicles, chemicals and pharmaceuticals. The Company distributes its products in the domestic market and to overseas markets.
Stellar FY21 earnings. The company announced the FY21 results. Revenue jumped by 103.4% YoY to RMB11.1bn. Gross profit jumped by 282.5% YoY to RMB4.4bn. GPM jumped by 18.6ppts to 39.8%. Net profit attributable to the owners of the company jumped by 409.7% YoY to RMB5.4bn. NPM jumped by 21.6ppts to 49%. The stellar performance was due mainly to the 49% and 14.1% surge in the average selling price of the respective lithium series products and lithium batteries series products. Meanwhile, the company proposed a cash dividend of RMB3 for every 10 shares.
Lithium carbonate price maintains at a record high. Lithium carbonate prices in China. rose to RMB497,500/tonne as of 31st March due to high global demand and tight supplies. Prices have jumped more than 79% YTD. China is expected to double the EV sales in 2022 to more than 5mn units. Meanwhile, battery producers rush to secure long-term supply contracts with lithium mining companies. The recent sanction on Russia pushed oil prices back to more than US$100/bbl. The outlook for oil is still very bullish. Accordingly, the demand for petroleum vehicles will be further suppressed. On the contrary, the demand for EVs, especially in Europe and the US will be further propelled. As a result, lithium, the main raw material for batteries, is expected to see stronger demands.
Tailwind catalyst. According to Bloomberg, the US plans to invoke Cold War powers to encourage domestic production of critical minerals for EV and other types of batteries. Ganfeng holds 11.2% of Lithium Americas (LAC US) and majority stakes in LAC's several projects. Therefore, the ramp-up in production in the overseas market will further improve Ganfeng's performance.
Updated market consensus of the EPS growth in FY22/23 is 43.0%/3.8% YoY respectively, which translates to 17.0×/16.4x forward PE. Current PER is 24.6x. Bloomberg consensus average 12-month target price is HK$204.85.
Lithium carbonate spot price in China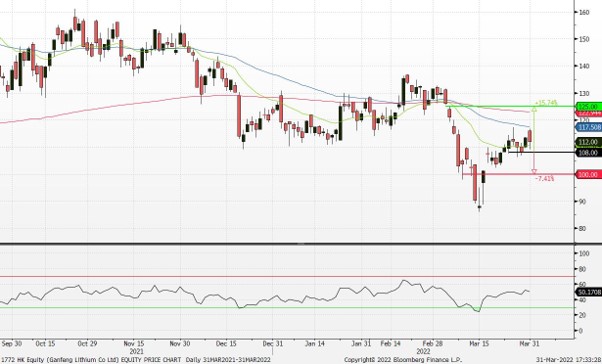 ---
AviChina Industry & Technology Co Ltd (2357 HK): Be prepared for danger in times of safety
RE-ITERATE BUY Entry – 4.2 Target – 4.80 Stop Loss – 3.9
AviChina Industry & Technology Company Limited is principally engaged in the research, development, manufacture and sale of civil aviation products. The Company operates its business through two segments. The Aviation Entire Aircraft segment is engaged in the manufacture, assembly, sales and servicing of helicopters, trainers and other aircraft. The Aviation Parts and Components segment is engaged in the manufacture and sale of aviation parts and components.
Invasion marks the start of accelerating expansion of worldwide defence spending. The Russia-Ukraine conflict continued to escalate even though the peace talks ended on Monday night. Previously, Russia had raised nuclear threats by putting its nuclear forces on high alert on Sunday. Subsequently, Germany announced to commit EUR100bn (US$112.7bn) of the 2022 budget for the armed forces. Meanwhile, the EU agreed to give EUR500mn in arms to aid Ukraine. The ripple effect is expected to extend the arms race globally as the Middle East, South, Southeast and Northeast Asia have huge geographical disputes and ideological conflicts. The world order which was built after WWII is being undermined. China has been increasing its defence spending consistently, and its 2022 defence budget was announced to be RMB1.45tn, up 7.1% YoY.
FY21 results highlights. Total operating revenue grew by 18.4% YoY to a record high of RMB60.3bn. Net profits attributable to the shareholders grew by 22.6% YoY to a record high of RMB2.4bn. The company proposed a cash dividend of RMB0.08.
The updated market consensus of the EPS growth in FY22/23 is 17.3%/14.3% YoY respectively, which translates to 9.8x/8.6x forward PE. The current PER is 12.0x. Bloomberg consensus average 12-month target price is HK$6.79.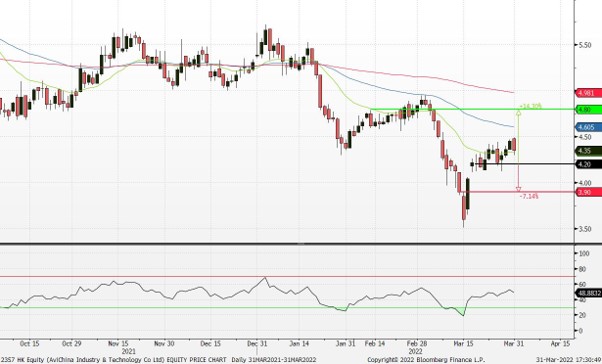 ---
MARKET MOVERS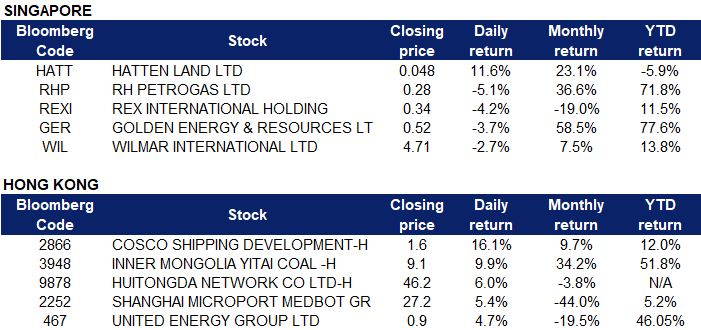 ---
United States
Top Sector Gainers
Top Sector Losers
Advanced Micro Devices (AMD US) shares fell 8.3% after Barclays downgraded the stock to equal-weight and lowered its price target from $148 to $115. The bank cited "cyclical risk across several end markets," including PC and gaming as contributors to the downgrade.
Baidu Inc (BIDU) shares lost 8% yesterday. Baidu was added to the Securities and Exchange Commission's list of U.S.-traded China stocks that could be delisted should the internet search company fail to disclose financial audits to U.S. regulators. Consequently, fellow US-listed Chinese stocks, such as Alibaba Group Holding Ltd (BABA US) lost 6.7% yesterday.
PVH Corp (PVH US) shares fell 7.4% after Morgan Stanley downgraded the stock to equal-weight from overweight. "Expect the stock to remain range-bound for now," the firm said.
Walgreens Boots Alliance Inc (WBA US) shares lost 5.7% yesterday after the company reported its quarterly results. Despite recording a beat on earnings, it did not raise its forecast for the year. The company's president said on its earnings call Thursday that demand for Covid testing has slowed since January, and it could take time for its healthcare investments to pay off.
---
Singapore
Hatten Land Ltd (HATT SP) shares rose 11.6% yesterday. Hatten Land's subsidiary Hatten Edge has inked an agreement with a new business partner which will allow the addition of up to 550 crypto mining rigs to Hatten Land's mining facilities in Melaka. The first 50 sets are targeted to be delivered as pilot batch machines by end-April with an option to deliver an additional 500 rigs in 2022, announced the group on Thursday (Mar 31). Both companies will share the net proceeds of the cryptocurrencies that are mined after deducting the related operational and management expenses. Hatten Land therefore expects the latest agreement to contribute positively to its net assets and financial performance for the financial year ending Jun 30, 2022.
RH Petrogas Ltd (RHP SP) and Rex International Holding Ltd (REXI SP) shares lost 5.1% and 4.2% respectively yesterday. WTI crude futures dropped more than 4% to $103 per barrel on Thursday following reports that the Biden administration is considering a plan to release around 1 million barrels of oil per day for about six months from US reserves. The White House is expected to announce the plan later Thursday, aimed at lowering gasoline prices that have hit record levels following Russia's invasion of Ukraine. Meanwhile, Brent crude futures dropped 4% to below $109 per barrel.
Golden Energy & Resources Ltd (GER SP) shares fell 3.7% yesterday. Newcastle coal futures bottomed below $300 per tonne, a level not seen in a month, as demand in China is easing and prices of other energy commodities moderate. The latest coronavirus-induced restrictions in China, particularly in Shanghai and Tangshan, hurt demand and led to increased inventories at mines. Still, coal prices have almost doubled since the beginning of 2022, fueled by supply constraints in the energy market due to the Russia Ukraine war, floods in Australia, and a partial ban of exports from Indonesia.
Wilmar International Ltd (WIL SP) shares fell 2.7% yesterday. Palm oil futures bottomed below the MYR 6,000 region, pulling back from a rally that saw the benchmark hit a record high of MYR 7,200 earlier this month, pressured by a slump in crude prices and Indonesia's decision to remove its export restrictions on palm oil products. The world's top producer has raised its export levy instead of asking producers to sell 30% of their planned exports to the domestic market, marking a new bid to stabilise domestic prices.
---
Hong Kong
Top Sector Gainers
Top Sector Losers
Cosco Shipping Development Co Ltd (2866 HK) shares rose 16.1% yesterday. The Chinese shipping company reported on Thursday that 2021 net profit surged to 89.30 billion yuan ($14.07 billion), compared to CNY9.93 billion last year. Revenue rose to CNY333.69 billion in 2021, compared to CNY171.26 billion in 2020. In 2022, COSCO Shipping expects the demand outlook for its container shipping business to remain bright, although ongoing port congestion issues and recurring Covid-19 infections could pose uncertainties for the market.
Inner Mongolia Yitai Coal Company Ltd (3948 HK) shares rose 9.9% yesterday. The company released its annual results yesterday, achieving operating income of RMB 50.6756 billion in 2021, a YoY increase of 49.97%, while net profit attributable to shareholders was 8.643 billion yuan, compared with previous year losses of 657 million yuan. The board of directors proposed to distribute a cash dividend of RMB 9.30 for every 10 shares.
Huitongda Network Co Ltd (9878 HK) shares rose 6% yesterday after releasing its 2021 results. The company recorded revenue of approximately RMB 65.763 billion, a YoY increase of 32.5% and RMB 330 million in net profit, a YoY increase of 66.4%. For FY2021, the number of SaaS+ users of the company's paid stores reached 18,000, a YoY increase of 596.4%, while subscription service revenue was RMB 280 million, a YoY increase of 133.8%
Shanghai MicroPort MedBot Group Co Ltd (2252 HK) shares rose 5.4% yesterday after releasing its annual results for the year ended December 31, 2021. The group achieved revenue of RMB 2.15 million compared to NIL revenue for the same period last year, while losses attributable to the company's equity shareholders was RMB 583 million, a YoY increase of 179.08%. According to the announcement, the increase in net loss was mainly due to the increase in investment in research and development, clinical trials and product registration of products under development.
United Energy Group Ltd (467 HK) shares rose 4.7% yesterday after releasing its 2021 results. The company generated revenue of HK$ 7.437 billion, a YoY increase of 19.9%, while the profit attributable to the company's owners was HK$ 2 billion, a YoY increase of 131.5%. The announcement said that the increase in net profit was due to the rise in international oil prices.
---
Trading Dashboard
Trading Dashboard Update: No additions or deletions to trading dashboard.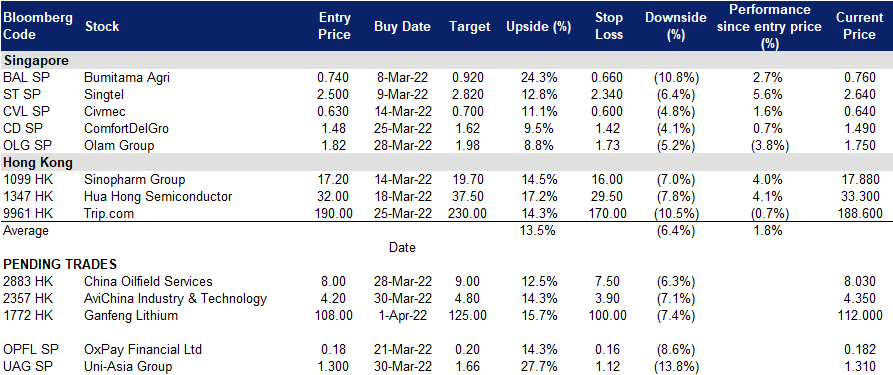 (Click to enlarge image)
---