KGI DAILY MARKET MOVERS – 9 September 2021
Market Movers | Trading Dashboard
---
Market Movers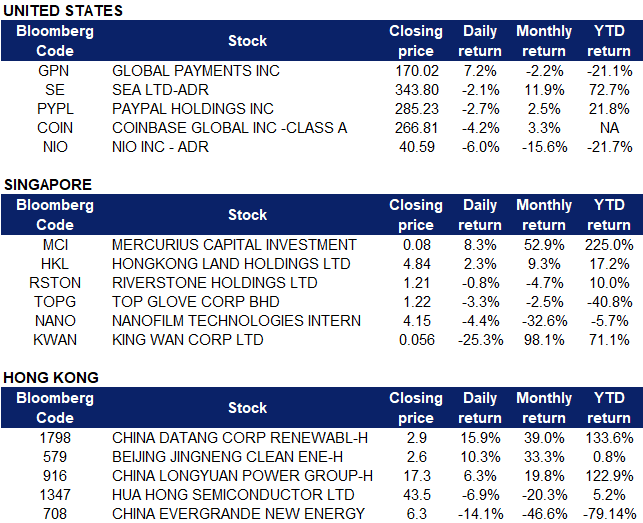 United States
Global Payments Network (GPN US) rose 7.19% on Wednesday after announcing that it will buy SaaS company MineralTree for $500 million in cash to expand its presence in cloud-based software solutions in payment technology. CEO Jeff Sloan said that the acquisition will enhance the company's product suite for businesses and expand its opportunities in one of the largest markets in software and payments. Global Payments will finance the acquisition with its existing credit facility and cash on hand. The transaction is expected to close in the fourth quarter of 2021.
Sea Limited (SE US) closed 2.06% lower on Wednesday, dropping another 3% in post-market trading after the Southeast Asian technology company announced its plans to raise $6.3 billion in a share and convertible bond sale. Sea is offering 11 million American Depository Receipts (ADRs), with the option of offering 1.65 million more as part of a so-called greenshoe option. The 11 million shares alone that Sea is offering will be the biggest equity sale since Chinese e-commerce operator Pinduoduo Inc. raised $4.1 billion on Nov. 18, according to data compiled by Bloomberg. Including the convertible bonds, the overall deal will be the biggest equity raise since T-Mobile US Inc.'s in June 2020. Sea Limited's weighting within the MSCI Singapore Index was recently increased on 1 September 2021. There will be two more rebalancings in November 2021 and February 2022 which will see a further reduction in the banks' weighting in the index. SE's weighting increased to 9.66% from 31 August 2021, and will increase to 17.61% in November 2021, and finally to 29.95% by February 2022.
Paypal (PYPL US) retreated 2.74% on Wednesday after gaining 1% in pre-market trading. The company announced that it would acquire Paidy, a Japanese buy-now-pay-later platform in a deal worth $2.7 billion. The move is the latest in a series of "buy now pay later" plays; with Square announcing it would buy Afterpay, and Amazon announcing a partnership with Affirm. Both companies each lost 4% after the announcements.
Coinbase (COIN US) shares dropped as much as 4.5% on Wednesday after the company announced that the U.S. Securities and Exchange Commission (SEC) intends to sue the company over Coinbase's 'Lend' program that allows users to earn interest by lending digital assets. Coinbase's chief legal officer, Paul Grewal, said in a blog post that the company was caught off guard by the threat considering its efforts to engage with the regulatory agency for the last six months. CEO Brian Armstrong said in a Twitter thread that when he traveled to Washington, D.C. in May, the SEC "refused" to meet with him. Coinbase stocks closed 3.23% lower at $258.20.
NIO (NIO US) shares dropped 6.04% after the company announced a $2 billion stock offering, saying it plans to use the money to "further strengthen its balance sheet, as well as for general corporate purposes". The company said on its balance sheet as of 30 June that it had $7.5 billion of cash and cash equivalents, restricted cash and short-term investments. NIO has filed the necessary paperwork for the stock sale, and its new shares will be offered through several big investment banks, including Credit Suisse, Goldman Sachs, Morgan Stanley, and the Hong Kong branch of China International Capital.
---
Singapore
Mercurius Capital Investment Ltd (MCI SP) Shares rose by 8.3% yesterday and gained a total of approximately 70% over the last 4 trading days as the company's CEO, Chang Wei Lu had been aggressively buying back shares to increase his shareholdings. On 3 September, it was announced that a total of 9,962,100 shares were bought for a total consideration of S$393,795. On 7 September, 9,074,900 shares were bought for a total consideration of S$635,243, while yesterday, another 7,607,000 shares were bought, for a total consideration of S$543,900.
Hong Kong Land Holdings Ltd (HKL SP) Shares rose by 2.3% yesterday after Tuesday's 12.6% surge. On Monday the company announced its intention to buy back up to US$500mn of its shares in a programme extending until 31 Dec 2022, with the purpose to reduce the company's capital. On Tuesday, the company confirmed its repurchase of 320,000 shares at US$4.67 per share. Hong Kong Land currently has a Bloomberg consensus rating of 11 BUYS, 2 HOLDS and 1 SELL, with 12M TP of US$5.84, representing an upside of 20.7% as of yesterday's closing price of US$4.84.
King Wan Corporation Ltd (KWAN SP) Shares plunged 25.3% yesterday, finally correcting after a rally which saw its share price surge more than 270% from 1 September to 7 September. Shares had surged earlier in the month on news of an ongoing discussion with a party to set up a joint venture to carry out retrofitting and upgrading solutions. The company also announced the results of the 1-for-1 rights issue on Monday. The rights issue which closed on 31 August 2021 had received valid acceptances and excess applications representing around 176% of the rights shares available.
Nanofilm Technologies (NANO SP) Shares fell 4.4% yesterday on higher-than-average trading volumes. There was no company specific news. The company had stopped buying back shares in the open market since 19 August. After a disappointing first half set of results, consensus has become divided on the stock, with 3 BUYS and 3 HOLDS, and a 12m TP of S$4.63 (+12% potential upside).
Top Glove (TOPG SP) and Riverstone Holdings (RSTON SP) Shares of the Malaysian glove makers fell after Hartalega Holdings' CEO Kuan Mun Leong said that China could emerge as a major force in the global rubber gloves market, threatening the dominance of Malaysian companies in the long term. Chinese glove makers are expected to contribute 23% of the world's glove supply by 2022, up from the estimated 16% currently, while Malaysia's market share is expected to shrink to 60% by 2022, down from 67% currently. On a separate note, Riverstone will be paying out a RM 10 cents dividend (3.2 Sing cents), ex-date on Mon, 20th September.
Trading dashboard: Add Manulife US REIT (MUST SP) at US$0.73


---
Hong Kong
China Datang Corp Renewable Power (1798 HK) Beijing Jingneng Clean Energy Co Ltd (579 HK) China Longyuan Power Group Corp Ltd (916 HK). All three shares closed at a 52-week high. The power sector continued to rise as electricity demand surged. CGN New Energy Holdings Co Ltd (1811 HK) announced that the power generation volume grew by 21.8% YoY to 1,403 GWh in 8M21. Longyuan Power Group also released data for its 8M21 power generation volume, which grew by 21.9% YoY to 4,185.2 GWh.
Hua Hong Semiconductor Ltd (1347 HK). China Integrated Circuit Industry Investment Fund sold 1.07mn shares at the average price of HK$45.52. After the reduction in holdings, the fund's stake in Hua Hong dropped from 16.02% to 15.94%.
China Evergrande New Energy Vehicle Group Ltd (708 HK). There was no company specific news. Shares are under huge speculation movements.
Trading dashboard: Xtep International (1368 HK) took profit at HK$14.5.
---
Trading Dashboard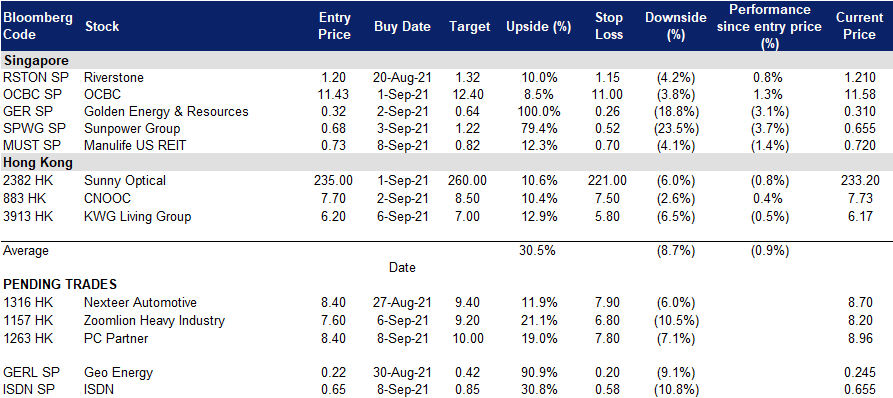 ---

---
Related Posts: