KGI DAILY MARKET MOVERS – 9 November 2021
Market Movers | Trading Dashboard
Market Movers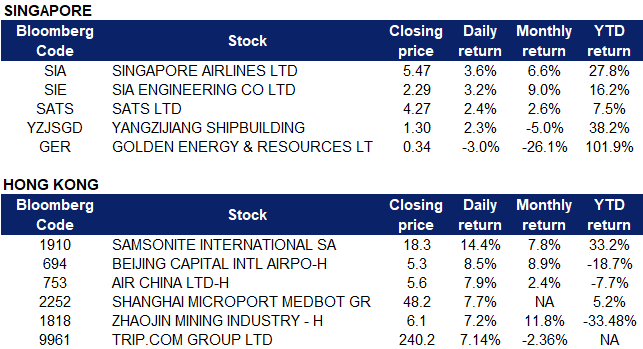 ---
United States
Top Sector Gainers
Top Sector Losers
Advanced Micro Devices (AMD US) shares surged to an all time high on Monday, up 10% to a record closing of $150.16 per share, after the chipmaker said that it had won Meta Platforms as a data center chip customer. The company announced a chip called the MI200, which is an "accelerator" designed to speed up certain tasks like machine learning and artificial intelligence. The new chip is designed to take on Nvidia's A100 chip, which, along with other chips designed to speed up artificial intelligence, has helped make Nvidia the most valuable U.S.-listed semiconductor company.
Tesla (TSLA US) shares slid 4.8% on Monday after Elon Musk launched a Twitter poll on Sunday saying "Much is made lately of unrealized gains being a means of tax avoidance, so I propose selling 10% of my Tesla stock. Do you support this?". Musk also pledged to abide by the results of the poll, which received about 3.5 million replies, with almost 58% of the responses voting for "Yes". Musk previously said he was likely to sell "a huge block" of his shares in the fourth quarter.
Cryptocurrency-themed stocks rose on Monday in tandem with the jump in crypto prices, with bitcoin gaining more than 5% and ethereum rising more than 3% to hit an all-time-high above $4,700. Shares of Coinbase (COIN US), Riot Blockchain (RIOT US) and Marathon Digital (MARA US) rose 5%, 16.5% and 18% respectively.
Paypal (PYPL US) shares closed 1.6% higher on Monday before declining 5% in after-hours trading. The company said it might not meet expectations for the current quarter's revenue and earnings. The payment company's earnings per share for the quarter came in at $1.11, beating analyst estimates of $1.07. Revenue jumped 13% YOY to $6.18 billion, but missed expectations of $6.23 billion. Paypal expects $6.85 – 6.95 billion in revenue and $1.12 in adjusted earnings per share for the fourth quarter, well below what analysts are expecting.
---
Singapore
Travel-themed stocks Singapore Air (SIA SP), SIA Engineering (SIE SP) and SATS (SATS SP) made gains on Monday following news of Pfizer (PFE US) releasing positive data on its antiviral oral COVID-19 pill. Additionally, the United States also ended its 20 months of restrictions on international travel, opening its borders to foreign visitors who are fully vaccinated against COVID-19. Shares of the trio jumped 3.6%, 3.2% and 2.4% respectively.
Comfortdelgro Corporation (CDG SP) shares rose 1.9% yesterday. DBS Group Research said in a report last Friday that it believes that the company's subsidiary, CDG Australia, could have an enterprise value worth at least $1.2 billion, on the back its potential IPO which will see it listed on the Australian Securities Exchange. DBS also said that the gradual lifting of restrictions in the coming months may help with CDG's Singapore taxi fleet recovery. DBS forecast FY2022 taxi revenues to rise 14.4% YOY, citing CDG's fleet of 9,000 taxis and lower rental waivers. DBS also forecast FY2022 operating profit to improve to S$60.7 million for the segment. Read our trading idea note on the company here.
Golden Energy and Resources (GER SP) shares declined 3% after it was announced that global miner BHP Group Ltd had signed a deal to sell its stake in BHP Mitsui Coal, a coal joint venture in Queensland to Stanmore Resources for up to $1.35 billion. Stanmore Resources is majority-owned by Golden Energy and Resources. Stanmore will pay US$1.1 billion on completion of the sale and an additional US$100 million six months after that. The companies also said that there is a potential for up to US$150 million in a price-linked earnout, payable in 2024. BHP will continue to operate BMC until completion and work with Stanmore during the ownership transition.
Yangzijiang (YZJSGD SP) shares recovered on Monday, gaining 2.3%. The company previously posted its business updates for 3Q2021, with gross profit for the third quarter ended 30 September at RMB 1 billion, down from RMB1.26 billion in the year-ago period, which the company said was due to rising costs of raw materials. Revenue from the trading segment declined to RMB99.4 million in 3Q2021 due to lower volume of trading activities. DBS Research Group reiterated its "Buy" rating on the company with a target price of $1.95, saying that the stock is "unwarrantedly undervalued" and has yet to fully reflect the current shipbuilding cycle. There is also a potential upside to Yangzijiang's current dividend yield of 4 per cent, with room to raise payout.
---
Hong Kong
Top Sector Gainers
Top Sector Losers
Samsonite International S.A. (1910 HK), Beijing Capital International Airport Co Ltd (694 HK), Air China Ltd (753 HK). Travel related stocks rose collectively yesterday. Shares gained 14.4%, 8.5% and 7.9i% respectively. On Friday, Chief Executive Carrie Lam mentioned that by February next year, Hong Kong could be reopening borders with the mainland on a "large-scale". Local media on Thursday reported that quarantine-free travel between both sides could come as soon as December, with the initial plan to be limited to Guangdong province for a start. In addition, The U.S. on Monday will lift a pandemic travel ban on international visitors from more than 30 countries after 19 months. New rules will replace the ban, requiring international visitors to show proof of vaccination and a recent negative Covid test. As reopening plays gain traction in the fourth quarter, news of travel possibilities further serve as a catalyst for travel related stocks.
Shanghai MicroPort MedBot Group Co Ltd (2252 HK). Shares gained 7.7% yesterday. The company is a subsidiary of MicroPort Scientific Corporation (853 HK) and was recently listed on 2 November. It was reported that the company is actively carrying out strategic cooperation on a global scale, establishing partnerships with many top international surgical robot companies and accelerating the deployment of R&D centers in many overseas countries and regions such as Singapore. Surgical robots have high clinical value, which can effectively improve the accuracy and stability of surgery, shorten the recovery period of patients after surgery, and reduce the occurrence of complications. According to the Frost & Sullivan Report, the global surgical robot market has increased from USD 3bn in 2015 to USD 8.3bn in 2020, and may reach USD 33.6bn in 2026. The proportion of the Chinese surgical robot market in the global market is expected to increase from 5% in 2020 to 2026 and accounts for 11% of the global market.
Zhaojin Mining Industry Company Ltd (1818 HK). Shares rose 7.2% yesterday, in tandem with rising gold prices. Gold prices firmed up above $1,810 an ounce on Monday, after rallying almost 2% last week, as easing global bond yields gave the non-interest yielding bullion room to advance. The US benchmark 10 year yield settled below 1.5% for the first time in over a month, after the Federal Reserve deferred specific discussions on the extent of next year's tapering and the timing of interest rate hikes. Gold was also supported on news that the US Congress passed a $1 trillion infrastructure bill on Friday, while markets await US inflation data due later this week.
Trip.com Group Ltd (9961 HK). Shares rose 7.1% yesterday. In addition to being a travel related stock, which sector gained momentum from the reopening of borders, Trip.com and the Saudi Arabian Tourism Authority (STA) reached a cooperation agreement recently. According to the agreement, Trip.com will carry out in-depth cooperation with the STA in terms of products, technology, and destination marketing to enhance the global influence of Saudi Arabia's tourism industry. With the popularization and promotion of vaccines, facilitation of visa policies, and broader tourism promotion measures, it is expected that Saudi Arabia's inbound tourism market will recover rapidly.
Trading Dashboard: Add CGN New Energy (1811 HK) at HK$7.6.
---
Trading Dashboard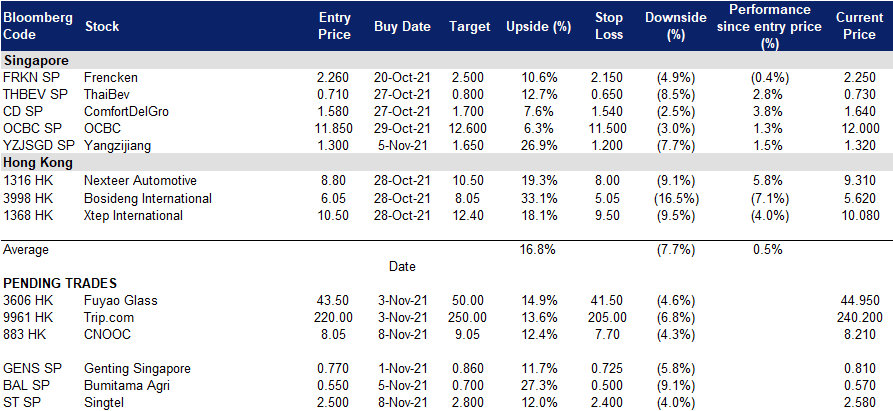 ---

---
Related Posts: