KGI DAILY MARKET MOVERS – 7 September 2021
Market Movers | Trading Dashboard
---
Market Movers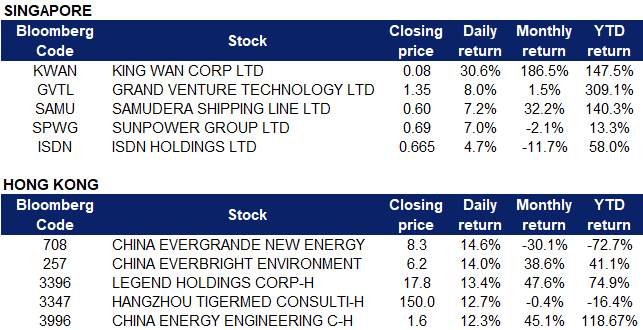 United States
The U.S. market was closed on Monday for a public holiday – Labor Day. Trading resumes on 7 September 2021.
---
Singapore
King Wan Corporation Ltd (KWAN SP) Shares surged by 30.6% yesterday, bringing total gains over the past 4 trading days to approximately 242%. The price rally followed the company's disclosure last week that there are ongoing discussions with a party to set up a joint venture to carry out retrofitting and upgrading solutions. Management also commented that the company is also continuously and actively exploring opportunities to build and diversify its business and revenue streams, and may, from time to time, engage in discussions with potential targets. Read the full article published in The Business Times here.
Grand Venture Technology Ltd (GVTL SP), ISDN Holdings Ltd (ISDN SP) Grand Venture shares rose by 8% yesterday closing at an all-time high while ISDN shares rose by 4.7%. There was no specific news for both companies, however, the rise in share price is most likely due to a spillover effect from semiconductor related stocks such as ASML, which traded at all-time highs yesterday. The news that China-based SMIC was going to invest US$9bn to build a new fab near Shanghai also lent support to the sector. On an industry level, it was reported that July global semiconductor sales was up 2.1% MoM and analysts expect a 25.1% YoY growth in FY21. We currently have a S$0.85 TP for ISDN, representing a 27% upside to yesterday's closing price of S$0.67. Read our company update note published on 5 July 2021 here.
Samudera Shipping Line Ltd (SAMU SP) shares rose 7.21% on Monday, gaining approximately 19% in the past week. The stock is now trading at a new 52-week high of $0.595. There was no company specific news. The company displayed blockbuster performance in 1H2021 which was largely attributed to skyrocketing freight rates. 
Sunpower Group Ltd (SPWG SP) shares rose by 7.03%, gaining approximately 9.6% in the past week. There was no company specific news for the rise in share price. DBS Group Research previously increased their target price for the company from 68 cents to 70 cents, while maintaining their "hold" recommendation, citing the company's better-than-expected topline growth for its green investments segment. Earlier last month, at China's National Energy Efficiency Promotion Week, President Xi Jinping unveiled China's ambitious carbon neutrality goal, resulting in positive sentiment towards the clean energy sector.
Trading dashboard: Increase entry price for Sunpower (SPWG) to S$0.68.


---
Hong Kong
China Evergrande New Energy Vehicle Group Ltd (708 HK) Shares rose by 14.6% yesterday, resulting in an approximately 44% gain over the past 5 trading days. The price rally since last Tuesday was after the announcement of the company's interim results, where revenue increased by 53.5% YoY to RMB6.93bn in 1H21, while losses increased by 96.3% YoY to RMB4.8bn. Before Evergrande's earnings result was announced, shares were trading near its previous lows in March 2020. Despite concerns over the debt issues of its parent Evergrande Group, the rise in share price is likely a technical rebound as RSI was below 30 last week coupled with revenue growth from the company's interim earnings despite expanded losses.
China Everbright Environment Group Ltd (257 HK) Shares jumped by 14% yesterday and closed at a 52-week high, even though there was no company specific news. The company announced its interim results on 11 August, where revenue increased by 44% YoY to HK$26.5bn while profit increased by 28% to HK$3.9bn. In addition, Citic Securities upgraded China Everbright to BUY with a TP of HK$7.70, given that the company is actively pursuing the "dual carbon" strategic transformation, and has newly obtained investment of RMB 7bn in 40 projects across multiple fields. Citic Securities also commented that traditional waste-to-energy and other businesses have experienced high-quality growth, and expenses during the period have been well controlled. Amidst the current weakness of Chinese stocks due to regulatory clampdown, it is likely investors are turning to traditional sectors, in this case, Everbright Environment, given that it is in line with China's carbon neutrality and ESG concept.
Legend Holdings Corporation (3396 HK) Shares rose by 13.4% yesterday and closed at 52-week high after CICC upgraded Legend Holdings to OUTPERFORM and raised its TP to HK$16, given that the company's interim revenue and profits exceeded expectations. Potential catalysts include continuous improvement of fundamentals and accelerated transformation of scientific and technological achievements. In addition, the China Securities Regulatory Commission announced last week that it would establish the Beijing Stock Exchange. Li Xing, Chief Market Analyst at Yuekai Securities Research Institute commented that it would bring five major investment opportunities, one of it benefitting the venture capital sector, which Legend Holdings, the leader, is undoubtedly one of the beneficiary stocks.
Hangzhou Tigermed Consulting Co Ltd (3347 HK). Stocks of the biggest listing in 2021 by an Asian healthcare provider rose 9.88% yesterday. The healthcare sector jumped on Monday. The company previously reported 2021 Interim Results for the six months ended 30 June 2021 with strong financial growth, with revenue growing 41% YOY to RMB 2,056.4 million, net profit increasing 52% YOY, and adjusted non-IFRS diluted earnings per share increased 46.3% YOY to RMB 0.79.
China Energy Engineering Corporation Ltd (3996 HK) shares surged 12.33% after it was announced that the issue of shares by China Energy Engineering to absorb and merge Gezhouba Group had been approved by the China Securities Regulatory Commission. Gezhouba previously submitted an application for the termination of its listing on the Shanghai Stock Exchange on 2 September 2021. The stock has gained approximately 46% in the last week.
---
Trading Dashboard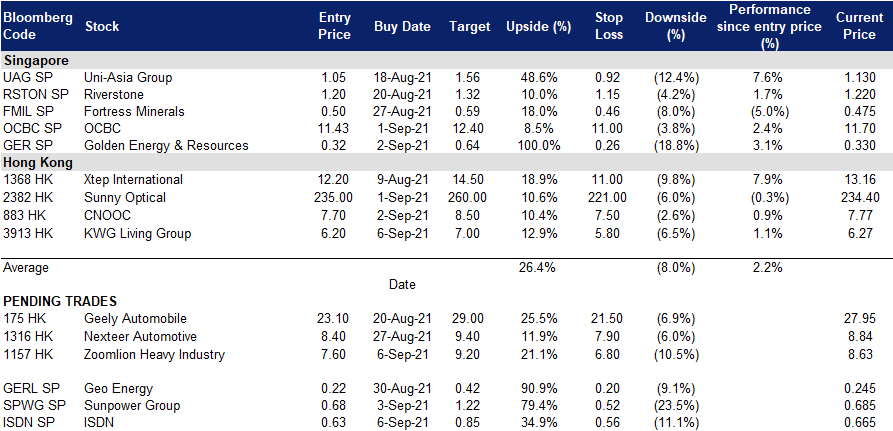 ---

---
Related Posts: