KGI DAILY MARKET MOVERS – 31 August 2021
Market Movers | Trading Dashboard
---
Market Movers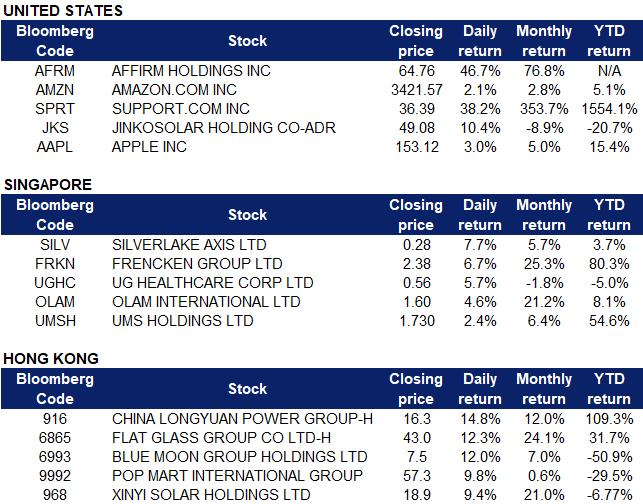 United States
Affirm Holdings (AFRM US) shares hit an all time high, soaring 46.67% to close at $99.59 after it announced a partnership with Amazon on 27 August, saying that Amazon is testing Affirm's "buy now, pay later" (BNPL) system with some customers. Amazon plans to make the BNPL service more broadly available over the next few months. Affirm is currently serving other big names such as Walmart and Peloton. Affirm is set to report fiscal fourth-quarter earnings on 9 September.
Following news of Affirm and Amazon (AMZN US)'s partnership, Amazon's stock climbed 2.15% to close at $3,421.57 on Monday. The BNPL service will allow customers who spend $50 or more to pay for larger purchases through an instalment plan with Affirm, potentially increasing spending on Amazon.
Support.com (SPRT) shares surged 46.2% in the premarket as it continued to take part in a short squeeze rally. The company's stock has risen for the past seven sessions in a row. Support.com's stock has caught the attention of retail traders based on its high short interest, gaining over 180% last week. Support.com stock has traded as high as $59.69 and as low as $1.62 over a 52-week period.
JinkoSolar Holding (JKS US) shares soared as much as 14.5% before closing 10.42% up at $87.65. In an article by The Washington Post last Friday, it was highlighted how companies such as JinkoSolar had seen millions of dollars worth of solar panels being detained by Customs and Border Protection agents. However, the company has a manufacturing plant in Florida, which could have eased investors' fears of the company.
Apple (AAPL US) stocks climbed 3.04% to a record closing high of $153.12 on Monday after Bernstein analyst Toni Sacchonaghi released a report saying that Google could pay Apple approximately $15 billion this year to retain its place as the default search option on iOS. In the report, Sacchonaghi said the deal will boost Apple's services revenue growth by 8.5 percentage points and contribute as much as 9% to Apple's gross profits in fiscal 2021.
---
Singapore
Silverlake Axis Limited (SILV SP) Shares rose by 7.7% yesterday and closed at S$0.28, near its previous six month high of S$0.285 on 12 July, after the company announced on Friday, 27 August that it has secured contracts to deliver innovative and transformative digital innovation enhancement solutions to 28 of their existing customers and a new customer during the fourth quarter for the financial year ended 30 June 2021. The contracts have an aggregate value of approximately MYR 90mn and are expected to contribute positively to the results of Silverlake in the current and following financial years. Read the full announcement here. 
Frencken Group Limited (FRKN SP) Shares continued to rise since last Thursday, with total gains of 9.5% as of yesterday's closing price. Last Thursday, The Edge published an article where several analysts upgraded their TP for Frencken. CGS-CIMB analyst William Tng increased his TP for Frencken to S$2.49 from $2.34 previously as demand remains strong for most of the company's business segments. Maybank Kim Eng analyst Lai Gene Lih also raised his TP to S$2.63 from S$2.00 previously due to moderated cyclicality risks and an ongoing margin expansion trend. Finally, UOB Kay Hian analyst Clement Ho raised his target price on Frencken to $2.52 from $2.13 previously as the strong demand in the semiconductor segment is expected to continue into FY2022. Frencken currently has 5 BUYS and 0 HOLDS and SELLS, with average 12M TP of S$2.52, representing an upside potential of 5.9% as of last closing price.
UG Healthcare Corporation Limited (UGHC SP) Shares rose by 5.7% yesterday, rebounding from its 52-week low, after the company reported positive FY21 results. UG Healthcare recorded more than 100% increase in revenue to S$338.4mn in FY21 and more than 100% increase in net profit to S$13.4mn. Gross profit quadrupled YoY to S$196.2mn in FY21 with better economies of scale from the additional production capacity as well as higher margins for its proprietary glove products. Correspondingly, composite gross margin increased from 29.5% in FY20 to 58.0% in FY21. Finally, the board has proposed a final dividend of 0.406 Sing Cents per share and a special dividend of 0.1 Sing Cents per share. Read the full results here. 
Olam International Limited (OLAM SP) Shares rose by 4.6% yesterday to close at S$1.60, near the previous one-month resistance levels. From its recent lows of S$1.25 on 28 July, shares have gained a total of 28%. Investors are closely following the IPO of its Olam Food Ingredients (OFI) unit on the London Stock Exchange and concurrent listing in Singapore. The IPO is expected to raise around S$3.8bn, according to Reuters. OFI's listing is on course for the first half of 2022. 
UMS Holdings Limited (UMS SP) Shares rose by 2.4% yesterday, even though there was no company specific news. The rise in share price could be due to an industry spillover effect in the semiconductor space, as Frencken Group led gains of 6.7% yesterday. In addition, Semiconductor sales forecasts were upgraded for the third time, which could have an overall positive impact on sentiments in the sector.


---
Hong Kong
China Longyuan Power Group Corp Ltd (916 HK) Wind power sector jumped. The company announced 1H21 interim results. Revenue grew by 25.7% YoY to RMB17.9bn. Net profit attributable to equity shareholders grew by 36% YoY to RMB4.5bn. The group generated a cumulative gross electricity output of 33,106 GWh, of which electricity generated from our wind power segment amounted to 27,407 GWh, representing an increase of 20.35% YoY. The increase in the group's electricity generated from wind power segment mainly benefited from the increase of the installed capacity, a YoY increase in wind speed and the results made in equipment management.
Flat Glass Group Co Ltd (6865 HK) Shares closed at an all-time high. Shares have been up for five consecutive days. There was no company specific news.
Xinyi Solar Holdings Ltd (968 HK) Shares closed at a high since February 2021. There was no company specific news. Photovoltaic sector jumped. Clean energy theme remains one of the few areas that investors consistently park their funds with as the uncertainties of the regulations on the technology sector continue to weigh on related stocks.
Blue Moon Group Holdings Ltd (6993 HK) Shares closed at a one-month high. Previously, the company announced 1H21 interim results. Revenue decreased by approximately 3.3% YoY to HK$1,259.5mn. Gross profit margin decreased by approximately 10.5% to approximately 53.5%. Loss attributable to equity holders of the company was approximately HK$43.9mn, compared to net profit of HK$302.2mn in 1H20.
Pop Mart International Group Ltd (9992 HK) The company announced the first interim results after its IPO in December 2020. Revenue jumped by 116.8% YoY to RMB1.78bn. Gross profit jumped by 109.4% YoY to RMB1.1bn. Profit attributable to owners of the company jumped by 154% YoY to RMB 358.8mn. Total number of registered members increased from 7.4mn as in December 2020 to 11.4mn as in Jun 2021.
Trading dashboard: Add Trip.com (9961 HK) at HK$220.
---
Trading Dashboard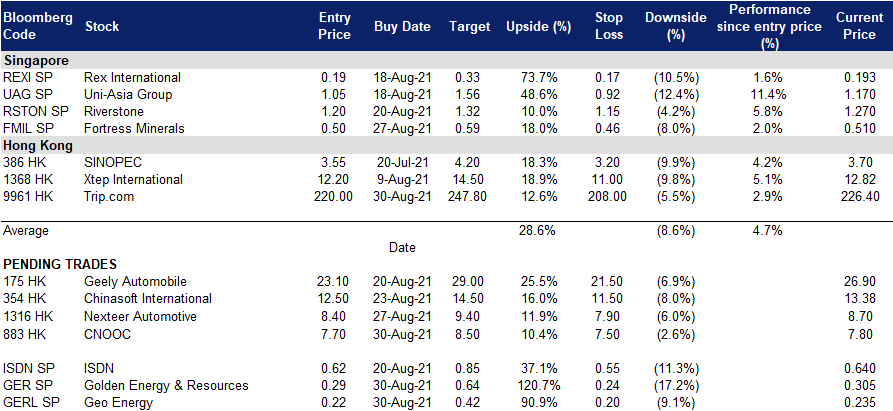 ---

---
Related Posts: