KGI DAILY MARKET MOVERS – 28 October 2021
Market Movers | Trading Dashboard
---
Market Movers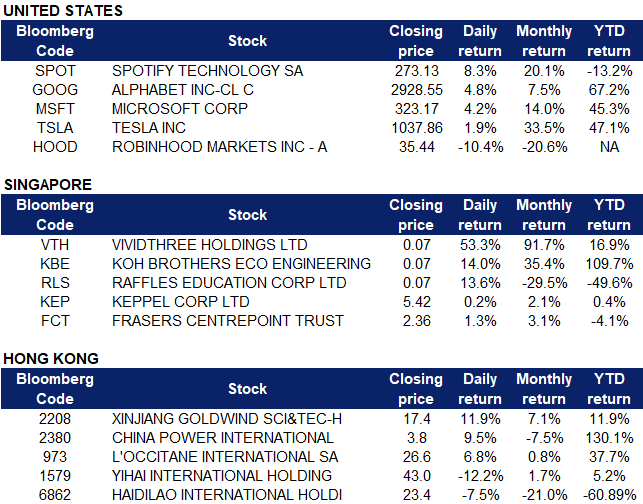 United States
Alphabet (GOOG US) shares soared as much as 6.8% before closing 4.84% higher at $2928.55. Sales rose 41% year over year to $65.1 billion, earnings per share jumped 71% higher over the same period at $27.99 compared to analyst expectations of $23.48. The company also said that Apple's privacy features only had a "modest impact" on YouTube revenues.
Tesla (TSLA US) shares added another 1.91% on Wednesday after Uber Technologies (UBER US) announced a partnership with Hertz to offer 50,000 Tesla vehicles for rent to its drivers.Tesla is now one of only five other American companies that have passed the $1 million market cap threshold after the stock passed the $1,000 mark. Shares have now risen nearly 16% this week.
Spotify (SPOT US) shares climbed 8.3% on Wednesday after the company announced third quarter results, showing improvement in profitability. Monthly active users (MAU) grew 19% YOY to 381 million, and premium subscribers increased 19% to 172 million. As a result, revenue was boosted 27% to $2.9 billion, beating analyst expectations of $2.8 billion. The company added that its podcast segment contributed to boosting its revenue.
Robinhood Markets (HOOD US) shares plummeted 10.44% after the online brokerage announced disappointing third quarter results. Robinhood's revenue rose 35% YOY to $365 million, below expectations of $431.5 million. Monthly active users declined 11% to 18.9 million. The company said the declines were largely attributed to a downturn in cryptocurrency-related trading activity. The company's crypto transaction-based revenue fell to $51 million, down from $233 million in 2Q. The company warned that the headwinds in trading will persist into the year-end. The stock is now trading below its IPO price of $38 per share.
Microsoft Corporate (MSFT US) shares rose 4.21% after the company reported stellar results that beat analyst estimates for an eleventh straight quarter. The company earned an adjusted $2.27 per share with revenues of $45.32 billion. Analysts were expecting $2.07 per share for profit and revenues of $43.97 billion. Microsoft is now less than $60 billion from dethroning Apple Inc. for the first time since May 2020 as the world's most valuable listed firm. Microsoft has a market value of $2.40 trillion compared with $2.46 trillion for Apple.
Earnings Watch, 28 October: Apple Inc, Mastercard Inc, Merck & Co, United States Steel. Click here for the full Economic Calendar.
---
Singapore
Koh Brothers Eco Engineering Ltd (KBE SP) shares surged 14.04% after it announced on Tuesday that it had secured a $200.7 million contract from the Public Utilities Board (PUB) to carry out mechanical, electrical and instrumentation control and automation (MEICA) works for the first of two Industrial Liquid Modules (ILM) at Tuas Water Reclamation Plant. The company will now have an order book of S$783 million, up from S$582.3 million as at June 30. Works will commence next month, and are expected to be completed by December 2025. A 2-day trading halt was previously placed on the stock.
Vividthree Holdings (VTH SP), a digital content production company, announced that it was exploring the gaming sector. The stock surged 53.33%. The company said in an update yesterday that it has commenced preliminary discussions with several parties to capitalise on popular trends such as blockchain and non-fungible tokens (NFT) in the gaming sector. Blockchain-related games have seen a surge in popularity recently, partly due to the COVID-19 pandemic.
Raffles Education (RLS SP) shares rebounded on Wednesday, surging 13.56% after it was announced that tycoon Oei Hong Leong cut his stake in the company to 0.78% Oei previously sold off his stake from 10.16% to 7.34% last week, which sent the stock plummeting to a 52-week low of $0.059.
Shares of Keppel Corporation (KEP SP) climbed as much as 1.49% before closing 0.19% higher yesterday after the company announced that its subsidiary Keppel Infrastructure secured a $50 million contract to roll out an energy-as-a-service (EaaS) infrastructure at Perennial Business City. It will consist of efficient chiller systems, photovoltaic solar panels and electric vehicle charging stations among others, the company said in a filing to SGX. However, the company said that it does not expect this contract to have a material impact on earnings per share or net tangible per share for the current financial year.
Frasers Centerpoint Trust (FCT SP) units closed 1.29% higher after releasing its FY2021 financial results yesterday. Portfolio tenant sales between the months of July and September reached about 93-98% of pre-pandemic levels, and retail portfolio occupancy improved to 97.3% from 96.4% in the third quarter of 2021. Gross revenue was up 159.9 per cent to S$167.5 million for the half-year period, from S$64.5 million in the previous year.
Trading Dashboard: Take profit on City Dev (CIT SP) at S$7.44. Add ThaiBev (THBEV SP) at S$0.71, Mermaid Maritime (MMT SP) at S$0.10 and ComfortDelGro (CD SP) at S$1.58
---
Hong Kong
Chinese power stocks rebounded collectively yesterday after news that the official website of the State Grid stated that coal-fired power generation tariffs would be fully implemented. Electricity market prices of coal-fired power generation companies are subjected to no more than 20% increase, while energy companies are not subjected to this price limit.
Xinjiang Goldwind Science & Tech Co Ltd (2208 HK). Shares gained 11.9% yesterday, after Citi released a research report reiterating its BUY rating on Goldwind, with a TP of HK$19.50. According to the report, Goldwind announced that for the first three quarters of 2021, the company achieved revenue of RMB 33.55bn, a YoY decrease of 9.40%, however, net profit attributable to shareholders increased 45.61% YoY to RMB 3.012bn. This was due to the improvement of wind turbine generator gross margins, which is enough to offset the impact of falling machine sales. Gross profit margin increased by 7.2 ppts YoY to 24%. According to the bank, the company's third-quarter net profit was better than market expectations, which is equivalent to 79% of its market peers' forecast for this year's net profit.
China Power International Dev Ltd (2380 HK). Shares gained 9.5% yesterday, after Shenwan Hongyuan maintained its BUY rating on China Power. The bank stated the following as main points for its recommendation: 1) The company released a new strategic plan and is committed to transform from a traditional power generation company to a green and low-carbon energy supplier, in line with China's carbon neutral policy. 2) The company currently plans to make full efforts in the fields of energy storage, hydrogen energy, and green electricity transportation, and build an integrated energy business to become the company's second growth pole.
L'Occitane International S.A. (973 HK). Shares rose 6.8% yesterday, after Citi released a research report maintaining its BUY rating on L'Occitane, even though downgrading its TP from HK$33.8 to HK$31.3. The group announced that for the six months ended September 30, 2021 (1H22), net sales was EUR 725.1mn, a YoY increase of 18.6%. The bank quoted management to point out that the sales performance in October was similar to that of the second fiscal quarter. In particular, the mainland market was heading towards "Double Eleven", with considerable growth. Sales growth in the United States accelerated, whereas sales in France and Europe improved. Japan and Taiwan sales have also recovered. The trend is healthy and only the performance of the Russian market has declined due to a new round of city closure policies.
Haidilao International Holding Ltd (6862 HK), Yihai International Holding Ltd (1579 HK). F&B stocks collectively fell yesterday, as China's lockdowns are back to curb its new covid outbreak. Haidilao's shares declined 7.5%, while Yihai International shares slipped 12.2%, due to a spillover effect from Haidilao. Yihai International is China's largest manufacturer of mid-to-high-end hot pot base seasonings and also a supplier to Haidilao. Yesterday, Credit Suisse lowered Haidilao's TP from HK$32 to HK$25.5 and maintained a NEUTRAL rating. The report predicts that about 150 loss-making Haidilao branches will be closed this year, higher than the previous forecast of 20. The main reason is that these branches have suffered losses for several consecutive quarters, and there is no sign of a turnaround. The newly opened branch is currently in the investment period, and will take time to turnaround.
---
Trading Dashboard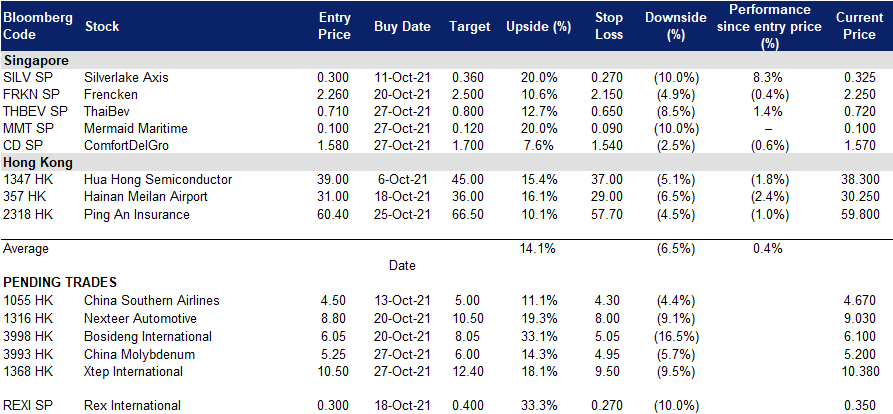 ---

---
Related Posts: