KGI DAILY MARKET MOVERS – 26 October 2021
Market Movers | Trading Dashboard
Market Movers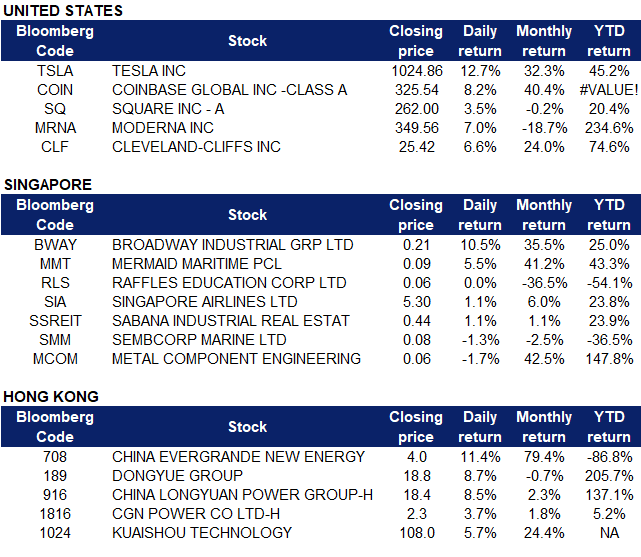 ---
United States
Tesla Inc (TSLA US) Shares jumped 12.7% yesterday and reached an all-time high. Positive momentum followed after the company's earnings last Wednesday, which saw 3 consecutive days of gains. Yesterday, Tesla surpassed US$1 trillion in market capitalization after landing its biggest-ever order from rental car company Hertz of 100,000 cars, a deal that reinforced the electric car leader's ambitions to top the entire auto industry in sales over the next decade. Tesla also appeared on Monday to be making progress resolving regulatory problems that threatened its business in China. The company said it had opened a new data and research center in Shanghai to comply with government requirements that data collected from vehicles in China stay in the country.
Coinbase Global Inc (COIN US), Square Inc (SQ US). Shares rose 8.2% and 3.5% respectively yesterday, in tandem with rising bitcoin prices. Bitcoin prices rebounded yesterday after and broke the US$63,000 level after Friday's sell-off. Bitcoin prices rose on news that a third Bitcoin futures ETF with significantly lower management fees will hit the markets soon, becoming a strong contender in a market that's becoming increasingly crowded. VanEck filed a prospectus with the Securities and Exchange Commission on Saturday to launch its Bitcoin Strategy ETF (ticker: XBTF) "as soon as practicable." The new futures ETF would be the cheapest Bitcoin fund on the market, compared to ProShares' Bitcoin Strategy ETF (BITO) launched last Wednesday and Valkyrie Bitcoin Strategy ETF (BTF) launched last Friday, charging a management fee of only 65 basis points. In addition, Elon Musk tweeted yesterday that he only owns bitcoin, ethereum and dodgecoin, which could have also boosted the crypto prices.
Moderna Inc (MRNA US). Shares gained 7% yesterday, after Moderna reported 'robust' COVID-19 vaccine response in children aged 6 to 11. Data from clinical trials with 4,753 children in the age range "demonstrated strong immune response … one month after the second dose", Moderna said in the statement. Majority of the side effects in the trial were mild or moderate in severity, with fatigue, headache, fever and injection site pain the most common. The company said that it would be submitting the trial data to global regulators soon. In addition, yesterday, the European Union's drug regulator said it has concluded its review that Moderna's COVID-19 booster vaccine may be given to people aged 18 years and above, at least six months after the second dose. It is the second COVID-19 booster vaccine to be approved in the EU.
Cleveland-Cliffs Inc (CLF US). Shares of the steel producer continued to rally after its stellar results announced last Friday, gaining 6.6% yesterday. Shares gained a total of 15.2% since its recent earnings. CLF logged profits of US$ 1.3bn or US$2.33 per share in 3Q21, shooting up from US$ 2mn or a loss of 2 cents per share in 3Q20. EPS beat the Zacks Consensus Estimate of US$2.23. Revenue generated in 3Q21 was US$ 6,004mn, up more than threefold from US$ 1,646mn in 3Q20, due to surging steel prices. Moving ahead, the company expects higher average sales price next year, which will further strengthen its balance sheet and profitability. It also looks forward to completing the acquisition of Ferrous Processing and Trading ("FPT") Company, a leading prime scrap processor in the United States, in the fourth quarter this year.
Singapore
Broadway Industrial (BWAY SP) shares surged 10.5% after Seagate Technology (STX US) reported a better-than-expected 1QFY22 performance, and guided for a stronger quarter ahead. As a recap, Broadway is a major supplier of actuator arms to the hard disk sector. Broadway also bought back 1.75mn shares last week at a range of S$0.179 to S$0.191.
Mermaid Maritime (MMT SP) shares gained 5.5% to close at its highest since February 2020 after oil prices extended gains on continued tight supply. We have a Trading Buy on MMT with a TP of S$0.12.
Raffles Medical (RFMD SP) shares sank 8.44% following the policy change regarding PCR testing for passengers arriving at Changi Aiport. From 27 Oct, passengers from a number of countries will no longer need to undergo PCR tests upon arrival. Only Vaccinated Travel Lane (VTL) will require PCR tests. Following the drop in share price, Raffles Medical currently trades at 34x forward P/E. Additionally, CLSA downgraded its rating on the company to Underperform from Buy with a lower target price of $1.60 based on 18x forward EV/EBITDA.
Raffles Education (RLS SP) shares declined 11.27% on Monday after the company issued responses to another letter sent by Singapore tycoon Oei Hong Leong which named the members of Chew Hua Seng's family who were hired "at high salaries". In its response, Raffles Education said that the members of Chew Hua Seng's family who were hired "at high salaries" mentioned by Oei were no longer with the company. The company also added that Oei's accusation that Raffles Education's repayment of certain loans that may have "contravened regulations governing suspicious fund transfer" baseless. Raffles Education also wrote that the allegation is "clearly baseless and nothing more than a rehash of the same assertions" that Oei previously raised and declined to purchase after the company responded on three occasions in October 2020, as well as May and June 2021.
Sembcorp Marine (SMM SP) shares rose as much as 1.27% on Monday trading before closing flat after the company issued clarifications to media reports on its Johan Castberg project. The Business Times previously reported last week that Sembmarine's work on the Johan Castberg vessel has been hit by "serious manpower shortages" due to the Covid-19 pandemic, and that the project owner is set to transport the unfinished components from Singapore to Norway. The Company clarified that work on the hull and the living quarters was in an advanced stage when the COVID-19 pandemic occurred, resulting in various work restrictions which caused delays in the project.
iFast (IFAST SP) shares closed 4.0% lower after the company reported its Q3 FY2021, where profit rose 23.3% to S$7.6 million from S$6.2 million a year. Revenue rose 23.4% to S$55.5 million and the assets under administration jumped 46.1% to S$18.4 billion as at 30 September.
Singtel (ST SP) shares retreated as low as 1.2% on Monday after the company said that its cyber security arm Trustwave has divested SecureTrust, its payment card compliance business to Sysnet Global Solutions for a cash consideration of US$80 million. Singtel Group CEO Mr Yuen Kuan Moon said that the divestment is the 'first step' following an extensive review of the Trustwave business. Bloomberg data currently shows that out of 19 analysts, 17 recently recommended 'buy' on Singtel shares, two suggested 'hold', and none gave 'sell' calls. The average target price is S$2.97, implying potential upside of 16.5% based on the stock's latest price.
Trading Dashboard Update: Take profit on Broadway Industrial (BWAY SP) at S$0.20.
---
Hong Kong
China Evergrande New Energy Vehicle Group Ltd (708 HK). Shares rose 11.4% yesterday, after Evergrande chairman Hui Ka Yan said last Friday that the company aims to make its new electric vehicle venture its primary business instead of property within the next 10 years. Even so, shares are still down approximately 94.5% as of yesterday's closing price. Evergrande Property Services Group Ltd (6666 HK) was down 5.6% yesterday while China Evergrande Group (3333 HK) remained relatively flat, declining less than 1%.
Dongyue Group Ltd (189 HK). Shares rose 8.7% yesterday. It was announced recently that Dongyue's non-wholly owned subsidiary, Shandong Dongyue Silicone Materials Co., Ltd. (300821 SZ), released positive third quarter earnings. As of the nine months ended September 30, 2021, the company's revenue was RMB 2.868bn and net profit was RMB 778mn. In addition, Credit Suisse issued a research report maintaining Dongyue's OUTPERFORM rating, with a target price of HK$28. The bank said that the company was hit by negative sentiment over China's chemical industry and worries about power rationing, and its stock price pulled back sharply last month. According to the communication between the bank and the company, except for the methyl chloride business, the company operates normally and has not been affected by any production restrictions so far. Dongyue currently has a Bloomberg consensus rating of 5 BUYS, 0 HOLD and 0 SELL, with a 12M TP of HK$27.72, representing a potential upside of 47.6% as of yesterday's closing price.
China Longyuan Power Group Corp Ltd (916 HK), CGN Power Co Ltd (1816 HK). Shares rose 8.5% and 3.7% yesterday, after Citigroup issued a BUY rating for both companies with target prices HK$19 and HK$2.2 respectively. On electricity generation, the bank prefers clean energy operators compared to coal-fired operators as operating costs for clean energy operators are relatively stable and they would also benefit from higher market prices. The bank also stated that the growth of electricity demand in China slowed down in September and is expected to further slow down to below 5% in the fourth quarter of this year. Although the Chinese government has raised basic electricity prices in the market, it believes that the related electricity price increase is not enough to offset the surge in coal costs of coal-fired power plants. The bank gave Huaneng (0902 HK) and Huadian (1071 HK) and other coal-fired power generation operators a SELL rating.
Kuaishou Technology (1024 HK). Shares rose 5.7% yesterday, extending its gains to 5 consecutive days, gaining a total of approximately 30.4%. Recently, a number of institutions have released the third-quarter performance forecast of Kuaishou, and are optimistic about its performance in the third quarter. Among them, CICC, China Renaissance Capital and Credit Suisse all predict that Kuaishou's revenue in the third quarter will increase 30% YoY to RMB 20bn. In addition, it was announced yesterday that Kuaishou and Suzhou City would be strategically cooperating to jointly promote the establishment of Kuaishou Gaming Headquarters in Suzhou. Both parties will develop new businesses and explore new models in various fields such as digital e-sports, sports and entertainment and industrial transformation in Suzhou.
---
Trading Dashboard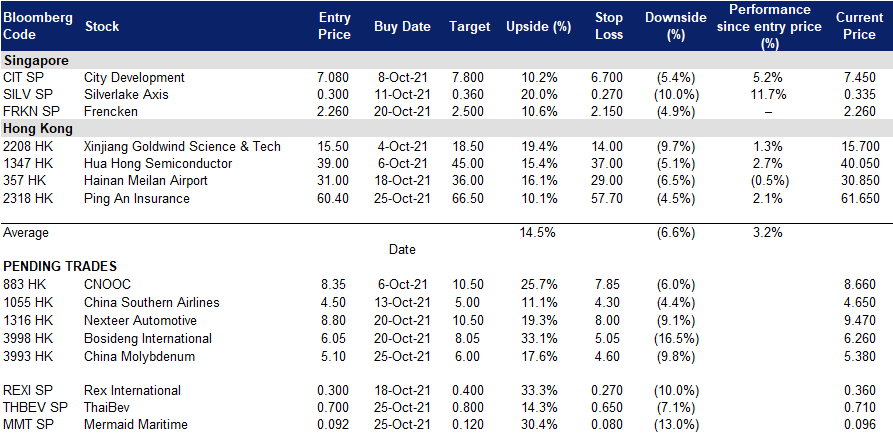 ---

---
Related Posts: