KGI DAILY MARKET MOVERS – 24 August 2021
Market Movers | Trading Dashboard
---
Market Movers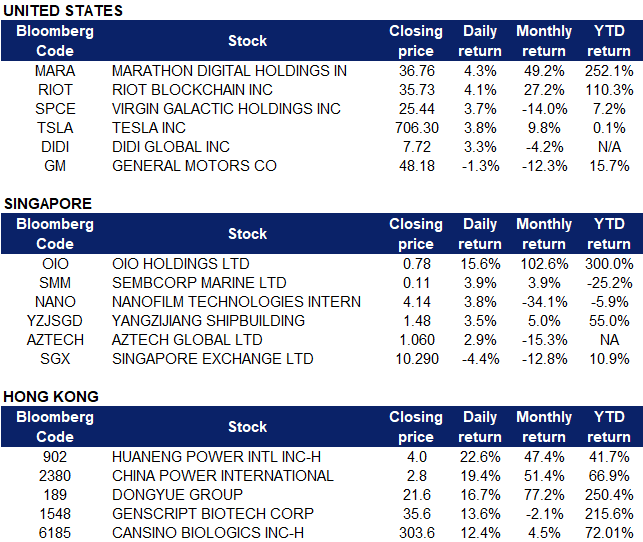 United States
Shares of crypto-related stocks rose on Monday as Bitcoin prices rose over $50,000 and ethereum jumped to over $3,300. The rise in crypto prices pushed stocks such as Marathon Digital (MARA US) and Riot Blockchain (RIOT US) sharply higher, closing at 4.25% and 4.08% respectively. PayPal also announced that it will allow U.K. users to buy, sell, and hold Bitcoin, a first in international expansion of crypto for PayPal, joining Square in growing its Bitcoin services.
Virgin Galactic (SPCE US) stocks climbed 3.71% on Monday. There was no company specific news. However, it was announced that SPAC NextGen Acquisition II signed a definitive agreement to take Virgin Galactic's sister company, Virgin Orbit, in a reverse merger IPO that will value the company at $3.2 billion.
Tesla (TSLA US) shares jumped 3.83% on Monday after Deutsche Bank reiterated its buy rating on the company, saying that Tesla's AI Day last week set a 'bold vision', leaving analysts with 'greater appreciation for Tesla's efforts in AI'.
DiDi Global (DIDI US). Shares closed 3.35% higher on Monday. This comes despite Beijing's probe into the company, where DiDi may be forced to hand over shares containing special rights to the government, and also asked to lower commissions taken from drivers, according to a report by the Financial Times.
Automaker General Motors (GM US) saw its shares dip 1.27% lower after the company expanded the recall of its electric car Chevy Bolt on friday that will address an issue that increases the risk of battery fires. The company will include newer models, in a move that will cost them an additional $1 billion.
---
Singapore
OIO Holdings Limited (OIO SP). Shares continued to surge since Friday and closed at an all-time high, even though there was no company specific news. The rise in share price could be in tandem with the rise in Bitcoin prices, as prices edged above US$50,000 yesterday. In addition, there was various positive news on Crypto yesterday, for example PayPal launching crypto buying and selling in the UK, as well as Bitcoin's prices rising above $50,000 for the first time since May as the virtual currency continues to climb out of a months-long slump. Bitcoin's peers also advanced: Ethereum was up more than 3%, while dogecoin rose nearly 2%. The crypto currency boom could have likely caused a spillover effect as investors are positive over OIO's 100% acquired Moonstake, a staking platform.
Sembcorp Marine Limited (SMM SP). Shares rose by 3.9% yesterday after the shareholders of Sembcorp Marine approved the group's proposed renounceable underwritten rights issue at the group's extraordinary general meeting (EGM) held earlier on the same day. The rights issue will seek to raise gross proceeds of some S$1.5bn with an issue price of 8 Sing cents per rights share. Read the full article here.
Nanofilm Technologies Limited (NANO SP). Shares rose by 3.8% yesterday, even though there was no company specific news. The company announced yesterday that Temasek had disposed of 450,000 shares by an investment fund managed by a subsidiary of SeaTown, resulting in Temasek's deemed interest dropping from 6.04% to 5.98%. Despite the sale by Temasek's subsidiary, Nanofilm's aggressive shareback last week could have lent some confidence to shareholders. After the major sell-off last week when Nanofilm reported disappointing results and the resignation of the company's COO, the company addressed market feedback on Wednesday, sharing some positive news, which could have boosted investors' confidence in the company. Key things highlighted was that within the Advanced Materials Business Unit, 3C segment revenue grew 17% YoY and the Automotive segment grew 103% YoY, despite the severe global supply chain disruptions. 1H21 costs that were incurred for the new Shanghai Plant 2 and equipment qualification (~S$2.6mn) were largely capitalized under cost of sales, hence negatively impacting gross profit margin. Lastly, the departure of CEO Mr Lee, announced on 23 June 2021, was due to health reasons.
Yangzijiang Shipbuilding (Holdings) Limited (YZJSGD SP). Shares rose by 3.5% yesterday, even though there was no company specific news. The rise in share price could be due to industry positive news, as Chinese officials are forecasting that the strong growth in shipbuilding orders experienced in the first half of 2021 will continue for the remainder of the year. In tandem with the industry news, China Shipbuilding Industry Company (601989 SS) listed on the Shanghai Stock Exchange, gained 2.03% yesterday.
Aztech Global Limited (AZTECH SP). Shares rose by 2.9% yesterday following the huge sell-off last week. Aztech's shares dropped almost 12% last week to close at an all-time low. While Aztech reported a 126% YoY surge in net profit to S$29.4mn, it still fell short of street expectations. Aztech's H1 results came in "slightly below" DBS's expectations, weighed down by industry-wide component shortages. Shares continued to decline after DBS and CGS-CIMB analysts lowered their TP for Aztech Global as they remained cautious amid operational risks arising from component shortages. However, the company addressed questions from the investment community yesterday, which could have boosted investors' confidence in the company. Key matters highlighted include: 1) customers are willing to absorb the additional cost of securing the necessary components for the production of their orders, hence minimally impacting the Group's profit margins; 2) Aztech is working to establish its share buyback mandate via an EGM; 3) the company has minimised any disruption to their production output arising from the recent surge in COVID-19 cases in Malaysia by ramping up our production capacity in China to cover any shortfall in the Malaysia factory. Read the full announcement here.
SGX (SGX SP). Shares declined by 4.4% yesterday after a slew of analyst downgrades. The downgrades came amid news that the Hong Kong Exchange (HKEX) will offer A share Index futures contracts from 18 October. While HKEX's plans was widely anticipated, it will be negative for SGX. Volume of FTSE China A50 Index Future on SGX dropped by 27% in July compared to the prior year period. SGX's A-share derivatives revenue contributes around 13% of its total income. With the recent street downgrades, there is only 1 BUY recommendation compared to 12 HOLD ratings and 3 SELLs, and a 12m TP of S$10.83.
---
Hong Kong
Huaneng Power International Inc (902 HK) Shares closed at a 52-week high. There was no company specific news. Power sector jumped as market news said China is going to ease coal capacity of more than 150mn tonnes.
China Power International Development Ltd (2380 HK) Shares closed at a 52-week high. The company announced 1H21 interim results. Revenue grew by 26.7% YoY to RMB16.5bn. Profit attributable to equity holders of the company grew by 17.0% YoY to RMB1.4bn. The electricity sales of wind power and photovoltaic power increased year-on-year by 40.91% and 54.06% respectively, and the profit for the period increased year-on-year by 37.40% and 21.44% respectively. As at 30 June 2021, the consolidated installed capacity of the group's power plants reached 28,429.7MW, representing a year-on-year increase of 3,421.0MW. During the period under review, the group's additional installed capacity was 1,583.9MW, all of which were from clean energy projects.
Dongyue Group Limited (189 HK) Shares closed at an all-time high. There was no company specific news. Fund flows continued to flock to photovoltaic, electric vehicles, and other clean energy sectors.
Genscript Biotech Corp (1548 HK) The company announced that it and Hillhouse have entered into the binding Term Sheet in relation to the Series A Financing of Probio Cayman, an indirect wholly-owned subsidiary of the company. Probio Cayman agreed to sell and issue, and the investors agreed to purchase (a) a total of 300,000,000 series A preferred Shares at an aggregate consideration of approximately US$150mn (equivalent to approximately HK$1,17bn), and (b) the Probio Warrant to purchase a total of 189,393,939 Probio Shares at an aggregate consideration of approximately US$125mn (equivalent to approximately HK$973mn) at the closing.
Cansino Biologics Inc (6185 HK) Vaccine stocks jumped as Sino Biopharmaceutical Limited (1177 HK) announced a positive 1H21 profit guidance that profit attributable to the owners of the parent was expected to increase by 500% YoY. Cansino Biologics will be releasing 1H21 results this Friday. Previously, the company announced positive 1H21 guidance that revenue was expected to arrive at RMB2-2.2bn, net profits attributable to the company was expected to arrive at RMB900-1,050mn compared to net loss of RMB100mn in 1H20.
---
Trading Dashboard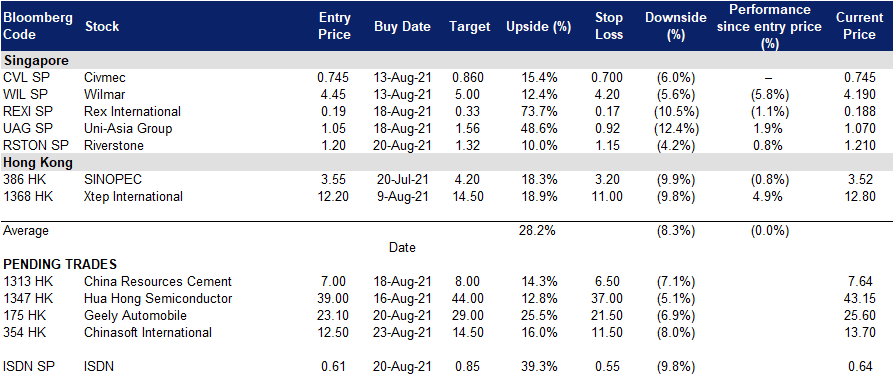 ---

---
Related Posts: