KGI DAILY MARKET MOVERS – 21 September 2021
Market Movers | Trading Dashboard
---
Market Movers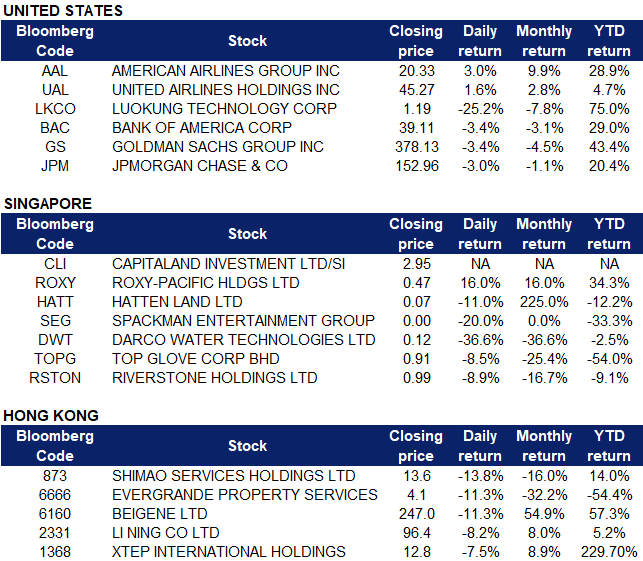 United States
U.S. stocks kicked off the week in the red, with the S&P 500 falling 1.7% to 4,357.73. It was the worst daily performance since 12 May, as worries over the pace of economic growth and possible spillovers from China Evergrande's troubles shrouded the markets.
Financial stocks Bank of America (BAC US), JP Morgan (JPM US) and Goldman Sachs (GS US) were all hit hard as part of a broad market selloff. All three stocks declined by 3% or more on Monday, as the U.S. 10-year Treasury yield dropped. Falling rates typically affect bank profits.
Chinese big-data processing technology company Chinese Luokong Technology (LKCO US) stocks plunged 25.16% as a result of investors fleeing Chinese stocks in panic as a result of the China Evergrande threat. The company also announced on Monday a stock offering of shares worth $3.28 million at $1.20 to institutional investors to raise funds, a sharp drop from its last closing price of $1.59 per share.
Airline stocks American Airlines (AAL US) and United Airlines (UAL US) traded 1-3% higher after news emerged that the Biden administration plans to relax rules for vaccinated travelers from the EU and the U.K. The administration's new travel policy will be effective in November 2021, and will cover all international travel intended to replace the current system of bans and restrictions that apply to different parts of the world.
---
Singapore
CapitaLand Investment (CLI SP) made its trading debut on SGX yesterday at $2.95 under the name CapitaLandInvest, 4.5% above the S$2.82 implied consideration. CapitaLandInvest takes over from CapitaLand Limited which ceased trading on 9 September at $4.00 and will delist today at 9am. The listing comes after CapitaLand Limited restructured business to form two distinct entities – CapitaLand Investment, a real estate management investment business and CapitaLand Development, the privatized property development segment.
Roxy-Pacific Holdings (ROXY SP). Shares of the property and hospitality group rose 16.05% after the company said it has received a pre-conditional voluntary general offer from TKL & Family for all the issued ordinary shares in the company at a price of 48.5 Singapore cents per share. The offer price of 48.5 cents represents a premium of 19.8% over the stock's last closing price on 14 September, which is however, below Roxy-Pacific's adjusted net asset value (ANAV) per share of 72.87 cents as at June 30.
Hatten Land (HATT SP) plunged 10.96% on Monday. The property developer announced on Friday that it has yet to receive a US$60 million payment from Singapore-based Tayrona Capital Group Corp for the proposed divestment of wholly owned Malaysian unit Gold Mart, a transaction that was approved by shareholders in November last year. Tayrona has assured Hatten Land that it remains keen and committed to completing the transaction.
Spackman Entertainment (SEG SP) shares plunged 20% on Monday after SGX shot off a list of queries to the company regarding its plan to sell its Zip Cinema business for approximately 18 billion won (or S$20.6 million). On Friday evening, SGX asked the company about its consideration and rationale for the proposed sale, and whether it was in the best interest of the company and its shareholders. The Business Times reported that in the company's response to the queries, Spackman also said its proposed disposal of a Zip Korea-owned office building in Paju-si, South Korea, is expected to complete between mid-November and the end of the year.
Darco Water Technologies (DWT SP) shares declined 36.56% after the company said on Friday in a filing to SGX that the company and its former non-executive deputy chairman Wang Zhi have until 23 March 2022 to determine if the company will proceed with its investment in either the Gaoyi projector any other water treatment asset. A letter of intent for the project was first signed in 2018. Additionally, it was reported on Sunday that a group of minority shareholders of the company failed in their bid to sue two individuals on behalf of the company. The shareholders alleged that the two individuals had breached director's duties and/or fiduciary duties.
Glove makers fell yesterday, led by Riverstone (-12%, ex-dividend 3.2 Sing cents) and Top Glove (-9%). Top Glove, the world's largest rubber glove producer, said it expects the business environment to remain challenging over the next few quarters as demand for protective gear moderates.
Trading Dashboard: Add China Sunsine (CSSC SP) at S$0.50 and Yangzijiang (YZJSGD SP) at S$1.48. Cut loss on Golden Energy & Resources (GER SP) and Sunpower Group (SPWG SP).


---
Hong Kong
Shimao Services Holdings Ltd (0873 HK), China Evergrande Group (3333 HK) Due to the spillover effect from debt-ridden Evergrande Group, property sector stocks continued to decline yesterday, after a slight rebound last Friday due to bottom fishing and short covering. Shimao Services and China Evergrande's shares dropped 13.8% and 10.2% respectively. Evergrande is due to pay US$83.5mn interest on Sept 23 for its March 2022 bonds. It has another US$47.5mn interest payment due on Sept 29 for its March 2024 notes. Both bonds would default if Evergrande fails to settle the interest within 30 days of the scheduled payment dates. China Evergrande New Energy Vehicle Group Ltd (708 HK) shares declined 2.7% while Evergrande Property Services Group Ltd (6666 HK) shares declined 11.3%.
Beigene Ltd (6160 HK) Shares declined 11.3% yesterday, after surging to an all-time high on Friday. Despite company positive news where banks and brokers upgraded and recommended a BUY rating for Beigene, the overall broad-based sell off in Hong Kong stocks and poor performing HSI could have led investors to take profit yesterday. BeiGene recently announced that it has been granted an accelerated approval by the FDA for Zebutinib, which is used for the treatment of relapses for patients who have received at least one anti-CD20 treatment or adult patients who are diagnosed with refractory (R/R) marginal zone lymphoma (MZL). At present, Zebutinib has obtained 12 approvals worldwide, involving 4 indications. Yesterday, Credit Suisse issued a report maintaining a BUY rating and raised Beigene's TP to HK$334.02 from HK$245.02 previously. According to Bloomberg consensus, the company currently has a rating of 11 BUYS, 1 HOLDS and 2 SELLS, with a 12M TP of HK$235.65, which has already exceeded yesterday's closing price of HK$247.
Li Ning Co Ltd (2331 HK), Xtep International Holdings Ltd (1368 HK) Sporting goods sector shares fell collectively yesterday, with Li Ning and Xtep International shares declining 8.2% and 7.5% respectively. Bank Of America issued a report yesterday stating that after communicating with Li Ning distributors in North China, it believes that the retail market would be sluggish in the third quarter and expects that the trend would continue in the fourth quarter. However on a positive note, the bank believes that Li Ning's brand growth will surpass its peers. Citigroup has also recently issued a report which pointed out that most of the positive catalysts for domestic brands are already over, such as the Tokyo Olympics and interim profit announcements.
Trading dashboard: Add AviChina Industry & Technology (2357 HK) at HK$5.20
---
Trading Dashboard
---

---
Related Posts: