KGI DAILY MARKET MOVERS – 21 October 2021
Market Movers | Trading Dashboard
---
Market Movers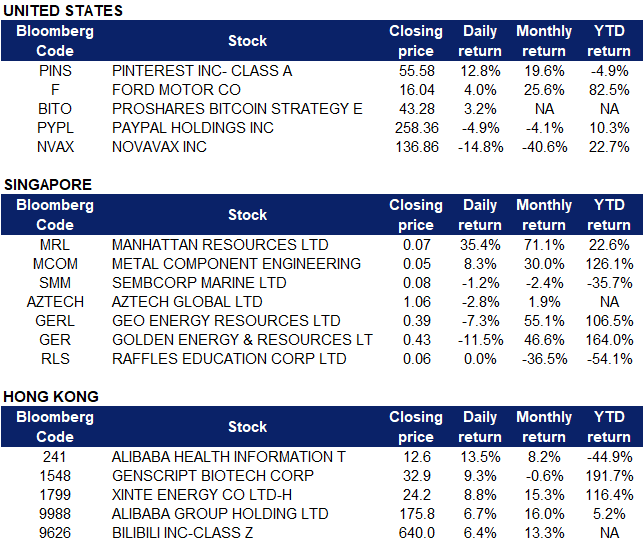 United States
Pinterest (PINS US) shares surged as mucha s 18.7% before closing 12.77% higher after rumors emerged in a Bloomberg report that Paypal Holdings (PYPL US) is interested in acquiring Pinterest. Citing "people with knowledge of the matter", the report said that Paypal approached Pinterest about a buyout offer of roughly $70 per share, which would value Pinterest at about $39 billion. The Pinterest stock halted twice in Tuesday trading. Earlier this year, reports emerged that Microsoft (MSFT US) had tried to buy the social media company for $51 billion. Shares of Paypal stumbled, and closed 4.91% down. Neither Pinterest nor Paypal has commented on the rumors.
Novavax (NVAX US) shares plummeted, closing 14.76% lower after Politico reported that Novavax "faces significant hurdles in proving it can manufacture a shot that meets regulators' quality standards," and that Novavax's "issues are more concerning than previously understood." Novavax addressed the report in a public statement saying that it remains confident in its ability to produce vaccines at high quality levels, and confirmed that it expects to complete regulatory filings "within the next couple of weeks" in the United Kingdom, Europe, Australia, Canada, and New Zealand.
Proshares Bitcoin Strategy ETF (BITO US). The ETF rose 3.2% on its second day of trading as bitcoin climbed past the $66,900 level, topping its previous intraday record of $64,800 in April. The fund seeks to provide capital appreciation primarily through actively managed exposure to bitcoin futures contracts. The fund does not invest directly in bitcoin.
Ford Motor Company (F US) shares rose 4.02% after Credit Suisse analyst Dan Levy raised his rating on the stock to Outperform and increased his target price to $20. Levy said "in the past year, we've seen a significant turnaround underway at Ford," and that the company "has ended its cycle of quarterly earnings disappointments, and its transition to an EV/digital world has sharply accelerated."
---
Singapore
Metal Component Engineering Ltd (MCOM SP) shares rose 8.33% after it was announced that the company's subsidiary Gainhealth has signed a joint venture agreement (JVA) with MNR Food to establish a business developing and distributing clinical nutrition products through direct-to-consumer platform. The joint venture entity, Gain Foods, will be 60% owned by Gainhealth, with the remaining 40% owned by MNR. Gain Foods will be the marketer and distributor of products related to kids' nutrition, seniors and weight wellness sub-segments products in various countries in Asia.
Sembcorp Marine (SMM SP) shares dropped 1.23% after the company issued a profit warning, saying that it expects to incur further losses in its 2HFY2021 ending 31st Dec, in addition to the $647 million loss it reported in its 1HFY2021 results. Despite making some progress in managing project completion delays, Sembcorp Marine said in its announcement that shareholders should note that COVID-19 related measures continue to have a serious impact on the Group's performance.
Aztech Global (AZTECH SP) shares declined 2.75% on Wednesday. The company previously announced 3Q FY2021 results last week, where net profit grew 11.1% to $18 million from S$16.2 million and revenue grew 5.5% to $141.1 million. EPS was 2.45 cents, up from 2.28 cents in the prior quarter. Following this, UOB Kay Hian and Maybank Kim Eng analysts maintained their BUY rating on the company, but cut their target prices to $1.70 and $1.26 respectively. Maybank KE also noted that Aztech's 3Q profit after tax and minority interests of $18 million only made up 60% of their estimates due to the worsening shortage of components.
Raffles Education (RLS SP) called for a trading halt on Tuesday morning, and trading of its shares remained halted yesterday. The stock plummeted 26% on Monday trading to close at $0.061. It was announced in a regulatory filing on Tuesday that tycoon Oei Hong Leong had sold $2.7 million worth of the company's shares on 18 October at an average price of $0.069 per share. The Straits Times reported that Oei submitted a letter to the company asking why REC's chief executive and founder Chew Hua Seng had caused the company to hire all "adult members of his family at high salaries". Raffles Education's stock is now down 37 per cent this month, with almost $50 million wiped off its market cap. Raffles Education is set to hold its annual general meeting on 30 October.
Manhattan Resources (MRL SP) shares surged 35.42% yesterday after the company announced that it has entered into a sales and purchase agreement with Athena Energy in a bid to augment its power business. Manhattan Resources will purchase Athena for a consideration of$4.8 million, with $4.3 million to be paid in cash and the remaining $553,700 in new ordinary shares. The shares will be priced at S$0.039 per share.
Geo Energy (GERL SP) and Golden Energy and Resources (GER SP) Shares of the coal miners dropped 7-11% after coal futures in China traded lower on Wednesday on news that the government is studying ways to intervene in the coal market.
Trading Dashboard: Add Frencken (FRKN SP) at S$2.26. Remove Wilmar (WIL SP) at S$4.36.
---
Hong Kong
Ali Health Information Technology Ltd (241 HK). Shares jumped 13.5% yesterday. On Tuesday, Guosen Securities released a research report stating that it was the first to give Alibaba Health an OVERWEIGHT rating. The valuation range is between HK$ 11.58 to HK$ 14.6. Key points in the research report included: 1) Medical reform policy dividends will promote the development of Internet healthcare, 2) Internet medical space is vast, and medical e-commerce is an oligopolistic market, 3) Pharmaceutical e-commerce companies continue to expand their user base with rich products and cost-effectiveness. According to Bloomberg consensus estimates, the company currently has 18 BUYS, 2 HOLDS and 1 SELL, with a 12M TP of HK$ 21.78, representing a potential upside of 72.6% as of yesterday's closing price of HK$ 12.62.
Genscript Biotech Corp Ltd (1548 HK). Shares rose 9.3% yesterday. The company's subsidiary, Legendary Biotechnology Co., Ltd. announced that it will be showing a series of preliminary pre-clinical and clinical data of some drugs on its research and development day. For example, LB1908, for the treatment of advanced gastric cancer and pancreatic cancer. In preclinical studies, LB1908 showed significant anti-tumor effects in cell-derived xenograft (or CDX) gastric tumor mouse models and CDX pancreatic tumor mouse models. Legendary Bio will also demonstrate the company's internal chimeric antigen receptor (CAR) natural killer (NK) cell therapy platform, which plays a key role as the body's first line of defense against virus-infected cells or tumor cells.
Xinte Energy Co Ltd (1799 HK). Shares rose 8.8% yesterday.The price of silicon materials continue to rise, mainly due to the expectation of a shortage of silicon materials and the strong downstream demand from silicon wafer manufacturers. The average price of polysilicon this week was RMB 263 per kg, an increase of 15.4% from last week and an increase of 213% from the beginning of 2021.
Alibaba Group Holding Ltd (9988 HK). Tech shares collectively rebounded yesterday. Alibaba's shares rose 6.7% yesterday, gaining approximately 33% since its all-time low on 5 October. Reports were released that Jack Ma was seen in Spain over the weekend. His whereabouts have been the topic of intense discussion since he went out of the public eye last October after a speech in which he appeared to criticize Chinese regulators, which partially contributed to Alibaba's prolonged depressed share price, in addition to tech regulations. The company also released some news related to its cloud business this week. On Tuesday, the company launched a new chip designed for servers in a bid to boost its cloud computing capabilities. The e-commerce giant also said on Wednesday that it plans to open new data centers in South Korea and Thailand next year to continue overseas expansion of its cloud business.
Bilibili Inc (9626 HK). Shares rose 6.4% yesterday, gaining approximately 20% since Monday's closing price. Tianfeng Securities released a research report, expecting Bilibili's 3Q21's revenue to increase by 61.2% YoY to RMB 5.2bn. In terms of users, monthly active users maintain a YoY growth rate of more than 30%. Regarding its game business, it is expected to grow steadily throughout the year, focusing on the progress of new games in Q4. According to Bloomberg consensus estimates, the company currently has 19 BUYS, 1 HOLD and 0 SELL, with a 12M TP of HK$ 865.84, representing a potential upside of 35.3% as of yesterday's closing price of HK$ 640.
---
Trading Dashboard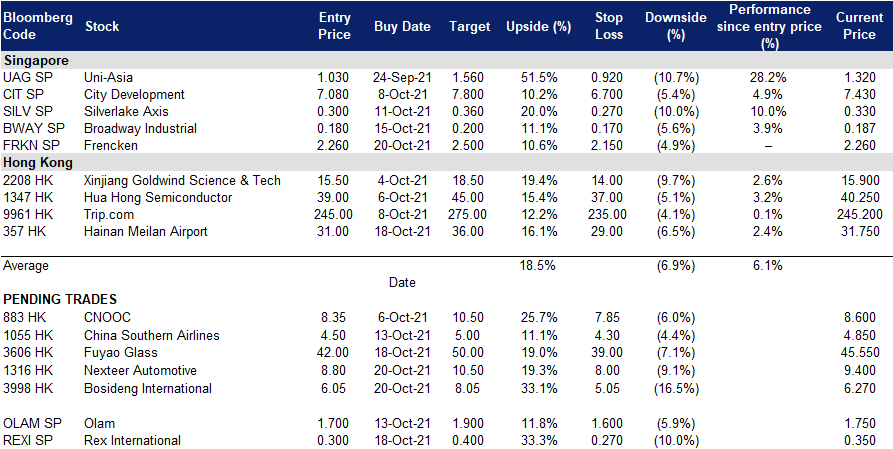 ---

---
Related Posts: