KGI DAILY MARKET MOVERS – 2 November 2021
Market Movers | Trading Dashboard
Market Movers



United States
AMC Entertainment (AMC US) shares rose 4.8% on Monday after the company reported positive box office trends. AMC said that the revenue generated from admissions in the U.S. in October 2021 was the highest since the pandemic begin. October's gains were largely attributed to box office performances such as Sony's Venom: Let There Be Carnage and AT&T's Dune. However, October's estimated box office receipts of $637.9 million were still down sharply from the $789.5 million the industry earned in October 2019. Additionally, the $3.1 billion in U.S. box office sales produced YTD is down about 66% from the same period in 2019.
Amazon (AMZN US) shares declined as much as 2.1% on Monday despite the company revealing "Project Kuiper", Amazon's plan of building its own network of broadband internet satellites. Investors have noted that Amazon's biggest rival in space SpaceX, has already launched 1,700 of its own satellites into orbit to date with the use of its own rockets which would lower costs for the company. Amazon has instead chosen to partner rocket builder ABL Space, adding uncertainty to the company's projected 2022 launch date.
Moderna (MRNA US) shares dropped more than 2% on Monday after the company said that the Food and Drug Administration (FDA) needed more time to review the company's COVID-19 vaccine for teenagers aged 12-17 before granting emergency use authorization. Moderna added that the review may take until January 2022 to conclude.
Coinbase (COIN US) shares jumped 3.6% on Monday following news of competitor Binance temporarily halting crypto withdrawals, citing a "large backlog". The stock also moves in tandem with price movements in the crypto market, as bitcoin and ethereum prices climbed yesterday.
XPeng (XPEV US) shares jumped as much as 3.7% in premarket trading on Monday before closing 2.7% higher. The Chinese electric vehicle maker said that it delivered 10,138 new electric vehicles to customers in October, up 233% from a year earlier and topping 10,000 new EVs handed over to Chinese consumers for a second straight month.
---
Singapore
ThaiBev (THBEV SP) shares rose 1.4% on Monday. There was no company specific news. DBS Research previously said in a report on 28 October that it expects 1 to 2 interest rate hikes in 2022, and that banks will not be the only beneficiaries from rising interest rates. The brokerage also named a few stocks that can benefit from a rising rates environment and recovery trajectory, ThaiBev was one of the stocks mentioned. DBS added that the company may also benefit from improved alcoholic beverage sales in the months to come as Thailand and Vietnam prepare for re-opening.
SGX (SGX SP). The Singapore Exchange announced yesterday that it will be investing about US$200 million as a limited partner in a private equity fund managed by 7RIDGE. The fund will be acquiring Trading Technologies, a provider of professional trading software for futures and options. SGX previously acquired MaxxTrader, an FX-trading platform for US$125 million in July 2021.
Singapore Press Holdings (SPH SP) and SPH Reit (SPHREIT SP) jumped 6.5% and 6.7% respectively on Monday, after SPH received a rival offer from a consortium consisting of Hotel Properties and its managing director Ong Beng Seng, 2 Temasek-linked entities, CLA Real Estate and Mapletree Investments. SPH and SPH Reit both called for a trading halt on Friday morning before the consortium Cuscaden Peak announced that it had submitted a proposed acquisition for all the shares of SPH. The offer price consists cash of S$0.668 per share, 0.596 Keppel Reit unit (valued at S$0.715) and 0.782 SPH Reit unit (valued at S$0.716) per share, higher than the privatisation offer by Keppel Corp in August of $2.099 per share.
Shares of Hatten Land (HATT SP) surged 18.6% on Monday, after it was announced that its subsidiary Hatten Technology had entered into a joint venture agreement with local fintech company Hydra X to jointly develop and operate cryptocurrency exchanges which will focus on the listing and trading of newly-minted bitcoins. Under the joint venture agreement, Hatten Land will hold 60% equity stake, while the remaining 40% will be held by Hydra X, and revenue generated will provide custody services for cryptocurrencies and tokens that are being traded. Hatten Land previously called for a trading halt on Thursday afternoon, and trading resumed yesterday.
---
Hong Kong
Top Sector Gainers
Top Sector Losers
Zhuzhou CRCC Times Electric Co Ltd (3898 HK). Shares rose 14.8% yesterday after HSBC released a research report maintaining its BUY rating on the company, although lowering its 2021-2023 profit forecast by 16%/12%/12% due to the slower recovery of railway equipment demand. The bank's target price is also reduced from HK$55 to HK$50. However, HSBC commented that it is optimistic on Times Electric's new semicon IGBT business which is expected to have high growth potential and supported by national policies. The focus of IGBT business expansion next year would be on new energy vehicles and solar components. The company also plans to develop a third IGBT production line to curb related supply shortages. Management expects that the traditional EMU may see a slight rebound next year, while intercity railway will see moderate growth.
Razer Inc (1337 HK). Shares rose 7.7% yesterday as the company announced that the Chairman, Executive Director and controlling shareholder Chen Minliang and Non-Executive Director and major shareholder Lim Kaling are negotiating with financial investors to explore the possibility of a transaction involving the company. The transaction structure has not yet been determined, but it may be a general offer for the company's shares.
BYD Electronic International Co Ltd (285 HK). Shares gained 5.6% yesterday, rebounding from Friday's losses of 10.3%, after the company announced its third quarter results. Yesterday, Citi released a research report maintaining its BUY rating on BYD, although lowering its target price from HK$46 to HK$36. According to the bank, third quarter revenue and gross profit margins were not up to expectations, mainly due to supply chain issues and production efficiency. However, it is expected that the chip shortage would be relieved in the fourth quarter, and the situation is expected to gradually improve thereafter. China's electricity shortage was the worst in September and has been slightly relieved in October. Shipments are expected to increase which would improve operating efficiency and gross profit margins. In addition, the company's e-cigarette package will be launched in the first quarter of next year.
Pop Mart International Group Ltd (9992 HK). Shares gained 5.6% yesterday as news was published on the blind box toy market which featured Pop Mart. In recent years, the scale of China's blind box market has risen rapidly, reaching RMB10.1bn in 2020. Pop Mart's financial report shows that as of the first half of the year, it has maintained a gross profit margin of more than 60% and a net profit margin of more than 20%. Entering the second half of 2021, the industry is expected to continue its growing trend. Recently, it was announced that Pop Mart was selected as the designated supplier for the Franchise Centre of China Pavilion at the Expo 2020 Dubai from October 1st, 2021 to March 31st, 2022. The company would be showcasing the culture of Chinese art toys, fostering culture exchange across the world.
Nexteer Automotive Group Ltd (1316 HK). Shares rose 4.2%, extending its rally from last Friday after its major customer, Ford, announced that it has raised production capacity and achieved better-than-expected third quarter results, attributable to its recently transformed product portfolio. In addition, for the upcoming F-150 Lightning pure electric pickup truck, Ford decided to double its annual planned production to 80,000 units. According to Nexteer's mid-year report, the F-150 electric pickup truck would be officially put into production early next year. The company would also include Ford Mustang Bronco and other products in its new production projects this year.
Hangzhou Tigermed Consulting Co Ltd (3347 HK). Shares declined 9% yesterday after the company announced its third quarter results. In the third quarter, the company achieved revenue of RMB 1.339bn, a YoY increase of 57.77%, while net profit attributable to the parent company was RMB 526mn, a YoY increase of 64.80%. However, behind the high growth, gross profit margin and net profit margin of the third quarter declined compared to the second quarter, with net margin decreasing more than 12 ppts. The rapid growth of low-margin clinical processing fees was the main reason for the decline in profit margins and some institutions believe that this may continue in the full year.
---
Trading Dashboard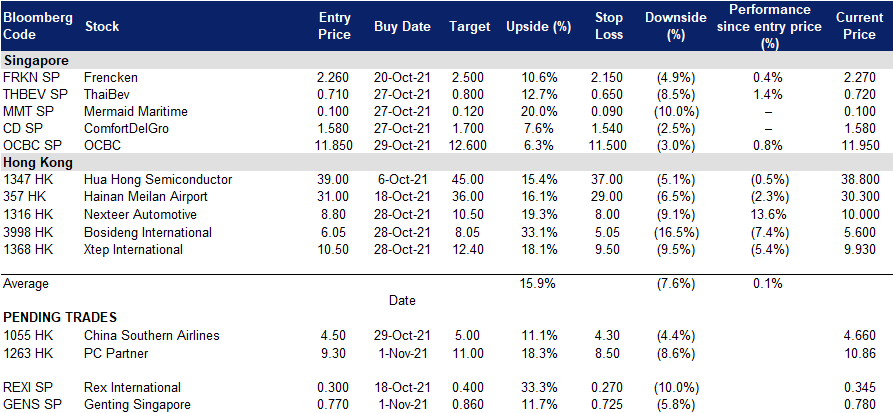 ---

---
Related Posts: