KGI DAILY MARKET MOVERS – 14 October 2021
Market Movers | Trading Dashboard
---
Market Movers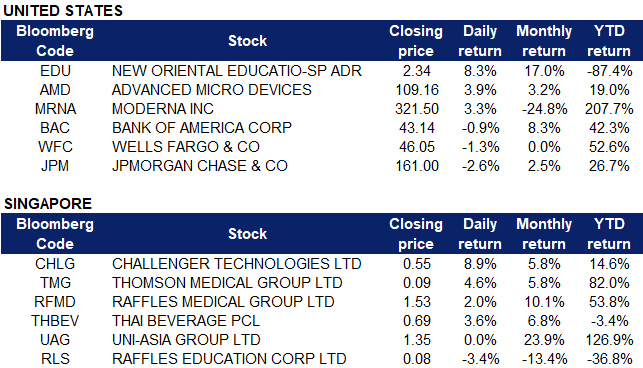 United States
New Oriental Education (EDU US) shares rose as much as 13% yesterday, before closing 8.33% higher at $2.34. The Chinese government said in a press release yesterday that it had laid out a strategy to promote vocational education amongst its population, dictating that college-level vocational education classes will represent 10% of undergraduate enrolment by 2025. It also said that the vocational education system will be "among the best in the world" by 2035.
Advanced Micro Devices (AMD US) was among one of the highest gainers in the S&P 500 on Tuesday. Shares rose 3.92% after the company announced the launch of its Radeon RX 6600 graphics card. Additionally, the company's pending $35 billion acquisition of Xilinx (XLNX US) could also be a catalyst for the rise. The latter saw its stock rise 3.68% on Tuesday trading.
Moderna (MRNA US) shares rose 3.33% after it was announced that the Food and Drug Administration is set to review Moderna's request for COVID-19 booster shots on Thursday. The federal agency's scientists previously said on Tuesday that data showed that two doses are sufficient for protecting people against severe diseases and death in the U.S. and declined to make a stance on whether it supports booster shots.
JPMorgan Chase (JPM US) shares slipped 2.64% despite announcing better-than-expected third quarter earnings of $3.74 per share, which beat analyst estimates of $3 per share. The company reported quarterly net revenue of $29.65 billion and managed net revenue of $30.441 billion. Bank of America (BAC US) and Wells Fargo (WFC US) also saw their shares slip 1-2% on Wednesday. The two banks are set to release third quarter earnings on Thursday.
---
Singapore
Raffles Education (RLS SP) shares dropped 3.45% on Wednesday. The company's auditors reported last week that the group's current liabilities exceeded its current assets by $196.4 million for the year ended June 2021. The auditors also highlighted a material uncertainty that may cast significant doubt on the ability of the group and company to continue as a going concern, which prompted a query by the SGX. The board of Raffles Education responded yesterday to say that it is of the view that the group and company can continue as a going concern, and that it sees no need to suspend the trading of its shares as its operations are generating positive cashflow.
Healthcare stocks Thomson Medical Group (TMG SP) and Raffles Medical Group (RFMD SP) rose 4.6% and 2% respectively on Wednesday, riding on the momentum of news of further opening of Singapore's borders. Straits Times reported that healthcare providers saw an increase in appointments and walk-ins for vaccines and booster shots since the announcement last Saturday to bar unvaccinated people to dine in at hawker centres and coffee shops or entering malls, as well as the rolling out of the Vaccinated Travel Lane (VTL) plan, allowing fully-vaccinated Singaporeans to travel to 11 countries and return without quarantine. Additionally, RHB Group Research maintained a "BUY" rating on Raffles Medical Group with a revised target price of $1.65. Raffles Medical is the sole provider of COVID-19 PCR tests at Changi Airport, which is expected to benefit the company as Singapore opens up VTLs with more countries.
Challenger Technologies (CHLG SP) saw its shares surge as much as 12.9% on Wednesday. The consumer electronics chain announced that Dymon Asia will spend $32.8 million to raise its stake in the company to 14.9% through a special purpose vehicle Digileap Capital, which will subscribe for 56.6 million new shares at $0.58 per share. The issue price represents a premium of 14% to Challenger's volume-weighted average price of S$0.50 for trades done on Oct 12. Challenger said it will use half of the net proceeds for strategic investments as well as mergers and acquisitions, and the other half will be used for product and business development and business expansion.
ThaiBev (THBEV SP) Shares of the leading producer of beer and spirits in Thailand rose 3.7% on Thursday after the Thai government announced that it was going to lift quarantine for vaccinated visitors in November. The reopening of the country starts with 10 nations, and will likely include the US, China and Singapore. Consensus has 19 BUYS and 1 HOLD. The 12m average TP is S$0.92, implying a 30% upside from the last close price.
Uni-Asia Group (UAG SP). The company which specialises in dry bulk carriers saw its shares rising as much as 2.9%, adding on to its 7.1% gains on Tuesday, driven mainly by charter rates that are near their 13-year peak. The stock closed flat likely on profit taking. We have an OUTPERFORM recommendation on Uni-Asia and a 12m TP of S$1.56 (+16% potential upside from last close price).
---
Hong Kong
Hong Kong trading sessions for the securities and derivatives markets were cancelled yesterday due to the Issuance of Typhoon Signal No. 8.
The Hong Kong market is closed today Thursday, 14 October in view of the public holiday Chung Yeung Festival. Trading will resume on Friday, 15 October.
---
Trading Dashboard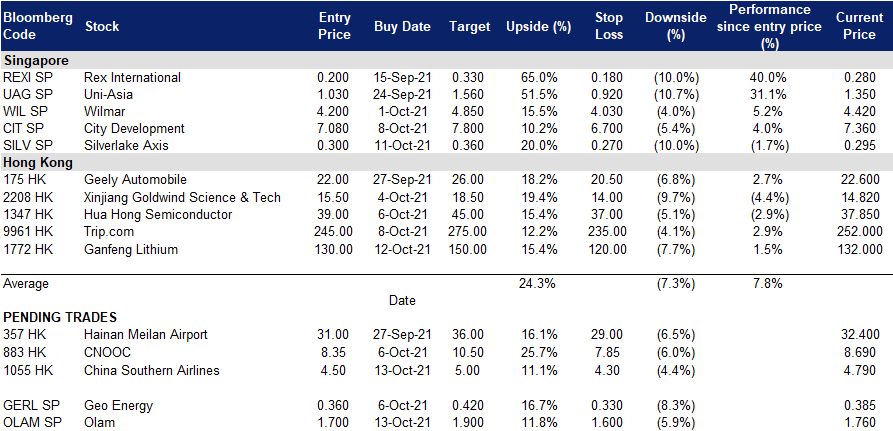 ---

---
Related Posts: