KGI DAILY MARKET MOVERS – 12 October 2021
Market Movers | Trading Dashboard
---
Market Movers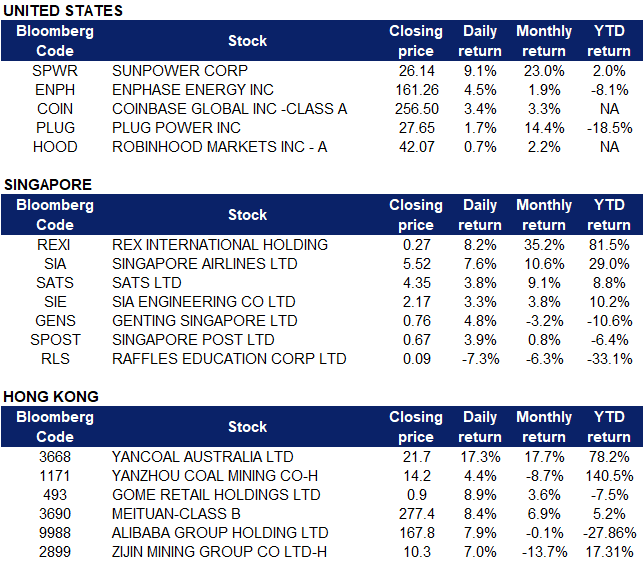 United States
Hydrogen and solar energy stocks were on the rise on Monday as the price of oil topped $82 per barrel before pulling back from its highest level in seven years. SunPower (SPWR US), Enphase Energy (ENPH US) and Plug Power (PLUG US) closed 9.1%, 4.47% and 1.69% higher as investors turn to alternative energy names while oil and natural gas prices surge due to threats of low supply and rising demand.
Coinbase (COIN US) shares rose 3.37% on Monday in tandem with rising prices of popular cryptocurrencies bitcoin and ethereum. Coinbase's revenue is largely dependent on cryptocurrency trading volume – 88% of the company's revenue in the second quarter of 2021 was generated from just charging transaction fees; the company recorded $1.1 billion in EBITDA on $2.2 billion in total revenue.
Robinhood Markets (HOOD US) shares traded 2.1% lower in the premarket before recovering to close in the green following a Securities and Exchange Commission (SEC) filing that detailed the risks of increased regulation of cryptocurrency trading along with possible new rules for the payment for order flow. Robinhood relies on payment flow to bankroll "free" commissions that it offers to its users. The company will announce its third quarter 2021 results on 26 October 2021.
Southwest Airlines (LUV US) shares dropped 4.17% on Monday after the airline cancelled more than 1,800 flights over the weekend citing bad weather, air traffic control issues and staffing shortfalls. The staff shortages fueled speculation on social media that employees were calling out sick, with some suggesting it was in protest of a COVID-19 vaccine mandate. Southwest clarified that was not the cause of the mass flight cancellations.
---
Singapore
Rex International (REXI SP) Singapore's only pure-play profitable oil producer rose 8.2% after Brent oil approached US$84 per barrel. Oil prices have been rising on the back of a global crunch ahead of the winter season. Brent has risen more than 20% since mid-August, with Saudi Aramco estimating that the gas shortage in Europe has increased oil demand by around 500,000 barrels per day, while Citigroup estimates it could reach 1mn barrels per day in a bullish cash. We currently have an Outperform rating on Rex International and a 12m TP of S$0.33.
Aviation and hospitality stocks Singapore Airlines (SIA SP), SATS (SATS SP), SIA Engineering (SIE SP), Genting Singapore (GENS SP) jumped 7.6%, 3.8%, 3.3% and 4.8% respectively on Monday trading after it was announced on Saturday that Singapore will launch eight Vaccinated Travels Lanes (VTLs) with countries in Europe and North America. Additionally, Malaysia Prime Minister Ismail Sabri Yaakob announced that the country will reopen international borders from Monday, 11 October for 90% of its population that have been fully vaccinated from COVID-19. DBS Research released a report on Monday that pointed out that the eleven countries included in the VTL scheme contributed approximately 16.5% of Singapore's normalized tourist count, and these countries accounted for about 6.7 million passengers at Changi Airport in 2019, implying that "growth is exponential from current levels".
Singapore Post (SPOST SP) shares rose 3.9% after the company announced last Friday that it will be increasing its stake in Australian logistics company Freight Management Holdings from 28% to 51%. Singpost previously said last year that it would be acquiring 38% of Freight Management in tranches, along with a call option that would have allowed Singpost to subsequently acquire an additional 13% stake in the latter. In its filing to SGX on Friday, Singpost also said that it has entered into an agreement granting Freight Management to acquire 100% of Singpost's shareholding in CouriersPlease. Singpost CEO Vincent Phang said in a media release that he is confident that Freight Management will better place SingPost Group to become a key logistics player in Australia.
Raffles Education Corporation Limited (RLS SP) shares plunged 7.3% after the group's auditors said that the company's current liabilities exceeded its current assets by $196.4 million for the year ended June 2021. The group clarified on Friday evening that this is not likely to pose material uncertainty on the ability of the group, and of the company as a going concern.
---
Hong Kong
Yancoal Australia Ltd (3668 HK), Yanzhou Coal Mining Co Ltd (1171 HK). Coal sector shares collectively rebounded yesterday after Friday's sell-off. Yancoal Australia shares rose 17.3% while Yanzhou Coal's shares rose 4.4% yesterday. China coal futures surge to a record as floods swamp mine hubs. Floods have led to the closure of 60 of the 682 coal mines in Shanxi province, a region that has produced 30% of China's supply of fuel this year, adding to a worsening energy crisis that threatens the country's economic growth. Besides tight demand for coal driving up prices, Yancoal Australia's added catalyst includes the possibility of China turning to Australian coal to solve its energy crisis woes. Last week, China partially relaxed its unofficial ban on Australian coal, with some shipments of the commodity allowed to clear customs as authorities struggle to deal with a national power shortage threatening the country's economic recovery.
Gome Retail Holdings Ltd (493 HK). Shares rose 8.9% yesterday. The company's CEO announced yesterday that the company will provide three-year management services for the major shareholders' 5 assets under custody. These 5 assets include Gome Home, Fashion Home, Gome Storage, Shared Co-construction and Anxun Logistics. During the three-year service period, the company will receive annual management fee income, potential target company's equity incentives, as well as preferential options for 30% of the target company's equity and priority options for the remaining shares.
Meituan (3690 HK), Alibaba Group Holding Ltd (9988 HK). Tech sector shares collectively rebounded yesterday. Meituan's shares rose 8.4% despite the food delivery giant being slapped with a $500 million antitrust fine. The fine equated to 3% of Meituan's 2020 revenue and the penalty was not as large as expected. According to Bloomberg Intelligence analyst Matthew Kanterman, Meituan's better-than-feared antitrust penalty may be leading investors to rethink the severity of punishments that may follow from China's tech crackdown. Alibaba's shares gained 7.9% yesterday, receiving an extra boost last week from a report that American billionaire investor Charlie Munger's Daily Journal had increased his stake in the company by 83% in the last quarter.
Zijin Mining Group Co Ltd (2899 HK). Shares rose 7% yesterday. Zijin Mining issued an announcement yesterday stating that the company signed an agreement with Neo Lithium Corp, a company listed on the Canadian Stock Exchange to acquire the company in cash. The transaction amount is worth approximately RMB 4.939bn. The company's salt lake project is one of the largest and highest-grade projects of its kind in the world.
Trading dashboard: Trip.com (9961 HK) was added at HK$245.
---
Trading Dashboard
---

---
Related Posts: