KGI DAILY MARKET MOVERS – 12 August 2021
Market Movers | Trading Dashboard
---
Market Movers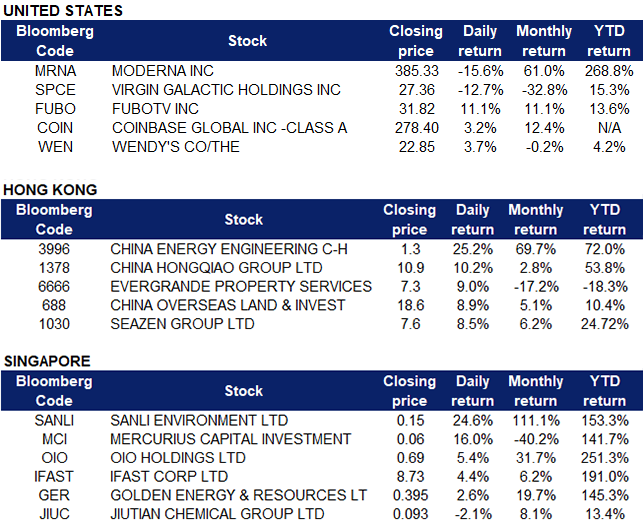 United States
Moderna (MRNA US) lost 15.64% on Wednesday, after European drug regulator European Medicines Agency (EMA) provided a COVID-19 vaccine-safety update, assessing if conditions such as erythema multiforme, glomerulonephritis and nephrotic syndrome could be possible side effects of vaccines provided by Moderna and Pfizer. This would be the fifth day this month that the stock moved over 5% in either direction.
Virgin Galactic (SPCE US) plunged 12.67% and closed at $27.36. Morgan Stanley analyst Kristine Liwag cut her rating on the stock to SELL from HOLD, but maintained her target price of $25 after the space tourism company's sole mothership, Eve, was grounded for enhancements for eight months starting September. During this maintenance period, Virgin Galactic will not be conducting any space flights.
FuboTV (FUBO US) shares climbed 11.10% on Wednesday after the video streaming service company delivered sparkling second quarter results. Revenue was at $130.9 million, and saw a massive 138% growth of subscribers, reaching 681,721 to finish the quarter, well above the company's projection of 600,000 to 605,000.
Coinbase (COIN US). The cryptocurrency exchange platform saw its stock jump as much as 5.4% in mid-day trading after reporting stellar second quarter results since its listing. Earnings came in at $3.45 per share, which beat analyst estimates, and revenue was at $2.23 billion, compared to $178 million from a year ago. Additionally, five new cryptocurrencies (IoTeX, Orion Protocol, Quickswap, Tribe and Terra USD) are now available on Coinbase.
Wendy's (WEN US) stock climbed 3.72% after releasing better than expected second quarter earnings and outlook. The fast food chain earned $65.7 million or 29 cents per share, up from 11 cents per share in the year-earlier period. Revenue rose 22.6% YOY to $493.3 million, which beat analyst expectations of $462.6 million. Wendy's announced on Wednesday that they will be opening 700 ghost kitchens, which are designed to help restaurants boost delivery capacity and reach more customers.
---
Singapore
Sanli Environment Limited (SANLI SP) shares surged by 24.6%, boosted by higher-than-average trading volumes. There was no company specific news yesterday. The most recent news was published by The Business Times 2 weeks ago featuring Sanli Environment when Pek Kian Boon, a former executive director, sold 9.2mn shares of the company at 16.8 Sing cents per share for a total consideration of S$1.5mn. In addition, on July 15, Sanli Environmental announced that it had been awarded a S$72.7mn contract from PUB for the construction and commissioning of new disinfection systems at Johor River Waterworks, located at Kota Tinggi, Johor, Malaysia. Another possible catalyst resulting in the rise in Sanli's share price could be due to rosy 1Q22 outlook as competitor Sembcorp Industries has planned shutdowns for plants in Singapore, Myanmar and India for maintenance works including overhaul in the second half ending December 2021. Read the article published on 6 August here. Sanli's share price has been on a downtrend since end-July and has dipped around 38% from 19 July to 6 August.
Mercurius Capital Investment Limited (MCI SP) shares rose by 16% yesterday, boosted by higher-than-average volumes. There was no company specific news yesterday. The rise in share price could be due to a technical rebound as shares declined more than 40% from 13 July to 10 August and were trading at a 4-month low. Investors are likely to have bought the dip with price support at the 200-day moving average. Other catalysts could be the company's diversification into grocery stores, Songmart Holdings, which was fully acquired by the company in July.
OIO Holdings Limited (OIO SP) shares rose by 5.4% yesterday and closed at an all-time high. There was no company specific news yesterday, however, the rise in share price could be due to the recovery of Bitcoin, putting US$100,000 predictions in vogue again. OIO has a 100% ownership of Moonstake, a crypto staking firm, where it would receive a commission of up to 0.5% of staking assets. Positive sentiment on the coin could have fuelled investors buy-in.
iFAST Corporation Limited (IFAST SP) shares rose by 4.4% yesterday even though there was no company specific news. The most recent news was published by The Business Times on 3 August where CGS-CIMB upgraded iFAST to an ADD rating and raised its target price to S$12.60 after the HK project update. The research firm estimates an additional S$10mn annual net profit from HK's eMPF project over the seven-year maintenance period starting from FY2023.
Geo Energy Resources Limited (GER SP) shares rose by 2.6% yesterday and closed at a 3-year high. Geo Energy announced positive earnings results yesterday, achieving record half-yearly revenue of US$220.3mn, an increase of 37% from 1H2020 due to the increase in sales volume and higher average selling price. The company also reported a net profit of US$48.5mn in 1H2021, a complete turnaround from the 1H2020's net loss of US$8.7mn. The average Indonesian Coal Index price for 4,200 GAR coal was US$47.78 per tonne in 1H2021, compared to US$30.61 per tonne in 1H2020. The company is declaring a second interim dividend of S$0.005 per share in 2021 equivalent to a 26% pay-out ratio on its 2Q2021 net earnings.
Jiutian Chemical (JIUC SP) shares declined 2.1% ahead of the release of its 1H2021 results. While the company reported an almost fivefold increase in 1H2021 net profit to RMB 106mn, the quarterly net profit in 2Q2021 actually declined from RMB 90mn in 1Q2021 to around RMB 70mn in 2Q2021. The lower QoQ was due to higher raw material costs given the surge in coal prices.
Trading Dashboard: Take profit on UMS Holdings (UMSH SP) at S$1.73. Cut loss on Dairy Farm International (DFI SP) at US$3.55
---
Hong Kong
China Energy Engineering Corp Ltd (3996 HK) shares closed at a 52-week high. The company announced Central Southern China Electric Power Design Institute Co., Ltd. of China Power Engineering Consulting Group, a subsidiary of the company, has entered into an EPC general contract for Xiangyang (Yicheng) 2x1000MW Ultra Supercritical Coal-fired Unit Project of Hubei Energy. The project's main work includes the construction of flue gas desulfurization and denitrification facilities), such as the survey and design (except for the survey and design at the preliminary design stage), project management, procurement and supply of equipment and materials (except for the three main engines that have been tendered), project construction, start-up debugging (trial operation) of sub-system and complete set, technical services, training, and functional test until acceptance and delivery for production. The total contracted amount of the Project is approximately RMB4,095mn.
China Hongqiao Group Ltd (1378 HK). Aluminium stocks jumped. Shanghai aluminum futures continued to trade higher at RMB20,000/tonne. Aluminum ingot prices stay at highs between RMB19,700/tonne and RMB19,900/tonne.
Evergrande Property Services Group Ltd (6666 HK). The property management sector continued to recover. Shares have been up for three consecutive trading days. Market news reported that its parent company China Evergrande Group (3333 HK) will be selling the property management businesses to a consortium led by Vanke.
China Overseas Land & Investment Ltd (688 HK). The property development sector continued to recover. Previously, the company announced the property sales and land acquisition in 7M21. From January to July 2021, the accumulated contracted property sales of the China Overseas Series of Companies amounted to approximately RMB229.906 billion and the accumulated corresponding GFA sold was approximately 11,524,100 square meters, representing a year-on-year increase of 18.8% and 7.1% respectively.
Seazen Group Ltd (1030 HK) shares closed at a 2-month high. Previously, the company announced a positive 1H21 profit guidance. Based on the preliminary review of the latest available unaudited management accounts, it is expected that the group's 1H21 consolidated net profit attributable to equity holders of the company will have an increment of at least 40% YoY. The increment in the consolidated net profit of the Company is mainly a result from the expected increase in the net profit attributable to equity holders of Seazen Holdings Co., Ltd., a subsidiary of the Company with its A shares listed on the Shanghai Stock Exchange.
---
Trading Dashboard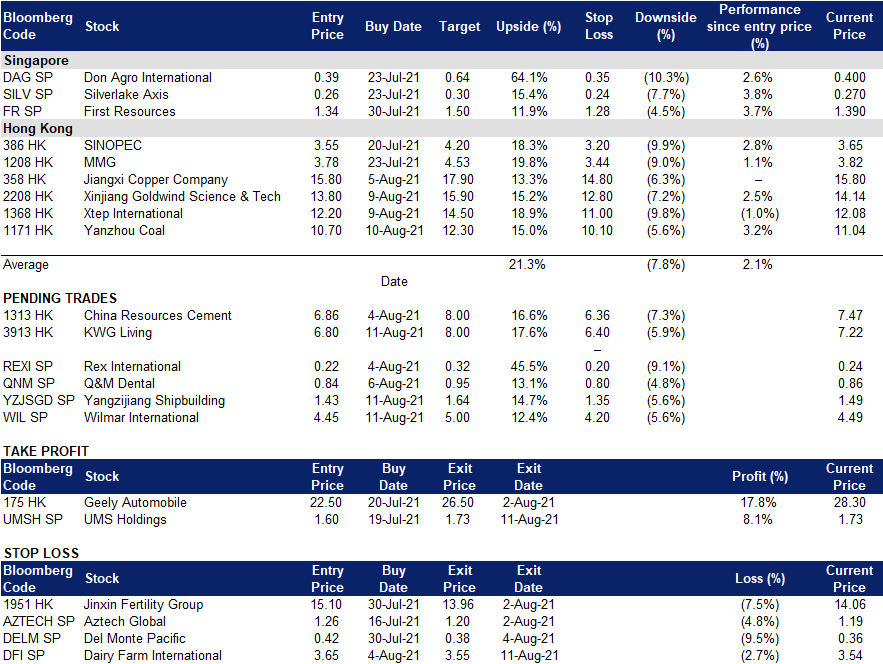 ---

---
Related Posts: