KGI DAILY MARKET MOVERS – 10 August 2021
Market Movers | Trading Dashboard
---
Market Movers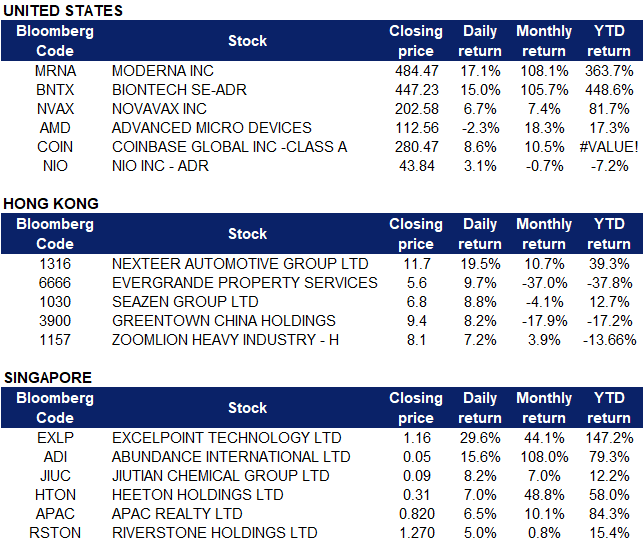 United States
Vaccine stocks soared on Monday, with Moderna (MRNA US), BioNTech (BNTX US) and Novavax (NVAX US) up 17.1%, 14.97% and 12.2% respectively. Moderna's COVID-19 vaccine was granted provisional registration by Australia's Therapeutic Goods Administration; the drug can now be used on people at least 18 years old. Moderna will potentially supply as many as 25 million vaccine doses to the Australian government by 2022. BioNTech reported second quarter results which were better than what analysts expected. Sales and adjusted profits were at $6.2 billion and $12.67 per share respectively. The German biotech company expects to generate 15.9 billion euros (or $18.7 billion) in sales this year. Novavax recently received a boost by institutional buying of its stock, with the New York State Common Retirement Fund, a public-pension in the U.S.. The pension disclosed that it upped its stake in NVAX and other stocks in a form it filed with the Securities and Exchange Commission.
Advanced Micro Devices (AMD US) traded higher on Monday after BMO Capital Markets boosted their rating for the company to an 'Outperform' and raised their target price to $110, citing better than expected 2022 earnings growth and consistent market share gains against rival Intel. The stock traded as high as $112.33 before closing down 2.3% at $107.58.
Cryptocurrency exchange platform stock Coinbase Global (COIN US) was up 8.6% on Monday as prices for leading cryptocurrencies rose. Bitcoin rose over the weekend, and currently sits above the $46,000 mark. Coinbase is scheduled to release its second quarter earnings on 10 Aug after market close.
Chinese electric vehicle maker NIO (NIO US) saw its stock trade higher after a Deutsche Bank analyst said that he expects the company's second quarter results to come in above Wall Street estimates. The Deutsche Bank team estimates that the EV maker will report a loss of about $0.07 per share on revenue of $1.32 billion, compared to current estimates of $0.11 loss per share on revenue of $1.28 billion.
---
Singapore
Excelpoint Holdings Limited (EXLP SP) shares continued to rise from 5 August, Thursday following the company's announcement of its 1H21 results. Shares jumped by 29.6% on Friday and closed at a 5-year high. Excelpoint's revenue increased by 45.3%, from US$510mn in 1H20 to US$740.9mn in 1H21, while net profit surged by an outstanding 483.8% to US$12mn. The company's CEO, Mr Albert Phuay, commented that despite the challenges posed by the pandemic, the group achieved a good set of results with record revenue and improved margins for the first half of the year. He also had a positive outlook on the company moving forward, contributed by the strong demand coming from the accelerated adoption of technologies for automation and intelligence in the consumer, commercial and industrial sectors. The company will continue to see a rising need for semiconductor chips and solutions. Read the full results here.
Abundance International Limited (STRTR SP) shares rose by 15.6% and closed at a 52-week high on Friday. Investors are likely buying ahead of the company's earnings results expected to be released on 13 August. Abundance International posted a positive profit alert on 21 July, where the group is expected to report a profitable 1H21 as compared to a loss-making 1H20. This is mainly driven by a significantly better performance from the company's subsidiary, Orient-Sale Chemicals which is in the chemical trading business, coupled with its other subsidiaries in China and Japan.
Jiutian Chemical Group Limited (JIUC SP) shares rose by 8.2% on Friday and closed at a one-month high, even though there was no company specific news. This could be due a spillover effect from positive profit guidance news from the chemical sector. Jiutian's peers, Abundance International and China Sunsine, posted positive profit guidance news on 21 July and 30 July respectively. Abundance International is expected to report a profitable 1H21 as compared to a loss-making 1H20, whereas China Sunsine is expected to report a substantial increase in consolidated net profit in 1H21 as compared to 1H20, due to an increase in both average selling price and sales volume. Read the profit guidance posted by Abundance International and China Sunsine.
Heeton Holdings Limited (HTON SP). Heeton Holdings' shares rose by 7% to close at a 52-week high last Friday, ahead of the release of its 1H2021 earnings after market close. The company reported a 1H2021 PATMI of S$1.7mn, a reversal from the S$8.1mn loss in the prior year period. The group anticipates that international tourism and business travel will resume commencing in 4Q2021, which will help its 14 world-wide hotels. Meanwhile, the company's three condominium projects (Park Colonial, Affinity @ Serangoon and Rezi24) are slated to be completed by 3Q2022. The group is optimistic on Singapore's residential sector as it continues to participate in land tenders.
APAC Realty Limited (APAC). Shares rose by 6.5% last Friday, closing at a 52-week high. Investors could have a positive outlook on the property sector due to the surge in property prices since the start of the year. It was published in The Straits Times last Friday that HDB resale prices rose for 13 straight months into July, although the pace of growth has started to slow down.
Riverstone Holdings (RSTON SP) Shares closed 5.0% last Friday after reporting a strong set of 2Q2021 results. Revenue almost tripled to RMB987mn in 2Q2021, from RMB347mn in the prior year, while net profit rose by 5x to RMB518mn from RMB91mn. Cash and equivalents increased to RMB1.4bn as at 30 June 2021, more than double from the RMB0.6bn as at 31 December 2020. The company declared a 10 RM cents (3.21 Sing cents) interim dividend, an increase from the 4 RM cents dividend in 1H2020. Consensus 12m Target Prices range from S$1.30 to S$1.86 (4 BUYS and 2 HOLDS).
---
Hong Kong
Nexteer Automotive Group Ltd (1316 HK) shares closed at a 1.5-month high. There was no company specific news. Last week, U.S. president Joe Biden announced a new national target for electric vehicles to make up half of all new vehicle sales by 2030. The target is expected to be supported by companies such as General Motors, Ford Motor and Stellantis, formerly Fiat Chrysler. The company's rack-assist electric power steering has 90% market share in full-size pickup and sport utility vehicles (SUV) in North America. Its key customers are Ford on the F-150 pickup truck; FCA (now Stellantis) on the light-duty Ram 1500 pickup truck; and GM on various light-duty trucks and SUVs.
Evergrande Property Services Group Ltd (6666 HK). The property management sector continued to bottom out. Market news said several large state-owned and private companies planned to inject capital into the company, as well as into the China Evergrande New Energy Vehicle Group (708 HK).
Seazen Group Ltd (1030 HK). The company announced a positive 1H21 profit guidance. Based on the preliminary review of the latest available unaudited management accounts, it is expected that the group's 1H21 consolidated net profit attributable to equity holders of the company will have an increment of at least 40% YoY. The increment in the consolidated net profit of the Company is mainly a result from the expected increase in the net profit attributable to equity holders of Seazen Holdings Co., Ltd., a subsidiary of the Company with its A shares listed on the Shanghai Stock Exchange.
Greentown China Holdings Limited (3900 HK). The property development sector jumped. The company announced certain unaudited operating data of the Company and its subsidiaries, together with its joint ventures and associates for 7M21. From January to July 2021, Greentown Group recorded a saleable area of 5,440,000 sqm, with a contracted sales amounting to approximately RMB152.3 billion (an increase of 94% year-on-year); of which approximately RMB79.1 billion was attributable to the Greentown Group. As at 31 July 2021, in addition to contracted sales, Greentown Group recorded subscription sales of RMB3.9 billion, of which approximately RMB1.9 billion was attributable to Greentown Group.
Zoomlion Heavy Industry Science and Technology Co Ltd (1157 HK). The engineering and machinery sector jumped as fund flows continued to flock to the sector. Investors are expecting the domestic infrastructure expansion will resume in 2H21.
Trending Dashboard: Add Xinjiang Goldwind Science & Tech (2208 HK) at HK$13.8; Add Xtep International (1368 HK) at HK$12.2.
---
Trading Dashboard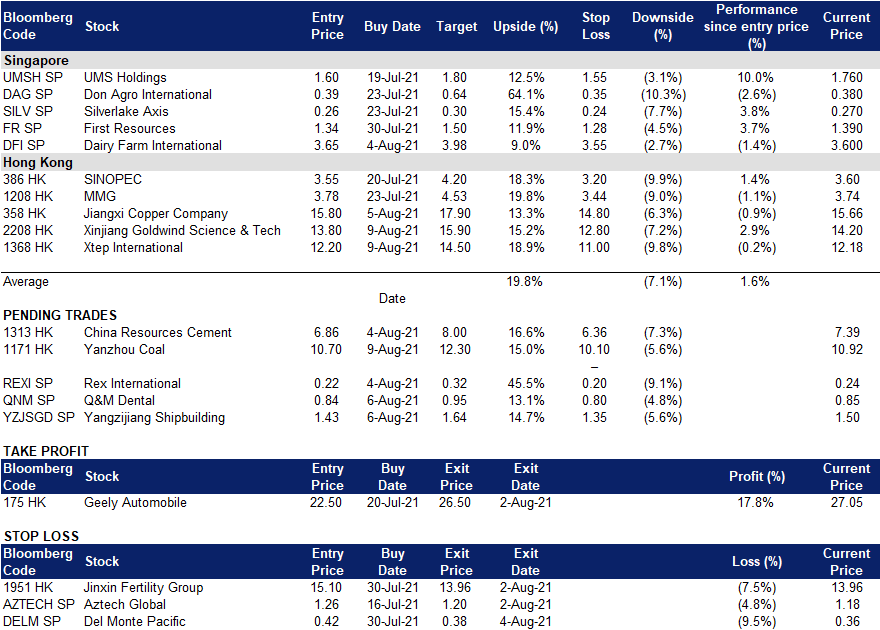 ---

---
Related Posts: