In the Spotlight: Oil Markets
Oil markets are experiencing favorable supply and demand dynamics.
Brent is now trading at its highest since October 2018 while WTI is at the highest since November 2014.
Watch Now: KGI's Call Of The Day, 7 October – Oil Markets
Despite the higher oil prices, both OPEC+ and US shale are not rushing to add more supply.
On 4 October, OPEC+ agreed to maintain its 400,000 barrel/day supply hike scheduled each month until at least April 2022, which would phase out 5.8mn barrels/day of existing production cuts.
The shortage of natural gas in Europe has sent prices of the fuel to the oil equivalent of US$190/barrel. Demand for natural gas has exceeded pre-Covid-19 highs, according to the International Energy Agency (IEA).
The shortage of natural gas is spurring a switch to oil products for heating and manufacturing, boosting oil demand by 500,000 barrels/day, according to the CEO of Saudi Aramco.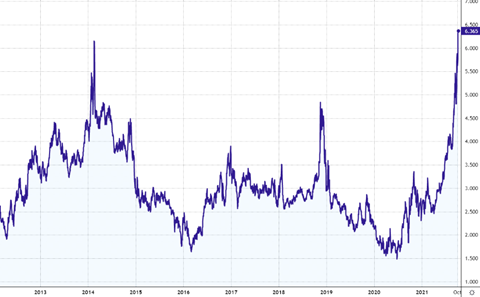 As the global economy and international borders further reopens in the fourth quarter, oil demand will continue to rise.
We expect oil prices to continue to be resilient, and we therefore recommend the following:
Equities: As pure oil and gas plays, CNOOC (883 HK) is our top HK-listed pick, while in Singapore, Rex International (REXI SP) is the only game in town.
Futures: Shanghai International Energy Exchange Crude Oil Futures
---

---
Related Posts: