Hong Kong: Market Movers – 2 November 2021
Top Sector Gainers & Losers | Technical Analysis | Market Movers | Trading Dashboard
Top Sector Gainers and Losers
Top Sector Gainers
Top Sector Losers
---
Technical Analysis Of The Day
Nexteer Automotive Group Ltd (1316 HK)
It formed a cup and handle pattern then broke out the handle, implying a bullish signal for the next movements.
The intraday swing was huge, but shares managed to close high with the highest volume since the sell-down in August, which also showed a positive upward momentum.
Next resistance level: 0.618 Fibonacci retracement level of HK$10.6
There are two support levels: 1) 120dEMA of HK$9.23 2). 20dEMA and 60dEMA of HK$9.0; The former line just crossed the latter.
Recommendation:
Both MACD and RSI showed a strong upward momentum. Meanwhile, a price appreciation with a higher volume implied institutional investors were loading up shares.
Long – Entry: 9.5, Target: 10.6, Stop: 9.2
---
Market Movers
Stocks Making The Biggest Moves in Hong Kong:

Zhuzhou CRCC Times Electric Co Ltd (3898 HK). Shares rose 14.8% yesterday after HSBC released a research report maintaining its BUY rating on the company, although lowering its 2021-2023 profit forecast by 16%/12%/12% due to the slower recovery of railway equipment demand. The bank's target price is also reduced from HK$55 to HK$50. However, HSBC commented that it is optimistic on Times Electric's new semicon IGBT business which is expected to have high growth potential and supported by national policies. The focus of IGBT business expansion next year would be on new energy vehicles and solar components. The company also plans to develop a third IGBT production line to curb related supply shortages. Management expects that the traditional EMU may see a slight rebound next year, while intercity railway will see moderate growth.
Razer Inc (1337 HK). Shares rose 7.7% yesterday as the company announced that the Chairman, Executive Director and controlling shareholder Chen Minliang and Non-Executive Director and major shareholder Lim Kaling are negotiating with financial investors to explore the possibility of a transaction involving the company. The transaction structure has not yet been determined, but it may be a general offer for the company's shares.
BYD Electronic International Co Ltd (285 HK). Shares gained 5.6% yesterday, rebounding from Friday's losses of 10.3%, after the company announced its third quarter results. Yesterday, Citi released a research report maintaining its BUY rating on BYD, although lowering its target price from HK$46 to HK$36. According to the bank, third quarter revenue and gross profit margins were not up to expectations, mainly due to supply chain issues and production efficiency. However, it is expected that the chip shortage would be relieved in the fourth quarter, and the situation is expected to gradually improve thereafter. China's electricity shortage was the worst in September and has been slightly relieved in October. Shipments are expected to increase which would improve operating efficiency and gross profit margins. In addition, the company's e-cigarette package will be launched in the first quarter of next year.
Pop Mart International Group Ltd (9992 HK). Shares gained 5.6% yesterday as news was published on the blind box toy market which featured Pop Mart. In recent years, the scale of China's blind box market has risen rapidly, reaching RMB10.1bn in 2020. Pop Mart's financial report shows that as of the first half of the year, it has maintained a gross profit margin of more than 60% and a net profit margin of more than 20%. Entering the second half of 2021, the industry is expected to continue its growing trend. Recently, it was announced that Pop Mart was selected as the designated supplier for the Franchise Centre of China Pavilion at the Expo 2020 Dubai from October 1st, 2021 to March 31st, 2022. The company would be showcasing the culture of Chinese art toys, fostering culture exchange across the world.
Nexteer Automotive Group Ltd (1316 HK). Shares rose 4.2%, extending its rally from last Friday after its major customer, Ford, announced that it has raised production capacity and achieved better-than-expected third quarter results, attributable to its recently transformed product portfolio. In addition, for the upcoming F-150 Lightning pure electric pickup truck, Ford decided to double its annual planned production to 80,000 units. According to Nexteer's mid-year report, the F-150 electric pickup truck would be officially put into production early next year. The company would also include Ford Mustang Bronco and other products in its new production projects this year.
Hangzhou Tigermed Consulting Co Ltd (3347 HK). Shares declined 9% yesterday after the company announced its third quarter results. In the third quarter, the company achieved revenue of RMB 1.339bn, a YoY increase of 57.77%, while net profit attributable to the parent company was RMB 526mn, a YoY increase of 64.80%. However, behind the high growth, gross profit margin and net profit margin of the third quarter declined compared to the second quarter, with net margin decreasing more than 12 ppts. The rapid growth of low-margin clinical processing fees was the main reason for the decline in profit margins and some institutions believe that this may continue in the full year.
---
Trading Dashboard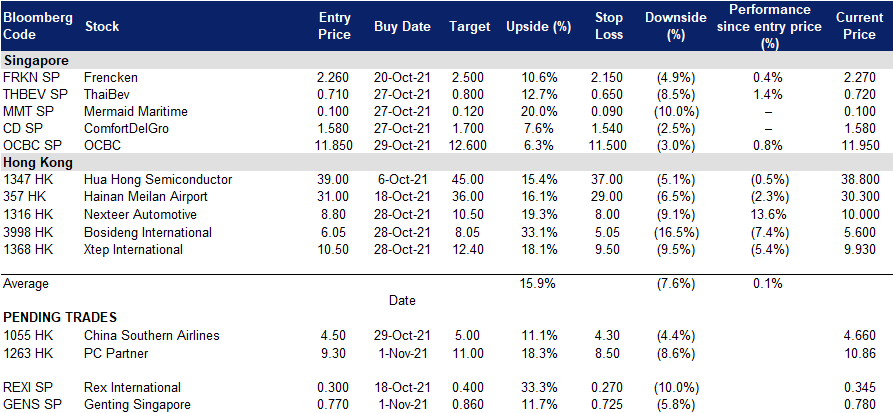 (Click on image to enlarge)
---

---
Related Posts: