7 January 2022: First Resources (FR SP), Nexteer Automotive Group Ltd (1316 HK)
Singapore Trading Ideas | Hong Kong Trading Ideas | Market Movers | Trading Dashboard
SINGAPORE
First Resources (FR SP): Palm oil prices are near all-time highs again
BUY Entry – 1.60 Target – 1.80 Stop Loss – 1.55
Established in 1992 and listed on the SGX since 2007, First Resources is one of the leading palm oil producers in the region, managing over 200,000 hectares of oil palm plantations across the Riau, East Kalimantan and West Kalimantan provinces of Indonesia. The group's core business activities include cultivating oil palms, harvesting, and milling them into crude palm oil (CPO) and palm kernel (PK). In addition, the group through its refinery, fractionation, biodiesel and kernel crushing plants, processes its CPO and PK production into higher value palm-based products such as biodiesel, refined, bleached and deodorised (RBD) olein and RBD stearin, palm kernel oil and palm kernel expeller.
Palm oil prices are back to all-time highs. Palm oil futures greeted the new year by surging to near all-time highs, triggered by concerns that heavy rain across seven states in Malaysia may slow down palm oil production. The Southern Peninsular Palm Oil Millers Association said it expects an 8.5% MoM decline in palm oil output from the Peninsular Malaysian region in December.
4Q2021 earnings is the key catalyst. Given stronger palm oil prices and the absence of hedging on the company's part, we think 4Q results may surprise on the upside. The company is scheduled to report its full year results on 25 February 2022.
Room to outperform consensus view. After the 20% rally in share price over the past year, analysts have turned more cautious. There are still 5 BUYS and 4 HOLDS as of 6 Jan 2022, but a shade lower than the 7 BUYS in the same period last year. However, against the cautious consensus backdrop, we think the company has more room to outperform when it reports its full year results.
Palm Oil Futures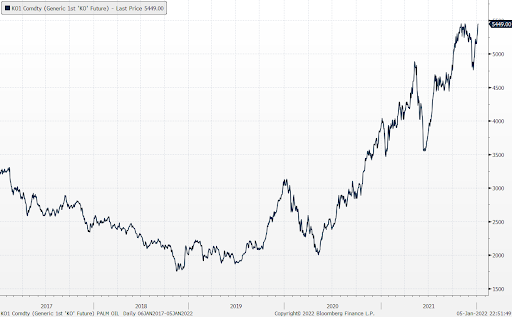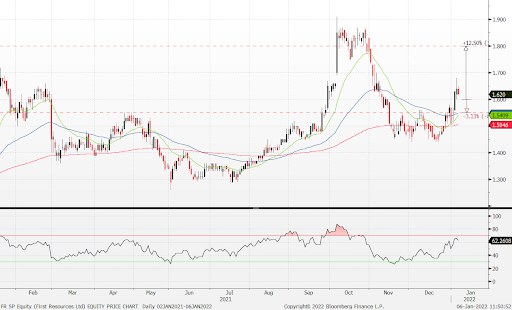 ---
Mapletree Commercial Trust (MCT SP): Buy the dip
RE-ITERATE BUY Entry – 1.82 Target – 1.98 Stop Loss – 1.74
MCT is a Singapore-focused real estate investment trust (REIT) that comprises five properties in Singapore. Its properties include VivoCity (Singapore's largest mall), Mapletree Business City, mTower (previously known as PSA building), Mapletree Anson and Bank of America Merrill Lynch HarbourFront. Its portfolio has a total Net Lettable Area (NLA) of 5mn square feet, valued at S$8.8bn.
Oversold. Units of MCT dropped by as much as 10% over the last two trading sessions, triggered by the REIT's announcement of its merger with Mapletree North Asia Commercial Trust (MNACT). We think this is likely due to MNACT's geographical diversified asset base in North Asia, which is a significant contrast to MCT's focus on the Singapore market. Furthermore, investors may have reservations over MCT's higher gearing after the merger. Post-merger, MCT's gearing is estimated to increase from 33.7% to between 38.0% (scrip-only) and 39.2% (cash-and-scrip), depending if unitholders were to elect to receive a combination of cash and scrip.
Third largest REIT post-merger. Assuming MCT receives 50% of total number of votes cast for the proposed merger to proceed, the merged REIT entity will be Singapore's third-largest REIT by market capitalisation, just below CapitaLand Integrated Commercial Trust (CICT) and Ascendas REIT (AREIT).
Consensus forecast and valuations. After the 10% drop, MCT now trades at a 10% discount to the 10-year P/B average of 1.18x. MCT is forecasted to provide a 5.1% and 5.4% dividend yield for FY2022 and FY2023 (March YE). After the announcement of the merger, consensus estimates are mixed with 7 BUYS, 6 HOLDS and 1 SELL. The 12m average TP is S$2.24, implying a 23% upside potential.
---
HONG KONG
Nexteer Automotive Group Ltd (1316 HK): Proxy trade of Ford and General Motors
Buy Entry – 9.4 Target – 10.6 Stop Loss – 8.8
Nexteer Automotive Group Limited is an investment holding company. The Company through its subsidiaries are primarily engaged in the design and manufacture of steering and driveline systems, advanced driver assistance systems (ADAS) and automated driving (AD) and components for automobile manufacturers and other automotive-related companies. Its operations are in the United States of America (USA), Mexico, Poland and the People's Republic of China (China). The principal markets for the Company's products are North America, Europe, South America, China and India. The Company has approximately 27 manufacturing plants, one global technical center, over two regional technical centers, one software service center and approximately 13 customer service centers. Its subsidiaries include Nexteer US Holding I LLC, Rhodes I LLC, Steering Solutions IP Holding Corporation, Chongqing Nexteer Steering Systems Co., Ltd., CNXMotion, LLC and Dongfeng Nexteer Steering Systems (Wuhan) Co., Ltd.
Ford Motor (F US) reached a 20-year high. The demand for the EV version of the Ford F150 pickup truck, F150 Lightning, is so strong that the company had to stop reservations. The preorder of this pickup model had reached 200,000 units. The CEO mentioned they were pushing full production capacity at 70,000 or 80,000 units for the Lightning. The other auto giant General Motor (GM US) also planned to invest more than US$3 billion to make electric vehicles in its home state of Michigan. North America is the main revenue contribution for Nexteer, accounting for more than 60% of the total annual revenue over the past 5 years. General Motors and Ford are two of the key customers of Nexteer. GM's EV pickup truck, the electric Chevrolet Silverado, features all of Nexteer's product lines, including the HO REPS, Ball Spline Axle Halfshaft and steering column. Ford's F150 Lightning utilises Nexteer's REPS system with 10-FIT High Availability technology, as well as the power steering column.
Nexteer's price performance mimicking Ford's and GM's movements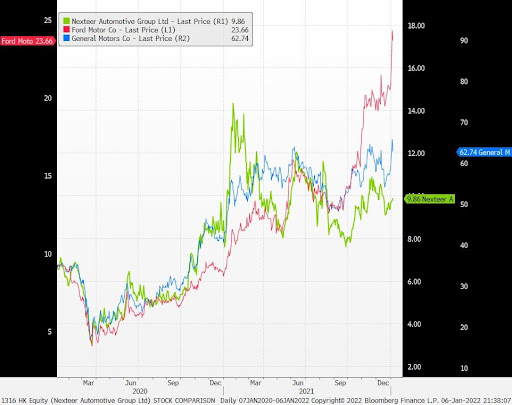 Updated market consensus of the EPS growth in FY22/23 are 52.2%/20.2% YoY respectively, which translates to 11.1x/9.3x forward PE. Current PER is 16.0x. Bloomberg consensus average 12-month target price is HK$12.64.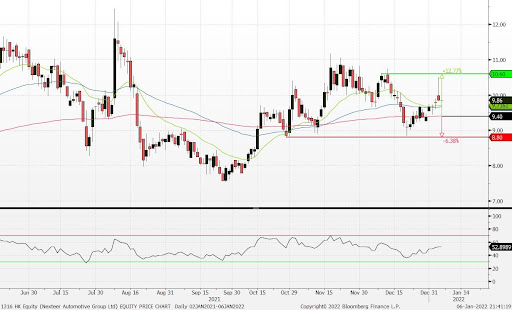 ---
CNOOC Limited (883 HK): Inflation hedge amid the rate hike cycle
RE-ITERATE BUY Entry – 8.0 Target – 9.0 Stop Loss –7.5
CNOOC Limited is a Hong Kong-based investment holding company principally engaged in the exploration, production and trading of oil and gas. Its businesses include conventional oil and gas businesses, shale oil and gas businesses, oil sands businesses and other unconventional oil and gas businesses. The company mainly operates businesses through three segments. The Exploration and Production segment is engaged in the exploration, development and production of crude oil, natural gas and other petroleum products. The Trading segment is engaged in the trading of crude oil, natural gas and other petroleum products. The company mainly operates businesses in China, Canada, the United Kingdom, Nigeria, Indonesia and Brazil, among others.
Oil and gas is one of the 2022 top sector picks globally. We have headed into the third year since the COVID-19 outbreak. With most people vaccinated, death rate and inpatient rates have been dropping substantially. Health specialists believe the pandemic will probably end by the end of 2022. Hence, the reopening of borders and economies is destined to come. Accordingly, the demand for oil is expected to rise, driven by the recovery of production and travelling activities. Due to the insufficient investments in exploration and production in the oil and gas sector over the past few years, we will see an imbalance of supply and demand dynamics, but this time there is insufficient supply rather than glut.
Oil prices resume the uptrend. Brent and WTI rebounded from low US$60s to current high US$70s per barrel. The upcoming OPEC+ meeting could bring another 400,000 bbls/d output hike for February. Meanwhile, The OPEC+ Joint Technical Committee, which analyzes the market on behalf of ministers, sees a surplus of 1.4mn bbls/d in 1Q22, about 25% less than it estimated a month ago.
The updated market consensus of the EPS growth in FY22/23 is 7.1%/-0.65% YoY respectively, which translates to 3.9x/3.9x forward PE. Current PER is 6.2x. Bloomberg consensus average 12-month target price is HK$12.44.
---
MARKET MOVERS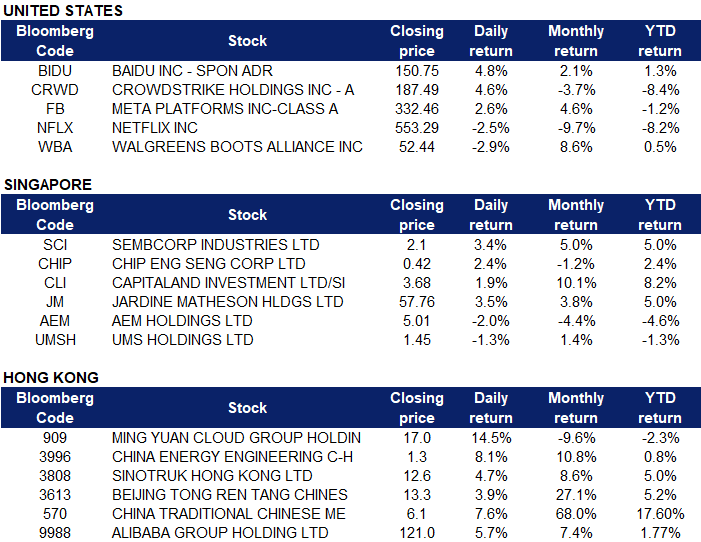 United States
Top Sector Gainers
Top Sector Losers
Baidu Inc (BIDU US) shares rose 4.8% yesterday. The Chinese search engine and artificial intelligence firm said on Thursday that the electric vehicle being developed by its carmaking arm, Jidu Automotive, will have level 4 autonomous driving capability, which means these cars do not require human interaction in most circumstances. The as yet unnamed model will be unveiled at the Beijing car show in April. Analysts said that Baidu's announcement was meant to signal to Chinese drivers that its vehicles will probably be the most advanced among all smart cars on the mainland next year.
Crowdstrike Holdings Inc (CRWD US) shares rose 4.6% yesterday after Wells Fargo initiated CrowdStrike at overweight and said that the struggling stock could jump 50%. Heading into 2022, Piper sees a "perfect storm" brewing for companies like CrowdStrike, as cybersecurity threats only increase. What's more, as the market grows Piper also expects CrowdStrike to garner a greater share of the growing market through "displacement" of existing "legacy" providers. Although not yet profitable as GAAP measures such things, CrowdStrike generated more than $430mn in positive free cash flow over the past year, yielding about a 95x multiple to its $41.1bn market capitalization.
Meta Platforms Inc (FB US) shares gained 2.6% yesterday after UBS boosted its price target from $425 to $440, with praise for some tech changes at Instagram. A revamped newsfeed at Instagram has the "potential to provide a meaningful product cycle catalyst for shares," analyst Lloyd Walmsley and team wrote. Two new settings in Instagram's feed has the company increasingly adding new tailored content drawn from beyond users' current follower graphs. If time spent per user at Instagram converges more toward TikTok-like numbers, UBS sees this as a catalyst for multiple expansion, similar to Instagram's 2019 checkout announcement that spurred an 8% stock-price boost in two weeks followed by 11% the month after.
Netflix Inc (NFLX US) shares lost 2.5% yesterday. In a Thursday research note, J.P. Morgan analyst Doug Anmuth and his team dropped their target for the stock price to $725 from $750, but continue to rate the shares at Overweight. J.P. Morgan said that Netflix likely signed up far fewer subscribers than expected in the fourth quarter, and the total for the current three months is likely to be weak as well. For the first quarter, the analyst is now predicting 5.5mn net additions, down from a prior call of 6.5mn.
Walgreens Boots Alliance Inc (WBA US) shares lost 2.9% yesterday.The company's fiscal first-quarter earnings exceeded analysts' expectations and raised its forecast for the year, as customers came to its stores for Covid booster shots, at-home test kits and first-time vaccinations for children. Despite that, shares fell as the company spoke of rising labour costs. Executives said Walgreens must increase wages as pharmacy staff juggle prescription refills and administering vaccines.
---
Singapore
Sembcorp Industries Ltd (SCI SP) shares rose 3.4% yesterday, after the company announced that Sembcorp Energy India, a wholly-owned subsidiary of Sembcorp Industries, has signed a long-term power purchase agreement  to supply 625 megawatts of power to power distribution companies in Andhra Pradesh in India. The 12-year agreement is expected to commence in 2023. With the agreement, 77% of Sembcorp Energy's thermal plant capacity would be underpinned by long and mid-term PPAs.
Chip Eng Seng Corp Ltd (CHIP SP) rose 2.4% yesterday, even though there was no company specific news. The construction company likely benefited from the announcement on January 1, where Prime Minister Lee Hsien Loong commented that Singapore will bring in much-needed migrant workers and ensure international talents feel welcome and are able to complement Singaporeans. Labour shortages are expected to ease moving into 2022. In addition, Singapore's economy grew 7.2% in 2021, rebounding from recession the previous year. Construction recorded 2% YoY growth in the fourth quarter and the sector improved by 18.7% for the full year.
Capitaland Investment Ltd (CLI SP) shares gained 1.9% yesterday, as DBS reinitiates a BUY recommendation on CapitaLand Investment with a target price of S$4. In its report, the DBS research team highlighted CLI's positive performance since its demerger. Potential catalysts include the launch of new fund products and real estate investment trust acquisitions, with the Keepsgroup's aim to grow FUM to S$100bn by 2024, up 19% from 2021. The research team also expects a recovery of CLI's lodging business, The Ascott, to drive a turnaround in cash flows for the group following the reopening of international borders.
Jardine Matheson Holdings Ltd (JM SP) shares gained 3.5% yesterday as the company recently made several share repurchases. The latest repurchase was on 5 January, where 37,900 shares were repurchased at a price range of US$55.35 to US$56.19.
Semicon shares AEM Holdings Ltd (AEM SP) and UMS Holdings Ltd (UMSH SP) lost 2% and 1.3% respectively yesterday, likely due to a spillover effect from the US Semicon sector after the FOMC meeting minutes was announced yesterday. Federal Reserve officials said a strengthening economy and higher inflation could lead to earlier and faster interest-rate increases than previously expected, with some policy makers also favouring starting to shrink the balance sheet soon after. At the conclusion of the December meeting, the FOMC announced it would wind down the Fed's bond-buying program at a faster pace than first outlined at the previous meeting in early November, citing rising risks from inflation. 
---
Hong Kong
Top Sector Gainers
Top Sector Losers
Mingyuan Cloud Group Holdings Ltd (909 HK) shares surged 14.5% yesterday. On January 5, 2022, the board of directors decided to use the share repurchase authorization. Depending on market conditions, the company may repurchase shares in the open market from time to time for a total amount of not more than the equivalent of US$100mn in Hong Kong dollars. The proposed share repurchase reflects the confidence of the board of directors and the management team in the company's business development prospects.
China Energy Engineering Corp Ltd (3996 HK), Sinotruk (Hong Kong) Ltd (3808 HK). Infrastructure shares rose collectively yesterday. Shares rose 8.1% and 4.7% respectively yesterday. CITIC predicts that infrastructure investment in the first quarter will achieve a high-single-digit growth of about 7%, and the annual growth rate of infrastructure will also have an outstanding performance of about 6.5%. Previously, the local government had issued RMB1.46tr in advance of local special bonds, which will drive the growth of infrastructure construction in the first year. In terms of specific sector configuration, Guosheng Securities believes that under the umbrella of advanced infrastructure, data centres, high-speed rail transit, 5G, and charging piles are the main beneficiaries.
Beijing Tong Ren Tang Chinese Medicine (3613 HK), China Traditional Chinese Medicine Holdings Co Ltd (570 HK). Chinese traditional medicine shares rose collectively yesterday. Shares gained 3.9% and 7.6% respectively. China's National Healthcare Security Administration (NHSA) and National Administration of Traditional Chinese Medicine (NATCM) issued a guidance opinion on supporting the tradition of Chinese medicine through medical insurance, designating that qualified traditional Chinese medicine decoction pieces and Chinese patent drugs, along with other relevant medicine products, will be included in the country's medical insurance coverage list. The company expected some of its medicines to be included in the list.
Alibaba Group Holding Ltd (9898 HK) shares rose 5.7% yesterday. In a Tuesday filing with the Securities and Exchange Commission, it was revealed that Munger's firm nearly doubled its stake in Chinese ecommerce gorilla Alibaba Group to 602,060 shares — an investment worth roughly $71.5mn. Best known as Berkshire Hathaway's vice chairman and Buffett's long-time business partner, Munger also serves as the chairman of Daily Journal, a newspaper publisher with a sizable stock portfolio of its own.
---
Trading Dashboard
Trading Dashboard Update: Add CICC (3908 HK) at HK$20.5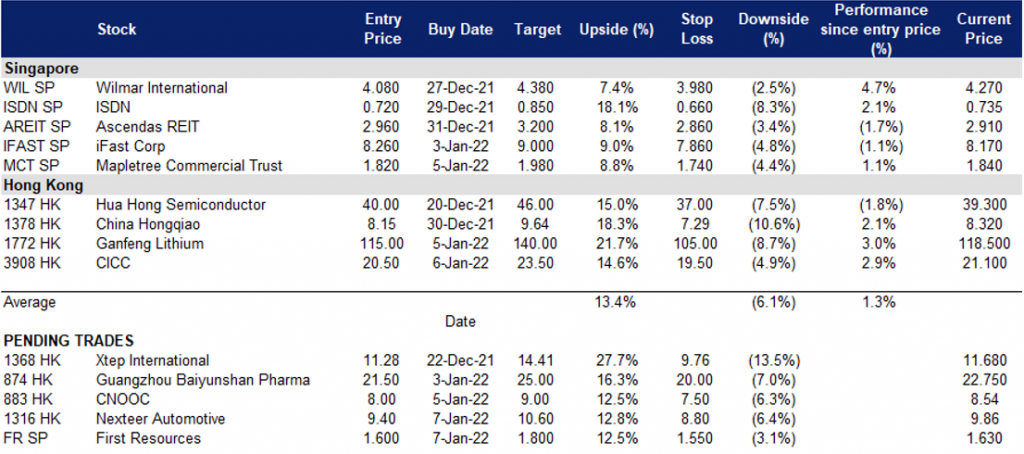 (Click to enlarge image)
---

---
Related Posts: