7 Dec 2021: Stocks making the biggest moves
Market Movers | Trading Dashboard
IPO Watch
Weibo Corporation Ltd (9898 HK): Uncertainty amidst tech regulations
Weibo is a leading social media platform in China for people to create, discover and distribute content. It is one of the top 10 mobile apps and one of the top 3 social media platforms in China in terms of MAUs and DAUs in June 2021, according to the CIC report. Weibo is currently listed on Nasdaq under the ticker WB US and is aiming for a dual-listing on the HKEX.
Financials. Revenue declined from US$1.72bn in 2018 to US$1.69bn in 2020, mainly due to the negative impacts from the Covid-19 pandemic. However, in 4Q20, the company's revenue recovered 10% YoY and further rebounded by 42% in 1Q21 and 48% in 2Q21, as advertising demand gradually recovered. Revenue grew by 39.5% YoY to US$1.64bn for the first three quarters of the year and net profit rose 10% YoY.
Valuations. Weibo is currently trading at 37.2x 2020 P/E, above the average of other internet peers. Amidst tightening internet regulation, there could be tangible risks associated with the company's operations and advertising revenue. Hence, we have a neutral rating on the company.
IPO details. IPO opened on 29 Nov and will close on 2 Dec. Results announcement date and dealing of shares will be on 7 Dec and 8 Dec respectively.
---
Market Movers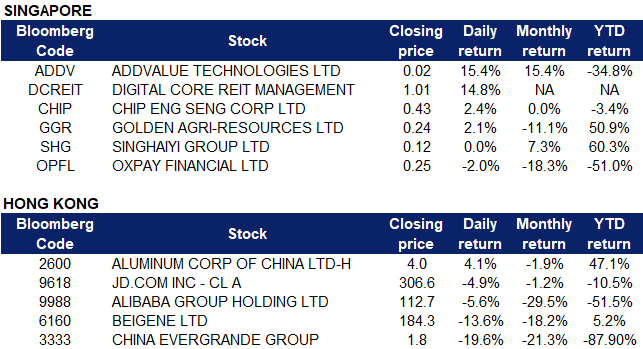 ---
United States
Top Sector Gainers
Top Sector Losers
Lucid Group (LCID US) shares were down as much as 19.5% before closing 5.1% lower after the company said that it received a subpoena on Friday from the SEC "requesting the production of certain documents related to an investigation." Lucid added that there is "no assurance as to the scope or outcome of this matter, the investigation appears to concern the business combination" between the automaker and blank-check company Churchill Capital Corp. IV.
Alibaba (BABA US) shares jumped 10.4% after the Chinese e-commerce giant announced that it was reorganizing its international and domestic e-commerce businesses and would appoint a new chief financial officer. Alibaba also added that it would form two new units to house its main e-commerce businesses — international digital commerce and China digital commerce, in a bid to become more agile and accelerate growth.
Docusign (DOCU US) shares gained 6.5% yesterday, following Friday's steep decline. Cathie Wood's ARK exchange-traded funds purchased nearly 747,000 shares of DocuSign.
Meta Platforms (FB US) shares rose 3.6% yesterday after media investment company Group M released a growth forecast for the digital advertising market, saying that global ad spend excluding political ads will surge 22.5% in 2021 to $766 billion. GroupM anticipates that digital advertising will comprise nearly two-thirds of the overall ad industry, up from roughly 60% in 2020. They also believe that Meta, along with Alphabet and Amazon, could capture as much as 90% of that digital ad spending.
Vaccine stocks were under pressure after Moderna President Stephen Hoge said in an interview on Sunday that the existing vaccines may be relatively ineffective in preventing the spread of the new Omicron variant of COVID-19. BioNTech (BNTX US), Novavax (NVAX US) and Moderna (MRNA US) shares lost 18.7%, 11.6% and 13.5% respectively.
---
Singapore
Digital Core Reit (DCREIT SP) made its debut on the mainboard yesterday at US$1, 13.6% higher than its IPO price of US$0.88. Its offer of 13.4 million units to Singapore retail investors under the IPO was around 16.1 times subscribed, with 10,736 valid applications for 214.8 million units. The international placement tranche of 253.7 million units was about 19.6 times subscribed.
Addvalue Technologies (ADDV SP) shares surged 15.4% after announcing that it is raising some $13.25 million from a group of investors led by Economic Development Innovations Singapore (EDIS), that is chipping in up to $5 million. The company will issue new shares at 1.27 cents each – a slight discount off the last traded price of 1.32 cents on 26 November before the shares were voluntarily suspended pending this announcement. Addvalue also plans to issue another 594 million shares under a specific share issue mandated to be sought at an EGM
Golden Agri-Resources Ltd (GGR SP) shares extended their gains, climbing another 2.13%, in tandem with the rebound in oil prices. WTI crude futures rose about 2% to above US$68 a barrel on Friday, while Brent crude futures rebounded towards US$72 per barrel. OPEC and its oil-producing allies decided on Thursday to hike production by 400,000 barrels per day in January, amidst the emergence of the new omicron variant, which could dent demand. However the alliance said in a statement that "the meeting remains in session," meaning they can "make immediate adjustments" should the current market conditions shift.
OxPay Financial Ltd (MCPP SP) shares declined 2% yesterday, likely on profit taking. The company previously announced that it entered into a partnership agreement with ASX listed IOUpay to enable the buy now pay later ("BNPL") option in Malaysia. Mr Kim Moon Soo, Managing Director of the Group's Malaysian operations commented that this alternative payment solution will further drive the roll out of OxPay's O2O payment acceptance platform to retailers in Malaysia and businesses across the region, thereby boosting sales amid the business recession during this COVID-19 pandemic.
Chip Eng Seng (CHIP SP) shares rose 2.4% yesterday after it announced that it has made a joint $650 million bid for the combined development of Peace Centre and Peace Mansion together with a Singhaiyi joint venture and Ultra Infinity. Singhaiyi (SHG SP) shares closed flat yesterday.
---
Hong Kong
Top Sector Gainers
Top Sector Losers
Aluminum Corporation of China Ltd (2600 HK). Shares rose 4.1% yesterday as it was announced that the CCP is merging assets from several state-owned firms to create the China Rare Earth Group. The establishment of the company will further strengthen China's advantages in the rare-earth industry, Wang Guoqing, research director at the Beijing Lange Steel Information Research Center, told the Global Times on Sunday. Analysts pointed out that the prices of these minerals will be raised to a healthy level under proper guidance with the new firm taking shape.
China Evergrande Group (3333 HK). Shares plunged 19.6% yesterday. Having made three 11th-hour coupon payments in the past two months, Evergrande again faces the end of a 30-day grace period yesterday, with dues totalling $82.5mn.
Beigene Ltd (6160 HK). Shares declined 13.6% yesterday after the company announced its Shanghai STAR Exchange IPO will raise $3.5bn in gross proceeds for the company. It is the third listing for the company, following NASDAQ and Hong Kong IPOs. The STAR Board shares, which represent 8.6% of BeiGene's total outstanding shares, are expected to begin trading on December 15.
Alibaba Group Holding Ltd (9988 HK), JD.com Inc (9618 HK). Tech shares plunged collectively yesterday, as souring investor sentiment following DiDi Global's US delisting continued to weigh down the sector. Alibaba shares declined 5.6% while JD shares declined 4.9% yesterday. Hong Kong's Hang Seng index tumbled about 1.76% to close at 23,349.38, as tech stocks fell.
Trading Dashboard: Add Xinjiang Goldwind Science & Tech (2208 HK) at HK$16.8.
---
Trading Dashboard

(Click to enlarge image)
---

---
Related Posts: