6 September 2022: Stocks making the biggest moves
Market Movers | Trading Dashboard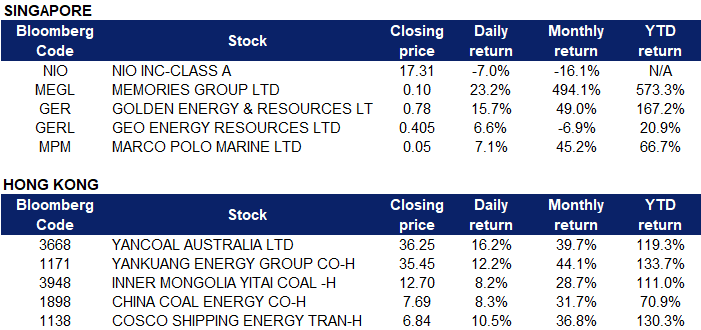 United States
The US market was closed yesterday in observance of a public holiday, Labor Day. The market will reopen on 6 September, Tuesday.

Singapore
Despite the fact that August deliveries saw a boost, NIO Inc (NIO SP) shed another 7.0% yesterday. It seems that the positive company news is no match for the advent of new covid lockdowns in Chengdu. The market is worried that such lockdowns could spread to other cities. Additionally, the US trading ban for semiconductors could also potentially affect NIO.
Memories Group Ltd (MEGL SP) surged 23.2% yesterday. The Company informed shareholders of the Company that the Company constantly reviews proposals and opportunities to enhance Shareholders' value and may explore and engage in various discussions on such proposals and opportunities from time to time, including proposals which, if made, could lead to a possible general offer for all of the Shares. Shareholders should note however that while there are discussions relating to the foregoing, as at 30 August 2022, the Company has not been formally approached nor received any binding proposal(s) or entered into any binding agreement(s) in relation thereto.
Golden Energy & Resources Ltd (GER SP) and Geo Energy Resources Ltd (GERL SP) rose 15.7% and 6.6% respectively. Newcastle coal futures were trading above the $400-per-tonne mark amid robust demand and persistent supply disruptions exacerbated by the war in Eastern Europe. The International Energy Agency sees coal consumption in Europe rising by 7% in 2022 on top of last year's 14% surge, with the continent now turning to seaborne coal from South Africa, Indonesia, and even as far away as Australia as it halts imports from Russia. Demand for coal in India, the world's second-biggest coal importer behind China, is expected to rise almost 10% in 2022 as the country's economy expands and electricity use increases.
Marco Polo Marine Ltd (MPM SP) climbed 7.1% yesterday. With Europe halting coal imports from Russia, it is now turning to seaborne coal from South Africa, Indonesia and Australia for energy. Soaring natural gas prices in Europe and Asia had already intensified gas-to-coal switching in many countries before the invasion. Furthermore, with an increased demand for coal, the price of coal freight rates are rising as well.

Hong Kong
Top Sector Gainers
Top Sector Losers
Coal stocks Yancoal Australia Ltd (3668 HK), Yankuang Energy Group Co Ltd (1171 HK), Inner Mongolia Yitai Coal Co Ltd (3948 HK) and China Coal Energy Co Ltd (1898 HK) rose 16.2%, 12.2%, 8.2% and 8.3% respectively yesterday. Gazprom announced that it had shut down the "Nord Stream-1" natural gas pipeline due to equipment failure. Coal consumption in the EU is expected to rise by 7% this year, on top of last year's 14% increase, as the power sector increasingly uses coal to replace natural gas, the IEA said. Several countries in the European Union, including Germany, have begun restarting operations at coal power plants to reduce gas consumption as much as possible. In addition, Fitch raised its forecast for thermal coal prices in Asia, which it expects to average $320/tonne at Australia's Newcastle port this year and $246/tonne from 2022 to 2026. That's an upward revision of 39.1% and 54.7%, respectively, from previous forecasts.
COSCO Shipping Energy Transportation Co Ltd (1138 HK) rose 10.5% yesterday. Gazprom announced that the "Nord Stream-1" natural gas pipeline will stop gas transmission indefinitely. Huatai Securities said that Europe is highly dependent on Russian energy. In 2021, Russia accounted for 54% of Europe's natural gas imports, of which 17% came from the Nord Stream pipeline. It is expected that Europe will seek alternative countries to purchase natural gas by means of seaborne LNG carriers, which will benefit LNG transportation. Market demand is pushing up LNG freight rates.


Trading Dashboard Update: Cut loss on AviChina Industry & Technolog (2357 HK) at HK$3.70. Add Fuyao Glass Industry Group (3606 HK) at HK$37.0.