6 January 2022: Stocks making the biggest moves
Market Movers | Trading Dashboard
Market Movers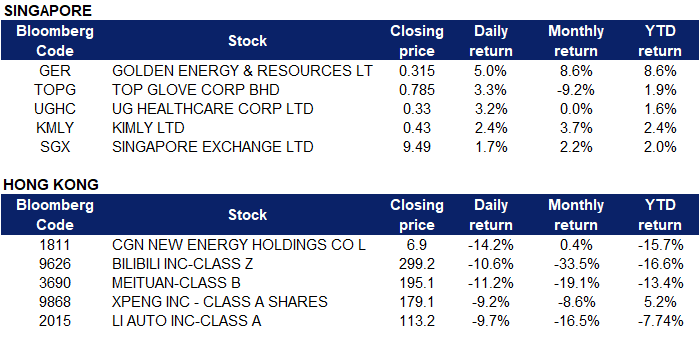 ---
United States
Top Sector Gainers
Top Sector Losers
Pfizer Inc (PFE US) shares gained 2% yesterday after the company announced that it expects the latest results from a clinical trial for children under the age of 5 of the COVID-19 vaccine it developed with Germany's BioNTech SE by April. Dr Alejandra Gurtman, a Pfizer vaccine researcher also said the company was studying a third dose of its vaccine in children ages 5 to 11, six months after their second dose.
Intel Corp (INTC US) shares rose 1.4% yesterday after Northland Capital markets analyst Gus Richard raised his rating on Intel to outperform with a price target of $62 even though there remain "lots of negatives". "For the first time in many years, we think Intel is starting to execute on a coherent strategy," Richard said. "We expect Intel to leverage its [System in Package] capability and optimise its fab resources producing die that is best built on older technology." On Tuesday, Intel showcased focused on automated driving, gaming and laptop chips in a CES 2022 presentation.
Tech stocks, such as Apple Inc (AAPL US), Microsoft Corp (MSFT US) and Nvidia Corp (NVDA US) declined 2.7%, 3.8% and 5.8% yesterday, after the FOMC meeting minutes was announced. Federal Reserve officials said a strengthening economy and higher inflation could lead to earlier and faster interest-rate increases than previously expected, with some policy makers also favouring starting to shrink the balance sheet soon after. At the conclusion of the December meeting, the FOMC announced it would wind down the Fed's bond-buying program at a faster pace than first outlined at the previous meeting in early November, citing rising risks from inflation. The new schedule puts the central bank on track to conclude purchases in March.
---
Singapore
Golden Energy and Resources (GER SP) shares extended their rally and rose 5% yesterday. It was announced that the Indonesian Ministry of Energy and Mineral Resources has imposed a temporary ban on all coal export sales by Indonesian coal miners for the whole of January. The ministry cited concerns over critically low inventories at domestic power plants in Indonesia, which could lead to widespread blackouts in the country. However, the company announced on Wednesday that it expects no material impact on operating income from the export halt, as coal production activities are still in line with the company's plan. The company also expects the government to evaluate the export ban, especially for companies like Golden Energy that have fulfilled the domestic market obligation (DMO).
Shares of glove makers, Top Glove (TOPG SP) and UG Healthcare (UGHC SP) rose 3.3% and 3.2% respectively yesterday, rising alongside Bursa-listed stocks such as Supermax, Hartalega and Kossan Rubber. Glovemakers rose in reaction to news of the emergence of a new Covid-19 variant temporarily dubbed IHU. Adding fuel to fire was also the announcement yesterday pertaining to Hong Kong's tightening measures due to the Covid-19 surge. Dine-in services are banned from 6pm to 4.59am the next day and diners per table are capped at two in Type B premises, four in Type C and six for Type D. Travellers from eight countries (Australia, Canada, France, India, Pakistan, the Philippines, UK and US), including via transit, are banned from returning to the city for two weeks starting Saturday.
Kimly Limited (KMLY SP) shares gained 2.4% yesterday after CGS-CIMB reiterated its "add" call on Kimly with an unchanged target price of S$0.56. Koufu's privatisation offer is positive to Kimly, which is trading at an "undemanding valuation" of about 13 times the research team's earnings estimates for the 2022 calendar year. Moreover, the team believes that Kimly is relatively immune to border tightening risks, given that its outlets are predominantly located in heartlands and will also continue to benefit from the structural trend of hybrid work arrangements and growing demand for online food delivery
Singapore Exchange Ltd (SGX SP) shares gained 1.7% yesterday, after it was announced that the buyback consideration by primary-listed SGX stocks topped S$1.19bn in 2021, a 3-year high. In comparison, 100 primary listings bought back S$1.04bn in shares in 2020, while close to 80 primary listings bought back S$590mn in shares in 2019. The company making the most buybacks in the month was CapitaLand Investment, which repurchased 33.6mn units at an average price of S$3.35 per unit.
---
Hong Kong
Top Sector Gainers
Top Sector Losers
CGN New Energy Holdings Co Ltd (1811 HK) shares plunged 14.2% yesterday, even though there was no company specific news. This was likely due to profit-taking as the company's share price has rallied approximately 50% since end-November 2021. Fellow green energy peers China Resources Power Holdings Co Ltd (836 HK) and Huadian Power International Corp Ltd (1071 HK) extended their losses from Monday, declining 3.5% and 3.9% respectively yesterday, likely also due to profit-taking as shares started to lose momentum from their winning streak. Shares of China Resources Power Holdings and Huadian Power International Corp have gained approximately 68% and 55% respectively since end-November 2021.
Bilibili Inc (9626 HK) and Meituan (3690 HK) shares declined 10.6% and 11.2% respectively yesterday, a spillover effect after Tencent Holdings announced that it has cut its stake in Singapore's Sea Ltd, selling a total of $3bn of shares. Last month the company said it plans to distribute more than $16bn of JD.com's shares as a one-time dividend. Among Tencent backed companies include Bilibili and Meituan, which the sell-off could have sparked concerns of similar actions at other firms amid Beijing's regulatory crackdown.Tencent's move is aiding expectations that the firm and its rivals may pare holdings as Beijing punishes the country's tech giants for anti-competitive behaviour.
Xpeng Inc (9868 HK), Li Auto Inc (2015 HK). EV stocks plunged collectively yesterday and shares lost 9.2% and 9.7% respectively. China announced that it will cut subsidies to new-energy vehicles (NEVs), a category that includes electric vehicles (EVs), by 30% in 2022. At the end of the year, the subsidies will be eliminated completely, the Chinese government's Finance Ministry announced. The elimination of NEV subsidies, combined with the rising cost and continuing scarcity of certain essential materials, may have dire consequences for some Chinese EV makers, some Taiwan-based analysts predict.
---
Trading Dashboard
Trading Dashboard Update: Add Mapletree Commercial Trust (MCT SP) at S$1.82. Remove Tianjin Zhongxin (TIAN SP) at S$1.18, PC Partner Group (1263 HK) at HK$13.82, and Geely (175 HK) at HK$20.0.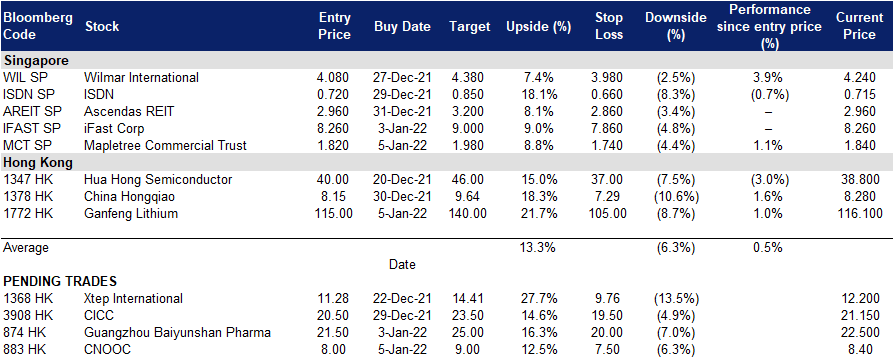 (Click to enlarge image)
---

---
Related Posts: