31 March 2022: Stocks making the biggest moves
Market Movers | Trading Dashboard
Market Movers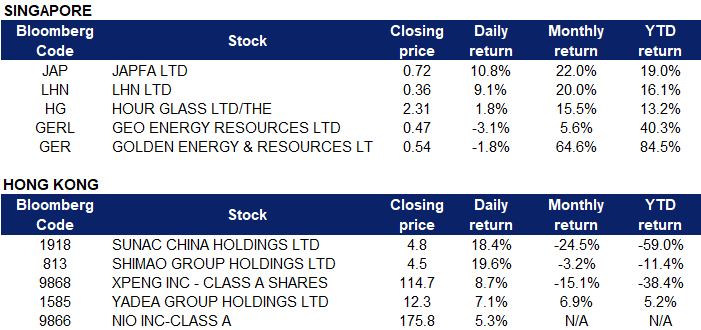 ---
United States
Top Sector Gainers
Top Sector Losers
Lululemon Athletica Inc (LULU US) shares rose 9.6% yesterday after the company announced a $1 billion stock buyback program. The athletic apparel company posted per-share earnings that were better than expected, but the company fell short of Wall Street's revenue estimates. Lululemon also issued first-quarter and full-year guidance higher than the Refinitiv consensus expectations.
Freshpet Inc (FRPT US) stock gained 3.3% yesterday after Goldman Sachs upgraded the stock to buy from neutral as demand for fresh pet food continues to grow. The bank upped its price target on the company to $136 per share from $111.
Chewy Inc (CHWY US) shares dropped 16.1% yesterday after a fourth-quarter report that missed expectations. The pet-focused e-commerce company reported a loss of 15 cents per share on $2.39 billion in revenue. Analysts surveyed by Refinitiv were expecting a loss of 8 cents per share on $2.42 billion in revenue. Chewy's forward revenue guidance also came in below estimates.
Robinhood (HOOD US) shares fell 8.5% yesterday after Morgan Stanley initiated coverage of the company with an equal-weight rating. The Wall Street firm said Robinhood could be the younger population's Charles Schwab as it has a firm grip over millennials and Generation Z. However, Robinhood will need to expand its product offerings if it wants to retain its appeal, the analyst said.
Wayfair (W US) shares of the home decor and furniture company dipped 6.2% yesterday as Loop Capital downgraded the stock from "hold" to "sell." Loop also indicated it expects a negative impact amid Fed tightening and the end of stimulus from the pandemic.
---
Singapore
Japfa Ltd (JAP SP) shares rose 10.8% yesterday after the agri-food company announced plans to list its China dairy unit in Hong Kong and distribute its entire shareholding in the company to its existing eligible shareholders. As part of a capital reduction exercise related to the listing, Japfa is also proposing a distribution-in-specie of its entire shareholding in AustAsia, which will see eligible shareholders receiving AustAsia shares in proportion to their respective shareholdings in Japfa, with no cash outlay required from shareholders.
LHN Ltd (LHN SP) shares rose 9.1% yesterday after the company announced that it has obtained the PN15 Approval from the Stock Exchange for the proposed spin-off and separate listing of LHN Logistics on the Catalist Board of SGX-ST.
Hour Glass Ltd (HG SP) shares rose 1.8% yesterday. The company has been aggressively buying back shares with the most recent transaction on 28 March where 174,600 shares were bought at S$2.27505 per share at a total consideration of S$398,244.
Geo Energy Resources Ltd (GERL SP) and Golden Energy & Resources Ltd (GER SP) shares fell 3.1% and 1.8% respectively yesterday. Newcastle coal futures bottomed below $300 per tonne, a level not seen in a month, as demand in China is easing and prices of other energy commodities moderate. The latest coronavirus-induced restrictions in China, particularly in Shanghai and Tangshan, hurt demand and led to increased inventories at mines. Still, coal prices have almost doubled since the beginning of 2022, fueled by supply constraints in the energy market due to the Russia Ukraine war, floods in Australia, and a partial ban of exports from Indonesia.
---
Hong Kong
Top Sector Gainers
Top Sector Losers
Sunac China Holdings Ltd (1918 HK) shares rose 18.4% yesterday. Sunac China said yesterday that it will hold an online meeting with holders of a 4 billion yuan bond, seeking to extend principal payment due on Friday by 18 months. The meeting with bondholders will take place on Thursday and Friday, when they will vote on whether they accept the proposal. The onshore bond will mature on Apr 1, 2024, but investors have a put option to sell back to the company on Apr 1 this year. To improve the credit risk profile of the bond, Sunac said in a filing company chairman Sun Hongbin will provide personal guarantee, and stakes and receivables of three project companies will be added as collateral. As a result, fellow property sector peer, Shimao Group Holdings Ltd (813 HK) shares rose 19.6% yesterday.
Xpeng Inc (9868 HK) shares rose 8.7% yesterday after reporting a fourth-quarter loss that was narrower than Wall Street had expected. XPeng said it lost $202 million in the quarter, or 22 cents on an adjusted per-share basis, on revenue of $1.34 billion. That was significantly better than expected: Seven Wall Street analysts polled by FactSet had projected an adjusted loss of 33 cents per share, on average. XPeng expects to deliver between 33,500 and 34,000 vehicles in total this quarter, representing growth of more than 150% versus the first quarter of 2021.
Yadea Group Holdings Ltd (1585 HK) shares extended their gains and rose 7.1% yesterday, after releasing its annual results for the year ended December 31, 2021. Revenue increased approximately 39.3% YoY to 26.9675 billion yuan, while profit attributable to company owners increased approximately 43% YoY to 1.37 billion yuan. Moving forward, the Group will focus on expanding production capacity, domestic and foreign distribution networks, overseas markets and enhancing R&D capabilities, so as to provide customers with safer, smarter, more convenient, more environmentally friendly and higher value-added products.
Nio Inc (9866 HK) shares extended their rally and rose 5.2% yesterday. Nio delivered the first batch of ET7s to customers at its China headquarters on Monday. The ET7 is the first new Nio electric vehicle to use the company's second-generation architecture, called NT2.0. The new architecture has more robust computing power, allowing for new features including more advanced driver-assist systems. Nio confirmed that subscriptions to an automated highway-driving system similar to Tesla's Autopilot will be available to ET7 owners in some regions beginning in the fourth quarter of 2022
---
Trading Dashboard
Trading Dashboard Update: Add Olam Group (OLG SP) at S$1.82. Take profit on Xinte Energy (1799 HK) at HK$18.50. Cut loss on Xtep International (1368 HK) at HK13.50.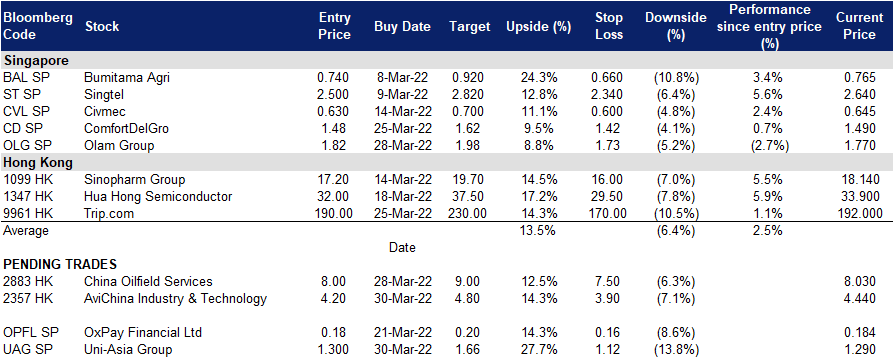 (Click to enlarge image)
---

---
Related Posts: