30 Nov 2021: Stocks making the biggest moves
Market Movers | Trading Dashboard
Market Movers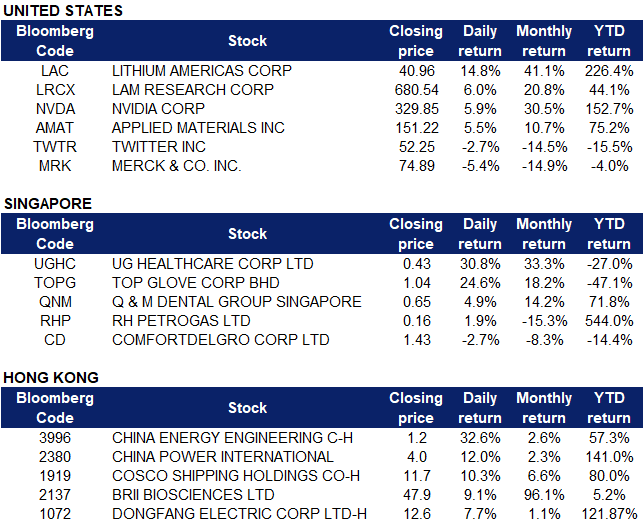 United States
Top Sector Gainers
Top Sector Losers
Lithium Americas (LAC US). Rose 14.8% to new all-time highs, leading the way in a broad-based rally among lithium stocks. National Bank Financial re-iterated an outperform rating on the stock with a US$40 TP. Lithium carbonate prices in China, the source of 77% of all lithium batteries produced worldwide, have nearly tripled YTD. 
Lam Research (LRCX US), Nvidia (NVDA US), Applied Materials (AMAT US). Chip stocks rallied on Monday as investors bought the dip, with the Philadelphia Semiconductor Index (SOX) rising more than 4.0% and more than making up for the nearly 3% drop last Friday. The SOX is less than 1% from its record high close on 19 November. 
Twitter (TWTR US). Shares lost 2.7% after CEO Jack Dorsey announced that he will be stepping down from his role while CTO Parag Agrawal will now lead the company. Shares of Twitter have dropped 18% YTD, likely adding pressure on Mr Dorsey to end his unusual arrangement of being CEO of two public listed companies. Mr Dorsey will now focus on leading Square.   
Pfizer Inc (PFE US), Merck & Co (MRK US). Vaccine stocks dropped between 3.0% and 5.0% on Monday, giving back some gains from the Omicron-driven rally last Friday.
---
Singapore
UG Healthcare (UGHC SP); Top Glove (TOPG SP). Shares extended their rally from Friday and gained 30.8% and 24.6% respectively. On Friday, a new variant of the Covid-19 virus, named Omicron was discovered. The new mutations were first discovered in South Africa and have since been detected in Belgium, Botswana, Israel and Hong Kong.
Q&M Dental Group Singapore (QNM SP). Shares gained 4.9% yesterday, extending its gains to 3 consecutive trading days. Besides dental practices, Q&M is involved in PCR testing, which recently renewed Covid-19 fears likely provided a boost to the company's share price. Recently, between 12 November and 18 November, Quan Min Holdings, Q&M's ultimate parent company acquired 7,584,300 shares of Q&M, at an average price of 59.3 Sing cents per share with a total consideration of S$4,497,276. The acquisitions increased the deemed interest of founder and group CEO, Ng Chin Siau in Q&M from 51.60% to 52.41%.
RH Petrogas Ltd (RHP SP). Shares gained 1.9% yesterday, in tandem with the rebound in oil prices which plunged on Friday. WTI crude futures rebounded 5% towards US$72 per barrel yesterday, after declining more than 10% on Friday as the new variant added to concerns over a projected inflated crude surplus early next year. OPEC+ already moved its meeting from Tuesday to Thursday to give themselves more time to evaluate the impact of Omicron on the global economy and fuel demand, with markets speculating on a potential output cut instead of the planned production increase.
ComfortDelGro Corp Ltd (CD SP). Shares lost 2.7% yesterday. The company announced that it has entered into a 60:40 joint venture (JV) with Guangzhou Xinhongqiang Concrete Company Ltd, which will enable it to gain a foothold in the fast growth logistics industry in China. With an initial start-up capital of RMB 12mn (S$2.5mn), Guangxi ComfortDelGro Logistics Co Ltd, will purchase a fleet of up to 35 trucks by end-2022 to deliver concrete in Nanning, Guiping and Guigang in the Guangxi Zhuang Autonomous Region in Southern China. ComfortDelGro Managing Director/Group CEO, Mr Yang Ban Seng, said the partnership provided "an excellent opportunity" for the Group to expand into the logistics business. Despite the announcement, shares declined, indicating that investors are likely passive over the establishment of the JV.
---
Hong Kong
Top Sector Gainers
Top Sector Losers
China Energy Engineering Corp Ltd (3996 HK) Shares closed at a two-month high, and its A-share closed with an up limit. The company announced that it planned to establish a wholly-owned subsidiary with a total investment of RMB5bn to develop hydrogen power businesses.
China Power International Development Ltd (2380 HK) Previously, the company announced it entered into the partnership agreement with Dongyin Tianjin, Orient Asset Management and SPIC Asset Management to form a Limited Partnership to acquire part of the equity interest and shareholder's loan of CP Shentou, an indirect 80%-owned subsidiary of the company. Meanwhile, it will partially dispose equity interest and shareholders's loan in CP Shentou.
COSCO SHIPPING Holdings Co Ltd (1919 HK) Shares closed at a two-month high, and its A-share closed with an up limit. Shipping sector jumped as the new COVID mutations Omicron could lead to shipping rate hike again as countries announced a new round of lockdown.
Brii Biosciences Ltd (2137 HK) Shares closed at a two-month high. There was no company-specific news. It is one of the stocks that deal with COVID mutation treatment.
Dongfang Electric Corp Ltd (1072 HK) Power sector jumped owing to China Energy Engineering's new plan of hydrogen power development. Fuel cell-themed stocks jumped. There was no company-specific news.
Trading Dashboard: Add Trip.com (9961 HK) at HK$222.0. Cut loss on CNOOC (838 HK) at HK$7.70
---
Trading Dashboard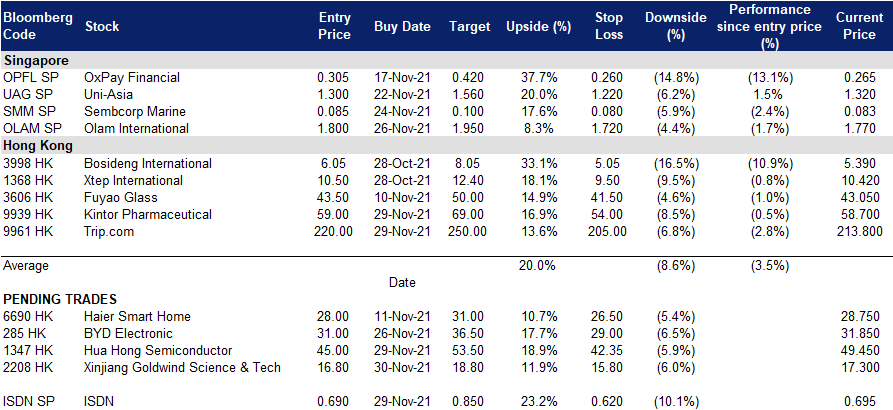 (Click to enlarge image)
---

---
Related Posts: