30 August 2022: Stocks making the biggest moves
Market Movers | Trading Dashboard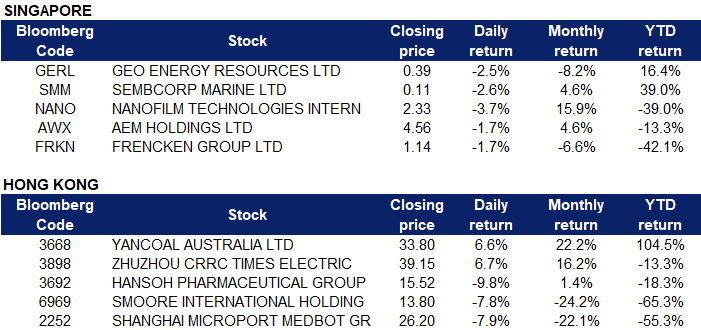 United States
Top Sector Gainers
Top Sector Losers
Pinduoduo Inc (PDD US) surged 14.7% after topping estimates in the recent quarter on the top and bottom lines. The China-based e-commerce giant said a recovery in consumer sentiment helped results.
Catalent Inc (CTLT US) fell 7.4% after earnings that disappointed Wall Street. While Catalent beat expectations for earnings, its revenue and full-year outlook were below estimates.
Bristol-Myers Squibb Co (BMY US) slumped 6.2% after the company reported results from a midstage trial of its developing stroke treatment that failed to meet the main objective of the study.
Energy stocks jumped in tandem with oil prices rose on news of a potential OPEC+ supply cut. Shares of Occidental Petroleum Corp (OXY US) and Exxon Mobil Corp (XOM US) both rose 2.3%.

Singapore
Geo Energy Resources Ltd (GERL SP) dropped 2.5% yesterday. Indonesia is the world's largest exporter of thermal coal and the discount between its benchmark price and that for Australian Newcastle coal has widened to almost 82%. Indonesia exports lower energy coal that other Asian importers only buy small volumes of, it is highly reliant on just two customers, namely China and India. While China and India, the world's two biggest coal importers, are keen to take cargoes from Indonesia, they have the ability to boost or lower their demand, thus giving them some measure of pricing power. In the absence of strong competition from other buyers for Indonesian coal, the price has remained largely stable, and has decoupled from other grades being used to replace cargoes from Russia, such as those from Newcastle and South Africa's Richards Bay.
Sembcorp Marine Ltd (SMM SP) fell 2.6% yesterday. WTI crude futures traded at $93 per barrel on Monday, after a 2.9% gain in the previous week, as investors balance supply-side issues against fears that a prolonged global economic slowdown will hurt fuel demand. Oil is on track to decline for the third straight month as recession fears have been rattling commodity markets since June. US Fed Chair Jerome Powell on Friday stressed the need for higher interest rates to bring inflation under control even at the risk of some economic pain, while ECB policy makers voiced the same policy stance.
Nanofilm Technologies International Ltd (NANO SP) fell 3.7%, after it announced on 26 August 2022 that it granted a contingent award of a total of 438,000 ordinary shares in the capital of the company under the Nanofilm Restricted Share Plan to certain eligible participants to acquire the shares. The shares which are the subject of the award will vest in 10 years in 10 equal tranches over a period 10 years commencing from the first anniversary after the date of grant.
AEM Holdings Ltd (AWX SP) and Frencken Group Ltd (FRKN SP) fell 1.7% and 1.7% respectively yesterday. Asian stocks slumped on Monday, with the regional benchmark approaching a two-year low reached in mid-July, as investors fled risk assets after the Federal Reserve signalled it will keep raising interest rates to rein in inflation. The MSCI Asia-Pacific Index slid as much as 2.3 per cent, with technology and industrials the worst-performing sectors. Nasdaq futures lost 1.5 per cent, with tech stocks pressured by the outlook for slower economic growth.

Hong Kong
Top Sector Gainers
Top Sector Losers
Yancoal Australia Ltd (3668 HK) rose 6.6% yesterday. Prices in the coal futures market indicate that market tensions are expected to persist well into next year, if not longer, as other coal producers face constraints in displacing Russia's output, the International Energy Agency said recently. The IEA forecasts that global coal consumption will reach about 8 billion tonnes in 2022, an increase of 0.7% from the previous year. And 2023 is likely to hit an all-time high. Data show that the price of thermal coal in Newcastle, Australia, has further climbed to $436, a record high.
Zhuzhou CRRC Times Electric Co Ltd (3898 HK) rose 6.7% yesterday. The company recently announced its interim results. In the first half of 2022, it achieved revenue of 6.527 billion yuan, a year-on-year increase of 23.19%; net profit attributable to the parent was 871 million yuan, a year-on-year increase of 25.28%. Among them, the emerging equipment business achieved revenue of 1.828 billion yuan, a year-on-year increase of 135.34%. CITIC Construction Investment released a research report saying that the market has significantly underestimated the company's new energy system-level businesses such as electric drive systems, photovoltaic/wind power and other industrial inverters and automotive sensors that are growing rapidly and exceeding expectations.
Hansoh Pharmaceutical Group Co Ltd (3692 HK) decreased 9.8% yesterday, after the release of its interim results on the evening of August 26. In 22H1, the company's revenue increased by 0.75% year-on-year, and the profit attributable to shareholders increased by 0.57% year-on-year. It is proposed to distribute an interim dividend of 5 cents per share for the first time. As of press time, Hansen Pharmaceuticals fell 11.86% to HK$15.16, with a turnover of HK$44 million.
Smoore International Holdings Ltd (6969 HK) dropped 7.8% yesterday. The company recently released its interim report for the first half of the year, its revenue fell by 18.7% year-on-year to 5.653 billion yuan, and its total comprehensive income fell by 51.9% year-on-year to 1.384 billion yuan. Adjusted net profit fell 51.7% year-on-year to 1.436 billion yuan. The year-on-year decrease in profit was mainly due to the decrease in revenue, change in product structure and downward adjustment of the shipping price of some products, which resulted in a decline in gross profit margin, as well as increased investment in research and development. Among them, in the second quarter, total comprehensive income decreased by 49.6% to 858 million yuan, and adjusted net profit decreased by 49.5% to 883 million yuan.
Shanghai MicroPort MedBot Group Co Ltd (2252 HK) shares fell 7.9% yesterday after the release of its results for the six months ended June 30. The Group recorded a net loss of 463.5 million yuan, compared with a net loss of 242.6 million yuan in the same period last year. This change was mainly due to: increased investment in research and development, clinical trials and product registration of products under development, and commercialization of surgical robot products. The increase in sales and marketing expenses due to chemical transformation and the increase in the number of employees due to research and development progress and commercial layout, and the increase in employee costs including share-based payments also contributed to the net loss recorded. The loss attributable to shareholders was 459 million yuan, an increase of 89.7% year-on-year.


Trading Dashboard Update: Cut loss on Prada (1913 HK) at HK$41.0, Ascott Residence Trust (ART SP) at S$1.10, Ascendas REIT (AREIT SP) at S$2.86, Bumitama Agri (BAL SP) at S$0.62, and Geo Energy (GERL SP) at S$0.385. Add Yangzijiang Shipbuilding (YZJSGD SP) at S0.95.