3 March 2022: Stocks making the biggest moves
Market Movers | Trading Dashboard
Market Movers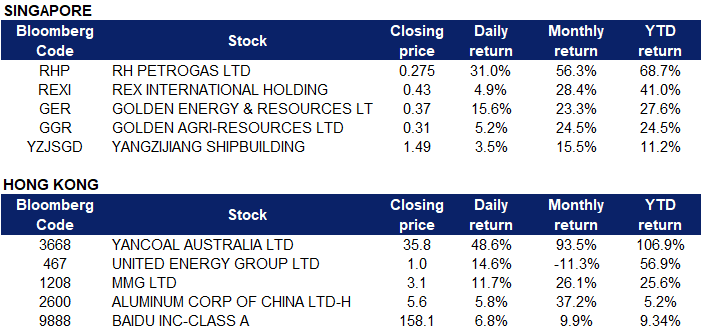 ---
United States
Top Sector Gainers
Top Sector Losers
Nordstrom, Inc (JWN US) shares surged 37.8% yesterday after the company reported better-than-expected profits and sales for the holiday quarter. The strong results also prompted Nordstrom to offer an optimistic outlook for the coming year. Meanwhile, the retailer called out improvements in its off-price business, Nordstrom Rack, amid a report that the company has been reviewing a potential spin-off.
Hewlett Packard Enterprise Co (HPE US) shares gained 10.3% yesterday after the company topped earnings expectations for its most recent quarter. Hewlett Packard posted earnings of 53 cents per share for the quarter, beating analysts' estimates by 7 cents. Revenue came in shy of the Refinitiv consensus estimate.
Las Vegas Sands Corp (LVS US) and Wynn Resorts Ltd (WYNN US) shares gained 10.2% and 8.6% respectively after a report from The Wall Street Journal indicated that China may pull back on its zero-tolerance COVID policy and ease some restrictions. Sources tipped that Chinese officials are looking into using travel bubbles, collecting data on new antiviral drugs and looking for supply partners for Chinese mRNA vaccines. Specific policy changes, including potential loosening of some COVID restrictions, are anticipated to be enacted in the spring.
Ford Motor Company (F US) shares gained 8.4% yesterday after the company said it plans to separate its electric vehicle and legacy businesses. The move is expected to streamline the company's growing electric vehicle business and maximise profits. Ford also upped its expected investment in EVs and other technologies to $50 billion by 2026, up from a previously announced $30 billion through 2025. It plans to spend $5 billion on EVs this year, double its 2021 total. The automaker plans to break out financial results for both units, and its Ford+ business, by 2023.
---
Singapore
RH Petrogas Ltd (RHP SP) and Rex International Holding Ltd (REXI SP) shares surged 31% and 4.9% respectively yesterday. WTI crude futures surged past $110 per barrel yesterday, the highest since 2013, while Brent crude futures crossed $110 per barrel, extending a 7% rally in the previous session. The IEA warned that global energy security is under threat following Russia's invasion of Ukraine. Meanwhile, investors await fresh announcements from the OPEC+ meeting on Wednesday to discuss output policy, where it is expected to stick to its plan of moderate supply increases despite the market turmoil brought by the invasion.
Golden Energy & Resources Ltd (GER SP) shares surged 15.6% yesterday. Newcastle coal futures skyrocketed to a record high of $300 per tonne in early March and are now up almost 90% since the beginning of 2022, as mounting sanctions on Russia for invading Ukraine led to an international energy crunch and exacerbated concerns over the commodity's supply. Aside from Ukraine headlines, investors were already bullish on coal since early 2022 amid supply disruptions in top exporting countries such as Indonesia and Australia.
Golden Agri-Resources Ltd (GGR SP) shares rose 5.2% yesterday. Malaysian palm oil futures rose to a fresh all-time high at above MYR 6,750 per tonne, buoyed by stronger demand as the conflict in Ukraine is putting pressure on prices of crude oil and other vegetable oils. Meanwhile, supply remains limited. Malaysian Palm Oil Board estimated the country's production in February fell 1.79% from the previous month, while exports for Feb. 1-25 rose over 25.1% to 1,095,753 tonnes from 876,056 tonnes shipped during the same period of January.
Yangzijiang Shipbuilding Holdings Ltd (YZJSGD SP) shares extended their rally and rose 3.5% yesterday. Yangzijiang Shipbuilding's net profit rose 54% to 2.06 billion yuan for the six months ended Dec 31, 2021, up from the 1.34 billion yuan it posted during the same period a year earlier. Revenue for the same period increased 55% to 10.17 billion yuan, up from 6.58 billion yuan the year before. The rise in revenue comes on the back of a rise in core shipbuilding revenue as the group shipped 27 vessels in the second half of the year, up from 17 vessels the previous year. Core shipbuilding revenue rose 80% to 8.42 billion yuan.
---
Hong Kong
Top Sector Gainers
Top Sector Losers
Yancoal Australia Ltd (3668 HK) shares extended their rally and surged 48.6% yesterday. Yancoal Australia announced its results for the year ended December 31, 2021 recently. The company achieved revenue of A$5.404 billion during the period, a YoY increase of 55.6%, while profit attributable to owners of the company was A$791 million. The increase in the group's revenue was mainly attributable to a 72% increase in coal prices, the announcement said. In addition, Newcastle coal futures skyrocketed to a record high of $300 per tonne in early March and are now up almost 90% since the beginning of 2022, as mounting sanctions on Russia for invading Ukraine led to an international energy crunch and exacerbated concerns over the commodity's supply.
United Energy Group Ltd (467 HK) shares rose 14.6% yesterday after the company declared a special dividend of 4 HK cents per share, with total dividends amounting to HK$1.05 billion. In addition, it was announced that a US$594 million EPCC contract was signed at the end of January, which involved building a crude oil central processing facility with a daily output of 100,000 barrels.
MMG Ltd (1208 HK) and Aluminum Corporation of China (2600 HK) shares rose 11.7% and 5.8% respectively yesterday. Aluminum futures briefly hit a new record high of $3,546 a ton before settling slightly below the $3,500 mark on the last trading day of February, underpinned by fears of supply disruptions. The West, as well as South Korea and Japan, banned Russia's financial institutions from the SWIFT global payments system which could hit Russia's industrial activities and energy exports. Russia's aluminum production accounts for 6% of the world's supply and natural gas is heavily used in producing electricity for energy hungry aluminum smelters in Europe.
Baidu Inc (9888 HK) shares gained 6.8% yesterday. Goldman Sachs released a research report saying that it maintained a "buy" rating on Baidu, and raised its target price from HK$236 to HK$240. According to the report, Baidu's fourth-quarter results exceeded expectations. The bank pointed out that the accelerated execution of Baidu's non-advertising business, including the expansion of the Apollo Go self-driving travel service, as well as the order from BYD, will better unlock the potential of Baidu to monetize its AI capabilities and maintain its leadership in the industry for a long time.
---
Trading Dashboard
Trading Dashboard Update: No addition or deletions to trading dashboard.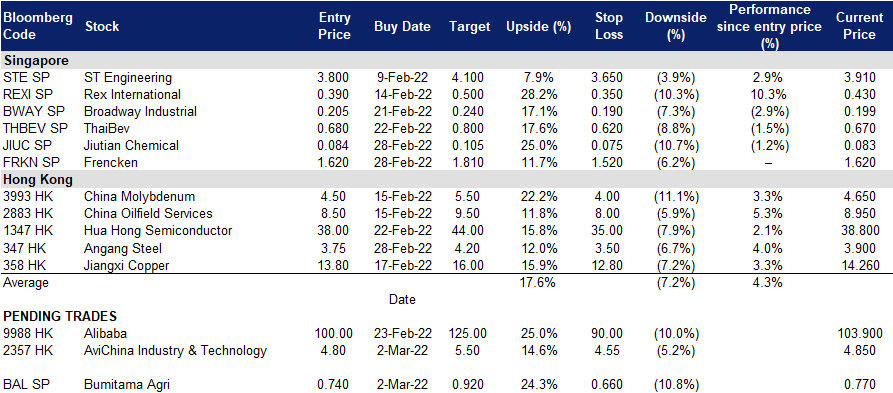 (Click to enlarge image)
---

---
Related Posts: