3 February 2022: Stocks making the biggest moves
Market Movers | Trading Dashboard
Market Movers


---
United States
Top Sector Gainers
Top Sector Losers
Alphabet Inc (GOOGL US) shares rose 7.5% yesterday after reporting better-than-expected fourth-quarter earnings and revenue. The company reported EPS of $30.69 vs $27.34 expected, and revenue of $75.33 billion vs $72.17 billion expected, according to Refinitiv. Philipp Schindler, Google's chief business officer, said retail was the largest contributor to year-over-year ad growth. Media and finance spending was also significant. In addition, Alphabet said its board approved plans for a 20-for-1 stock split on Tuesday. Each shareholder at the close of business on July 1 will receive, on July 15, 19 additional shares for each share of the same class of stock they own.
Advanced Micro Devices (AMD US) shares gained 5.1% after the chipmaker trounced Wall Street's targets for the fourth quarter. AMD reported an adjusted 92 cents a share on $4.83 billion sales in the December quarter. Analysts had expected earnings of 76 cents a share on $4.52 billion sales, according to FactSet. On a YoY basis, AMD earnings soared 77% while sales climbed 49%. "Each of our businesses performed extremely well (in 2021), with data center revenue doubling year over year driven by growing adoption of AMD Epyc processors across cloud and enterprise customers," Chief Executive Lisa Su said in a news release. She added, "We expect another year of significant growth in 2022 as we ramp our current portfolio and launch our next generation of PC, gaming and data center products."
Paypal Holdings Inc (PYPL US) shares plunged 24.6% after it missed bottom-line forecasts and issued a weaker-than-expected current-quarter outlook. PayPal missed consensus forecasts by a penny with adjusted quarterly earnings of $1.11 per share, though the payment service's revenue beat estimates. PayPal's operating agreement with eBay, its former parent, has ended and the online marketplace's transition to its own payments platform is impacting transaction volumes, the company said on Tuesday. Rival Block inc (SQ), the company formerly known as Square, tumbled 10.6% in the wake of PayPal's report.
Starbucks Corp (SBUX US) shares declined 1.0% yesterday, after the coffee chain reported an adjusted quarterly profit of 72 cents per share, falling 8 cents short of estimates, though revenue came in above estimates. Starbucks will raise menu prices in 2022 and reduce some spending to offset soaring costs for labour and goods, as rising Covid-19 cases prompted the coffee chain on Tuesday. "When the Omicron surge began, inflationary costs and staffing shortages were amplified, well in excess of our expectations," chief executive officer Kevin Johnson said during a call with investors.
---
Singapore
First Resources Ltd (FR SP) and Golden Agri-Resources Ltd (GGR SP) shares rose 4.4% and 2.1% respectively on Monday. Malaysian palm oil futures continued to rise and hit an all-time high of MYR 5700 per tonne, boosted by mounting concerns over supply and following a rise in prices of other vegetable oils and crude oil. Indonesia, the world's biggest palm oil producer, said it would start requiring palm oil exporters to get shipment approvals from the trade ministry starting on January 24th, while the government is also discussing a plan to limit exports of the vegetable oil. In addition, output in the second-largest producer Malaysia fell 11.3% from a month earlier to 1.45 million tons in December, as floods destroyed crops in some areas and as the country is facing labour shortages related to covid related restrictions.
Rex International Holdings Ltd (REXI SP) shares rose 3.1% on Monday. WTI crude futures closed above US$88 per barrel on Monday, while Brent crude futures closed above US$89 per on Monday, both hovering at 2014 highs as concerns over tight supplies linger. OPEC+ agreed to increase oil production by 4000,000 bps in March, in line with market forecasts, but traders start to bet the group will be unable to meet its own production targets once again. In January, crude output was raised by 210,000 additional barrels per day only instead of the 400,000 bpd that the group agreed to. API data showed an unexpected 1.6 million draw in US crude inventories last week although there was another build in gasoline inventories.
Frencken Group Ltd (FRKN SP) shares extended their gains from last Friday and rose another 2.5% on Monday. The company announced that it entered into a sale and purchase agreement (SPA) to acquire a 50% stake in Malaysian company Penchem Technologies for RM15.6mn. Frencken has also simultaneously entered into a subscription agreement with Penchem to subscribe for 10,058 shares, or 1.92% of the ordinary shares of Penchem. The subscription price for these shares was RM0.6mn.
Genting Singapore Ltd (GENS SP) shares gained 2.1% on Monday even though there was no company specific news. The company recently announced that it will release its full year financial results for the year ended 31 December 2021 on Thursday, 17 February 2022 after trading hours. Recently, Maybank Securities analyst Yin Shao Yang has kept his "hold" call on Genting Singapore, on expectations that rival Marina Bay Sands' recently reported quarterly numbers is a "good portent" that Genting Singapore's own earnings, yet to be reported, have troughed. "By extension, we hope Genting Singapore will report similar trends in its upcoming 4Q21 results on 17 Feb 2022," says Yin, who has a price target of 83 cents on the stock.'
---
Hong Kong
Hong Kong market is closed from 1 February 2022 to 3 February 2022 due to the Chinese New Year season.
---
Trading Dashboard
Trading Dashboard Update: Add Frencken (FRKN SP) at S$1.55. Cut loss First Resources (FR SP) at S$1.5.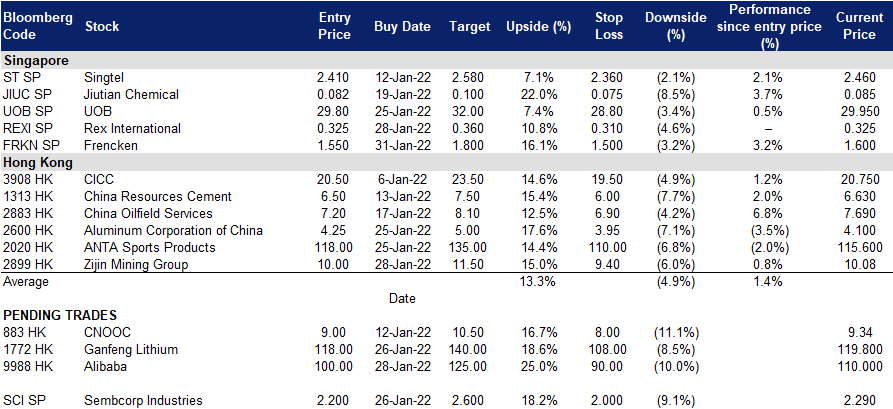 (Click to enlarge image)
---

---
Related Posts: