29 March 2022: Stocks making the biggest moves
Market Movers | Trading Dashboard
Market Movers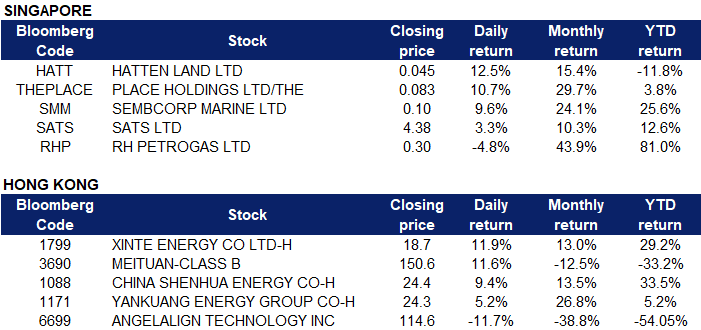 ---
United States
Top Sector Gainers
Top Sector Losers
AMC Entertainment Holdings Inc (AMC US) shares surged 44.9% yesterday after its CEO Adam Aron said more "transformational" M&A deals are coming. The comments followed news about the company's investment in Hycroft Mining, a gold and silver mining operator, earlier in the month.
Tesla Inc (TSLA US) shares rose 8% yesterday on plan to seek approval for another stock split. In a follow-up regulatory filing, the company said increasing the number of its common shares will allow for a split by way of a dividend. The ratio of the split is one of the details that will be worked out later. Tesla's board has accepted the management proposal, but authorising the dividend still requires final approval, the company said in its filing.
Coinbase (COIN US) shares rose 7.8% following a report by a local newspaper that the company is in talks to buy 2TM, the parent of the Brazilian cryptocurrency brokerage Mercado Bitcoin, and that the potential deal could be closed by the end of April. The move also coincides with a significant move higher in the bitcoin price over the weekend that erased its 2022 losses.
Cruise stocks, Carnival Corp (CCL US) and Norwegian Cruise Line Holdings Ltd (NCLH US) shares rose 5.5% and 3.4% respectively yesterday, likely due to a decline in oil prices. Oil prices fell on Monday after China, the world's biggest crude importer, announced a further tightening of restrictions in Shanghai amid surging Omicron cases. Brent crude dipped 6.6% to $112.68 (£86.16) a barrel, while US light crude (CL=F) was 7% lower to $105.96 in electronic trading on the New York Mercantile Exchange at the time of writing.
---
Singapore
Hatten Land Ltd (HATT SP) shares rose 12.5% yesterday. The company recently stated that the borrowings of RM206 million due in a year could be repaid as its unsold, completed properties are worth a "substantial value". The company said sale of its development properties to generate cash flow is its priority to repay loans and borrowings amounting to RM206 million recorded as current liabilities in the financial statements for the quarter to December 2021.
Place Holdings Ltd (THEPLACE SP) shares rose 10.7% yesterday. Recently. The company signed a MOU to Acquire 51% of IP Rights Associated with Property Landmark, THE PLACE, and Iconic Attraction, Shimao Tianjie Sky Screen, in Beijing. Both the IP Rights and Shimao Tianjie Sky Screen are income-generative businesses and they are expected to strengthen the financial performance of the Group. There are also various opportunities to leverage on the IP Rights and technological features of Shimao Tianjie Sky Screen to develop new business propositions related to the digital economy (such as gamification, NFTs, Metaverse) and create new revenue streams.
Sembcorp Marine Ltd (SMM SP) shares rose 9.6% yesterday. It was recently announced that Sembcorp Marine, through its wholly-owned subsidiary Sembcorp Marine Rigs & Floaters, has secured a contract to construct a wind turbine installation vessel. The company said the contract validates "its strategy to transform itself into an innovative engineering solutions provider in the offshore, marine and energy industries with a strategic focus on sustainability". The value of the contract is not disclosed. The project is scheduled to be completed in early 2025.
SATS Ltd (SATS SP) shares extended their rally and rose 3.3% yesterday, extending after the announcement that Singapore will reopen its borders to all fully vaccinated travellers, removing all existing vaccinated travel lanes (VTL) and unilateral opening arrangements from Apr 1. Instead, it will transition to a new simplified travel framework – the vaccinated travel framework – where countries and regions will be classified into two categories – general travel or the restricted category.
RH Petrogas Ltd (RHP SP) shares lost 4.8% yesterday. WTI crude futures fell more than 4% to below $110 per barrel on Monday, erasing a 1.4% gain in the previous session, in anticipation of a drop of fuel demand in China after authorities in Shanghai said they would shut the country's financial hub to carry out Covid-19 testing over a nine-day period. Meanwhile, Brent crude futures fell more than 3% toward $116 per barrel on Monday, erasing a 1.4% gain in the previous session.
---
Hong Kong
Top Sector Gainers
Top Sector Losers
Xinte Energy Co Ltd (1799 HK) shares rose 11.9% yesterday after the company announced its FY21 results. The company's operating income was 22.52 billion yuan, a YoY increase of 58.81%, while net profit attributable to shareholders was 4.955 billion yuan, a YoY increase of 680.88%. According to the announcement, the increase in revenue was due to the increase in the sales volume of polysilicon products of the Group, as well as the expansion of the operating business scale of wind energy and photovoltaic power plants.
Meituan (3690 HK) shares rose 11.6% yesterday. The firm reported a net loss of 5.3 billion yuan for the December quarter, versus the 7.2 billion yuan projected by analysts. Revenue rose 31% — the slowest in more than a year — to 49.5 billion yuan, meeting estimates. "Despite obvious top-down challenges (Omicron, macro), Meituan management struck a confident tone on Friday's calls, noting that activity levels tended to recover quickly after lockdowns ended (e.g. citing evidence in Shenzhen in recent days)," Bernstein analyst Robin Zhu wrote in a note. The company is aiming to improve its profitability by cutting back on the financial incentives that it provides to users.
China Shenhua Energy Co Ltd (1088 HK) shares rose 9.4% yesterday after the company announced its FY21 results. Net profit climbed to 51.61 billion Chinese yuan in 2021, while revenue rose to CNY335.22 billion, as compared to CNY233.26 billion in 2020. The board also recommended the payment of a final dividend in cash of CNY2.54 per share. The energy company plans to accelerate the construction of a clean, low-carbon, safe and efficient modern energy system, consolidate the core advantages of its integrated operations and ensure the safe and stable supply of energy, it said. The company also intends to promote the construction of green mines, green transportation, green power plants and green chemicals facilities. Fellow peer, Yankuang Energy Group Co Ltd (1171 HK) shares rose 5.2% yesterday in relation to the earnings beat.
Angelalign Technology Inc (6699 HK) shares extended their losses and declined 11.7% yesterday. The company recognized total revenue of RMB 1,271.7mn, representing a YoY growth of 55.7%. Adjusted EBITDA increased by 40.7% YoY to RMB 417.5mn, and the adjusted net profit increased by 52.9% YoY to RMB 347.5mn. However, Nomura maintained a "Neutral" rating on Times Angel and lowered its target price down 49% to HK$169.5. The bank pointed out that business growth slowed down in the second half of last year, which is believed to be affected by the epidemic.
---
Trading Dashboard
Trading Dashboard Update: Add Olam Group (OLG SP) at S$1.82. Take profit on Xinte Energy (1799 HK) at HK$18.50. Cut loss on Xtep International (1368 HK) at HK13.50.
(Click to enlarge image)
---

---
Related Posts: