28 April 2022: Stocks making the biggest moves
Market Movers | Trading Dashboard
Market Movers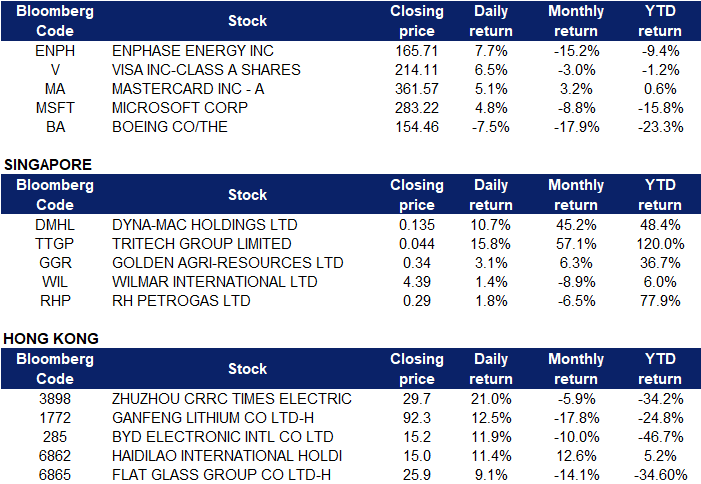 ---
United States
Top Sector Gainers
Top Sector Losers
Enphase Energy (ENPH US) shares jumped 7.7% after Enphase topped earnings expectations on the top and bottom lines. The energy company reported record revenues, and said it's setting its sights on Europe as a growth area during the ongoing war in Ukraine.
Visa (V US) shares jumped 6.5% following a stronger-than-expected quarterly report. Visa reported adjusted earnings per share of $1.79 on revenues of $7.19 billion. Analysts expected $1.65 adjusted earnings per share and $6.83 billion in revenue, according to Refinitiv. The company cheered a continued recovery in travel spending and said there's no evident impact on its global payments volumes from inflation and supply chain disruptions. Mastercard (MA US) shares jumped 5.1% on the back of competitor Visa's strong earnings report. The payments company is expected to disclose its own quarterly earnings on Thursday.
Microsoft (MSFT US) shares surged 4.8% after the company reported an earnings beat in its most recent quarter. The company's revenue guidance for each of Microsoft's three business segments also exceeded the expectations of analysts surveyed by FactSet's StreetAccount.
Boeing (BA US) shares lost 7.5% after the company reported first-quarter sales and revenue that missed analysts' estimates. Boeing also said it's pausing production of its 777X plane, and that deliveries may not start until 2025.
---
Singapore
Dyna-Mac Holdings Ltd (DMHL SP) shares surged another 10.7% yesterday following news of the proposed merger of Keppel Offshore & Marine (Keppel O&M) and Sembcorp Marine. KS Investments, which is wholly-owned by Keppel O&M, owns a 24.43% stake in mainboard-listed Dyna-Mac. Dyna-Mac, which fabricates topside modules and structures for the offshore oil and gas industry, on Monday said it obtained 2 contracts worth S$90.3 million from new and repeat customers. This brought its net order book to S$461.1 million.
Tritech Group Ltd (TTGP SP) shares rose 15.8% yesterday. Lee Sui Hee, a substantial shareholder in Tritech Group, accumulated more shares in the company on April 11. According to an SGX filing dated April 15, Lee accumulated 8 million more shares for $256,000, or 3.2 cents per share via market transaction. The company had announced, on March 25, that it intends to raise up to $33.8 million from a group of new investors who will take up nearly 742.2 million shares at 3 cents apiece for the first tranche and 5 cents each for the subsequent tranche.
Golden Agri-Resources Ltd (GGR SP) and Wilmar International Ltd (WIL SP) shares rose 3.1% and 1.4% respectively yesterday. Golden Agri-Resources will increase its dividend on the 17th of May to S$0.011. This makes the dividend yield 5.3%, which is above the industry average. The palm oil market extended its upward momentum throughout April, with the front-month Malaysian futures climbing above the MRY 6,550 per tonne for the first time since early March as investors assess the impact of Indonesia's RBD palm olein export halt.
RH Petrogas Ltd (RHP SP) shares rose 1.8% yesterday. WTI crude futures rose above $102 per barrel on Wednesday, extending gains in the previous session, after Russia said it would cut natural gas supply to Poland and Bulgaria from Wednesday, escalating an energy crisis at a time the EU is considering a ban on Russian crude imports. The move was made after both countries refused President Vladimir Putin's demand to pay for Russian gas imports in rubles.


---

Hong Kong
Top Sector Gainers
Top Sector Losers
Zhuzhou Crrc Times Electric Co Ltd (3898 HK) Shares rose 21.1% yesterday.  Soochow Securities released a research report maintaining its "buy" rating on Times Electric and commented that the overall business development momentum is good. In Q1 2022, the company achieved operating income of 2.545 billion yuan, a year-on-year increase of 22.29%, while realised net profit attributable to the parent was 341 million yuan, a year-on-year increase of 31.01%. The overall performance was in line with the bank's expectations.
Ganfeng Lithium Co Ltd (1772 HK) Shares rose 12.4% yesterday. According to Ganfeng Lithium's earnings report, the company achieved a total revenue of 5.37 billion yuan in Q1, an increase of 233.91% YoY. The net profit attributable to shareholders of the listed company was 3.53 billion yuan, up 640.41% YoY. Regarding the reasons for the company's performance growth, Ganfeng Lithium said that it was mainly due to the increase in the price and sales volume of lithium salt products in Q1.
BYD Electronic (International) Co Ltd (285 HK) Shares rose 11.9% yesterday, rebounding from the 52-week lows. There was no company-specific news. Some research houses stated that the company would bottom out from last two quarters' bad results as they saw some improvements in clients in North America, and the China domestic capacity would commence operations soon. Previously, the company announced a negative profit alert that the 1Q22 net profit attributable to the shareholders of the company will decrease by 75% – 85% YoY.
Haidilao International Holding Ltd (6862 HK) Shares rose 11.4% yesterday. There was no company-specific news. Previously, the State Council issued guidelines to promote consumption sector recovery. The State Council has pledged to step up the bailout by reducing taxes and fees for small businesses, helping the retail and catering industries to step up epidemic prevention measures with subsidies, and implementing cuts in electricity fees and rentals, among other measures to stabilise market entities for consumer services.
Flat Glass Group Co Ltd (6865 HK) Share rose 9.5% yesterday. The company announced its 1Q22 results. Revenue jumped by 70.6% YoY to RMB3.5bn. Net profit attributable to equity owners of the company plunged by 47.9% You to RMB436.7mn. The fall in bottom line was due mainly to the fall in average selling prices of photovoltaic glass, offsetting the growth in sales volumes.
---
Trading Dashboard
Trading Dashboard Update: Take profit on SATS (SATS SP) at S$4.64. Add Xinte Energy (1799 HK) at HK$16.