25 January 2022: Stocks making the biggest moves
Market Movers | Trading Dashboard
Market Movers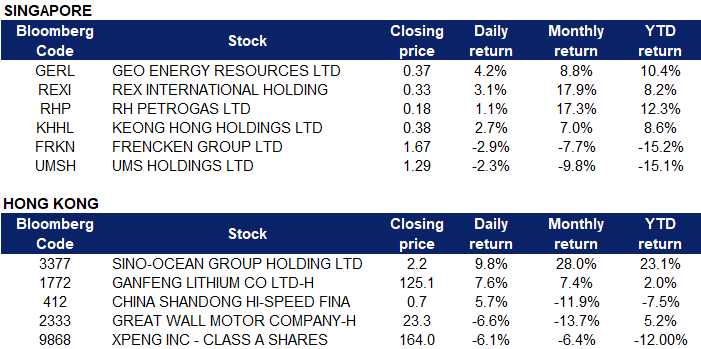 ---
United States
Top Sector Gainers
Top Sector Losers
Kohl's Corp (KSS US) shares surged 36% yesterday, following news that the company is fielding takeover offers from at least two suitors. Starboard-backed Acacia Research is offering US$64 per share for the retailer, while private-equity firm Sycamore Partners has reached out with a potential offer of at least US$65 per share. Kohl's shares closed yesterday at US$63.71.
Peloton Interactive Inc (PTON US) shares extended its gains and rose 9.8% yesterday after activist investor Blackwells Capital called on the company to fire CEO John Foley and seek a sale of the company. On Friday, Peloton's CEO issued a statement calling the report of a complete halt in production of Peloton's stationary bicycles and treadmills "false," and suggested that layoffs are not written in stone yet. In the statement, he also provided preliminary earnings information that meets or beats forecasts. 
Fox Corp (FOX US) shares gained 3% yesterday, after UBS upgraded the stock to a buy from neutral on its sports-betting potential and said it sees more than 30% potential upside to the stock. It also pointed to Fox's strong position among pay-TV providers.
Coinbase Global Inc (COIN US), Riot Blockchain Inc (RIOT US). Crypto-related shares Coinbase and Riot Blockchain tumbled more than 10% yesterday, before rebounding sharply as the price of bitcoin fell to its lowest point since July as part of the continued sell-off in risk assets.
---
Singapore
Geo Energy Resources Ltd (GERL SP) shares extended their gains and rose 4.3% yesterday. The company announced on Friday that the Indonesian Ministry of Energy and Mineral Resources("ESDM") has given notification on 20 January 2022 for the lifting of the coal export sales ban for 139 coal mining companies, which includes the Group's operating coal mines, PT Sungai Danau Jaya ("SDJ"), PT Tanah Bumbu Resources ("TBR") and PT Bumi Enggang Khatulistiwa ("BEK").
Rex International Holdings Ltd (REXI SP) and RH Petrogas Ltd (RHP SG) shares rose 3.1% and 1.1% respectively yesterday, in tandem with a rebound in oil futures. WTI crude futures rose above US$85 per barrel on Monday after briefly dipping below US$83 in the previous session, while Brent crude futures rose above US$88 per barrel on Monday after briefly dipping below US$86 in the previous session. Rising geopolitical tensions stoked fears of supply disruptions, while OPEC+ continued to struggle to raise output. Meanwhile, the International Energy Agency said last week that the OPEC+ missed its production targets by 790,000 bpd in December as members like West African producers Nigeria and Angola struggled to raise output.
Keong Hong Holdings Ltd (KHHL SP) shares gained 2.7% yesterday. An entity called LJHB Capital (S) is making a general offer for shares of construction company Keong Hong Holdings it does not already own at 38.4 Sing cents each. The offer price represents a modest premium of 3.8% over Keong Hong's last traded price on Jan 20, before trading halt was called before market opened on Jan 21. Prior to this, LJHB already owned 62.8mn shares. Combined with the shares sold by Leo, LJHB has a total stake of 107.6mn shares, or 45.78%, which crosses the 30% trigger point required for general offers to be made under Singapore market rules.
Frencken Group Ltd (FRKN SP) and UMS Holdings Ltd (UMSH SP) shares lost 2.9% and 2.3% respectively yesterday, likely due to interest rate hike fears. With the market already expecting four quarter-percentage-point hikes this year, Goldman economist David Mericle said the omicron spread is aggravating price increases and could push the Fed into a faster pace of rate increases. The report comes just a few days ahead of the policymaking group's two-day meeting starting on Tuesday.
---
Hong Kong
Top Sector Gainers
Top Sector Losers
Sino-Ocean Group Holding Ltd (3377 HK) shares gained 9.8% yesterday. On January 10, the company released its latest operating data. From January to December 2021, sales generated was RMB 136.26bn, a YoY increase of about 4%. According to data from the China Index Research Institute, the company's annual sales target completion rate exceeded 90%. Sino-Ocean Group also emphasised that, as of now, two overseas rating agencies, Moody's and Fitch, have maintained the company's investment grade rating, and domestic rating agencies China Chengxin International and Lianhe Credit Rating have maintained AAA ratings.
Ganfeng Lithium (1772 HK) shares gained 7.6% yesterday. The Governor of Qinghai Province proposed that in 2022, the main goal of Qinghai's development is to increase the regional GDP by about 5.5%. The primary task of Qinghai Province's work in 2022 is to accelerate the construction of a world-class salt lake industrial base. In order to achieve the goal of "expanding the scale of the lithium industry, releasing the production capacity of lithium carbonate, and improving the level of the lithium battery industry", Qinghai will set up a salt lake industry development fund and introduce a group of high-tech leading enterprises.
China Shandong Hi-Speed Financial Group Ltd (412 HK) shares rose 5.7% yesterday. Recently, the company announced that in relation to the proposed acquisition of 22.78% equity of Beijing Enterprises Clean Energy Group (01250), the company is also discussing the potential acquisition of certain shares of the target company. Beijing Enterprises Clean Energy is listed on the main board of the Hong Kong Stock Exchange and is jointly controlled by Beijing Enterprises Water Group, CITIC Industrial Fund, and Tsinghua University TusHoldings Co., Ltd. It is mainly engaged in photovoltaic power generation, wind power generation and clean heating.
Great Wall Motor Co Ltd (2333 HK) shares declined 6.6% yesterday. FY21's net profit increased 26% YoY to RMB 6.8bn, which was lower than market expectations of RMB 7.6bn. The cost of free charging for pure electric vehicles, Euler Haomao resulted in a higher than expected cost of sales, general expenses and administrative expenses. Despite this, Credit Suisse maintained Great Wall Motor with an OUTPERFORM rating with a target price of HK$41. Fellow peers, XPeng Inc (9868 HK) declined 6.1% as a result of a spillover effect. However, Guosheng Securities issued a research report yesterday with a BUY rating on XPeng and a target price of HK$259. XPeng Motors is the first car company in China to conduct full-stack self-development of autonomous driving. At present, there are two main functions of XPILOT3.0/3.5 system, VPA intelligent parking and NGP automatic navigation assistance. The bank believes that intelligent driving is not only a technological advantage of the company, but will also be an important revenue and profit improvement generator.
---
Trading Dashboard
Trading Dashboard Update: Take profit on Hua Hong Semiconductor (1347 HK) at HK$4.40, Ganfeng Lithium (1772 HK) at HK$125.10 and Mapletree Commercial Trust (MCT SP) at S$1.84. Add China Oilfield Services (2883 HK) at HK$7.20 and Prada S.p.A. (1913 HK) at HK$2.97.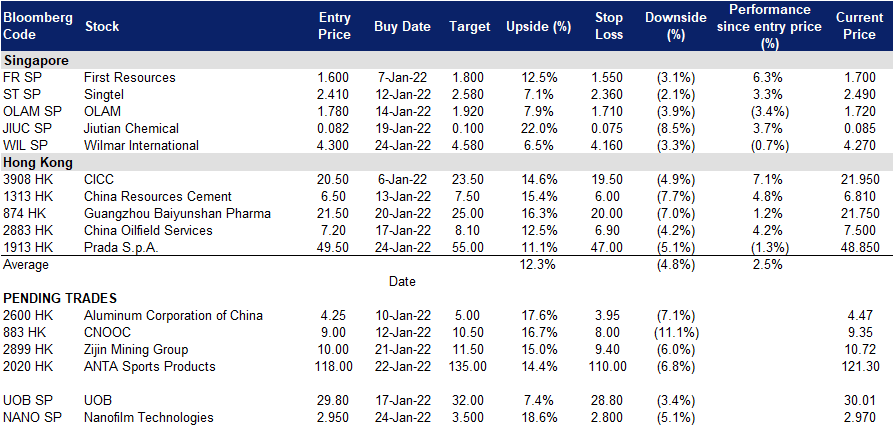 (Click to enlarge image)
---

---
Related Posts: