24 February 2022: Stocks making the biggest moves
Market Movers | Trading Dashboard
Market Movers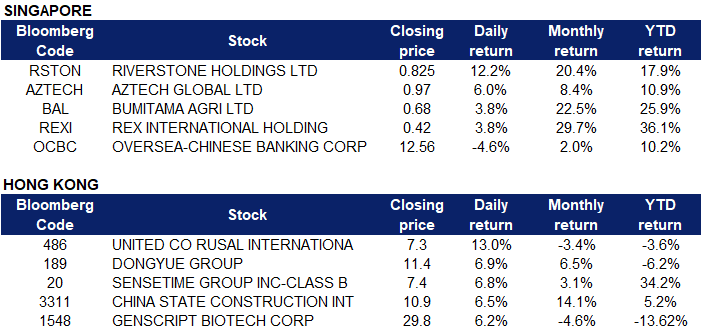 ---
United States
Top Sector Gainers
Top Sector Losers
Draftkings Inc (DKNG US) shares extended their rally and gained 5.6% yesterday despite a downgrade by Wells Fargo to equal weight from overweight. The firm cut its price target on DraftKings to $19 per share from $41 per share, noting its concern about the company's path to profitability given its expense increases. Investors may have been buying the dip after the shares plunged 21.6% on Friday on a higher than expected adjusted EBITDA loss for 2022. However, DraftKings raised its revenue guidance for 2022 from a range of $1.7 billion to $1.9 billion to a range of $1.85 billion to $2 billion. The company said the projection reflects the launch of mobile sports betting in New York and Louisiana at the start of the year.
Caesars Entertainment Inc (CZR US) shares rose 2.8% yesterday, despite a weaker-than-expected earnings result for the fourth quarter. The company's CEO said on a conference call that Caesars will spend less on advertising going forward, a key source of concern in the mobile and sports betting space.
Tesla Inc (TSLA US) shares lost 7% yesterday. A new chapter in the ongoing legal dispute—stemming from a 2018 tweet—between Tesla CEO Elon Musk and the Securities and Exchange Commission opened recently. Tesla CEO Elon Musk is escalating his battle with the Securities and Exchange Commission, accusing a staff member of illegally leaking the results of an investigation. Musk said the regulator is trying to "weaponize" an earlier consent decree he and Tesla signed "for illicit ends."
TJX Companies Inc (TJX US) shares lost 4.2% yesterday after reporting disappointing fourth-quarter results, in part because of the spread of the omicron variant of the COVID-19 pandemic causing store closures, according to the company's announcement Wednesday (Feb. 23). The company reported 78 cents in earnings per share on $13.85 billion in revenue. Analysts surveyed by Refinitiv were looking for 91 cents per share on $14.22 billion in revenue. As a result, this fellow US department store, Macy's Inc (M US) shares declined 5.2% yesterday.
---
Singapore
Riverstone Holdings Ltd (RSTON SP) shares surged 12.2% yesterday after the company reported its full year earnings. Revenue was up 68.5% to RM3.1 billion from RM1.8 billion the previous year, due to higher sales volume and average selling prices (ASP) for both healthcare and cleanroom gloves as demand climbed for these products. Net profit rose 119.1% to RM1.4 billion for the full year ended Dec 31, 2021, from RM647.3 million the year before. Earnings per share for FY2021 stood at 95.66 sen compared with 43.67 sen in FY2020.
Aztech Global Ltd (AZTECH SP) shares rose 6% yesterday after the company reported its full year earnings. For the full year ended Dec 31, 2021, revenue came in at S$624.4 million, 28.9% higher compared to the year before, largely due to the huge jump in fourth-quarter revenue, while net profit jumped 33.5% to S$74.4 million. While the global supply chain remains vulnerable to disruptions amid the ongoing pandemic, Aztech Global is looking to drive growth and diversify across multi-sectors powered by the Internet of Things (IoT) trend, it said in its financial statement.
Bumitama Agri Ltd (BAL SP) shares gained 3.8% yesterday. Malaysian palm oil futures skyrocketed to an all-time high of MYR 6,028 a tonne in the last week of February and is now up almost 30% since the beginning of 2022 amid robust demand and supply constraints. Malaysian Palm Oil Board estimated the country's production in February fell 1.79% from the previous month, with exports rising faster than its output. Supporting prices further was the impact of dry weather on South American soybean production areas, while Indonesia's restrictions on exports also exacerbated supply fears.
Rex International Holding Ltd (REXI SP) shares rose 3.8% yesterday. WTI crude futures steadied near $92 per barrel on Wednesday after hitting a fresh 7-year high in the previous session, while Brent crude futures steadied near $97 per barrel on Wednesday after trading close to the $100 mark in the previous session. Traders mulled US sanctions against Russia and signs of progress on the Iran nuclear negotiations. Biden announced sanctions against Russia on Tuesday targeting the country's sovereign debt, financial institutions and elites, while avoiding the harshest penalties which has led to a pause in oil's rally.
Oversea-Chinese Banking Corp Ltd (OCBC SP) shares declined 4.6% yesterday after missing earnings expectations. OCBC's net profit fell to S$973 million in October to December last year from S$1.13 billion a year earlier, versus the S$1.18 billion average of four analyst estimates compiled by Refinitiv. OCBC said last month that a total of S$13.7 million was lost in a phishing scam involving the bank, up from the S$8.5 million reported in December 2021. "Looking ahead, we are cautiously optimistic that the operating environment will improve," Group CEO Helen Wong said in a statement.
---
Hong Kong
Top Sector Gainers
Top Sector Losers
United Co Rusal International Plc (486 HK) shares jumped 13% yesterday. Aluminum hit a fresh all-time high of $3,420 amid dwindling inventories and concerns about further supply disruptions. The West's stand-off with Russia over Ukraine has raised prospects of sanctions on one of the world's largest metal suppliers, triggering a rush to aluminum stocks at LME warehouses. Meanwhile, in China, the biggest producer and consumer of aluminum, the pandemic and pollution curbs amid the winter Olympics forced producers to halt production.
Dongyue Group Ltd (189 HK) shares rose 6.9% yesterday. Tesla announced on February 19 that it has produced 1 million 4680 batteries at its pilot plant in California. It is reported that the positive and negative electrodes of the 4680 battery will be coated with PVDF (polyvinylidene fluoride resin) on the separator. According to the National Energy Information Platform, the PVDF consumption of 1GWh of ternary batteries containing 2% PVDF is about 20 tons. Haitong International estimates that the PVDF consumption of 1GWh of 4680 batteries containing 8% PVDF will increase to about 80 tons.
SenseTime Group Inc (20 HK) shares extended their rally and rose 6.8% yesterday. Hang Seng Index announced the quarterly inspection results for the fourth quarter of 2021 on Friday. It was announced that Sensetime will be included in the Hang Seng Composite Index and the Hang Seng Technology Index. CICC also released a research report recently, giving SenseTime an "outperform industry" rating for the first time, with a target price of HK$7.3.
China State Construction Intrnl Hold Ltd (3311 HK) shares rose 6.5% yesterday. Credit Suisse issued a report stating that the company issued a new order target guidance of HK$160 billion this year, representing an increase of about 14% YoY. The bank said that the management continues to be optimistic about the growth of new orders. The main driving force is the strong capability of the group in the prefabricated structure business, especially in the modular integrated structure. Credit Suisse raised the target price of China State Construction from HK$11.6 to HK$12, and maintained its "Outperform" rating.
Genscript Biotech Corp (1548 HK) shares rose 6.2% yesterday. Guotai Junan commented that the company's performance was in line with expectations and maintained an overweight rating. The biopharmaceutical CDMO business was also gradually taking shape, and its future development is expected to exceed market expectations.
---
Trading Dashboard
Trading Dashboard Update: No additions / deletions to trading dashboard.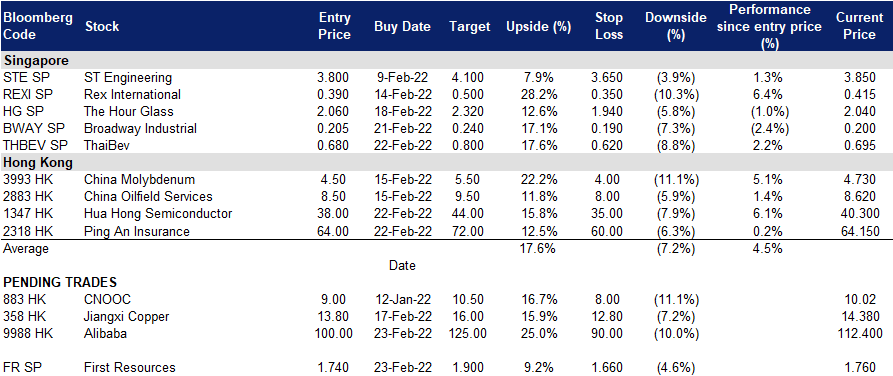 (Click to enlarge image)
---

---
Related Posts: