23 August 2022: Stocks making the biggest moves
Market Movers | Trading Dashboard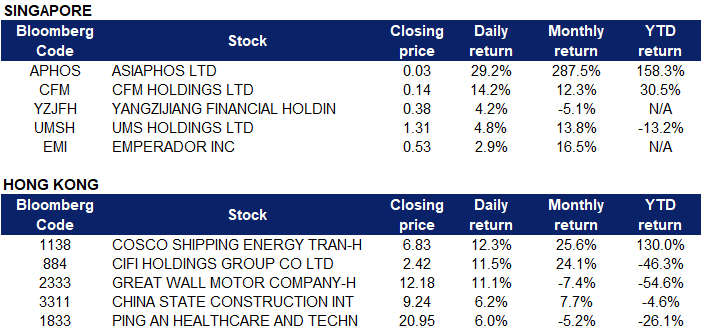 United States
Top Sector Gainers
Top Sector Losers
Bed Bath & Beyond Inc (BBBY US) fell 16.2% as investors continued to react to news investor Ryan Cohen had sold his shares and a report that certain suppliers have halted shipments to the retailer because of unpaid bills. 
AMC Entertainment Holdings Inc (AMC US) dropped 6.3% as investors weighed the company's new preferred share class and news that rival Cineworld was considering bankruptcy. AMC's new APE units were trading at roughly $7.50 per share, offsetting the large losses for the common stock.
Signify Health Inc (SGFY US) jumped 32.1% after The Wall Street Journal and Bloomberg News reported that Amazon is among the bidders for the company. CVS and UnitedHealth are also reportedly making bids. 
Netflix Inc (NFLX US) dropped 6.1% following a CFRA downgrade of the stock to sell from hold. The firm also lowered its price target to $238 from $245, slightly lower than Friday's closing.
Occidental Petroleum Corp (OXY US) retreated 3.2% in the broad market sell-off, following a 10% rally in the previous session. Occidental jumped double digits on Friday after news that Warren Buffett's Berkshire Hathaway received regulatory approval to purchase up to 50% of the oil giant.

Singapore
Asiaphos Ltd (APHOS SP) continued rising 29.2% yesterday. The Board of Directors of Asiaphos Limited together with its subsidiaries announced on Friday, that the Company and its wholly owned subsidiary, Norwest Chemicals Pte Ltd have on 18 August 2022 received finalisation of its agreement with a US based Fund that will provide non-recourse funding in respect of the Group's pending international investment arbitration against the People's Republic of China.
CFM Holdings Ltd (CFM SP) rose 14.2%, it recently issued a profit guidance for the Group's financial results for the financial year ended 30 June 2022. Based on the preliminary figures, the Group expects to record a significantly higher profit after tax for FY2022 as compared to profit after tax for FY2021. Operational costs for admin and other expenses increased but were partially offset by lower marketing and distribution expenses as well as finance costs. As a result of the above, the Group is expected to record a significantly higher profit after tax for FY2022 as compared to profit after tax for FY2021.
Yangzijiang Financial Holding Ltd (YZJFH SP) rose 4.2% yesterday. The current buyback mandate of Yangzijiang has seen the company buy back 45 million shares or 1.14 per cent of its issued shares (excluding treasury shares) as of Aug 17. On Jun 8, YZJFH established its S$200 million share buyback programme, with a maximum of 395,058,922 shares that can be purchased under the programme, amounting to 10 per cent of the issued shares. Yesterday, YZJFH purchased 2,000,000 shares at SGD 0.375 for a total of SGD 750,722.25.
UMS Holdings Ltd (UMSH SP) rose 4.8% yesterday. With UMS seeing strong order forecasts from its key customer, CGS-CIMB has raised its FY2022-2024 revenue forecasts for the semiconductor company by 6.9-14.2 per cent to result in a higher target price of S$2.03, from S$1.63 previously. The research house continues to rate UMS at "add" and believes the group will be able to secure new customers for its 300,000 sq plant due to be ready by the year-end.
Emperador Inc (EMI SP) resumed 2.9% growth yesterday. On Aug 10, it posted a 4.7% increase in attributable net income to P3.14 billion in the second quarter from P3 billion a year earlier after booking higher brandy sales while whisky drove its international business.

Hong Kong
Top Sector Gainers
Top Sector Losers
COSCO Shipping Energy Transportation Co Ltd (1138 HK) rose 12.3% yesterday. Bank of China Securities pointed out that if the sanctions on Iran's crude oil exports are lifted, it will lead to a 2%-3% increase in OPEC's production, and crude oil supply will significantly improve, consequently the demand for oil transportation will rise. CITIC Securities pointed out that if there is room for an increase of 1.25 million barrels per day on the output side of the Iran nuclear deal, it will help increase supplies. With winter approaching, and the high price of natural gas, the EU may use crude oil as an alternative, further increasing the demand for oil transportation.
CIFI Holdings Group Co Ltd (0884 HK) rose 11.5% yesterday. On Friday night it announced that the Group's net profit for the six months ended June 30, 2022 is expected to be between approximately RMB 1.5 billion and RMB 2.2 billion (the first half of 2021 about RMB 5.363 billion), the core net profit attributable to shareholders' equity of the Group ranges from about RMB 1.5 billion to RMB 2 billion (first half of 2021 about RMB 3.346 billion). The expected decline is mainly attributable to the overall poor operating conditions of the real estate industry in mainland China in the first half of 2022, as well as the impact of lockdown measures in response to the COVID-19 outbreak: the decline in housing deliveries, resulting in a decrease in recognized revenue and profit from sales of properties; Increased impairment of property items based on prudence; and foreign exchange losses due to the depreciation of RMB against the US dollar. The factors are greatly affected by the overall market conditions of the real estate industry and the epidemic, and are mainly non-cash in nature.
Great Wall Motor Co Ltd (2333 HK) shares rose 11.1% yesterday. On August 22, the Haval brand new energy strategy conference and the third-generation Haval H6 super hybrid DHT twin star debut event was held in Beijing. According to reports, the third-generation H6 Super Hybrid DHT Gemini debuted, fully deploying HEV and PHEV hybrid technologies, and equipped with Lemon Hybrid DHT technology. According to the latest production and sales data of Great Wall Motors, the Haval brand sold 61,279 units in July, a year-on-year increase of 7.14%, of which the Haval H6 model sold 27,638 units, a year-on-year increase of 7.35%. Haval H6 is the first Chinese brand model to enter the global SUV sales list for six consecutive years.
China State Construction International Holdings Ltd (3311 HK) shares continued to rise 6.2%. Last Friday, the company announced its interim results as of June 30, recording a profit attributable to shareholders of 4.214 billion yuan, a year-on-year increase of 20.4%, and basic earnings per share of 83.65 cents. An interim dividend of 24 cents was paid, representing a payout ratio of approximately 28.7%. Goldman Sachs raised the target price of China State Construction International by 12% from HK$6.5 to HK$7.3, maintaining a "neutral" rating.
Ping An Healthcare and Technology Co Ltd (1833 HK) shares rose 6.0% yesterday. It recently released its interim results. In the first half of this year, the company's total revenue reached 2.83 billion yuan, of which medical services accounted for as high as 40%; the gross profit margin increased to 27.3%, of which the gross profit margin of medical services increased by 13.3 percentage points month-on-month, and the cumulative number of consultations exceeded 1.3 billion. For the second half of the year, the management emphasised that the company has seen a month-on-month improvement in June, and it expects to see positive growth in the second half of the year, and will continue to deepen cooperation within the Ping An ecosystem, especially with financial institutions and corporate customers, in order to achieve a established user base and increased brand awareness.


Trading Dashboard Update: Add Bumitama Agri (BAL SP) at S$0.64 and Ganfeng Lithium (1772 HK) at HK$70.0.