22 September 2022: Stocks making the biggest moves
Market Movers | Trading Dashboard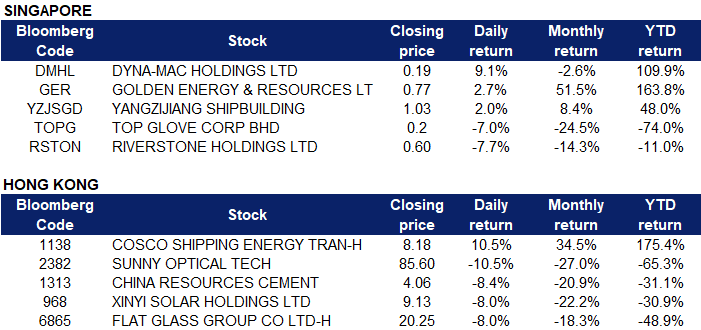 United States
Top Sector Gainers
Top Sector Losers
FREYR Battery SA (FREY US) shot up 17.1% after Morgan Stanley said the company's price target was double where it is now. The bull estimate for the price was three times over its current price.
Chemours Co (CC US) fell 8.4% after the chemicals company lowered its full-year guidance. The company now sees adjusted EBITDA between $1.4 billion and $1.45 billion, below prior guidance of $1.475 billion and $1.575 billion.
General Mills Inc (GIS US) jumped 5.7% after the company posted a better-than-expected quarterly profit. General Mills also raised its full-year sales forecast amid higher prices and strong demand for cereal, snacks and pet food.
Aurora Cannabis Inc (ACB US) tumbled 7.1% after the company reported a breakeven quarter, on an adjusted basis. Analysts had predicted a quarterly loss. Aurora's overall revenue came in slightly below expectations.
Coty Inc (COTY US) rose 3.2% after the beauty company said it has a strategy to double skincare product sales by fiscal year 2025. The announcement came ahead of Coty's investor event Wednesday morning.

Singapore
Dyna-Mac Holdings Ltd (DMHL SP) rose 9.1% yesterday. Oil jumped more than 2 per cent on Wednesday after Russian President Vladimir Putin announced a partial military mobilisation, escalating the war in Ukraine and raising concerns of tighter oil and gas supply. Brent crude futures rose $2.28, or 2.5 per cent, to $92.90 a barrel by 0707 GMT after falling $1.38 the previous day. U.S. West Texas Intermediate crude was at $86.16 a barrel, up $2.22, or 2.6 per cent.
Golden Energy & Resources Ltd (GER SP) rose 2.7%, with coal prices rising by 2.25% yesterday and Newcastle coal futures traded around $440 in September. China's coal imports rose in August, exceeding last month's level and hitting the highest in at least five years, as power utilities in the world's biggest coal consumer sought overseas supplies to meet soaring demand in extreme hot weather. Additionally amid fears of revised growth expectations and continuing increases in European gas prices, the reliance on coal-powered energy generation is increasing.
Yangzijiang Shipbuilding Holdings Ltd (YZJSGD SP) climbed 2.0% yesterday. CGS-CIMB Research analysts maintained their "buy" rating on Yangzijiang Shipbuilding (YZJ) and an unchanged target price of $1.63. The analysts highlight that YZJ obtained a licence from France-based Gaztransport & Technigaz (GTT) on Sept 8, which enables it to construct LNG vessels using GTT Mark III membrane technologies. The licence allows YZJ to build large LNG carriers above 100,000 cubic metres, for the shipment of domestic and international freight. In their previous report on Sept 8, they noted that YZJ could potentially secure 16 new bulk carrier or containership orders worth US$2.29 billion, though the timeline and contracts have yet to be announced by YZJ.
Top Glove Corp Bhd (TOPG SP) slumped 7.0% yesterday, after its latest financial quarter showed a plunge into net loss as revenue dropped to below pre-pandemic levels. With the glove manufacturing industry suffering from an oversupply of gloves and the reduced glove demand globally, investors do not seem optimistic about a rebound in the glove industry. Riverstone Holdings Ltd (RSTON SP) tumbled 7.7% as well.

Hong Kong
Top Sector Gainers
Top Sector Losers
COSCO Shipping Energy Transportation Co Ltd (1138 HK) rose 10.5% yesterday. According to a research report released by CITIC Securities, the continuous improvement of VLCC freight rates in the past two months is due to the influence of heavy export volume in the United States Gulf, the Brent-WTI crude oil price difference and the progress of the Iran nuclear agreement, attracting some VLCC ships to move westward to the Atlantic route, and VLCC supply There is a structural change in the situation that has accumulated in the Middle East market before the end. It is recommended to continue to pay attention to the layout opportunities on the right side of the oil transportation cycle, and be optimistic about the upward trend of the foreign trade crude oil transportation cycle in the next year.
Sunny Optical Technology Group Co Ltd (2382 HK) fell 10.5% yesterday. UOB Kay Hian released a research report saying that it maintained the "hold" rating of Sunny Optical, and the target price was lowered from HK$112.2 to HK$111.3. The company's management said that it is cautious about smartphone end-user demand and expects no obvious signs of recovery this year, but remains confident in the long-term development due to the increased share of Apple and Samsung's supply chain, as well as vehicle lenses and AR/VR.
China Resources Cement Holdings Ltd (1313 HK) fell 8.4% yesterday. Galaxy Securities said that from January to August 2022, the cumulative national cement output was 1.355 billion tons, a year-on-year decrease of 14.20%, which was in trend with the decline from January to July. The monthly cement output in August was 188 million tons, a year-on-year decrease of 13.10%. The reason for the significant year-on-year decline in cement production in August was mainly that the recovery of cement demand this year was less than expected, the cement clinker inventory remained at a high level, and the production power of various cement enterprises was insufficient. In addition, in most areas this year, the off-peak kiln shutdown time in summer has been extended, and off-peak production has become the norm.
Xinyi Solar Holdings Ltd (0968 HK) and Flat Glass Group Co Ltd (6865 HK) fell 8.0% and 8.0% respectively yesterday. The Ministry of Industry and Information Technology showed that from January to August, the new production capacity of photovoltaic rolled glass nationwide increased by 55.1% year-on-year. As of the end of August, there were 38 domestic photovoltaic rolled glass production enterprises, with a production capacity of 113 kilns and 370 lines, about 6.85 tons/day. Data showed that in August, the output of photovoltaic rolled glass was about 1.418 million tons, a year-on-year increase of 64.5%. The industry average inventory at the end of August was about 29 days, an increase of 8 days from the end of July.


Trading Dashboard Update: Cut loss on PropNex (PROP SP) at S$1.55. Add WH Group (288 HK) at HK$5.35.