22 March 2022: Stocks making the biggest moves
Market Movers | Trading Dashboard
Market Movers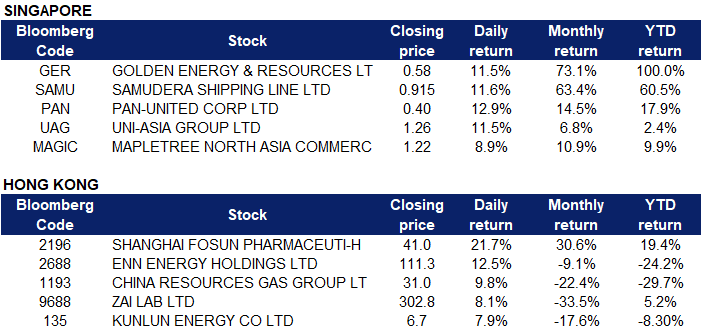 ---
United States
Top Sector Gainers
Top Sector Losers
Occidental Petroleum Corp (OXY US) and Marathon Oil Corp (MRO US) shares both rose 8.5% yesterday. Crude Oil WTI increased 2% to 114.36 USD/Bbl, amid reports about the EU's potential ban of Russian petroleum imports. European Union governments will consider whether to impose an oil embargo on Russia over its invasion of Ukraine as they gather this week with US President Joe Biden for a series of summits designed to harden the West's response to Moscow. On Monday, both WTI futures and Brent futures had settled up more than 7% as the potential for more supply disruptions weighed on the market following attacks on Saudi oil facilities by Yemen's Houthi group.
Nielsen Holdings Plc (NLSN US) shares fell 6.9% yesterday after it rejected a $9.13 billion takeover bid, worth $25.40 per share, from a private-equity consortium. Nielsen said the bid significantly undervalues the company, best known for its TV ratings.
Boeing Company (BA US) shares fell about 3.6% yesterday after a Boeing 737 passenger jet crashed in China with 132 people on board. China's civil aviation agency lost contact with the flight over Wuzhou, and the number of deaths is currently unknown.
General Motors (GM US) shares fell 2.7% as Morgan Stanley lowered its price target to $50 per share and reiterated the auto company as equal weight. Analysts said they were concerned about inflation and ongoing supply chain disruptions which could affect demand.
---
Singapore
Pan-United Corporation (PAN SP) shares surged 13% on Monday after Lim & Tan starts coverage on the company with a BUY recommendation and a TP of S$0.54. The research firm expects the company to enjoy YoY earnings growth in FY2022 due to upcoming infrastructure projects and rising ready-mix-concrete (RMC) prices.
Golden Energy & Resources Ltd (GER SP) shares surged another 12% on Monday after gaining 28% on Friday. We issued a company update on Golden Energy last Thursday, maintaining our Outperform recommendation and raised our TP to S$1.29, taking into account the acquisition of BMC. Golden Energy & Resources is on track to significantly expand its production capacity and profits with the acquisition of BHP Mitsui Coal Pty Ltd (BMC). The acquisition will cement GEAR, through its ASX-listed Stanmore subsidiary, as a major metallurgical coal (coking coal) provider in the region. Metallurgical coal is the key ingredient in the steel industry, whose demand is driven by China now and India in the future. Read our full report here.
Samudera Shipping (SAMU SP) shares added another 12% to last Friday's 9.3% gains. SAC Capital analyst Lim Shu Rong is optimistic about Samudera Shipping Line as it rides on a "bumper year" for shipping lines. In an unrated report dated March 15, Lim notes freight rates are still "buoyant and favourable" to shipping companies as the capacity imbalance persists, adding that the China containerized freight index was up 76% y-o-y as at March 11. However, Lim is less upbeat on Samudera's operating margin, which is expected to come under pressure, due to the Russia-Ukraine conflict.
Uni-Asia Group (UAG SP) shares surged 12% on higher-than-average trading volumes after the Baltic Handysize Index continued its rise to 1662 points, after finding a trough at around 1,000 points in February 2022. We have an OUTPERFORM recommendation and a TP of S$1.66.
Mapletree North Asia Commercial Trust (MAGIC SP) units rose 9% on Monday after activist fund manager Quarz Capital Management sent a letter to MAS asking to ensure that the manager of MAGIC fulfils its fiduciary duty to unitholders.
---
Hong Kong
Top Sector Gainers
Top Sector Losers
Shanghai Fosun Pharmaceutical (Group) Co., Ltd. (2196 HK) Shares closed at a three-month high. The company announced that it and its subsidiaries recently entered into a sub-license agreement (the ''Agreement'') with Medicines Patent Pool, a non-profit foundation registered under the laws of Switzerland with a mission to increase access to, and facilitate the development of, life-saving medicines for low- and middle-income countries through an innovative approach to voluntary licensing and patent pooling. Pursuant to the Agreement, MPP has granted to the Licensee a non-exclusive sub-license for, among other things, the manufacturing of the Drug and the Licensed Product, commercialization (including registration, retail and distribution) and related rights in connection with the Licensed Product in a total of 95 low- and middle-income countries. The Drug and the Licensed Product will be manufactured at production facilities approved by a stringent regulatory authority (an agency approved by the relevant member institutions under the International Council for Harmonisation of Technical Requirements for Pharmaceuticals for Human Use) or pre-qualified by the WHO.
ENN Energy Holdings Ltd (2688 HK) The company announced its FY21 results last Friday after the market closed. Profit attributable to owners of the company grew by 23.5% YoY to RMB7.76bn. Retail gas sales volume grew by 15.1% YoY to 25.3bn cubic meters. Sales volume of integrated energy jumped by 58.3% YoY to 19.1bn kWH. Goldman Sachs reiterated the BUY rating with an unchanged TP of HK$163, as the bank believed that it will outperform its peers in the next couple of years due to the strong growth in integrated energy projects and value-added services.
China Resources Gas Group Ltd (1193 HK) The company announced its FY21 results last Friday after the market closed. Turnover jumped by 39.9% YoY to HK$78.2bn. Profit attributable to owners of the company grew by 24.2% YoY to HK$6.4bn. Interim dividend paid and proposed final dividend jumped by 36.6% YoY to HK$1.27. JP Morgan raised the rating to ACCUMULATE from NEUTRAL with an unchanged TP of HK$40, as the bank believed that the earrings beat estimates, and the management guidance was better than expected. The 5% dividend yield is attractive as well.
Zai Lab Ltd (9688 HK) The company presented data from the Phase 3 PRIME study of ZEJULA (niraparib) as maintenance therapy at the Society of Gynecologic Oncology annual meeting. ZEJULA demonstrated a statistically significant and clinically meaningful improvement in progression-free survival (PFS) with a tolerable safety profile in Chinese patients with newly diagnosed advanced epithelial ovarian, fallopian tube, or primary peritoneal cancer (collectively termed as ovarian cancer) following a response to platinum-based chemotherapy, regardless of biomarker status.
Kunlun Energy Company Limited (135 HK) There was no company-specific news. International oil prices went up on Monday ss European countries consider banning Russian crude. Separately, prices were driven higher after an attack from the Iran-aligned Houthi rebels over the weekend targeted energy facilities in Saudi Arabia, the world's top oil exporter and de facto leader of OPEC.
---
Trading Dashboard
Trading Dashboard Update: Add Xinte Energy (1799 HK) at HK16.80.

(Click to enlarge image)
---

---
Related Posts: