22 February 2022: Stocks making the biggest moves
Market Movers | Trading Dashboard
Market Movers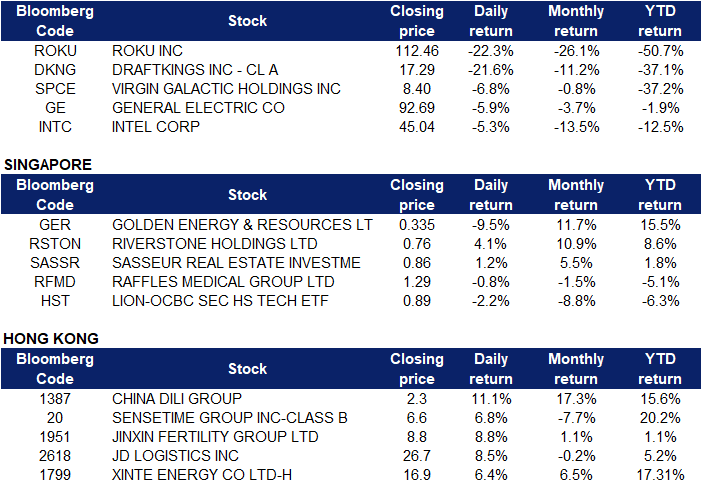 ---
United States
Top Sector Gainers
Top Sector Losers
Roku Inc (ROKU US) shares plunged 22.3% on Friday after the video-streaming company issued fourth-quarter revenue and first-quarter revenue guidance that came in below consensus. Revenue grew by 33% year over year in the quarter, according to a letter to shareholders, compared with 51% growth in the third quarter and 81% in the second quarter. Management attributed the slower growth to supply shortages that hurt the U.S. market for televisions. The company chose not to pass on higher material and shipping costs in order to benefit user acquisition.
Draftkings Inc (DKNG US) Shares plunged 21.6% on Friday after it posted fourth-quarter earnings that beat analyst estimates for the quarter but revealed the company expects a greater adjusted loss for 2022 than analysts had projected. The company showed that it's spending more on marketing as it launches in new markets, which contributed to a wider loss from operations. DraftKings raised its revenue guidance for 2022 from a range of $1.7 billion to $1.9 billion to a range of $1.85 billion to $2 billion. The company said the projection reflects the launch of mobile sports betting in New York and Louisiana at the start of the year.
Virgin Galactic Holdings Inc (SPCE US) shares fell 6.8% on Friday following the announcement that Chairman Chamath Palihapitiya will be stepping down from the board of directors, effective immediately. His special purpose acquisition company took Virgin Galactic public in 2019. Palihapitiya said he's leaving "to focus on other existing and upcoming public board responsibilities."
General Electric Company (GE US) shares lost 5.9% on Friday after the company provided an outlook for 2022 saying that supply chain challenges continue to pressure its health care, renewable energy and aviation businesses and could remain through the first half of 2022. "As a result, supply chain headwinds may continue to partially mask the significant progress we are making across our businesses," the company said in an 8-K filing.
Intel Corporation (INTC US) shares lost 5.3% on Friday after Bank of America lowered their target price on shares of Intel from $55.00 to $52.00 and set an "underperform" rating on the stock in a research report on Thursday, January 27th. BMO Capital Markets also lowered their target price on shares of Intel from $52.00 to $50.00 and set a "hold" rating on the stock in a research report on Friday.
---
Singapore
Golden Energy & Resources Ltd (GER SP) shares plunged 9.5% yesterday, despite record numbers for both the top-line and bottom-line as the miner does not plan to give a dividend, reasoning, instead, that resources should be channelled to fund new acquisitions. Golden Energy and Resources reported earnings of US$171 million for 2H21 ended Dec 2021, up 113.2% YoY. Revenue in the same period was US$1.07 billion, up 32.3% YoY, thanks to higher coal prices amid a pandemic-induced supply shortage. For the whole of FY2021, earnings surged 629% YoY to US$251.3 mn – an all-time high. Revenue was up 61% to US$1.87 bn, also a record.
Rivertone (RSTON SP) shares gained 4.1% on Monday on-higher-than average trading volume ahead of the release of its full-year results this Friday, 25 Feb. UOB Kay Hian issued a Technical Trading Buy on Riverstone with a Target Price of S$0.82 and a protective stop of S$0.71.
Sasseur REIT (SASSR SP) gained 1.2% on Monday after analysts reiterated their positive view on the REIT following the release of its full-year results .DBS and Maybank both reiterated their "buy" recommendations while increasing their target prices by 5 Sing cents each, to S$1.15 and S$1.10, respectively.
Raffles Medical Group (RFMD SP) shares fell after net profit for 2H2021 fell 8% YoY to S$44.7mn. The lower profit was attributed to higher tax expenses. However, on a full-year basis, net profit rose 28% YoY to S$84.2mn. The healthcare provider expects to remain profitable in FY2022 as demand for tests will remain for some time and as regional patients return. OCBC Investment Research maintained a "buy" rating on the stock with a fair value of S$1.65.
Lion-OCBC Securities Hang Seng TECH ETF (HST SP). Price of the ETF that tracks the 30 largest tech-related companies listed in HK fell 2.2% on Monday amid concerns over new regulatory reforms. The decline started last Friday when Meituan (3690) fell as much as 18% after Chinese regulators rolled out a new policy to control the company's service fees. This was followed by a warning from the China Banking and Insurance Regulatory Commission against fund-raising and investment products related to the metaverse concept.
---
Hong Kong
Top Sector Gainers
Top Sector Losers
China Dili Group (1387 HK) and SenseTime Group Inc (20 HK) shares rose 11.1% and 6.8% respectively yesterday. Hang Seng Index announced the quarterly inspection results for the fourth quarter of 2021 on Friday. Among them, China Dili and Sensetime were included in the Hang Seng Composite Index, and the changes will take effect from March 7, 2022. In addition, Sensetime will be included in the Hang Seng Technology Index. CICC also released a research report recently, giving SenseTime an "outperform industry" rating for the first time, with a target price of HK$7.3.
Jinxin Fertility Group Ltd (1951 HK) shares gained 8.8% yesterday. The Beijing Municipal Medical Insurance Bureau, together with the Municipal Health Commission and the Municipal Human Resources and Social Security Bureau, recently issued the "Notice on Regulating the Adjustment of Some Medical Service Price Items". In order to implement active fertility support measures, several birth inducing drugs are included in the scope of medical insurance Category A reimbursement.
JD Logistics Inc (2618 HK) shares rose 8.5% yesterday. JD Logistics and China Agricultural Products Wholesale Market Holdings Co., Ltd. reached a strategic cooperation where the two parties will strengthen cooperation in cold chain storage and transportation of agricultural products. This includes transformation and upgrading of agricultural infrastructure, innovative supply chain services, supply chain talent team building and building a smart supply chain platform for imported frozen products and agricultural products.
Xinte Energy Co Ltd (1799 HK) shares rose 6.4% yesterday. Xinjiang New Energy, a subsidiary of the company, signed an investment framework agreement with the Hongdong County People's Government and Huaxiang Co., Ltd. on the 16th. Xinjiang New Energy plans to cooperate with Huaxiang Co., Ltd. on the development and construction of a 1GW photovoltaic power generation project and a photovoltaic support production project in Hongdong County. The total investment of potential cooperation projects is RMB 4.3 billion.
---
Trading Dashboard
Trading Dashboard Update: Add The Hour Glass (HG SP) at S$2.06 and Broadway Industrial (BWAY SP) at S$0.205. Take profit on Wilmar (WIL SP) at S$4.69 and cut loss on Nanofilm Technologies (NANO SP) at S$2.92.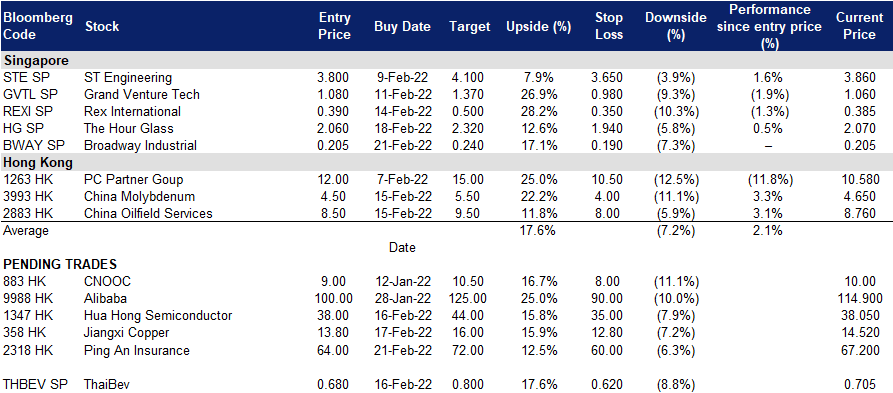 (Click to enlarge image)
---

---
Related Posts: