22 Dec 2021: iFast Corp (IFAST SP), Xtep International Holdings Ltd (1368 HK)
Singapore Trading Ideas | Hong Kong Trading Ideas | Market Movers | Trading Dashboard
SINGAPORE
iFast Corp (IFAST SP): S$100bn by 2028
BUY Entry – 7.79 Target – 8.80 Stop Loss – 7.32
iFast provides investment solutions to financial advisers, financial institutions, insurance companies, pension fund managers, retail and accredited investors, and multinational companies. The company's investment platform offers a wide selection of investment products from many different product manufacturers into one consolidated portfolio.
Growing assets under administration (AUA). iFast's AUA continued to register new record levels, reaching S$18.4bn as at 30 September 2021, a growth of 46% YoY and 27% year-to-date. The AUA of unit trusts, its key investment asset class, grew to a record S$13.5bn, a growth of 40% YoY and 24% year-to-date.
Big hairy audacious goal. The group has set an AUA target of S$100bn by 2028 as it accelerates growth in HK, pursues more financial licenses in different jurisdictions, and makes more progress towards being a top Fintech wealth management player with a global business model. Reaching the S$100bn AUA target would imply a 27% CAGR from its current AUA of S$18.4bn.
Positive consensus view. There are 4 BUYS / 1 HOLD / 1 SELL and a 12m average target price of S$10.32, implying a 33% upside potential from last close. EPS is forecasted to grow 54% YoY in FY21 and 25% YoY in FY22, bringing down forward P/Es to 65x and 52x.
iFast's Assets under Administration growth has exploded since the pandemic began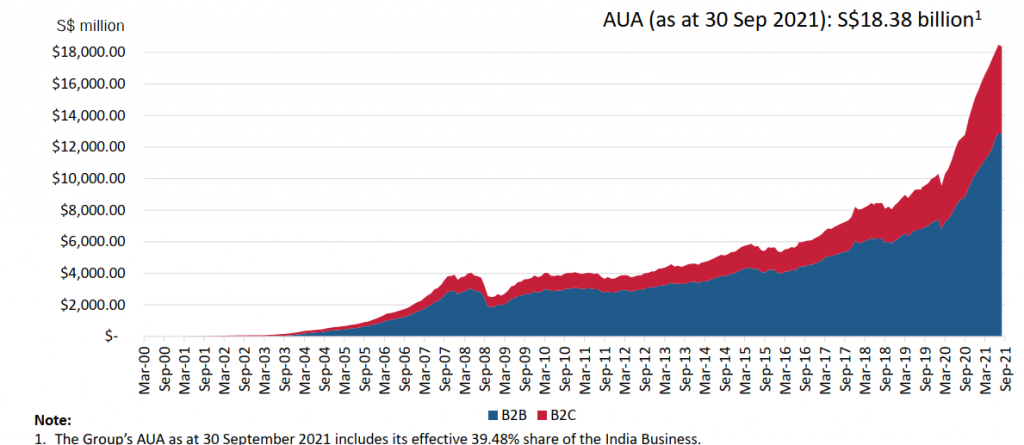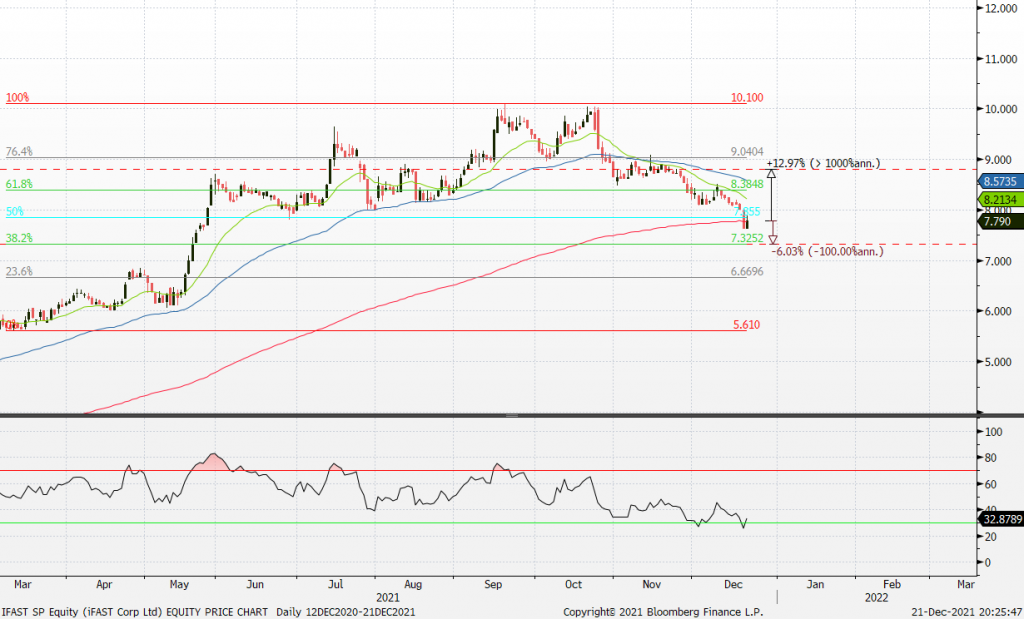 ---
Grand Venture Technology (GVTL SP): On a great acquisition adventure
BUY Entry – 1.20 Target – 1.37 Stop Loss – 1.12
Grand Venture Technology (GVTL) provides engineering, assembly, testing and product lifecycle management services for the manufacture of complex precision machining and sheet metal components and modules. Its clients are mainly in the semiconductor, analytical life sciences and electronics sectors, and includes multinationals such as Teradyne and BE Semiconductor Industries.
Flying into aerospace and diving into medical diagnostics. GVTL last Friday (17 Dec) announced the S$20mn acquisition of two homegrown companies. The acquisitions are expected to be completed by 1Q2022 and will augment the group's capabilities in China and Malaysia, and help GVTL gain access to clients in the aerospace, medical and semiconductor industries.
Street consensus has 2 BUYS and 1 HOLD, with a 12m average TP of S$1.68 (+40% upside from last close price). FY2021F and 22F EPS is forecasted to grow 124% YoY and 60% YoY, respectively, bringing down forward P/Es to 24x and 15x. In comparison, peers are trading at an average forward P/E of 19x.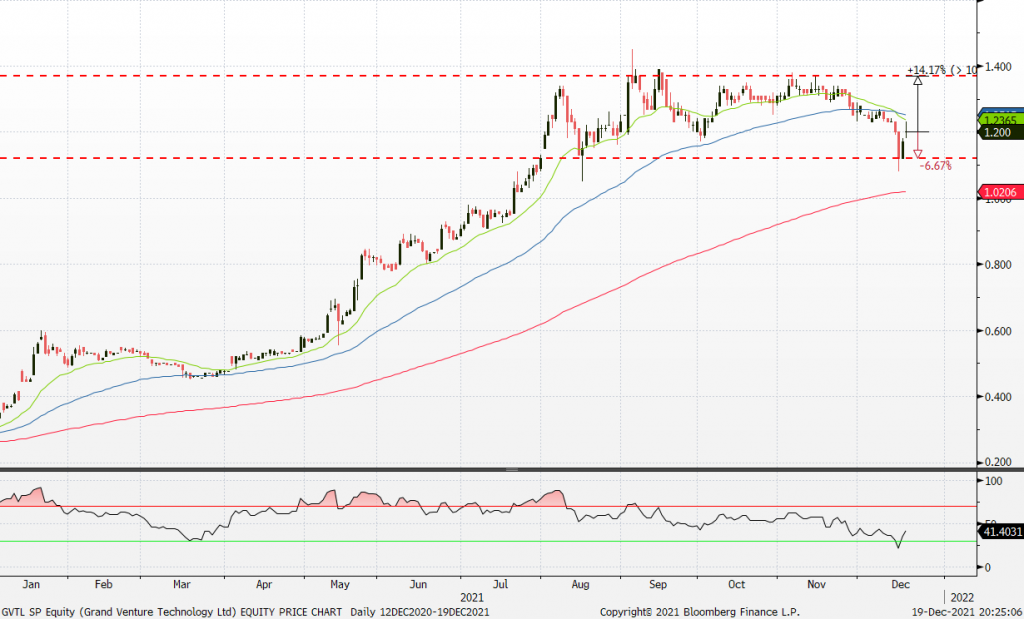 ---
HONG KONG
Xtep International Holdings Ltd (1368 HK): In time for the winter olympics
Buy Entry – 11.28 Target – 14.41 Stop Loss – 9.76
Xtep International Holdings Limited engages in the design, development, manufacture, sale, and marketing and brand management of sports footwear, apparel, and accessories. The company sells its products primarily under the XTEP brand, as well as Palladium, K-Swiss, Saucony, and Merrell brand names. It is also involved in the trading of sportswear products.
Strong 1H21 financials. Xtep's revenue rose 12% YoY to RMB 4.1bn in 1H21 and net profit grew by 72% YoY to RMB 427mn. Management also announced a very robust target of RMB 20 bn/RMB 4bn Xtep sales/new brands sales by FY25E, implying a 23%/30% sales CAGR during FY20-25E. Growth drivers include further expansion into T1 & T2 cities, aided by the launch of XDNA (a high-end product series that will start to have new stores in 2H21) and accelerated growth from lifestyle products.

Catalyst: Winter olympics. The 2022 Winter Olympics, an upcoming international winter multi-sport event, is scheduled to take place from 4 to 20 February 2022 in Beijing and towns in the neighbouring Hebei province in the People's Republic of China. Historically, prior to the international event, share prices of companies involved in sporting goods enjoyed a price rally. The chart below shows the price rally of Xtep, which began in early-mid December 2017 just before the PyeongChang 2018 Olympic Winter Games held between 9 and 25 February 2018.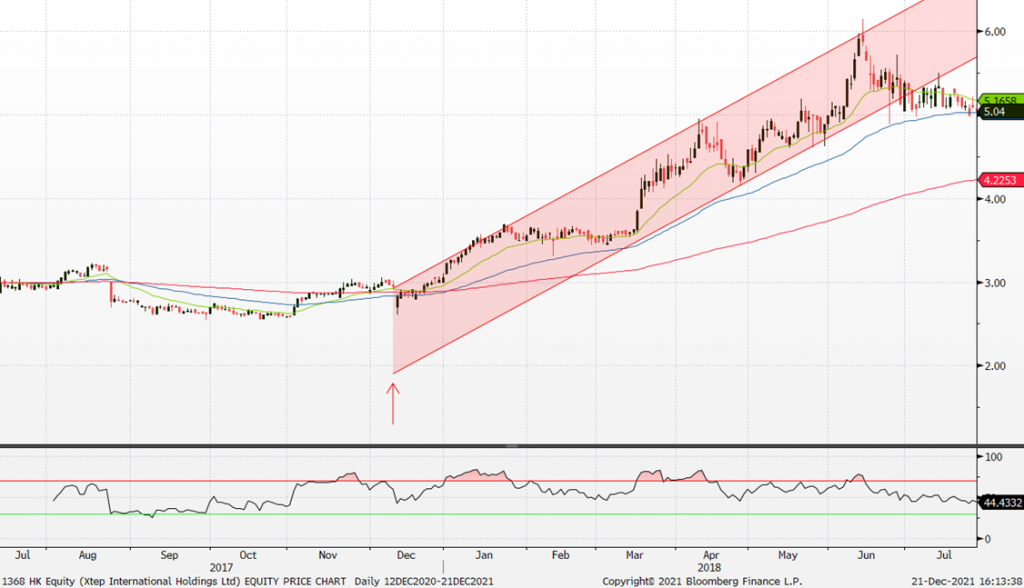 Positive consensus estimates. According to Bloomberg consensus estimates, Xtep has ratings of 26 BUYS, 0 HOLD and 2 SELL, with a 12M target price of HK$14.85, representing an upside of 21.9% as of yesterday's closing price.
Technical analysis. 20dMA has crossed the 60dMA and we recommend to long at the 20dMA, which is also around the previous resistance level. Shares are strongly supported at the 200dMA and RSI is on a gradual uptrend.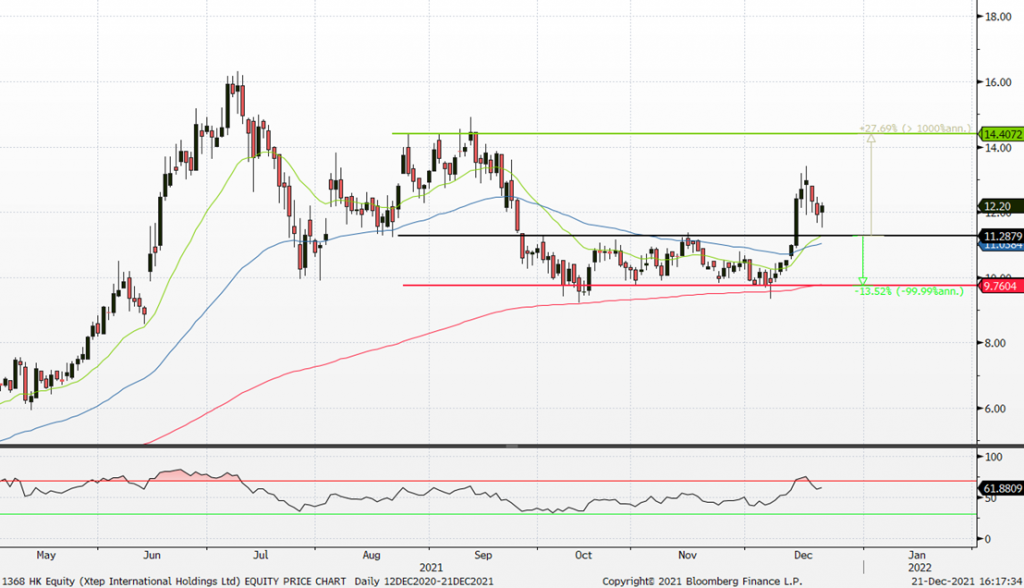 ---
CGN New Energy Holdings Co Ltd (1811 HK): A defensive play amidst market turmoil
RE-ITERATE Buy Entry – 22 Target – 26.5 Stop Loss – 20
CGN New Energy Holdings Co., Ltd. is an investment holding company mainly engaged in the operation of power plants. Along with subsidiaries, the Company operates its business through three segments. The Power Plants in Korea segment is engaged in the generation and supply of electricity. It is involved in the projects, including Daesan I Power Project, among others. The Power Plants in the PRC segment are engaged in the generation and supply of electricity. It mainly engages in wind power and solar power projects. The Management Companies segment is engaged in the provision of management services to power plants operated by CGN and its subsidiaries. The Company is involved in the wind, solar, gas-fired, coal-fired, oil-fired, hydro, cogen and fuel cell and steam projects.
Key financial highlights:
| | | | |
| --- | --- | --- | --- |
| (USD mn) | 1H21 | 1H20 | YoY change |
| Revenue | 797 | 593 | 34.4% |
| Gross profit | 454 | 323 | 40.6% |
| GPM (%) | 57.0 | 54.5 | 2.5 ppt |
| Net profit | 162 | 104 | 55.8% |
| NPM (%) | 20.3 | 17.5 | 2.8 ppt |
November operation updates. The power generation of the company and its subsidiaries on a consolidated basis grew by 48.1% YoY to 1,658.2 GWh. Power generation of PRC wind and solar projects grew by 67.0% and 12.9% YoY respectively. Power generation of PRC cogen and gas-fired dropped by 7.7% YoY. Power generation of PRC hydro projects increased by 15.8% YoY and power generation of Korea projects increased by 45.2% YoY.
Opportunities from the energy crisis in China. The skyrocketing coal prices this year caused China power shortage from 2Q21 to 3Q21 as coal-fired power is the dominant source of electricity supply. Authorities have increasingly realized the importance of balancing the energy consumption structure. Meanwhile, China has set the carbon-neutrality goal last year, complying with the global climate advocations. Hence, China has a long way to go for the clean energy deployment. Wind and solar are the two main alternative energy supplies that China is aggressively promoting to develop.
Consensus estimates per the 12-month target price is at HK$7.67. EPS is forecasted to grow at 40.7%/13.5%/18.8% for FY2021/22/23F, which would bring forward P/Es down to 18.6x/16.4x/13.4x FY2021/22/23F.
---
Market Movers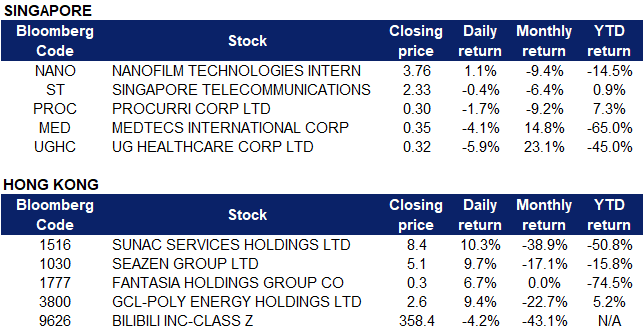 ---
United States
Top Sector Gainers
Top Sector Losers
| | | |
| --- | --- | --- |
| Sector | Loss | Related News |
| Water Utilities | -0.7% | NA |
| Food, Beverage & Tobacco | -0.3% | NA |
| Pharmaceuticals | -0.1% | NA |
Boeing (BA US) shares climbed 5.9% yesterday after it announced that it has signed a "multi-year agreement" with UPS "to ensure a modern, efficient fleet" by selling the package shipping titan 19 of its model 767 air freighters. Boeing plans to deliver the 19 aircraft to UPS between 2023 and 2025. Boeing now anticipates that air freight volumes will grow 4% annually on average over the next 20 years, leading to a 70% increase in the number of air freighters flying between now and 2040. UPS (UPS US) shares closed 2.3% higher.
Micron (MU US) shares surged 10.5% yesterday following the company's strong earnings report and guidance. Micron reported quarterly earnings of 83 cents per share, 20 cents a share above the consensus estimate. CEO Sanjay Mehrota said "With the successful ramp of 1α DRAM and 176-layer NAND products across major end markets, we are several quarters ahead of the industry in market deployment of these leading-edge process technologies. The combination of 1α and 1z DRAM nodes represents the majority of our DRAM bit production." Micron's memory technologies previously lagged behind its two main competitors SK Hynix and Samsung.
Pfizer (PFE US) and Moderna (MRNA US) shares traded lower yesterday to close 3.4% and 3% down after the Centers for Centers for Disease Control and Prevention director said initial Covid-19 shots "may not be enough" to prevent infection. CDC Director Dr. Rochelle Walensky said the omicron variant of the coronavirus has "over 50 mutations and because of those mutations, just being vaccinated with two doses may not be enough" ahead of the holidays.
---
Singapore
UG Healthcare (UGHC SP), Medtecs Int'l (MED SP) shares of the glove and PPE makers lost 5.9% and 4.1% respectively yesterday, likely on profit taking. The stocks previously jumped on Monday as a resurgence of Covid cases in the US and Europe drove investor interest among pandemic favourites. Europe's travel and leisure stocks, represented by the Stoxx Travel and Leisure index, fell as much as 3.4% in Monday trading, over concerns about tightening restrictions over the Christmas period. Across the Atlantic, Goldman Sachs cut U.S. real GDP forecast for 1Q2022 to 2.0% from 3.0% previously, and marginally reduced growth expectations for 2Q and 3Q.
Nanofilm Technologies (NANO SP) shares climbed 1.1% yesterday after the company provided a business update for the fourth quarter ended 31 December, noting that it has incurred plant and equipment qualification costs. Nanofilm executive chairman and former CEO Shi Xu also said Nanofilm has in place a strategy to accelerate the commercialisation and increase adoption of its nanotechnology solutions across multiple existing and new areas.
Singtel (ST SP) shares previously hit a 3.5-month low on Monday and extended its losses yesterday after the telco reported A$304 million of exposure, interest and penalties from its recent Australian tax case loss, relating to the acquisition financing of Singtel Optus. The company had tried to claim deductions based on interest paid on loans between two subsidiaries but in a landmark decision, the Australian Federal Court said the lending did not comply with "arms length" requirements.
Procurri Corporation (PROC SP). The IT maintenance services company reported that chief financial officer (CFO) Choo Joo Kwang has resigned to pursue other interests after more than 5 years in charge of the finance team.
---
Hong Kong
Top Sector Gainers
Top Sector Losers
Sunac Services Holdings Ltd (1516 HK), Seazen Group Ltd (1030 HK), Fantasia Holdings Group Co Ltd (1777 HK). Property sector shares rose yesterday amid growing signs of marginal policy easing by Beijing to prevent a hard landing of the sector. Shares rose 10.3%, 9.7% and 6.7% respectively yesterday. China is urging large private and state-owned property companies to acquire real estate projects from troubled developers to reduce risks that mounting debt piles will destabilise the economy, the official China Securities Journal said on Monday. In addition,Fantasia Holdingssaid holders of a yuan-denominated bond due this year agreed to extend the maturity date. Investors could also be buying on hopes that Fantasia's agreement can be replicated amongst other stressed developers
GCL-Poly Energy Holdings Ltd (3800 HK) shares rose 9.4% yesterday. GCL New Energy and GCL-Poly Energy jointly announced that on December 19, GCL New Energy Hong Kong (indirect wholly-owned subsidiary of GCL New Energy) (buyer) Entered into a framework agreement with GCL-Poly Natural Gas (the supplier) for a 12-month exclusivity period to enter into a sale and purchase agreement with GCL-Poly Natural Gas for the possible purchase of natural gas. Strategically, this would ensure low-cost access to raw materials for hydrogen energy business and GCL New Energy can therefore enter the next stage and invest more resources to formulate specific plans to promote the development of hydrogen energy business.
Bilibili Inc (9626 HK) shares declined 4.2% yesterday. According to media reports, China's online sales queen Viya was fined RMB 1.34bn for tax evasion. The State Taxation Administration issued a notice in September, announcing measures to strengthen tax administration in the entertainment sector, including livestreamers. Viya is the latest celebrity livestreamer to get caught up in a broad crackdown that initially targeted tech monopolies but has since gone on to take aim at private education, social media platforms, and the culture of celebrity.
---
Trading Dashboard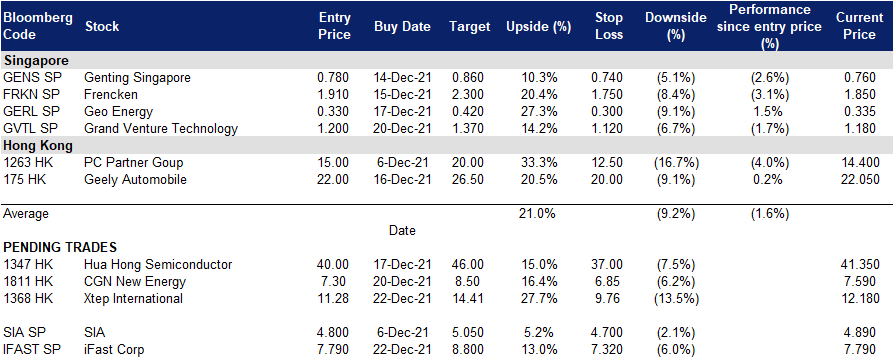 (Click to enlarge image)
---

---
Related Posts: