20 Dec 2021: Grand Venture Technology (GVTL SP), CGN New Energy Holdings (1811 HK)
Singapore Trading Ideas | Hong Kong Trading Ideas | Market Movers | Trading Dashboard
SINGAPORE
Grand Venture Technology (GVTL SP): On a great acquisition adventure
BUY Entry – 1.20 Target – 1.37 Stop Loss – 1.12
Grand Venture Technology (GVTL) provides engineering, assembly, testing and product lifecycle management services for the manufacture of complex precision machining and sheet metal components and modules. Its clients are mainly in the semiconductor, analytical life sciences and electronics sectors, and includes multinationals such as Teradyne and BE Semiconductor Industries.
Flying into aerospace and diving into medical diagnostics. GVTL last Friday (17 Dec) announced the S$20mn acquisition of two homegrown companies. The acquisitions are expected to be completed by 1Q2022 and will augment the group's capabilities in China and Malaysia, and help GVTL gain access to clients in the aerospace, medical and semiconductor industries.
Street consensus has 2 BUYS and 1 HOLD, with a 12m average TP of S$1.68 (+40% upside from last close price). FY2021F and 22F EPS is forecasted to grow 124% YoY and 60% YoY, respectively, bringing down forward P/Es to 24x and 15x. In comparison, peers are trading at an average forward P/E of 19x.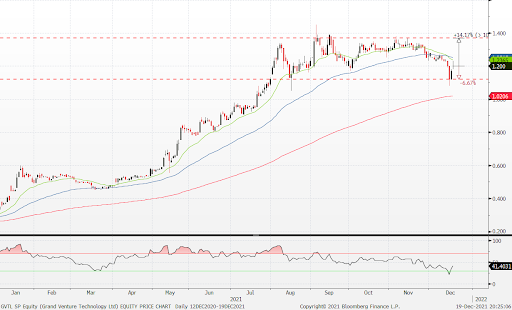 Geo Energy (GERL SP): Joining the 12.12 sale
RE-ITERATE BUY Entry – 0.33 Target – 0.42 Stop Loss – 0.30
Geo Energy is one of Indonesia's leading coal producers. The company has four mining concessions located in South and East Kalimantan. Geo Energy's two key mines have a total estimated coal reserve of 77 million tonnes, based on a Joint Reserves Committee (JORC) Compliant report as at 31 August 2021, based on the latest IQPR published on 3 December 2021.
12.12 sale. Geo Energy bought back shares for the first time ever. The company acquired 2.3mn shares at a price of between S$0.315 and S$0.320 on 15 Dec 2021. This comes on the heels of the most recent valuation announcement that the combined value for its two mines, SDJ and TBR, are estimated to be at US$726mn as at 31 August 2021. That works out to roughly US$0.51 per share or around S$0.67 per share vs its current share price of S$0.335.
China still needs lots of coal. China, the world's biggest coal miner and consumer, produced 371mn tonnes of coal in November, the highest on record. This is according to the National Bureau of Statistics, which published the data on Wednesday. The record output likely caused traders to cover their short positions on HK-listed coal miners such as Yankuang Energy Group (1171 HK, previously known as Yanzhou Coal Mining), which gained 24% yesterday. Essentially, what this shows is that demand for the dirty fuel remains strong despite all the talk about ESG and going green.
Cash generating machine. We estimate Geo Energy will generate at least US$247mn (S$333mn) of free cash flows in 2021 and 2022, making up 70% of its current market cap of S$475mn. Our estimates are based on US$58/US$50 coal prices and 10.5mn/11.0mn tonnes of coal production in 2021 and 2022, respectively. Our assumptions are conservative given that current ICI4 future prices are trading at around US$63/tonne (after peaking at US$155 in mid-Sep 2021).
We currently have an Outperform and DCF-backed TP of S$0.42 on Geo Energy. Our fair value is based on DFC with a conservative set of assumptions: 1) 13.5% discount rate, 2) six-year mine life up to 2026, and 3) no terminal value. The strong cash flows over the next two years will provide the group options to diversify via acquisitions. The group currently trades at 3x 2021F P/E and 4x FY2022F P/E.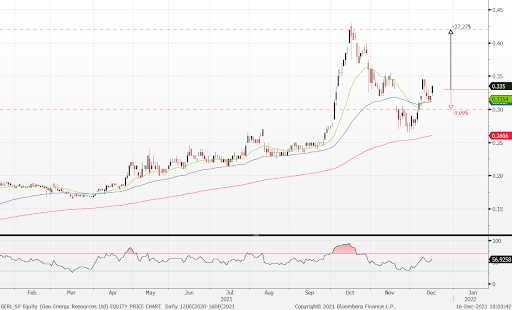 ---
HONG KONG
CGN New Energy Holdings Co Ltd (1811 HK): A defensive play amidst market turmoil
Buy Entry – 22 Target – 26.5 Stop Loss – 20
CGN New Energy Holdings Co., Ltd. is an investment holding company mainly engaged in the operation of power plants. Along with subsidiaries, the Company operates its business through three segments. The Power Plants in Korea segment is engaged in the generation and supply of electricity. It is involved in the projects, including Daesan I Power Project, among others. The Power Plants in the PRC segment is engaged in the generation and supply of electricity. It mainly engages in wind power and solar power projects. The Management Companies segment is engaged in the provision of management services to power plants operated by CGN and its subsidiaries. The Company is involved in the wind, solar, gas-fired, coal-fired, oil-fired, hydro, cogen and fuel cell and steam projects.
Key financial highlights:
November operation updates. The power generation of the company and its subsidiaries on a consolidated basis grew by 48.1% YoY to 1,658.2 GWh. Power generation of PRC wind and solar projects grew by 67.0% and 12.9% YoY respectively. Power generation of PRC cogen and gas-fired dropped by 7.7% YoY. Power generation of PRC hydro projects increased by 15.8% YoY and power generation of Korea projects increased by 45.2% YoY.
Opportunities from the energy crisis in China. The skyrocketing coal prices this year caused China power shortage from 2Q21 to 3Q21 as coal-fired power is the dominant source of electricity supply. Authorities have increasingly realized the importance of balancing the energy consumption structure. Meanwhile, China has set the carbon-neutrality goal last year, complying with the global climate advocations. Hence, China has a long way to go for the clean energy deployment. Wind and solar are the two main alternative energy supplies that China is aggressively promoting to develop.
Consensus estimates per the 12-month target price is at HK$7.67. EPS is forecasted to grow at 40.7%/13.5%/18.8% for FY2021/22/23F, which would bring forward P/Es down to 18.6x/16.4x/13.4x FY2021/22/23F.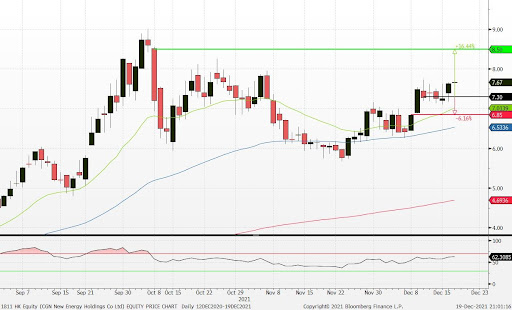 Hua Hong Semiconductor Ltd (1347 HK): Back to the price support base soon
RE-ITERATE Buy Entry – 40 Target – 46 Stop Loss – 37
Hua Hong Semiconductor Ltd is an investment holding company engaged in production and sales of semiconductor wafers. The Company produces 200mm and 300mm-wafers. Its products are applied in general microcontroller (MCU), Type-C interface chips, image stabilization chips, touch control chips, and smart meter controller chips. The products also serve Internet of Things (IoT), new energy vehicles, artificial intelligence and other markets. The Company operates its businesses through its subsidiaries.
3Q21 results updates. Revenue reached another new high of US$451.5mn, up 78.5% YoY and 30.4% QoQ.Gross margin was 27.1%, 2.9 ppts over 3Q20 and 2.3 ppts above 2Q21. Net profit attributable to shareholders of the parent company was US$50.8mn, up 187.1% YoY and 15.3% QoQ. Management guidance for FY21 revenue is US$490mn, and GPM is expected to be between 27% and 28%. The company plans to reach a 12-inch monthly production capacity of 95,000 wafers by the end of 2022.
Semiconductor upcycle remains. The supply chain bottleneck is expected to last at least till mid-2022. Insufficient supply of auto chips, graphic cards, and other related chips will continue. Meanwhile, there will be more demand for computing power in the post-COVID era, driven by EV penetration and metaverse development. Sentiment towards the semiconductor sector is bullish.
The updated market consensus of the estimated net profit growth in FY21/22/23 is 89.1%/29.3%/16.7% respectively, which translates to 37.9x/29.3x/25.1x forward PE. The current PE is 41.7x. Bloomberg consensus average 12-month target price is HK$56.75.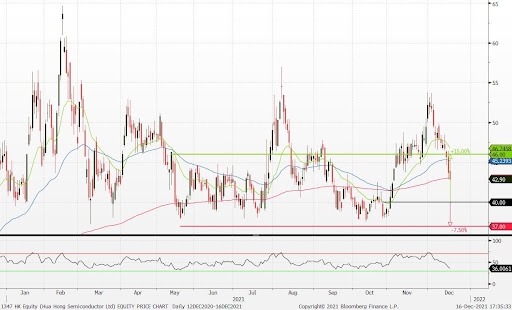 ---
Market Movers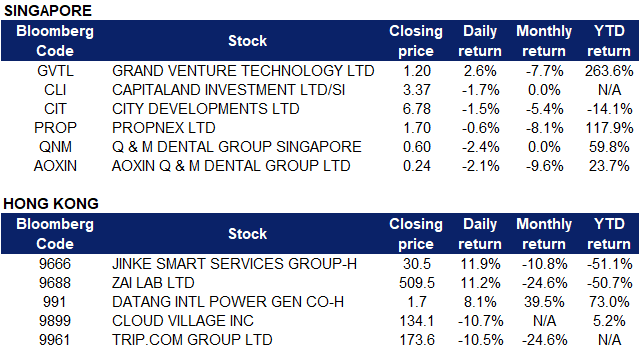 ---
United States
Top Sector Gainers
Top Sector Losers
---
Singapore
Grand Venture Technology (GVTL SP) shares rose 2.6% after it announced that it will spend S$20 million to acquire 2 companies through separate sale and purchase agreements that will augment GVT's capabilities and capacity in China and Malaysia, facilitate its penetration into new aerospace and medical diagnostics, as well as accelerate growth in semiconductor and life sciences businesses. GVTL will buy J-Dragon Tech (Suzhou) Co for S$12.2 million – comprising S$4.2 million cash and S$8 million through the issue of about 6.9 million new shares.
Property stocks extended their losses on Friday, with Capitaland Investment Limited (CLI SP), City Developments Limited (CIT SP) and Propnex Limited (PROP SP) dropping 1.7%, 1.5% and 0.6% respectively. The government previously announced new measures to cool the housing market on Wednesday evening. However, UOB Kay Hian analyst Adrian Loh said in a note that the share prices of Singapore's property developers and agencies "should stabilise in the near term" as their valuations were "not stretched" heading into these new cooling measures, and maintained an "Overweight" rating on the property sector. Additionally, City Developments said that it has acquired a 250-year leasehold site in Birmingham, UK for a purchase consideration of £6.5 million to develop an octagonal-shaped residential skyscraper that it plans to rent.
Shares of Q&M Dental (QNM SP) and Aoxin Q&M Dental Group (AOXIN SP) lost 2.4% and 2.1% respectively yesterday, likely on profit taking. It was previously announced that the Ministry of Health (MOH) has granted Acumen Diagnostics (51:49 owned by the companies respectively) a licence to provide swabbing and COVID-19 PCR test services.
---
Hong Kong
Top Sector Gainers
Top Sector Losers
Jinke Smart Services Group Co Ltd (9666 HK) shares rose 11.9% on Friday after CICC issued a research report stating that it maintains Jinke Services OUTPERFORM rating with an unchanged profit forecast. However, the target price is lowered 28% to HK$ 53 considering the recent weak market sentiment. CICC's main investment points are as follows: 1. Jinke transferred approximately 140mn shares to Boyu, an alternative asset investment management company focusing on China. Boyu is deemed a high-quality strategic shareholder according to CICC. 2. The company's 2021 area expansion and community value-added service development performance is expected to support the annual profit forecast of no less than RMB 1.1bn.
Zai Lab Ltd (9688 HK) shares rose 11.2% on Friday, after the company announced that the new antibiotic Newrex drug has been approved for listing by the State Food and Drug Administration.
Datang International Power Generation Co Ltd (991 HK) shares rose 8.1% on Friday, extending its rally to 5 consecutive days. Over the week, shares have gained approximately 26.3%. China's state planner said on Monday it would strengthen construction of the country's energy system, from production to storage and distribution, in order to ensure supplies of coal, power and natural gas. In a statement on implementing guidance from last week's Central Economic Work Conference, the National Development and Reform Commission also said it would promote construction of large-scale wind and solar power bases in desert areas, as well as the upgrading of key industries and enterprises whose energy efficiency is below the benchmark level.
Cloud Music Inc (9899 HK) shares declined 10.7% on Friday. The company is NetEase's music streaming business and its IPO was on 2 December. Shares have declined approximately 34.6% since its IPO. According to the news, ByteDance is testing its first domestic music app "Soda Music" internally. In terms of music special effects, "Soda Music" has a unique "Hi-Ting mode", in which special effects flash according to the rhythm while intelligent music libraries are recommended to users based on AI algorithms. Located mainly in Shanghai, the APP's R&D team consists of members who have previously worked in music and audio companies such as NetEase Cloud Music and Ximalaya. Analysts commented that "Soda Music" may eat up the market share of Tencent Music and NetEase Cloud Music in the future.
Trip.com Group Ltd (9961 HK) shares declined 10.5% on Friday. On Thursday, the company released its third-quarter financial report, reporting revenue of RMB 5.3bn. However, the company was in a loss-making position of RMB -868mn, compared to the year before when it was profit-making. The company's gross profit margin fell by 4.04 ppts from the same period last year. At the same time, R&D expenses, sales and marketing expenses, general and administrative expenses all rose significantly. The epidemic has caused performance to be at a low level and internet anti-monopoly serves as a consistent headwind for the industry.
---
Trading Dashboard
Trading Dashboard Update: Added Geo Energy (GERL SP) at S$0.33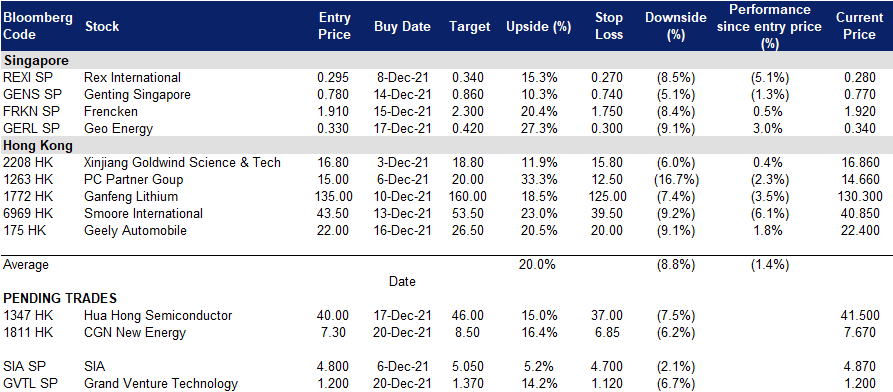 (Click to enlarge image)
---

---
Related Posts: