2 Dec 2021: Stocks making the biggest moves
Market Movers | Trading Dashboard
Market Movers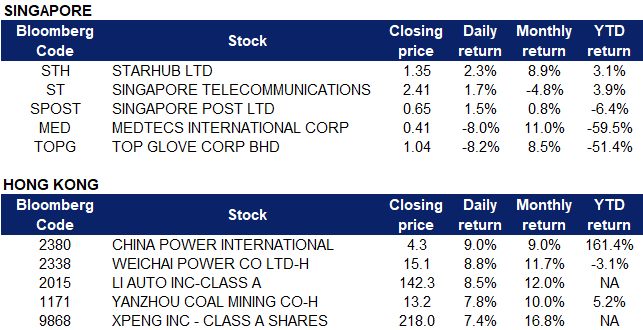 United States
Top Sector Gainers
Top Sector Losers
Moderna (MRNA US) shares tumbled 11.9% after a U.S. Court of Appeals for the Federal Circuit panel of three judges upheld a ruling against the biotech company in a decision on patents that Arbutus Biopharma (ABUS US) said it owns. Moderna uses lipid nanoparticle (LNP) drug-delivery technology to deliver its messenger RNA (mRNA) COVID-19 vaccine safely and effectively into patients. Additionally, the stock was already under pressure after CEO Stéphane Bancel warned of a sharp decline in the effectiveness of the drugmaker's vaccine in the wake of the emergence of the omicron variant. Shares of Arbutus surged 44%.
Snowflake (SNOW US) shares closed 8.6% lower before jumping 16% in after hours trading after the company beat revenue estimates with sales of $334 million during the third quarter, which was ahead of the $306 million analysts were expecting.
Salesforce (CRM US) extended its losses, plummeting another 11.7% yesterday on the back of mixed fourth quarter guidance which overshadowed the company's better than expected results for the third quarter. The company is anticipating a roughly 24% slide in revenue for the current fourth quarter, at slightly over $7.22 billion to $7.23 billion, more or less meeting analyst expectations. However, the anticipated adjusted earnings per share range of $0.72 to $0.73 is well below the average $0.82 analyst projection.
Shares of Ford (F US) closed 2% higher on Wednesday after Morgan Stanley analyst Adam Jonas noted that Ford sold 21,703 Mustang Mach-Es in the U.S. through October, on track to outsell its key rival General Motor's Chevrolet Bolt EV. GM has decided to halt production of the Bolt through the end of 2021 while it works through a massive recall of Bolts for defective battery packs. Ford is scheduled to report November sales on Friday.
---
Singapore
Singtel (ST SP), StarHub (STH SP) shares gained 1.7% and 2.23% respectively yesterday. The Infocomm Media Development Authority previously announced that Singtel and an M1-StarHub consortium have each been provisionally awarded 25 megahertz of the 2.1 gigahertz spectrum, the maximum allowed under Singapore's latest auction to make available more spectrum to support the deployment of 5G networks. Read our trading idea note on SingTel here.
Singapore Post Ltd (SPOST SP) shares lost 1.5% yesterday likely on profit taking. The company announced that it has completed Tranche Two and the Proposed Option Shares Acquisition yesterday, for a total consideration of approximately A$28.8mn (S$28.5mn) and A$81.5mn (S$80.7mn) respectively. Singpost also announced the intended use of the net proceeds: 1) Under its business of eCommerce logistics, it is for purposes such as investments, mergers and acquisitions and the upgrade of the SingPost Group's operations and information technology systems relating to the eCommerce logistics business, 2) The general working capital of the SingPost Group, which was largely used to repay the working capital funding for SingPost Centre Retail Mall construction.
Medtecs International Corp Ltd (MED SP), Top Glove (TOPG SP) shares extended their losses, declining 8% and 8.2% respectively, retreating from their price rally last Friday and Monday where shares gained a total of 72.6% and 42.4% respectively. Shares likely declined on profit-taking.
---
Hong Kong
Top Sector Gainers
Top Sector Losers
China Power International Development Ltd (2380 HK). Shares closed at a 2-month high. There was no company-specific news. CICC maintained the OVERWEIGHT rating with an unchanged TP of HK$4.0. The brokerage firm stated that the two recent disposal of coal-fired power assets showed that the company was transforming into low carbon energy businesses. The recently announced partial disposal of equity interest in the subsidiary was expected to generate RMB170mn profits. Meanwhile, its loan restructure was expected to provide fundings for clean energy business development.  
Weichai Power Co Ltd (2338 HK). Shares closed at a one-month high. Hydrogen power-themed stocks jumped. Sichuan province and Chongqing city announced a plan to deploy 400 hydrogen fuel cell vehicles in two years and 1000 units by 2025, and to build related hydrogen charging stations. Weichai Power has owned related core technologies.  
Li Auto Inc (2015 HK). Shares closed at a high since its IPO on HKEX. The company announced it delivered 13,485 Li ONEs in November 2021, representing a 190.2% year-over-year increase. Total deliveries for the eleven months ended November 30, 2021 reached 76,404, taking cumulative deliveries to 110,001.
Yanzhou Coal Mining Co Ltd (1171 HK). Coal sector jumped. China thermal coal prices rebounded from the plunge on Monday. Previously, The National Development and Reform Commission signalled further regulations for coal prices. 
XPeng Inc (9868 HK). Shares closed at a high since its IPO on HKEX. Previously, it announced 3Q21 results. It delivered 25,666 cars with a 200% YoY growth during 3Q21. Revenue jumped by 187.4% YoY to RMB5.72bn.
Trading Dashboard: Cut loss on Fuyao Glass (3606 HK) at HK$41.5.
---
Trading Dashboard
(Click to enlarge image)
---

---
Related Posts: