18 Nov 2021: Stocks making the biggest moves – BioNTech, Nexteer Automotive, ISDN Holdings and others
Market Movers | Trading Dashboard
Market Movers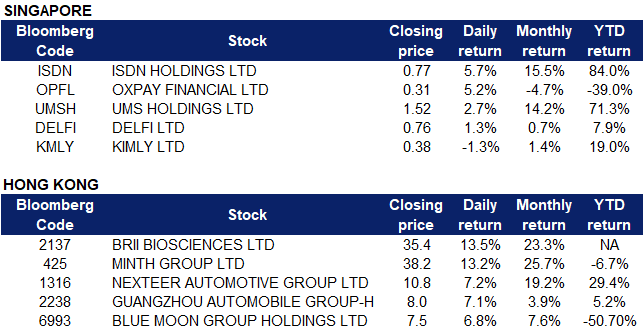 ---
United States
Top Sector Gainers
Top Sector Losers
Visa (V US) shares declined 4.7% after it was announced that Amazon will stop accepting payments made with Visa cards issued in the U.K. effective next year. This follows Visa's decision to raise its interchange fees for transactions between the U.K and the European Union. Additionally, Mastercard (MA US), which previously increased fees for U.K. purchases from the EU as well, saw its shares tumble by as much as 5% on Wednesday.
Shares of COVID-19 vaccines Pfizer (PFE US) and BioNTech (BNTX US) gained 2.6% and 5.4% respectively yesterday. The FDA said it would review Pfizer and BioNTech's request to authorize COVID-19 booster doses of the vaccine in all adults "as expeditiously as possible," with the New York Times reporting that the approval could come as soon as Thursday. 
Lucid Group (LCID US) shares surged 10.3% in premarket trading following the company's statement that it was seeing "significant demand" for its Lucid Air model. The stock then declined 5.4% to close at $52.55 after Morgan Stanley reiterated its underweight rating on the stock, saying that it sees better risk-reward for investors interested in the EV theme with other names such as Tesla, General Motors, Ferrari, FREYR Battery and Aptiv.
---
Singapore
Delfi Limited (DELFI SP) shares climbed 1.3% yesterday after the company posted earnings before interest, taxes, depreciation and amortisation (Ebitda) of US$6.4 million for the third quarter ended September, up 20.8% from US$5.3 million in the same period last year, citing higher gross profit margin and tighter control on operating expenses. Gross profit margin rose to 27% in Q3, from 24.2% a year ago. Revenue rose 4.1% to US$87 million in Q3, from US$83.6 million in the year-ago period, on the back of improvements in Indonesia and regional markets.
ISDN Holdings Ltd (ISDN SP) shares rose another 3.4% yesterday, adding to its 5.7% gain on Tuesday. ISDN announced stellar third quarter results last week, posting a 56.8% rise in net profit to S$8.6mn for 3Q ended Sep 30, 2021. The company also commented that this was the most profitable quarter in its history, with profit margins for the quarter improving to 11.3% from 7.1% a year earlier. In addition, on Monday, CGS-CIMB Research analyst William Tng maintained his BUY call and increased his TP on ISDN from 85 Sing cents to S$1. He highlighted that the improvement in gross profit margin could be due to a tapering off of construction-related revenue for its mini-hydropower plants in Indonesia and an incremental increase in revenue from higher-margin Industry 4.0 software and cloud solutions.
OxPay Financial Ltd (OPFL SP) extended its gains for the second day in a row, adding 1.6% yesterday. We initiated OxPay with an OUTPERFORM recommendation and a TP of 42 Sing Cents based on FY22 EPS. OxPay is well-positioned to benefit from the growing e-commerce trend and the explosive use of e-money with its recent integration of GrabPay and Shopee Pay. Moving forward into FY22, OxPay's appointment as the exclusive payment provider for HIVE Ventures, Thailand's first integrated food ecosystem, is expected to be a significant revenue contributor. OxPay's target market of SMEs, coupled with its highly accredited license, gives it an edge over other competitors in the SME space, with adequate market share for penetration. Read the full report here.
Kimly (KMLY SP) shares lost another 1.3% yesterday. The food court operator said it does not have any plans to appoint new executive directors, following the resignation of former executive chairman Lim Hee Liat and chief executive officer Chia Cher Khiang. Both Lim and Chia previously resigned from their roles after they were charged under the Securities and Futures Act.
UMS Holdings Ltd (UMSH SP) shares rose another 2.7% yesterday, extending its rally after announcing stellar third quarter results last week. The Edge Singapore reported that analysts from DBS Group Research, Maybank Kim Eng and CGS-CIMB Research have all maintained their "buy" or "add" calls on the stock with higher target prices of $1.80, $1.71 and $1.63 respectively.
---
Hong Kong
Top Sector Gainers
Top Sector Losers
Brii Biosciences Ltd (2137 HK). Shares rose 13.5% yesterday, extending its rally to 3 consecutive days. Chinese researchers are rolling out a number of remedies specific for COVID-19 treatment and among the drug producers in China, a neutralizing monoclonal antibody combination therapy is expected to become the first in the country to get approval for market use in December. The combination therapy is co-developed by Tsinghua University, the Third People's Hospital of Shenzhen and Brii Biosciences, a company that has dual headquarters in China and the US. According to Bloomberg consensus, Brii Biosciences currently has a rating of 5 BUYS and 0 HOLD and 0 SELL, with a 12M TP of HK$ 43.50, representing an upside of 22.9% as of yesterday's closing price.
Minth Group Ltd (425 HK). Shares rose 13.2% yesterday after Morgan Stanley released a research report with an OVERWEIGHT rating on Minth Group with a TP of HK$ 44. The bank commented that the stock price has underperformed compared to its peers by 10% to 20% this year. With the improvement of chip shortage and other favorable news, it is expected to catch up. In addition, aluminum price has corrected 15% since the October high, which will also support the continuous recovery of Minth Group's profit margin until 2022. According to Bloomberg consensus, Minth Group currently has a rating of 21 BUYS and 1 HOLD and 0 SELL, with a 12M TP of HK$ 44.81, representing an upside of 17.5% as of yesterday's closing price.
Nexteer Automotive Group Ltd (1316 HK), Guangzhou Automobile Group Co Ltd (2238 HK). Automobile stocks rose collectively yesterday, Shares rose 7.2% and 7.1% respectively. Huatai Securities pointed out that the reduction in production of vehicle companies caused by the shortage of global chip supply is the core reason pressuring industry sales performance in the third quarter. However, chip supply is expected to improve by 20-30% MoM and the gradual alleviation of core shortage has led to the improvement of automobile production and sales, and passenger car production has increased MoM in October.
Blue Moon Group Holdings Ltd (6993 HK). Shares rose 6.8% yesterday. At the end of Double 11, Blue Moon ranked first in sales of Yiqing brands on mainstream e-commerce platforms such as Tmall and JD.com. At the same time, on platforms such as Douyin and Meituan Flash Sale, Blue Moon also won multiple firsts. It is reported that the comprehensive market share of Blue Moon laundry detergent has been ranked first in the domestic market for 12 consecutive years and the hand sanitizer has ranked first in the domestic market for 9 consecutive years.
Trading Dashboard Update: Take profit on Nexteer Automotive (1316 HK) at HK$10.50
---
Trading Dashboard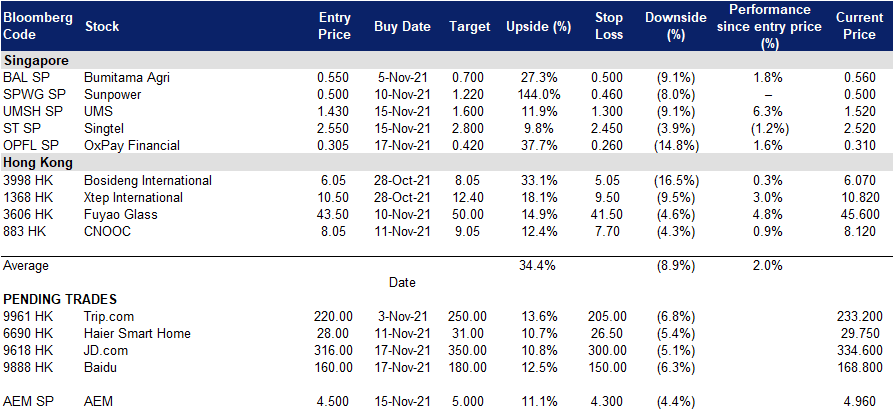 (Click to enlarge image)
---

---
Related Posts: