18 January 2022: Stocks making the biggest moves
Market Movers | Trading Dashboard
Market Movers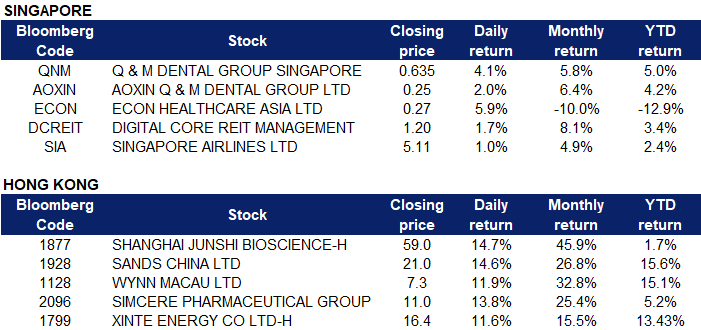 ---
United States
US stock markets are closed on Monday, Jan 17 in observance of Martin Luther King Jr Day. 
Singapore
Q&M Dental Group (QNM SP) and Aoxin Q&M (AOXIN SP) shares climbed 4.1% and 2% respectively after it was announced that Acumen Diagnostics, a subsidiary of Q&M Dental Group and an associated company of Aoxin Q&M Dental Group is is exploring a proposed listing on the Nasdaq stock exchange in New York. The company said that the proposed listing is still at the preparatory and evaluation stage, hence no application has been made to Nasdaq or any other regulatory authority or stock exchange yet, the company said.
Econ Healthcare (ECON SP) shares recovered yesterday, rising 5.9% after the nursing home operator announced that its auditing committee will be undertaking a comprehensive review of its investment policy and related controls and safeguards, which will include strengthening the due diligence process before investments in listed equity securities. The announcement follows news that Econ is expecting a $3.4 million loss from selling off all its 11.8 million shares in Hong Kong listed company Crosstec on 12 January after the stock plunged.
Digital Core Reit (DCREIT SP) units rose 1.7% yesterday. DBS Group Research initiated coverage on the Reit with a "Buy" rating and target price of US$1.40, saying that it sees the Reit benefiting from the rise of the digital economy and emerging trends. DBS Group Research also cited the Reit's stable earnings from fully-occupied data centres, ample headroom for portfolio growth and a "strong commitment" from its sponsor Digital Realty, which will help boost the Reit, making it one of the largest Singapore-listed Reits.
Singapore Airlines (SIA SP) shares climbed more than 2% in early trading yesterday before closing 1% higher. It was announced previously that the company automatically extended its loyalty memberships for a third year with the same reason, "A lack of flying opportunities due to border closures caused by the Covid-19 pandemic." The airline will also give additional benefits to KrisFlyer members who fly on its low cost airline, Scoot, effective February 2022.
---
Hong Kong
Top Sector Gainers
Top Sector Losers
Shanghai Junshi Biosciences Co Ltd (1877 HK) shares jumped 14.7% yesterday. The company reported that Coherus BioSciences, its US partner, will exercise an option to in-license US-Canada rights for Junshi's TIGIT antibody in a $290mn deal. Coherus will pay Junshi $35mn upfront, up to $255mn in milestones, and an 18% royalty on revenues. In early 2021, Coherus acquired US-Canada rights to Tuoyi, Junshi's PD-1 drug, in a $1.1bndeal that included the option. Junshi's Tuoyi was the first China-developed anti-PD-1 antibody approved in China.
Gaming stocks rose collectively yesterday. Sands China Ltd (1928 HK) and Wynn Macau Ltd (1128 HK) shares rose 14.6% and 11.9% respectively yesterday after the world's biggest gambling hub announced changes to its regulations, reducing the uncertainty that has plagued the lucrative sector's six operators. Under a proposed Bill unveiled Friday – all but certain to pass Macau's rubber-stamp legislature – the number of gaming concessions will remain at six. It also plans to increase the proportion of local ownership in casino firms from the current 10% to 15%.
Simcere Pharmaceutical Group Ltd (2096 HK) shares gained 13.8% yesterday. The company announced yesterday that Mr. Zhou Gaobo was appointed as the Chief Investment Officer, responsible for the company's innovative drug investment and cooperation business expansion, new investment platform construction, and strategic planning and practice. In addition, Simcere announced on the 12th that it has independently developed a "synthetic lethal" anti-tumor innovative mechanism for oral protein arginine methyltransferase 5 (PRMT5) inhibitor. The clinical trial application for the treatment of advanced malignant tumours was accepted by the regulatory authority.
Xinte Energy Co Ltd (1799 HK) shares rose 11.6% yesterday, after the company announced that the Group expects to record an unaudited profit attributable to owners of the company of not less than RMB 5bn for the year ended December 31, 2021, while the profit attributable to owners of the company was RMB 695mn in 2020. The expected increase in the Group's profit is mainly due to the increase in the sales volume of polysilicon products in 2021 compared with the same period in 2020, the substantial increase in the sales price of polysilicon products, and the increase in the scale and power generation of the Group's wind power and photovoltaic self-operated power plants.
---
Trading Dashboard
Trading Dashboard Update: No new additions or deletions.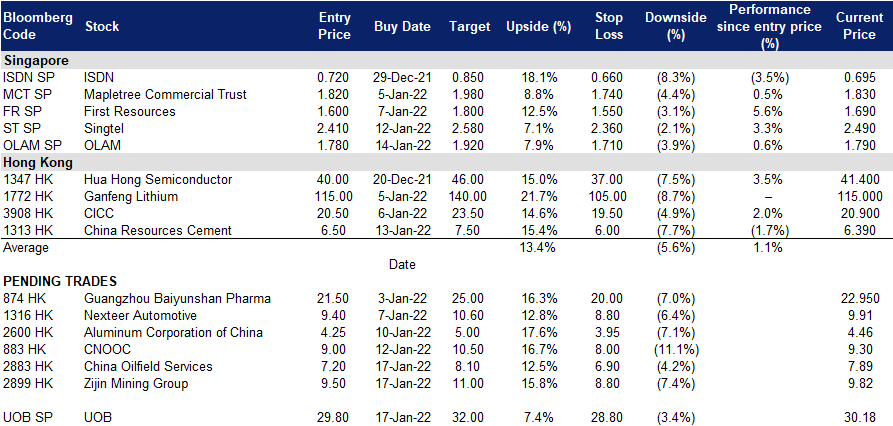 (Click to enlarge image)
---

---
Related Posts: