18 August 2022: Stocks making the biggest moves
Market Movers | Trading Dashboard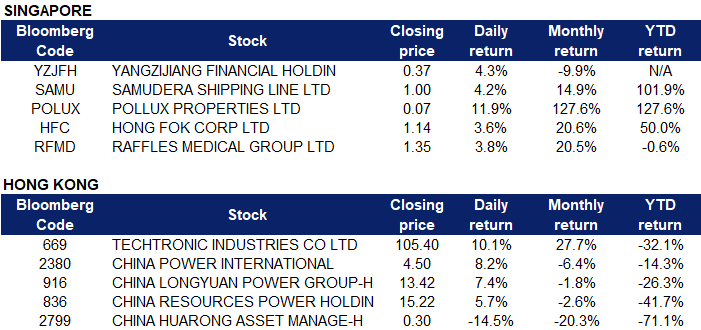 United States
Top Sector Gainers
Top Sector Losers
Bed Bath & Beyond Inc (BBBY US) jumped 11.8% on Wednesday, continuing a torrid August rally for the challenged retailer. The stock has seen abnormally high trading volume and is the most popular topic on Reddit page WallStreetBets.
Target Corp (TGT US) slid 2.7% after its earnings missed Wall Street expectations by a wide margin. The company said its quarterly profit fell almost 90% from a year ago. However, Target reiterated its full-year forecast and said it is now positioned for a rebound.
Krispy Kreme Inc (DNUT US) slid 12.1% after it reported quarterly results that included lower-than-expected profit and revenue. The company also said it has seen significant deceleration in commodity costs in recent weeks.
Weber Inc (WEBR US) dropped 7.2% after Citi downgraded Weber to sell from neutral. The company's weak sales outlook and dwindling cash on hand means that Weber may have to raise additional capital, Citi said.
Teladoc Health Inc (TDOC US) slipped 8.9% after Guggenheim downgraded the company to sell from neutral. The firm said Teladoc's pace of growth is set to slow in a challenging macroeconomic environment with a weakening consumer.

Singapore
Yangzijiang Financial Holding Ltd (YZJFH SP) rose 4.3%, it had posted a share buy-back notice by way of market acquisition. It purchased 8,700,00 shares to be held as treasury shares. The share price averaged between SGD 0.35 and 0.36, with a total purchase price of SGD 3,090,062.87.
Samudera Shipping Line Ltd (SAMU SP) rose 4.2%, following the rise of oil prices on Wednesday (Aug 17), recovering from six-month lows hit the previous day, as a larger-than-expected drop in US oil and gasoline stocks reminded investors that demand remains firm, if overshadowed by the prospect of a global recession. "A drawdown of US gasoline stockpiles for a second straight week has reassured investors that demand is resilient, prompting buys," said Kazuhiko Saito, chief analyst at Fujitomi Securities. "Still, the oil market is expected to stay under pressure, with fairly high volatility, due to worries over a potential global recession," he said.
Pollux Properties Ltd (POLUX SP), Hong Fok Corp Ltd (HFC SP) and Raffles Medical Group Ltd (RFMD SP) gained 11.9%, 3.6% and 3.8% respectively yesterday. Singapore stocks opened higher on Wednesday (Aug 17) after data from Enterprise Singapore showed a 20th straight month of growth for key exports. Pollux Properties was the most actively traded counter in the morning with 4.8 million shares transacted. The counter rose 13.6 per cent or S$0.008 to S$0.067. The Straits Times Index was up 0.1 per cent or 4.02 points to 3,257.81 as at 9.01 am. Gainers outweighed losers 56 to 41 after 34.5 million securities worth S$23.2 million shares changed hands.

Hong Kong
Top Sector Gainers
Top Sector Losers
Techtronic Industries Co Ltd (0669 HK) rose 10.1% yesterday. The National Bureau of Statistics said that in terms of consumption, employment was generally stable and residents' income increased. Under the influence of more precise epidemic prevention and control and consumption promotion policies, household consumption is expected to gradually recover. In particular, the continued development of preferential policies for automobile and home appliance consumption will drive the growth of bulk commodity sales.
Power stocks continued to soar, with China Power International Development Ltd (2380 HK) and China Longyuan Power Group Corp Ltd (0916 HK) rising 8.2% and 7.4% respectively yesterday. The recent high temperature weather has continued to stimulate domestic electricity demand. In the short term, the tight supply and demand pattern will accelerate the implementation of favourable policies for the industry, including Circular 303. Q3 thermal power profitability is expected to usher in a sequential improvement.
China Resources Power Holdings Co Ltd (0836 HK) rose 5.7% yesterday, it announced its interim results at noon. The net profit contribution of the renewable energy business was HK$5.280 billion, compared with HK$4.989 billion in the same period last year and the thermal power business lost HK$2.027 billion. The announcement also stated that in 2022, the Group aims to add 6,300 MW of grid-connected wind power and photovoltaic projects, and a large number of projects will be connected to the grid in the second half of this year.
China Huarong Asset Management Co Ltd (2799 HK) shares plunged 14.5% after the bad debt manager said it expected a net loss of 18.88 billion yuan (S$3.8 billion) in the first half of the year as credit impairments surged. The predicted loss compares with a profit of 158 million yuan the Beijing-based firm reported in the 6 months through Jun 30 last year. Credit impairment losses "increased significantly" in the current period while the firm also booked "significant" realised losses on some equity investments due to market volatility, it said in a filing on Tuesday (Aug 16) without elaborating. The group said the interim results didn't meet expectations "because of the impact of volatility in the capital market and downturn in the real estate market, which was caused by various factors such as the recurrence of the Covid-19 pandemic, and geopolitical conflicts and pressure in the macroeconomy".


Trading Dashboard Update: Add AviChina Industry & Technolog (2357 HK) at HK$4.00.