17 Dec 2021: Geo Energy (GERL SP), Hua Hong Semiconductor Ltd (1347 HK)
Singapore Trading Ideas | Hong Kong Trading Ideas | Market Movers | Trading Dashboard
SINGAPORE
Geo Energy (GERL SP): Joining the 12.12 sale
BUY Entry – 0.33 Target – 0.42 Stop Loss – 0.30
Geo Energy is one of Indonesia's leading coal producers. The company has four mining concessions located in South and East Kalimantan. Geo Energy's two key mines have a total estimated coal reserve of 77 million tonnes, based on a Joint Reserves Committee (JORC) Compliant report as at 31 August 2021, based on the latest IQPR published on 3 December 2021.
12.12 sale. Geo Energy bought back shares for the first time ever. The company acquired 2.3mn shares at a price of between S$0.315 and S$0.320 on 15 Dec 2021. This comes on the heels of the most recent valuation announcement that the combined value for its two mines, SDJ and TBR, are estimated to be at US$726mn as at 31 August 2021. That works out to roughly US$0.51 per share or around S$0.67 per share vs its current share price of S$0.335.
China still needs lots of coal. China, the world's biggest coal miner and consumer, produced 371mn tonnes of coal in November, the highest on record. This is according to the National Bureau of Statistics, which published the data on Wednesday. The record output likely caused traders to cover their short positions on HK-listed coal miners such as Yankuang Energy Group (1171 HK, previously known as Yanzhou Coal Mining), which gained 24% yesterday. Essentially, what this shows is that demand for the dirty fuel remains strong despite all the talk about ESG and going green.
Cash generating machine. We estimate Geo Energy will generate at least US$247mn (S$333mn) of free cash flows in 2021 and 2022, making up 70% of its current market cap of S$475mn. Our estimates are based on US$58/US$50 coal prices and 10.5mn/11.0mn tonnes of coal production in 2021 and 2022, respectively. Our assumptions are conservative given that current ICI4 future prices are trading at around US$63/tonne (after peaking at US$155 in mid-Sep 2021).
We currently have an Outperform and DCF-backed TP of S$0.42 on Geo Energy. Our fair value is based on DFC with a conservative set of assumptions: 1) 13.5% discount rate, 2) six-year mine life up to 2026, and 3) no terminal value. The strong cash flows over the next two years will provide the group options to diversify via acquisitions. The group currently trades at 3x 2021F P/E and 4x FY2022F P/E.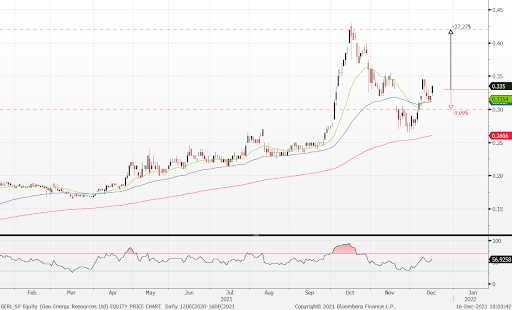 ---
Frencken Group (FRKN SP): A quarter pullback
RE-ITERATE BUY Entry – 1.91 Target – 2.30 Stop Loss – 1.75
FRKN is a technology manufacturer providing end-to-end solutions to global clients including ASML (semiconductor), Philips (medical), Siemens (medical), FEI (analytical), Seagate (industrial automation) and ThermoFisher (analytical).
Share price correction overdone. Shares of FRKN have dropped almost 25% since peaking at S$2.52 in mid-September. We think the selling is overdone given that other Singapore-listed semiconductor stocks such as AEM and UMS have gained between 6-10% over the last month, with AEM even making a new high of S$5.35 yesterday. We acknowledge one key reason for FRKN's share price weakness is due to margin pressure due to higher freight and component costs. However, we expect the pressure to be short-lived as the company adjusts towards higher value added projects.
Largest customer is upbeat for 2022. ASML, FRKN's largest customer, is upbeat on growth in 2022 in both the logic and memory segments of the semiconductor space. ASML expects net sales growth for 2021 to approach 35%.
Consensus estimates are positive. There are 4 BUYS and 1 HOLD and an average TP of S$2.57, implying a 35% potential upside. Valuations are decent at 14x and 12x FY2021 and FY2022 EPS.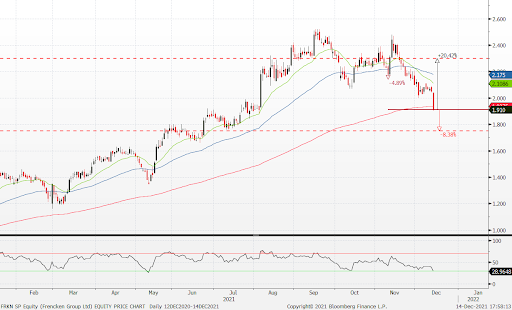 ---
HONG KONG
Hua Hong Semiconductor Ltd (1347 HK): Back to the price support base soon
Buy Entry – 40 Target – 46 Stop Loss – 37
Hua Hong Semiconductor Ltd is an investment holding company engaged in production and sales of semiconductor wafers. The Company produces 200mm and 300mm-wafers. Its products are applied in general microcontroller (MCU), Type-C interface chips, image stabilization chips, touch control chips, and smart meter controller chips. The products also serve Internet of Things (IoT), new energy vehicles, artificial intelligence and other markets. The Company operates its businesses through its subsidiaries.
3Q21 results updates. Revenue reached another new high of US$451.5mn, up 78.5% YoY and 30.4% QoQ.Gross margin was 27.1%, 2.9 ppts over 3Q20 and 2.3 ppts above 2Q21. Net profit attributable to shareholders of the parent company was US$50.8mn, up 187.1% YoY and 15.3% QoQ. Management guidance for FY21 revenue is US$490mn, and GPM is expected to be between 27% and 28%. The company plans to reach a 12-inch monthly production capacity of 95,000 wafers by the end of 2022.
Semiconductor upcycle remains. The supply chain bottleneck is expected to last at least till mid-2022. Insufficient supply of auto chips, graphic cards, and other related chips will continue. Meanwhile, there will be more demand for computing power in the post-COVID era, driven by EV penetration and metaverse development. Sentiment towards the semiconductor sector is bullish.
The updated market consensus of the estimated net profit growth in FY21/22/23 is 89.1%/29.3%/16.7% respectively, which translates to 37.9x/29.3x/25.1x forward PE. The current PE is 41.7x. Bloomberg consensus average 12-month target price is HK$56.75.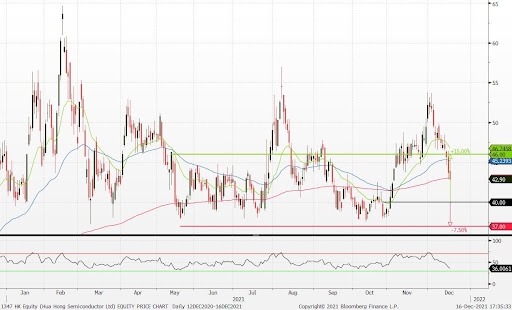 ---
Geely Automobile Holdings Limited (175 HK): Buy at lower bound of the consolidation range
RE-ITERATE Buy Entry – 22 Target – 26.5 Stop Loss – 20
Geely Automobile Holdings Ltd is an investment holding company principally engaged in the production and sales of automobiles. The company mainly develops, manufactures and sells automobiles, including cars, sport utility vehicles (SUVs), new energy and electrified vehicles. The company's car types include home, travel and sports. The company's new energy and electrified vehicles include electric vehicles, battery electric vehicles, hybrid electric vehicles, mild hybrid electric vehicles and plug-in hybrid electric vehicles. In addition, the company produces and sells automobile parts and related automobile components.
Development of auto chips. SiEngine Technology, an automotive electronic chip developer, officially released the automotive chip brand "DragonHawk" and its intelligent cockpit chip "DragonHawk 1". At present, SiEngine Technology mainly has three product lines: Intelligent Cockpit Chips, Automated Driving Chips and Vehicle Central Processing Unit Chips. The release of the 7nm intelligent cockpit chip indicates that Geely has taken the first successful step of core building.
November auto sales volume dipped. Total sales volume of the Group (including the sales volume of LYNK & CO-branded vehicles sold by the Group's 50%-owned joint venture, namely LYNK & CO JV) was 135,869 units, a decrease of approximately 10% YoY, but up approximately 22% MoM. Of the total sales volume in November 2021, 16,161 units were new energy and electrified vehicles , an increase of around 137% YoY and achieving monthly record high for the Group. The Group's exports volume was up approximately 11% YoY to 13,065 units, achieving the highest monthly export sales volume level since October 2013.
Updated market consensus of the EPS growth in FY22/23 is 45.1%/24.6% YoY respectively, which translates to 26.4x/18.2x forward PE. Current PER is 34.1x. Bloomberg consensus average 12-month target price is HK$33.41.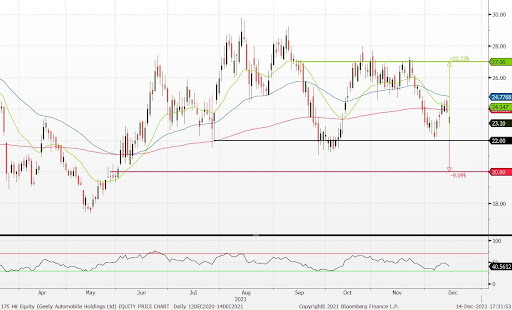 ---
Market Movers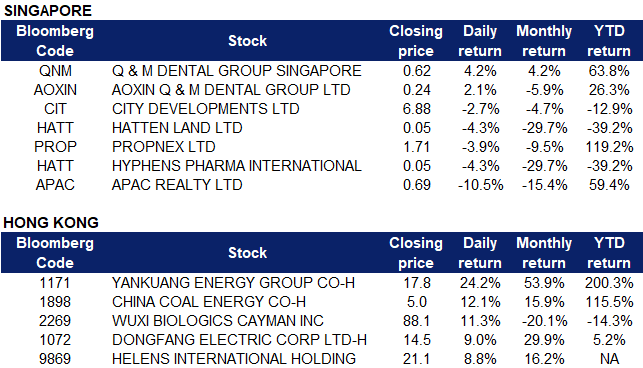 ---
United States
Top Sector Gainers
Top Sector Losers
Rivian Automotive (RIVN US) shares declined 8.8% in after hours trading after reporting its first quarterly results as a public company. The EV startup said it will be "a few hundred vehicles short" of its goal to produce 1,200 units by the end of the year, adding that it had a net loss of $1.23 billion in the third quarter, or an adjusted net loss of $776 million. The company also said that reservations for its electric pickup and SUV increased 28% and announced plans to build a new vehicle assembly plant in Georgia.
Affirm Holdings (AFRM US) shares slid as much as 15% before closing 10.6% as regulators began to look deeper into the BNPL space. The Consumer Financial Protection Bureau (CFPB) had previously asked the company, along with several others, to provide information on the BNPL loans they were issuing, so that it can report to the public about industry practices and risks.. "Buy now, pay later is the new version of the old layaway plan, but with modern, faster twists where the consumer gets the product immediately but gets the debt immediately, too," CFPB Director Rohit Chopra said in a statement.
Novavax (NVAX US) shares jumped 8.6% yesterday after the company announced that its partner, Takeda Pharmaceutical (TAK US), has filed for approval of Novavax's COVID-19 vaccine in Japan. The Japanese government has committed to purchasing 150 million doses of NVX-CoV2373 (TAK-019 in Japan) if it wins approval. The two companies are looking to begin distribution early next year if the vaccine is approved.
Accenture (ACN US) shares jumped 6.7% in premarket trading after it reported its earnings for the fiscal first quarter of 2022. Revenue was at $15 billion, compared to analyst expectations of $12.6 billion, and earnings per share was at $2.78 compared to $2.36 expectations. Accenture also said it thinks revenue will rise only 19% – 22% this year, with earnings ranging from $10.32 to $10.60, and positive free cash flow (FCF) of $7.7 billion to $8.2 billion.
Pfizer (PFE US) and BioNTech (BNTX US) filed for full approval of their COVID-19 vaccine with the U.S. Food and Drug Administration to include adolescents aged 12 to 15. The company is seeking clearance for a 30 micrograms dose of the vaccine for those aged 12 and above. Pfizer/BioNTech's vaccine is the only one authorized for the given age group in the U.S. Pfizer said it expects to file for approval with the European Medicines Agency and other regulatory authorities around the world in the coming weeks. Pfizer shares jumped 4.2% while BioNTech shares lost 1.2%.
---
Singapore
Property stocks dropped yesterday after the government announced new measures to cool the housing market on Wednesday evening. From 16 December, the government will raise additional buyer's stamp duty (ABSD) rates and tighten the total debt servicing ratio (TDSR) threshold. The Ministry of Finance, Ministry of National Development and Monetary Authority of Singapore said in a joint statement that "if left unchecked, prices could run ahead of economic fundamentals, and raise the risk of a destabilising correction later on. Borrowers would also be vulnerable to a possible rise in interest rates in the coming years." Shares of City Developments Limited (CIT SP), Propnex (PROP SP) and APAC Realty (APAC SP) declined 2.7%, 4% and 10.5% respectively.
Department store operator Isetan (ISET SP) saw its stock plunge 10.4% after it announced that it had not gathered enough interest from investors to purchase its space at the Wisma Atria shopping mall on Orchard Road. Isetan had started gathering expressions of interest from target investors for the property since July, but the exercise has since "run its course without yielding a positive outcome for the matter to proceed further at this juncture".
Hatten Land (HATT SP) shares lost 4.3% yesterday, likely on profit taking. It previously announced that it is seeking the approval from shareholders to diversify its property business to include renewable energy, physical-digital malls, cryptocurrency mining and the metaverse. With shareholders' approval, the group will invest, acquire, purchase or dispose of assets, investments, shares or interests that are in line with these new businesses. Hatten Land will hold its EGM on 30 December at 10:30am.
Shares of Q&M Dental (QNM SP) and Aoxin Q&M Dental Group (AOXIN SP) jumped 4.2% and 2.1% respectively yesterday after it was announced that the Ministry of Health (MOH) has granted Acumen Diagnostics (51:49 owned by the companies respectively) a licence to provide swabbing and COVID-19 PCR test services.
---
Hong Kong
Top Sector Gainers
Top Sector Losers
Yankuang Energy Group Co Ltd (1171 HK), China Coal Energy Co Ltd (1898 HK). Coal sector shares rose collectively yesterday. Shares rose 24.2% and 12.1% respectively. China's coal output hit a record high in November as Beijing urged miners to ramp up production to ensure sufficient energy supplies in the winter heating season. That compares to a previous record of 357.09mn tonnes set in October and was up 4.6% from the same period last year. Meanwhile, the National Development and Reform Commission, China's top economic planner, released a plan to raise annual thermal coal prices for 2022 to RMB 700 per ton from 2017's RMB 535 per ton, well above an informal ceiling of RMB 600.
WuXi Biologics (Cayman) Inc (2269 HK) shares rebounded 11.3% yesterday after plunging 19.2% the day before. The decline came after the Financial Times reported that the U.S. Commerce Department on Thursday is expected to place some Chinese companies involved in biotechnology on its entity sanction list, which is designed to limit access to key U.S. exports. Yesterday, WuXi Biologics stated that as of the date of this announcement, the company is not aware of any changes in the regulatory system that may have a significant adverse impact on business operations. In addition, the board of directors decided to repurchase shares on the open market from time to time for a total price of not more than US$ 500mn in an attempt to regain investors' confidence.
Dongfang Electric Corp Ltd (1072 HK) shares rose 9% yesterday. The company announced recently that it has signed a strategic cooperation agreement with the People's Government of Shandong Province in Jinan. According to the cooperation agreement, the two parties will carry out all-round and in-depth cooperation in wind power, nuclear energy, and ocean management to promote high-quality development. Dongfang Electric is also actively deploying high-end energy equipment industry in Shandong Province, and has successively built large-scale wind turbine blades and motors in Yantai and Dezhou.
Helens International Holdings Co Ltd (9869 HK) shares rose 8.8% yesterday after Shen Wan Hongyuan issued a research report giving Helens International a BUY rating with a TP of HK$21.8. According to the report, the company is positioned as a cost-effective offline leisure space, providing young consumers with a combination of high-quality and cost-effective products, as well as a comfortable and pleasant social space. The compound growth rate of the company's revenue and adjusted net profit from 2017 to 2020 was 167% and 164%, respectively. With an excellent single-store model and standardised operation management, the bank believes that the company will expand rapidly, and the number of pubs at the end of 2023 will increase to about 2281, which is about 6.5 times that of 351 at the end of 2020.
---
Trading Dashboard
Trading Dashboard Update: Added Geely Automobile (175 HK) at HK$22. Cut loss on Wilmar (WIL SP) at S$4.11.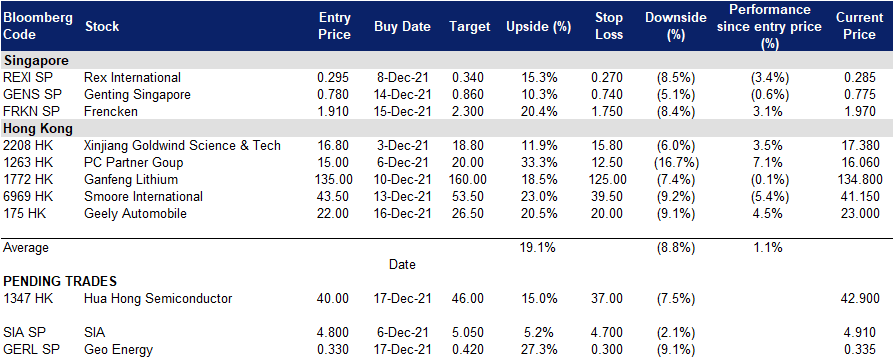 (Click to enlarge image)
---

---
Related Posts: