17 March 2022: Stocks making the biggest moves
Market Movers | Trading Dashboard
Market Movers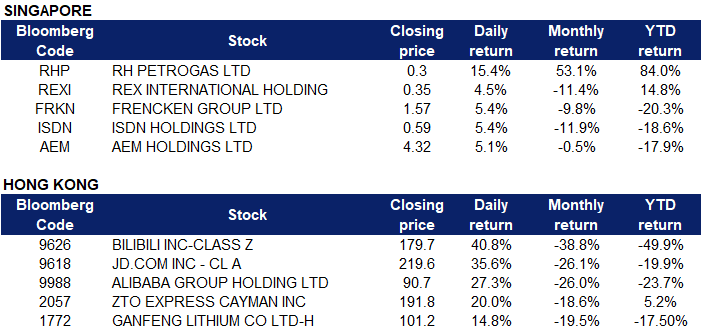 ---
United States
Top Sector Gainers
Top Sector Losers
Alibaba Group Holding Ltd (BABA US), JD.com (JD US). Shares of Chinese companies listed publicly in the U.S. surged as Beijing signalled support for the stocks. The Chinese government said it supports the listing of businesses overseas and that its crackdown on technology companies should end soon, according to Chinese state media.
Micron Technology (MU US) shares gained 9% yesterday after investment firm Bernstein upgraded the semiconductor maker, noting that while macro issues have caused a sell-off in tech stocks, the dynamic random access memory market is expected to "bottom" in the next couple of quarters. Analyst Mark Li raised his rating to outperform from underperform and boosted his target price to $94, up from $58, noting that the Russian invasion of Ukraine is not expected to cause a "notable" disruption in supply or hurt demand and even with the current oversupply in the DRAM market, it's likely to balance out in the next quarter or two and prices will rebound. Last month, Citigroup reiterated its buy rating on Micron (MU), noting that dynamic random access memory pricing could be higher in the second half of the year.
Starbucks Corporation (SBUX US) shares rose 5.2% yesterday after the coffee giant announced CEO Kevin Johnson's retirement following five years on the job and said that Howard Schultz will return as interim CEO. JPMorgan analysts also upgraded Starbucks to overweight and said its shares could rally 22% despite recent China restrictions.
Nvidia Corporation (NVDA US) shares gained 6.6% yesterday. Analysts at Wells Fargo added Nvidia to their "signature picks" list, saying the stock's recent tumble has created an attractive risk/reward profile. Wells Fargo also expects upbeat announcements at Nvidia's upcoming investor day.
---
Singapore
RH Petrogas Ltd (RHP SP) and Rex International Holding Ltd (REXI SP) shares rose 15.4% and respectively 4.5% yesterday. WTI crude futures stabilised around $97 per barrel on Wednesday, while Brent crude futures steadied near $100 per barrel, after a two-day selloff that saw both benchmarks settle below $100 for the first time since late February and early March respectively. Diplomatic efforts between Russia and Ukraine showed every intention of continuing and Ukrainian President Volodymyr Zelensky said in a video address on Wednesday that the positions of both sides at the peace talks were sounding more realistic but more time was needed.
Semicon sector shares, Frencken (FRKN SP), ISDN Holdings (ISDN SP) and AEM (AEM SP) gained 5.4%, 5,4% and 5,1% respectively. There was no specific news, but the rebound was likely in tandem with US-listed semicon stocks the day before and the overall relief rally throughout markets. Stock futures rose Wednesday as traders tried to build on the sharp gains from the previous session, while Wall Street awaited the Federal Reserve's latest monetary policy decision. Investors are expecting the U.S. central bank to raise interest rates for the first time in three years by at least 25 basis points amid surging prices. Traders will also be closely watching the Fed for details on how it plans to end its bond-buying program. In addition, Diplomatic efforts between Russia and Ukraine showed every intention of continuing, injecting some positivity amidst a bearish market.
---
Hong Kong
Top Sector Gainers
Top Sector Losers
Sector
Loss
Related News
Toys
-0.52%
NA
Pop Mart International Group Ltd (9992 HK)
Bilibili (9626 HK), JD.com Inc (9618 HK), Alibaba Group Holding Ltd (9988 HK). Chinese tech stocks in Hong Kong saw big gains, after a Chinese state media report signalled support for Chinese stocks. US and Chinese regulators are progressing toward a cooperation plan on US-listed Chinese stocks, the report said, citing a financial stability meeting Wednesday chaired by Vice Premier Liu He. The report said Beijing supported Chinese stock listings overseas, and would work towards stability in Hong Kong's financial market as well as the struggling real estate sector. Hong Kong's Hang Seng index closed 9.08% higher at 20,087.50, while the Hang Seng Tech index surged 22.2% to 4,243.39.
ZTO Express (Cayman) Inc (2057 HK) shares surged 20% yesterday, as some institutions commented that they are optimistic about the company's full year performance and that the current share price is seriously undervalued. Since January 12, affected by multiple factors such as war, rising oil prices, and U.S. policies, the ZTO's share price has fallen by more than 30%. Guohai Securities pointed out that the company is currently at a historically low level and is undervalued, maintaining a "buy" rating. As a leader in e-commerce express delivery, ZTO will benefit from industry dividends. The bank is optimistic about ZTO's performance in 2021Q4 and 2022.
Ganfeng Lithium Co Ltd (1772 HK) shares rose 14.8% yesterday, after Morgan Stanley released a research report which gave Ganfeng Lithium an "overweight" rating with a target price of HK$199. Recently, the company announced positive earnings for FY2021 and for the first two months of this year. The bank believes that the performance of the company is encouraging, and the continued increase in prices will support earnings growth. Although production and shipments usually decline during the Lunar New Year period in February, the monthly average, however, delivered sequential earnings improvements, with continued price increases expected to support earnings growth.
---
Trading Dashboard
Trading Dashboard Update: No additions or deletions to trading dashboard.

(Click to enlarge image)
---

---
Related Posts: