16 August 2022: Stocks making the biggest moves
Market Movers | Trading Dashboard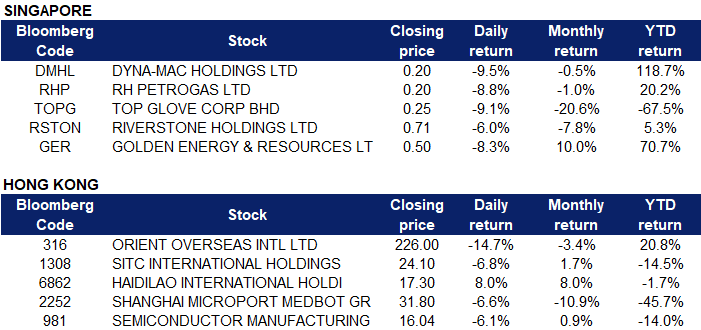 United States
Top Sector Gainers
Top Sector Losers
Walt Disney Co/The (DIS US) gained 2.2% after Daniel Loeb's Third Point took a new stake in the giant. In a letter to Disney CEO Bob Chapek, the activist investor said there is a strong case that sports network ESPN should be spun off. Loeb also called on Disney to accelerate integrating streamer Hulu.
Poshmark Inc (POSH US) jumped 17.5% after Barclays upgraded them to overweight from equal weight. The firm said it sees more than 40% potential upside for the stock, especially if consumers trade down in a recession.
Unity Software Inc (U US) fell 7.1% after the company announced that it was rejecting an unsolicited takeover offer from AppLovin. As part of the decision, Unity is continuing with its previously announced acquisition of ironSource. Shares of AppLovin Corp (APP US) dropped 7.6%.
Bed Bath & Beyond Inc (BBBY US) spiked 23.6% amid a continued meme stock trading frenzy that lifted shares of the retailer. So far in August, the stock is up nearly 180%.

Singapore
Dyna-Mac Holdings Ltd (DMHL SP) and RH PetroGas Ltd (RHP SP) fell 9.5% and 8.8% respectively yesterday. Oil prices dropped for a second session on Monday as weak China economic data triggered concerns about demand at the world's largest crude importer while the head of the world's top exporter, Saudi Aramco, said it was ready to ramp up output.
Top Glove Corp Bhd (TOPG SP) and Riverstone Holdings Ltd (RSTON SP) fell 9.1% and 6.0% respectively yesterday. Riverstone Holdings on Thursday (Aug 11) reported earnings of RM208.9 million (S$64.3 million) for the first half ended June, sinking 79.9 per cent from RM1.04 billion in the year-ago period. H1 revenue fell per cent to RM754.3 million, compared to RM2.02 billion in the corresponding 6-month period last year. Riverstone executive chairman and chief executive Wong Teek Son said: "The extensive investment in production expansion from the investments made by the market and new players during the Covid-19 peaks has resulted in a current oversupply of gloves and inventory." Additionally, the Malaysian Rubber Glove Manufacturers Association has lowered its projected global demand for rubber gloves for 2022 by 12 percent, confirming "the short-term challenges of the industry in Malaysia".
Golden Energy & Resources Ltd (GER SP) fell 8.3% yesterday. For Indonesia, a major commodities exporter, its growth momentum is likely to slow in the second half of the year as key commodity export prices undergo a correction. Other commodity prices like palm oil and metals have declined significantly since the year started. Senior economist at RHB Bank Barnabas Gan thinks that with growing inflation concerns and risks of a global economic slowdown, the commodity price correction may spill over to the energy space in 2023 and drag overall growth and exports in Indonesia. Further, higher inflation in H2 — estimated at 4.15 percent amid policy rate hikes to 4 percent by year-end — could dissuade consumer expenditure.

Hong Kong
Top Sector Gainers
Top Sector Losers
Shipping stocks tumbled across the board, Orient Overseas International Ltd (0316 HK) and SITC International Holdings Co Ltd (1308 HK) fell 14.7% and 6.8% respectively yesterday. Huatai Securities said that the risk of economic recession in Europe and the United States has a direct impact on the demand for container shipping. Since the beginning of this year, the freight rate of container shipping has shown a weakening trend. Looking forward to the second half of the year and 2023, the freight rate may maintain a downward trend, but remain above the pre-epidemic level. Additionally, the Baltic Dry Index fell to a new six-month low on Friday and fell for the fourth consecutive week as shipping rates fell. The overall index, which takes into account the rate of capesize, panamax and very large carriers, fell 79 points, or 5.1%, to 1,477, after falling 5.3% last week.
Haidilao International Holding Ltd (6862 HK) shares rose 8.0% yesterday. It issued a profit warning, with an estimated net loss of about 225 million to 297 million yuan. The expected loss is mainly due to the closure of some stores under the "Woodpecker Plan" and the impact of the new crown epidemic in the first half of 2022, resulting in one-off losses and impairment losses on the disposal of long-term assets, totaling approximately RMB 255 million to RMB 327 million. The performance of Haidilao's stock price shows that the market sentiment is optimistic. Haidilao's performance in the first half of the year was better than expected, and the operating level achieved meagre profits. With the gradual easing of the epidemic, the operating performance of restaurants in mainland China and other regions has improved significantly month-on-month since June 2022.
Shanghai MicroPort MedBot Group Co Ltd (2252 HK) shares fell 6.6% yesterday. The company announced on Friday evening that a board meeting would be held on August 26 to approve and release its interim results.
Semiconductor Manufacturing International Corp (0981 HK) shares fell 6.1% yesterday. Chinese chip maker Semiconductor Manufacturing International Corp on Friday reported a 42 per cent jump in second-quarter revenue but also said the sector was facing some "panic and uncertainty". A slowdown in demand for smartphones in particular has driven down prices for certain chips, co-CEO Zhao Haijun told investors on an earnings call. His remarks echo comments from other chip companies which have warned that a weakening global economy and a re-balancing of supply and demand might soon lead to a glut for some types of semiconductors.


Trading Dashboard Update: Take profit on Samsonite International (1910 HK) at HK$18.0.