15 September 2022: Stocks making the biggest moves
Market Movers | Trading Dashboard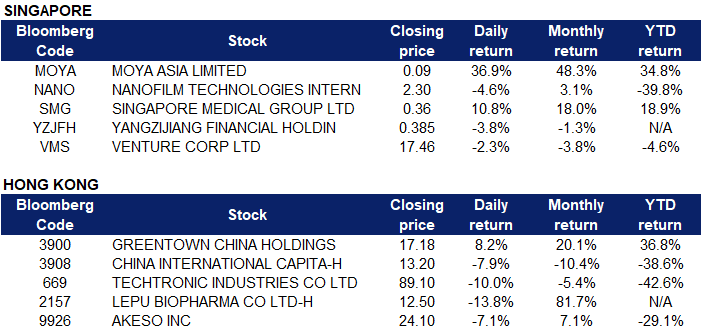 United States
Top Sector Gainers
Top Sector Losers
Starbucks Corp (SBUX US) jumped 5.5% after the coffee chain raised its long-term financial forecast on Tuesday, and said it expects double-digit growth for revenue and per-share earnings as it makes changes to its cafes.
Nikola Corp (NKLA US) leapt 6.8% after BTIG upgraded shares to buy from neutral, saying the electric vehicle company is "well positioned" to get a boost from truck decarbonization.
Nucor Corp (NUE US) tumbled 11.3% after the steel producer issued disappointing guidance for its third quarter, saying that it expects earnings to be in the range of $6.30 to $6.40 per diluted share.
Twilio Inc (TWLO US) rose 10.0% after the company said it's laying off 11% of its workforce, according to a filing with the Securities and Exchange Commission. The cloud communications software company, which is aiming to reach profitability by 2023, said the layoffs are part of a broader restructuring plan to improve operating margins, reduce operating costs and create a better selling capacity.
Moderna Inc (MRNA US) spiked 6.2% after CEO Stéphane Bancel said the company is open to supplying Covid-19 vaccines to China, according to a Reuters report.

Singapore
Moya Holdings Asia Ltd (MOYA SP) rose 36.9% yesterday. Indonesian water treatment operator Moya Holdings Asia announced on Wednesday (Sep 14) plans to take the company private through a voluntary cash offer from Tamaris Infrastructure, a majority shareholder of the company, at the price of S$0.092 per share. As at the date of announcement, the offeror holds about 72.8 per cent of shares in Moya. To delist, the company must obtain approval from at least 75 per cent of the total number of issued shares and have its delisting resolution approved by shareholders at its extraordinary general meeting. Moya said the privatisation offer would provide an opportunity for shareholders to realise their investments amid low trading liquidity, allow for greater management flexibility and save costs on maintaining its listed status.
Nanofilm Technologies International Ltd (NANO SP) fell 4.6% yesterday. There was no company specific news. Asian markets opened lower on Wednesday, tracking losses in the United States and Europe after traders responded negatively to higher-than-expected US inflation data, raising fears of a prolonged period of interest rate hikes.
Singapore Medical Group Ltd (SMG SP) rose 10.8% yesterday. On Sep 13, key insiders of Singapore Medical Group offered 37 cents per share to privatise the company. The offerors include Tony Tan Choon Keat, SMG's chairman, Dr Beng Teck Liang, SMG's CEO and executive director Dr Wong Seng Weng. These three individuals and a group of other shareholders with a combined stake of 51.67% have committed to sell their stakes to the privatisation vehicle. The 37 cents offer is a premium of 18.1% over the one-month VWAP of shares traded on the SGX. According to the offerors, the cash consideration provides SMG's shareholders with a "clean" opportunity to realise their investment into the company.
Yangzijiang Financial Holding Ltd (YZJFH SP) tumbled 3.8% yesterday. There was no company specific news. Singapore shares declined sharply at Wednesday's (Sep 14) open after stronger-than-expected US inflation data triggered Wall Street sell offs overnight. The Straits Times Index (STI) shed 0.97 percent to 3,290.08. Losers outnumbered gainers 159 to 19 after 84.4 million securities worth S$94.5 million changed hands.
Venture Corp Ltd (VMS SP) declined 2.3% yesterday. There was no company specific news. Asian stocks fell as hotter-than-expected US inflation data fueled bets on outsized interest rate increases by the Federal Reserve. The MSCI Asia Pacific Index slumped as much as 2.3% Wednesday, the most in two weeks, following the steepest drop in US shares in more than two years

Hong Kong
Top Sector Gainers
Top Sector Losers
Greentown China Holdings Ltd (3900 HK) rose 8.2% yesterday. According to the research report of Galaxy Securities, a greater degree of substantive easing of policies is already on the way, there is still room for housing loan interest rates to fall, the scope of demand-side policy interpretation has expanded, financial support and joint efforts of all parties to resolve risks are being conceived, and the industry situation in the second half of the year will improve. With the proportion of high-quality land plots in the land auction market increasing, and the premium rate at a historically low level. In the medium and long term, the favourable environment of the land market will promote the profitability of strong credit housing companies to stabilise first.
China International Capital Corp Ltd (3908 HK) fell 7.9% yesterday. Bank of America Securities released a research report saying that it maintained a "buy" rating on CICC with a target price of HK$24.5. The company proposed a simultaneous rights issue of A and H, raising a total of 27 billion yuan, with 3 shares for every 10 shares, of which 24 billion yuan will be used to support the capital needs of business development, and the rest for daily operations. The bank said that the company has seen rapid growth in capital-intensive businesses such as derivatives since 2019, so that it believes that CICC needs capital. As of the end of June, the company's capital and liquidity ratios were well above regulatory requirements, but still at the low end compared to their peers, recognizing that the company should be better prepared in a weak market than running short of funds in a bull market.
Techtronic Industries Co Ltd (0669 HK) continued to decline 10.0% yesterday. Overnight, the company's core channel provider and largest customer Home Depot closed down 6.6%. CICC pointed out that in this round of interest rate hike cycle, it is impossible to simply judge the potential trend of the power tool industry due to the endogenous health of the real estate industry. It is expected that the industry will perform flat in the next year.
Lepu Biopharma Co Ltd (2157 HK) and Akeso Inc (9926 HK) fell 13.8% and 7.1% respectively yesterday. President Joe Biden launched a new initiative to encourage biotech production and research in the U.S., the latest move by the White House to boost domestic industry. Biden on Monday signed an executive order implementing the initiative and later, in remarks at the John F. Kennedy Presidential Library in Boston, will address how biotech can help fight cancer. The official said that the administration was aiming to expand domestic biomanufacturing capacity and that other countries, especially China, have been aggressively investing in the sector, posing risks to U.S. leadership and competitiveness.


Trading Dashboard Update: Add Singtel (ST SP) at S$2.68, Genting Singapore (GENS SP) at S$0.78, and RH Petrogas (RHP SP) at S$0.195.