15 March 2022: Stocks making the biggest moves
Market Movers | Trading Dashboard
Market Movers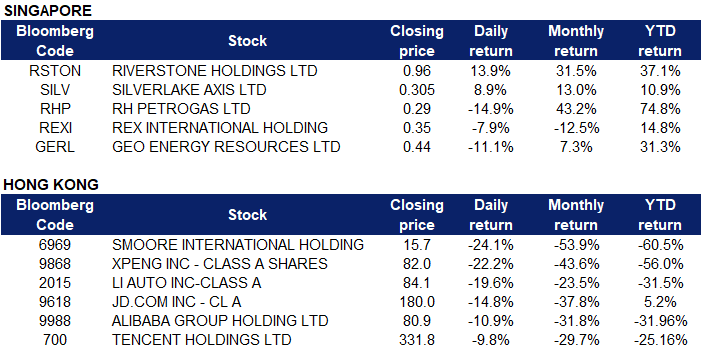 ---
United States
Top Sector Gainers
Top Sector Losers
Nielson Holdings Plc (NLSN US) shares jumped 30.5% yesterday after The Wall Street Journal reported earlier Monday that a group of private-equity firms including Elliott Management Corp. are in advanced talks to buy the TV-ratings company for about $15 billion including debt. Financing talks with a number of banks are progressing and a takeover deal could be completed within weeks though there is no guarantee there will be a deal, The Journal reported.
Alibaba Holding Ltd (BABA US) and JD.com Inc (JD US) shares fell 10.3% and 10.5% respectively yesterday as investors reassess their positions amid renewed delisting fears. Last week, the Securities and Exchange Commission identified five U.S.-listed American depositary receipts of Chinese companies that failed to comply with the Holding Foreign Companies Accountable Act, which led some Chinese companies' stocks to fall. ADRs are shares of non-U.S. firms traded on U.S. exchanges. JPMorgan Chase analysts downgraded JD.com, Alibaba and Pinduoduo to underweight on Monday amid the sell-off. In addition, some investors are also beginning to weigh the implications of possible Chinese involvement in the war in Ukraine after several news outlets, including the Financial Times, reported that U.S. officials said Russia may have asked China for military help.
Occidental Petroleum Corporation (OXY US) and Marathon Oil Corporation (MRO US) shares lost 4.1% and 4.3% respectively yesterday. WTI crude futures tumbled over 8% to as low as $100.5 per barrel on Monday, while Brent crude futures tumbled nearly 8% to as low as $104.2 per barrel on Monday, on hopes for a diplomatic solution to the Russia-Ukraine war while the reimposition of fresh lockdowns in China clouded the outlook for demand. Ukraine and Russia resumed talks on Monday even as Moscow intensified fighting in Kyiv overnight, providing some relief from supply concerns that have kept oil prices at multi-year highs. In addition to the bearish tone were surging coronavirus cases in China, which already led to new lockdowns and raised fears about slowing demand from the world's largest crude oil importer.
---
Singapore
Riverstone Holdings Ltd (RSTON SP) shares extended their gains and rose 13.9% yesterday. Recently, RHB upgraded Riverstone to "neutral" from "sell" and raised its target price to S$0.74 from S$0.65, while noting that the glove maker's current valuation is fair. Riverstone is trading at 16 times the brokerage's estimates for FY2023 earnings, in line with its historical average and pre-pandemic 5-year mean, RHB said in a research note. Meanwhile, DBS Group Research has lowered its target price on the counter to S$0.97 from S$1.20, after cutting its FY2022 and FY2023 earnings forecast by 31 per cent and 16 per cent respectively.
Silverlake Axis Ltd (SILV SP) shares rose 8.9% yesterday after announcing that it is offering to buy back up to 242.4 million shares – representing around 9.1% of the total number of its shares in issue – at S$0.33 each in cash, as part of an off-market equal access offer. The buyback will enhance shareholders' value as it reduces the number of shares in circulation, hence raising the earnings per share of the company, it said in a bourse filing on Monday (Mar 14).
RH Petrogas Ltd (RHP SP) and Rex International Holding Ltd (REXI SP) shares extended their losses and declined 14.9% and 7.9% yesterday. WTI crude futures fell about 3% to $106 per barrel on Monday, while Brent crude futures fell about 3% to $109 per barrel on Monday, extending last week's decline on hopes for a diplomatic solution to the Russia-Ukraine war even as fighting raged on. US Deputy Secretary of State Wendy Sherman said Sunday Russia is showing signs it might be willing to have substantive negotiations over Ukraine, ahead of the resumption of talks between the warring nations on Monday.
Geo Energy Resources Ltd (GERL SP) shares lost 11.1% yesterday. Coal corrected to below $400 per tonne, moving away from a record high of $425 hit in the previous session as prices of other energy commodities stabilised. Still, coal cost is expected to remain elevated on fears of further supply-chain disruptions and low inventories. Mounting sanctions on Russia for invading Ukraine led to an international energy crunch and exacerbated concerns about an already tight market. On top of that, limited access to European ports led to a rush by utilities in Asia and Europe to find alternative suppliers, such as Australia.
---
Hong Kong
Top Sector Gainers
| | | |
| --- | --- | --- |
| Sector | Gain | Related News |
| Dairy Products | +7.06% | NAYashili International Holdings Ltd (1230 HK) |
Top Sector Losers
Smoore International Holdings Ltd (6969 HK) shares plunged 24.1% yesterday, after it was announced that China is considering banning flavoured e-cigarettes over concerns about vaping by teens and children. A draft listing Chinese national standards for e-cigarettes was published on Friday. It underlined the importance of reducing the appeal of e-cigarettes to the underage, stating: "Flavours other than tobacco taste shall not be offered in products."
Xpeng Inc (9868 HK) and Li Auto Inc (2015 HK) shares tumbled 22.2% and 19.6% respectively yesterday. According to the news, new energy vehicle companies have recently raised prices due to factors such as rising raw material prices. As a result, some low-end models (A00 class) with meagre profits stopped accepting orders.
JD.com Inc (9618 HK) and Alibaba Group Holding Ltd (9988 HK) shares extended their losses and declined 14.8% and 10.9% yesterday as Chinese companies faced renewed regulatory risks in the US. The Securities and Exchange Commission last week named five Chinese companies that could face delisting under a Trump-era law that aims to scrutinise firms with potential ties to foreign governments or the Chinese Communist Party. The companies have three years to comply and turn over the information.
Tencent Holdings Ltd (700 HK) shares lost 9.8% yesterday after it was announced that the Chinese technology giant is facing a potential record fine for violations of some central bank regulations by its WeChat Pay mobile network, as Beijing toughens its regulations for fintech platforms, according to people familiar with the matter. Financial regulators recently discovered that WeChat Pay had flouted China's anti-money-laundering rules and had lapses in compliance with "know your customer" and "know your business" regulations, among other things, some of the people said. Tencent's ubiquitous mobile payments network was also found to have allowed the transfer and laundering of funds with illicit transactions such as gambling, the people added.
---
Trading Dashboard
Trading Dashboard Update: Cut loss on Mermaid Maritime (MMT SP) at S$0.075, Alibaba (9988 HK) at HK$90; Add Ganfeng Lithium at HK$90.

(Click to enlarge image)
---

---
Related Posts: