15 February 2022: Stocks making the biggest moves
Market Movers | Trading Dashboard
Market Movers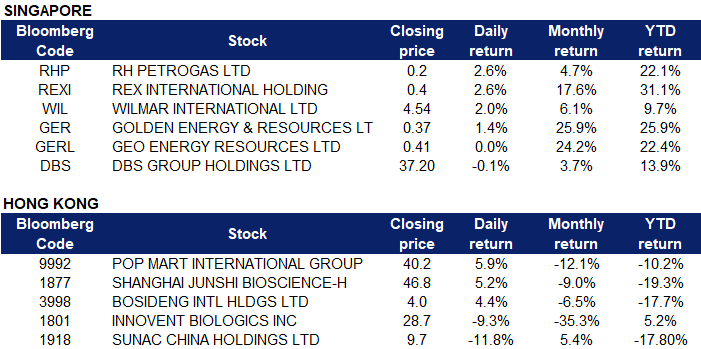 ---
United States
Top Sector Gainers
Top Sector Losers
Expedia Group Inc (EXPE US) Las Vegas Sands Corp (LVS US) Casino operator Las Vegas Sands Corp. and online travel booking platform Expedia Group Inc. posted the biggest S&P 500 gains on Monday as concerns over an imminent invasion of the Ukraine eased and Covid-19 continued its retreat. Last Friday, Expedia reported adjusted earnings of $1.06 a share on revenue of $2.3 billion. Analysts expected Expedia to report earnings of 60 cents a share on revenue of $2.3 billion.
Newell Brands Inc (NWL US) Shares continued the upward momentum starting from last Friday when it reported its 4Q21 earnings. Net sales were $2.8 billion, an increase of 4.3% compared with the prior year period, during which the company experienced elevated demand across many of its categories. In addition, six of eight business units and every major region increased core sales compared with the prior year period. Chris Peterson, Chief Financial Officer and President, Business Operations said that effective cost management, decisive actions to mitigate the impact of inflation, and stronger top line drove upside to expectations on operating profit.
Occidental Petroleum Corp (OXY US) Although both Brent and WTI edged up, oil counters pulled back. There was no company-specific news. The fall could be due to profit-taking movements after the stock reached a 52-week high last Friday.
Moderna Inc (MRNA US) Shares gained downside momentum after the FDA postponed a meeting on the authorization of Pfizer/BioNTech vaccine for children aged from six months to 5 years.
---
Singapore
Rex International (REXI SP) and RH PetroGas (RHP SP) both gained between 3% and 4% on Monday after oil prices extended their rally over concerns of escalating tensions between Russia and Ukraine. WTI continued on its eight weekly gains to trade near US$95 a barrel. Oil markets have been in severe backwardation, a bullish pattern that's marked by near-time prices trading at a premium to longer-dated contracts.
Wilmar International (WIL SP) shares rose 1.8% after the company announced last Friday that it had increased its stake in Pakistan-listed Unity Foods as part of a rights issue exercise carried out by the latter. Furthermore, palm oil futures have kept steady near record levels ahead of the 15 February deadline for all Indonesian palm oil producers to comply with the Domestic Market Order (DMO) before suppliers can get permits to export. As a recap, Indonesia had issued a mandate on 27 Jan for palm oil producers to set aside 20% of their cruise palm oil shipments for local buyers.
SG-listed coal miners Geo Energy Resources (GERL SP) and Golden Energy and Resources (GER SP) both received a boost after US-listed coal miner, Peabody Energy (BTU US), surged 14% on Friday after posting fourth quarter profit that was three times analysts' expectations. The global energy crisis has pushed up demand and driven US coal prices to record highs.
Shares of the three local banks rose yesterday, bucking the weakness in the broader market. DBS (DBS SP) reported a 37% YoY jump in 4Q2021 profit to S$1.4bn, driven by higher business volumes and lower allowances. The bank raised its 4Q2021 dividend to 36 Sing cents vs 18 Sing cents in 4Q2020, and higher than the pre-pandemic dividend of 33 Sing cents in 4Q2019. DBS expects business momentum to remain healthy amid moderation in economic activity.
---
Hong Kong
Top Sector Gainers
Top Sector Losers
Pop Mart International Group Ltd (9992 HK) Shares rebounded from last Friday's 52-week low. The company bought back 362,400 shares with average prices ranging from HK$37.5-38.3 on 11th February. The total amount of buyback was HK$13.75mn.
Shanghai Junshi Biosciences Co Ltd (1877 HK) Driven by the news that China conditionally approves Pfizer's Covid treatment pill Paxlovid, covid-treatment related stocks jumped. Previously, the company announced that its product toripalimab (trade name: TUOYI®, product code: JS001) in combination with standard chemotherapy as the adjuvant treatment of patients after curative resection for gastric or gastroesophageal junction adenocarcinoma phase III clinical study ("JUPITER-15 Study",NCT05180734) has completed dosing of the first patient.
Bosideng International Holdings limited (3998 HK) There was no company-specific news. The recovery in prices could be due to a technical rebound. Previously, the main media reported that the cost of over RMB1000 worth of down clothes is just RMB75. The related stocks were hit by this piece of negative news.
Innovent Biologics Inc (1801 HK) Shares closed at a 52-week low. The TP of the stock was slashed by several banks. Goldman Sachs cut TP by 28.8% to HK$60.3. UBS cut TP by 7.7% to HK$60. Bank of Americal cut TP by 43.3% to HK$39.5. Previously, The U.S. Food and Drug Administration hosted an Oncologic Drugs Advisory Committee for the Biologic License Application of sintilimab, which is under review for the first-line treatment of people with non-squamous non-small cell lung cancer based on the ORIENT-11 trial conducted in China. On the single voting question, the Committee voted that additional clinical trial(s) should be required to demonstrate applicability to the U.S. population and medical practice prior to a final regulatory decision. Sintilimab is a novel PD-1 inhibitor being developed and commercialized under a collaboration agreement between the company and Eli Lilly.
Sunac China Holdings Ltd (1918 HK) Property sector fell due to the weak market sentiment over rate hikes and Russia/Ukraine tensions. Even though authorities have eased tightening measures, investors are of the view that sales remained soft during the Chinese New Year period.
---
Trading Dashboard
Trading Dashboard Update: Add ST Engineering (STE SP) at S$3.80 and Grand Venture Technology (GVTL SP) at S$1.08.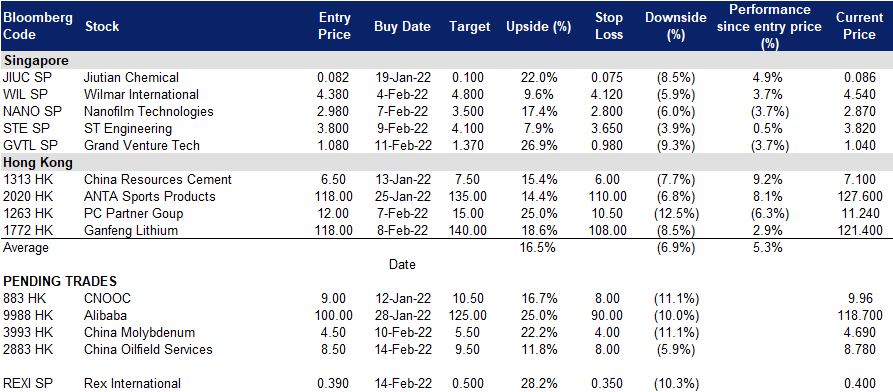 (Click to enlarge image)
---

---
Related Posts: