15 Dec 2021: Frencken Group (FRKN SP), Geely Automobile Holdings (175 HK)
Singapore Trading Ideas | Hong Kong Trading Ideas | Market Movers | Trading Dashboard
SINGAPORE
Frencken Group (FRKN SP): A quarter pullback
BUY Entry – 1.91 Target – 2.30 Stop Loss – 1.75
FRKN is a technology manufacturer providing end-to-end solutions to global clients including ASML (semiconductor), Philips (medical), Siemens (medical), FEI (analytical), Seagate (industrial automation) and ThermoFisher (analytical).
Share price correction overdone. Shares of FRKN have dropped almost 25% since peaking at S$2.52 in mid-September. We think the selling is overdone given that other Singapore-listed semiconductor stocks such as AEM and UMS have gained between 6-10% over the last month, with AEM even making a new high of S$5.35 yesterday. We acknowledge one key reason for FRKN's share price weakness is due to margin pressure due to higher freight and component costs. However, we expect the pressure to be short-lived as the company adjusts towards higher value added projects.
Largest customer is upbeat for 2022. ASML, FRKN's largest customer, is upbeat on growth in 2022 in both the logic and memory segments of the semiconductor space. ASML expects net sales growth for 2021 to approach 35%.
Consensus estimates are positive. There are 4 BUYS and 1 HOLD and an average TP of S$2.57, implying a 35% potential upside. Valuations are decent at 14x and 12x FY2021 and FY2022 EPS.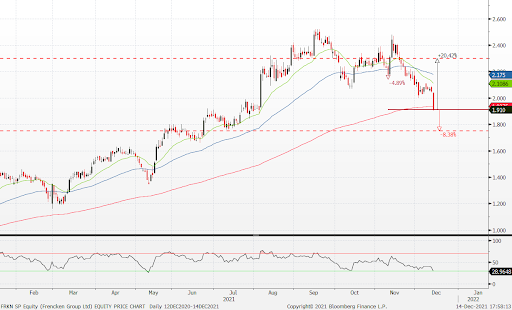 ---
Genting Singapore (GENS SP): Reopening postponed and not cancelled
RE-ITERATE BUY Entry – 0.78 Target – 0.86 Stop Loss – 0.74
Genting Singapore is best known for its award-winning flagship project Resorts World Sentosa, one of the largest fully integrated destination resorts in South East Asia. Genting Singapore is one of the constituent stocks of the FTSE Straits Times Index.
Delayed not cancelled. Shares of Genting Singapore dropped more than 10% since the Omicron variant wreaked havoc on global risk assets. Reopening plays were hit particularly hard as governments imposed new mandates.
This shall pass. After a little more than two weeks since Omicron's discovery, early data from the epicentre in South Africa indicates that the virus appears to be spreading faster but does not appear to be causing severe disease. We think once the Winter Covid-19 surge starts to abate going into 1Q 2022, governments are likely to continue with their reopening plans.
Consensus estimates provide for upside potential. Consensus estimates are not very high for the company, thus presenting an opportunity for the company to beat estimates especially on pent up demand for travelling and leisure activities. There are currently 9 BUYS vs 9 HOLDS and 1 SELL rating. The 12m average TP of S$0.92 still implies a 17% potential upside. Earnings are expected to recover to around 70% of pre-pandemic levels next year.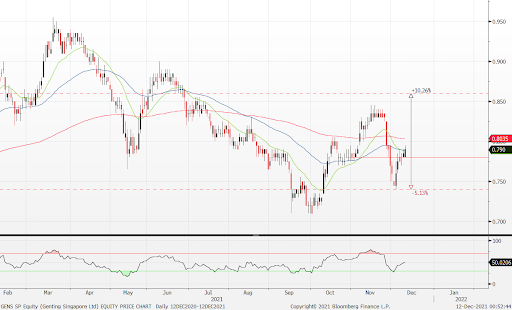 ---
HONG KONG
Geely Automobile Holdings Limited (175 HK): Buy at lower bound of the consolidation range
Buy Entry – 22 Target – 26.5 Stop Loss – 20
Geely Automobile Holdings Ltd is an investment holding company principally engaged in the production and sales of automobiles. The company mainly develops, manufactures and sells automobiles, including cars, sport utility vehicles (SUVs), new energy and electrified vehicles. The company's car types include home, travel and sports. The company's new energy and electrified vehicles include electric vehicles, battery electric vehicles, hybrid electric vehicles, mild hybrid electric vehicles and plug-in hybrid electric vehicles. In addition, the company produces and sells automobile parts and related automobile components.
Development of auto chips. SiEngine Technology, an automotive electronic chip developer, officially released the automotive chip brand "DragonHawk" and its intelligent cockpit chip "DragonHawk 1". At present, SiEngine Technology mainly has three product lines: Intelligent Cockpit Chips, Automated Driving Chips and Vehicle Central Processing Unit Chips. The release of the 7nm intelligent cockpit chip indicates that Geely has taken the first successful step of core building.
November auto sales volume dipped. Total sales volume of the Group (including the sales volume of LYNK & CO-branded vehicles sold by the Group's 50%-owned joint venture, namely LYNK & CO JV) was 135,869 units, a decrease of approximately 10% YoY, but up approximately 22% MoM. Of the total sales volume in November 2021, 16,161 units were new energy and electrified vehicles , an increase of around 137% YoY and achieving monthly record high for the Group. The Group's exports volume was up approximately 11% YoY to 13,065 units, achieving the highest monthly export sales volume level since October 2013.
Updated market consensus of the EPS growth in FY22/23 is 45.1%/24.6% YoY respectively, which translates to 26.4x/18.2x forward PE. Current PER is 34.1x. Bloomberg consensus average 12-month target price is HK$33.41.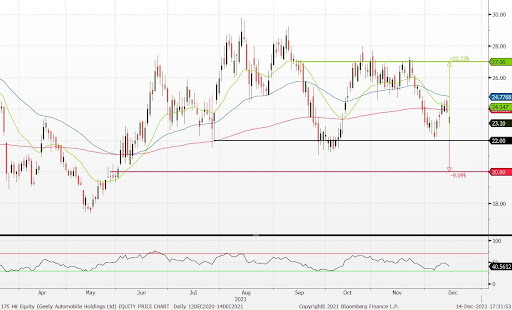 ---
Nexteer Automotive Group Ltd (1316 HK): A proxy trade to Ford and General Motors
RE-ITERATE Buy Entry – 10.5 (Buy Stop) Target – 12.5 Stop Loss – 9.5
Nexteer Automotive Group Limited is an investment holding company. The Company through its subsidiaries are primarily engaged in the design and manufacture of steering and driveline systems, advanced driver assistance systems (ADAS) and automated driving (AD) and components for automobile manufacturers and other automotive-related companies. Its operations are in the United States of America (USA), Mexico, Poland and the People's Republic of China (China). The principal markets for the Company's products are North America, Europe, South America, China and India. The Company has approximately 27 manufacturing plants, one global technical center, over two regional technical centers, one software service center and approximately 13 customer service centers. Its subsidiaries include Nexteer US Holding I LLC, Rhodes I LLC, Steering Solutions IP Holding Corporation, Chongqing Nexteer Steering Systems Co., Ltd., CNXMotion, LLC and Dongfeng Nexteer Steering Systems (Wuhan) Co., Ltd.
Ford Motor (F US) reached a 20-year high. The demand for the EV version of the Ford F150 pickup truck, F150 Lightning, is so strong that the company had to stop reservations. The preorder of this pickup model had reached 200,000 units. The CEO mentioned they were pushing full production capacity at 70,000 or 80,000 units for the Lightning. The other auto giant General Motor (GM US) also planned to invest more than US$3 billion to make electric vehicles in its home state of Michigan. North America is the main revenue contribution for Nexteer, accounting for more than 60% of the total annual revenue over the past 5 years. General Motors and Ford are two of the key customers of Nexteer. GM's EV pickup truck, the electric Chevrolet Silverado, features all of Nexteer's product lines, including the HO REPS, Ball Spline Axle Halfshaft and steering column. Ford's F150 Lightning utilises Nexteer's REPS system with 10-FIT High Availability technology, as well as the power steering column.
Updated market consensus of the EPS growth in FY22/23 are 52.8%/19.7% YoY respectively, which translates to 11.7x/9.8x forward PE. Current PER is 16.9x. Bloomberg consensus average 12-month target price is HK$12.64.
Price performance closely mimics Ford and General Motors.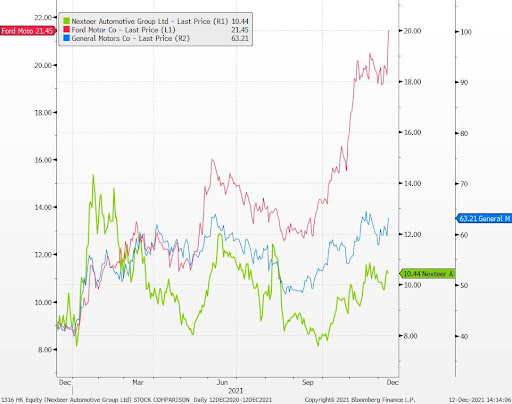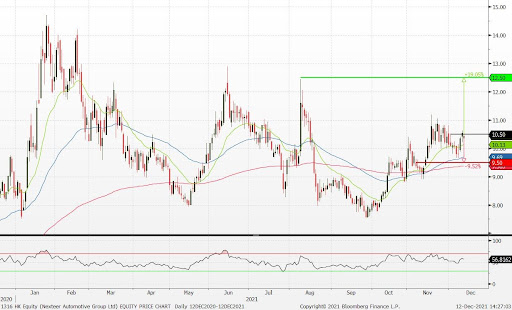 ---
Market Movers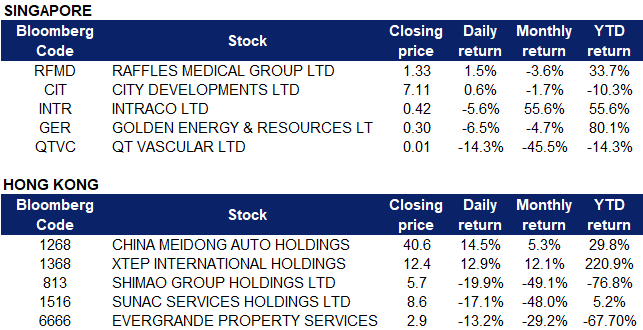 ---
United States
Top Sector Gainers
Top Sector Losers
Rivian Automotive (RIVN US) shares declined as much as 4% yesterday before closing 1.5% lower. Bloomberg reported that a California judge has ordered Tesla to accelerate its lawsuit against Rivian, alleging that Rivian stole documents from the former. Tesla must now, within 30 days, produce a list of "all the documents it claims were stolen by several employees" who left Tesla for Rivian. Following this, Rivian must tell Tesla what "steps" it took "to investigate and respond" to Tesla's theft allegations when they were initially made back in July 2020.
Adobe Inc (ADBE US) shares were down by as much as 7.6% yesterday before closing 6.6% lower. JP Morgan analyst Sterling Auty downgraded the stock to "Neutral" and put a $680 target price on it. Adobe will report its fiscal 2021 fourth-quarter earnings after the market closes on Thursday.
Renewable energy stocks slid yesterday after the California Public Utilities Commission issued a proposal for an $8-per-kilowatt (kW) monthly grid participation fee for homes with rooftop solar; the average homeowner would have to pay around $700 per year, which undermines the financial viability of solar-only installations. Enphase Energy (ENPH US), SunPower (SPWR US) and Bloom Energy (BE US) saw their stocks declining 5.3%, 10.8% and 6.2% respectively.
AMC Entertainment (AMC US) shares declined 6% in premarket trading, extending its losing streak to 3 days with an over 15% loss on Monday. It was previously revealed in SEC filings that CEO Adam Aron and CFO Sean Goodman sold 312,500 and 18,000 shares respectively. Aron had previously indicated in November that he was planning on selling shares as part of estate planning.
---
Singapore
City Developments Limited (CIT SP) shares extended its gains yesterday. The stock previously hit a 3-week high on Monday after it was announced that it plans to sell the Millenium Hotel Seoul and its adjoining land in Seoul, South Korea for 1.1 trillion won. The company added that proposed divestment is "in line with the acceleration of the CDL group's capital recycling strategy to unlock latent value from its long-held assets".
QT Vascular (QTVC SP) shares plunged 14.4% yesterday after the company said its directors will not be attending an upcoming extraordinary general meeting (EGM) on 15 December where failed would-be directors at an earlier EGM are seeking a fresh bid for board seats. QT Vascular said in a filing to SGX that the incumbents will be applying to the High Court for guidance on whether the call to take a second vote is valid given that the same resolutions were already voted upon and rejected.
Raffles Medical Group (RFMD SP) shares jumped 1.5% yesterday after the group announced that its subsidiary Raffles Hospital has partnered South Korea's Myongji Hospital to create a "travel medicine pass". Travellers between Singapore and South Korea can sign up for the pass to gain access to a suite of medical services.
Intraco Limited (INTR SP) shares lost 5.6% yesterday after its gains of 90% on Monday, likely on profit taking. The trading company previously announced that it has entered into a binding heads of agreement with Messrs Mark Carnegie and Sergei Sergienko for a 51% investment in the capital of MHC Digital Co, by way of a combination of subscription for new shares and acquisition from the sellers of existing shares in MHC Singapore. In consideration for the investment, Intraco will pay $10.0 million in cash and issue 100 million new shares in the Company at an issue price of $0.50 per share.
Golden Energy and Resources (GER SP) shares declined 6.5% yesterday, likely on profit taking. The company previously announced that it plans to buy out third-party Ascend Global Investment Fund's 20.3% interest in a company that owns 75.3% of Stanmore Resources. The acquisition is not expected to have any material impact on Gear's earnings per share, but is expected to decrease its consolidated net tangible assets by 6.4 per cent for the year.
---
Hong Kong
Top Sector Gainers
Top Sector Losers
China MeiDong Auto Holdings Ltd (1268 HK) shares rose 14.5% yesterday. The company conditionally agreed to acquire all issued shares of Starchaser Automobile Sales Group for RMB 3.7bn. The target group is an automobile dealer group located in China, operating the automobile brand Porsche. The proposed acquisition will strengthen the Group's Porsche brand market position in China, and the directors believe that this will benefit from the transformation and changes in the automotive industry.
Xtep International Holdings Ltd (1368 HK) shares rose 12.9% yesterday after a couple of positive consensus estimates were given to the company. Tianfeng Securities issued a research report stating that it gave Xtep International a BUY rating. It is estimated that FY21-23 revenue is RMB 99/122/150bn, and the net profit attributable to the parent is RMB 8.5/10.06/1.33bn. The bank stated the following as their points of investment: 1. The company is on track to build a global running ecosystem. 2. The rise of national brands are expected to expand with the uptrend of national brand awareness. 3. Xtep has introduced world-class sports science laboratories and upgraded Xtep's independent research and development technology capabilities with the help of professional equipment. According to Bloomberg consensus estimates, Xtep currently has a rating of 26 BUYS, 0 HOLD and 2 SELL, with a 12M TP of HK$15.02, representing an upside potential of 20.9% as of yesterday's closing price.
Shimao Group Holdings Ltd (813 HK), Sunac Services Holdings Ltd (1516 HK), Evergrande Property Services Group Ltd (6666 HK). Property sector shares fell collectively yesterday, a domino effect triggered from Shimao Group's recent announcement. Shares plunged 19.9%, 17.1% and 13.2% respectively. Yesterday, it was announced that Shimao's services unit had agreed to buy another unit of Shimao Group for RMB 1.65bn, which was taken as a sign by some analysts that the developer is shifting money from stronger to weaker parts of the business. JPMorgan analysts noted that equity investors are increasingly worried about publicly listed property managers being used as a "financial tool" by developers that share the same owners.
---
Trading Dashboard
Trading Dashboard Update: Added Genting Singapore (GENS SP) at S$0.78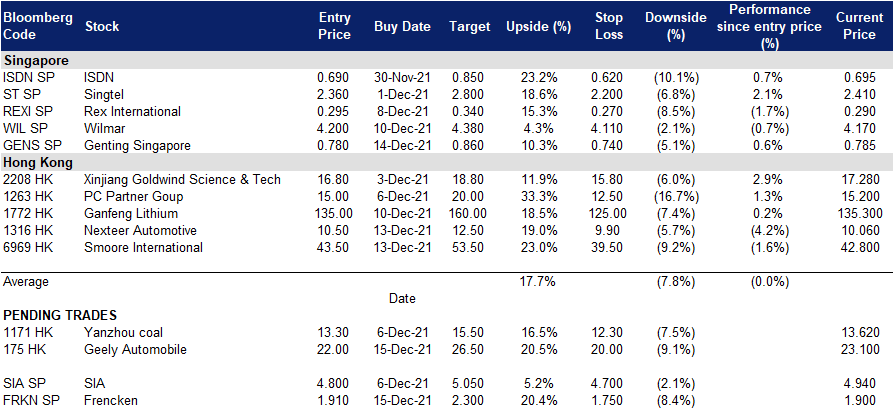 (Click to enlarge image)
---

---
Related Posts: