14 Dec 2021: Stocks making the biggest moves
Market Movers | Trading Dashboard
Market Movers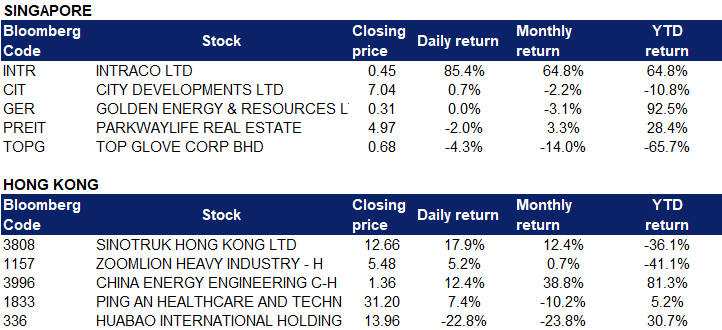 ---
United States
Top Sector Gainers
Top Sector Losers
Shares of Pfizer (PFE US) and BioNTech (BNTX US) rose 4.6% and 8% respectively yesterday after a new study by Israeli researchers found that a three-shot course of the Pfizer-BioNTech vaccine provided significant protection against the new omicron variant.
Nvidia (NVDA US) shares declined 6.8% yesterday, extending its losses for a fourth straight day in a row. There was no company specific news. CNBC reported that there is a risk that the ongoing chip shortage could affect Christmas shopping this year, noting that "semiconductors are beneath the hood of an increasing number of products," but "things made with chips don't just use one chip."
Oil stocks dropped yesterday after crude oil prices were slapped down by fears that increasing COVID-19 cases in Europe will drive down demand. Crude oil prices were at their lowest in seven weeks last Friday, down for a fourth week straight – the longest streak of declines in 20 months. Devon Energy (DVN US), Marathon Oil Corporation (MRO US) and Occidental Petroleum Corporation (OXY US) saw their shares declining 5.4%, 5.1% and 5% respectively.
---
Singapore
Golden Energy and Resources (GER SP) shares climbed as much as 3% after the company announced that it plans to buy out third-party Ascend Global Investment Fund's 20.3% interest in a company that owns 75.3% of Stanmore Resources. The acquisition is not expected to have any material impact on Gear's earnings per share, but is expected to decrease its consolidated net tangible assets by 6.4 per cent for the year.
Top Glove (TOPG SP) shares extended its losses, losing another 4.3% yesterday. The company reported earnings of RM185.7 million for the 1QFY2022 ended November, down 92.1% from the RM2.36 billion from a year ago. Top Glove said that the mediocre performance was likely attributed to normalising average selling prices (ASPs) and glove demand following mass vaccine rollouts globally, while customers remained cautious on replenishing orders. Earnings per share was at 2.32 sen for 1QFY2022, compared to 29.02 sen in 1QFY2021, and sales revenue of RM1.58 billion for the 1QFY2022, 66.7% lower that the RM4.76 billion achieved in 1QFY2021.
City Developments Limited (CIT SP) shares climbed 0.7% after it was announced that it plans to sell the Millenium Hotel Seoul and its adjoining land in Seoul, South Korea for 1.1 trillion won. The company added that proposed divestment is "in line with the acceleration of the CDL group's capital recycling strategy to unlock latent value from its long-held assets".
Parkway Life Reit (PREIT SP) units lost 2% after the Reit announced that it is buying a nursing home in Japan's Greater Tokyo Region for 3.2 billion yen. The nursing home is a 150-bed property in Kisarazu city in Chiba built in 2017 and will be leased for 20 years to a subsidiary of nursing home operator Habitation Group, at an annual gross rental of about 197.2 million yen. The acquisition will be funded by yen-denominated debt, raising the gearing of Parkway Life Reit from 34.9% to 36%.
Intraco Limited (INTR SP) shares surged 85.4% yesterday after it announced that it has entered into a binding heads of agreement with Messrs Mark Carnegie and Sergei Sergienko for a 51% investment in the capital of MHC Digital Co, by way of a combination of subscription for new shares and acquisition from the sellers of existing shares in MHC Singapore. In consideration for the investment, Intraco will pay $10.0 million in cash and issue 100 million new shares in the Company at an issue price of $0.50 per share.
---
Hong Kong
Top Sector Gainers
Top Sector Losers
Sinotruk (Hong Kong) Ltd (3808 HK), Zoomlion Heavy Industry Science and Technology Co Ltd (1157 HK). Construction machinery stocks rose collectively yesterday after the Central Economic Work Conference held from December 8th to 10th proposed to expand fiscal expenditure and appropriately advance infrastructure investment. Sinotruck and Zoomlion shares rose 17.9% and 5.2% respectively.
China Energy Engineering Corp Ltd (3996 HK). Shares rose 12.4% yesterday. The investment company of China Energy successfully issued the country's first "Carbon Neutral" REIT on the Shanghai Stock Exchange. The "CICC-China Energy Construction Investment Wind Power Green Asset Support Special Plan" raised a total of RMB 834mn, with a subscription multiple of 3.57x and a priority interest rate of 3.50%. The issuance rate is the lowest in the market for central enterprise REITs. All the funds raised will continue to be used to support the investment and development of green industries and projects of China Energy's subsidiaries.
Ping An Healthcare and Technology Co Ltd (1833 HK). Shares rose 7.4% yesterday after the company announced that it would repurchase up to 56mm shares in accordance with the repurchase authorization. The total amount of funds to be used under the proposed share repurchase plan would amount to RMB 1.38bn. In addition, the company also won the "Most Brand Value Award" of the year during the award ceremony of "Best Listed Company in Greater China 2021" hosted by Gelonghui.
Huabao International Holdings Ltd (336 HK). Shares plunged 22.8% yesterday. The company recently announced that it plans to place approximately 122mn shares, accounting for approximately 3.78% of the company's enlarged share capital. Placement price is expected to be RMB 17.88, a discount of 11.92% compared to the closing price on the 8th. This would raise approximately HK$ 2.18bn and the funds are intended to be used for repayment of bank loans, acquisitions and or investment in businesses that can take advantage of the group's competitive advantages, general working capital needs and existing business expansion. 
---
Trading Dashboard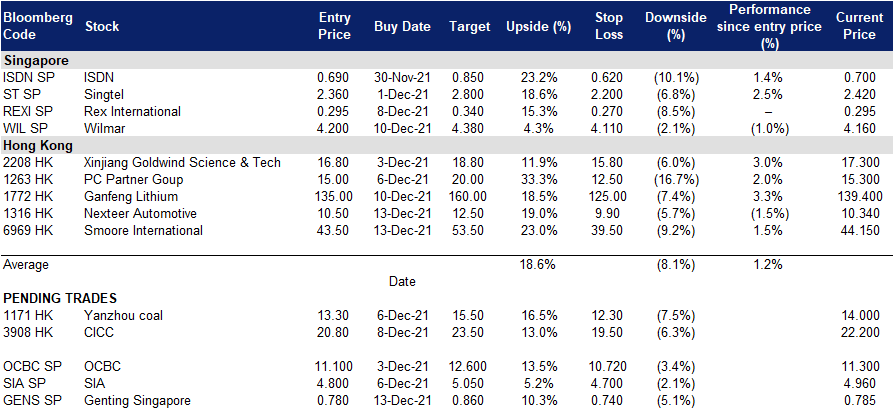 (Click to enlarge image)
---

---
Related Posts: